Austin, Texas–based furnishings company Four Hands has created a new role: vice president of Business Innovations. Douglas Estremadoyro, formerly Home Meridian International's vice president of Continuous Improvement & Business Intelligence, was named to the position earlier this month. The role was developed in keeping with the company's ongoing expansion of its management team—most recently, for example, Jessica Green was announced as director of Upholstery.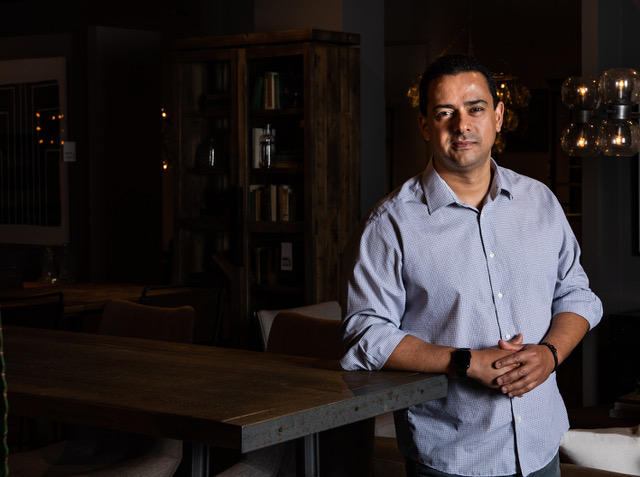 The exec, who also has experience leading business improvement projects at HMI and as a management consultant for PricewaterhouseCoopers, will be involved in two newly debuting projects at Four Hands: Enterprise Resource Planning and Product Lifecycle Management. "With Douglas's background and skill set, he is the perfect fit for where we are in our company's evolution, preparing for the next stage of our growth," said Michael Bullock, Four Hands chief marketing officer. "Douglas is well equipped to partner closely with key internal stakeholders to help us usher in the future of Four Hands business processes and technology capabilities." Estremadoyro discusses with EAL his plans for the brand.
What are the biggest challenges facing the company? Facing the industry at large?
The furniture industry is facing significant challenges as it deals with a shift in the consumer base and furniture buying patterns. Millennials are playing a more important role in the industry as furniture consumers as well as corporate furniture buyers. This translates into the rapid growth of the nontraditional furniture channels (e.g., e-commerce, designers, etc.), as well as the trend toward fashion-driven, eclectic, item-based furniture designs.
Four Hands is uniquely positioned to take advantage of these shifts in the furniture industry. We offer an unrivaled upscale assortment of eclectic and stylish furniture & home accessories that our customers like and buy. We have experienced double-digit sales growth in the last few years. Our biggest challenge is to modernize our information systems and technology infrastructure to effectively and efficiently support our core design, sourcing, and distribution processes as well as our financial and controlling functions. We are making strategic investments in people, systems, and infrastructure to accomplish this modernization goal.

The furniture industry is facing significant challenges as it deals with a shift in the consumer base and furniture buying patterns.
"
—Douglas Estremadoyro
What is your first responsibility, initiative or program in your new role?
My list of to-dos is long, but one of the first things on my radar is to help provide a project management framework over all process/systems improvement initiatives underway. We want to allocate resources and prioritize initiatives in such a way as to maximize the return on investment and minimize the disruption to the organization as we execute these major change projects.
Tell us what the new Enterprise Resource Planning and Product Lifecycle Management systems entail.
Our new Product Lifecycle Management (PLM) systems will allow us to efficiently manage the information throughout the entire lifecycle of our products from inspiration, through design and sourcing, to testing and pilot production. Our PLM will serve as a central collaboration hub for our product development, supply chain, and merchandising teams. Multiple isolated software applications and Excel spreadsheets will be replaced by an integrated system that will hold beginning-to-end product data and become the single source of truth for our product information.
An Enterprise Resource Planning (ERP) system is a business process management software that integrates the company's financials, supply chain, sales operations, distribution and reporting activities. "Integrates" is the key word, because the most important feature of an ERP is that all its components are interconnected and information flows from process to process seamlessly in real time. The top ERP packages available today incorporate many process best practices after years of development and thousands of implementations in multiple industries.
We are looking forward to implementing some of those processes' best practices and to using the ERP as an enabler of scalability and growth for Four Hands.