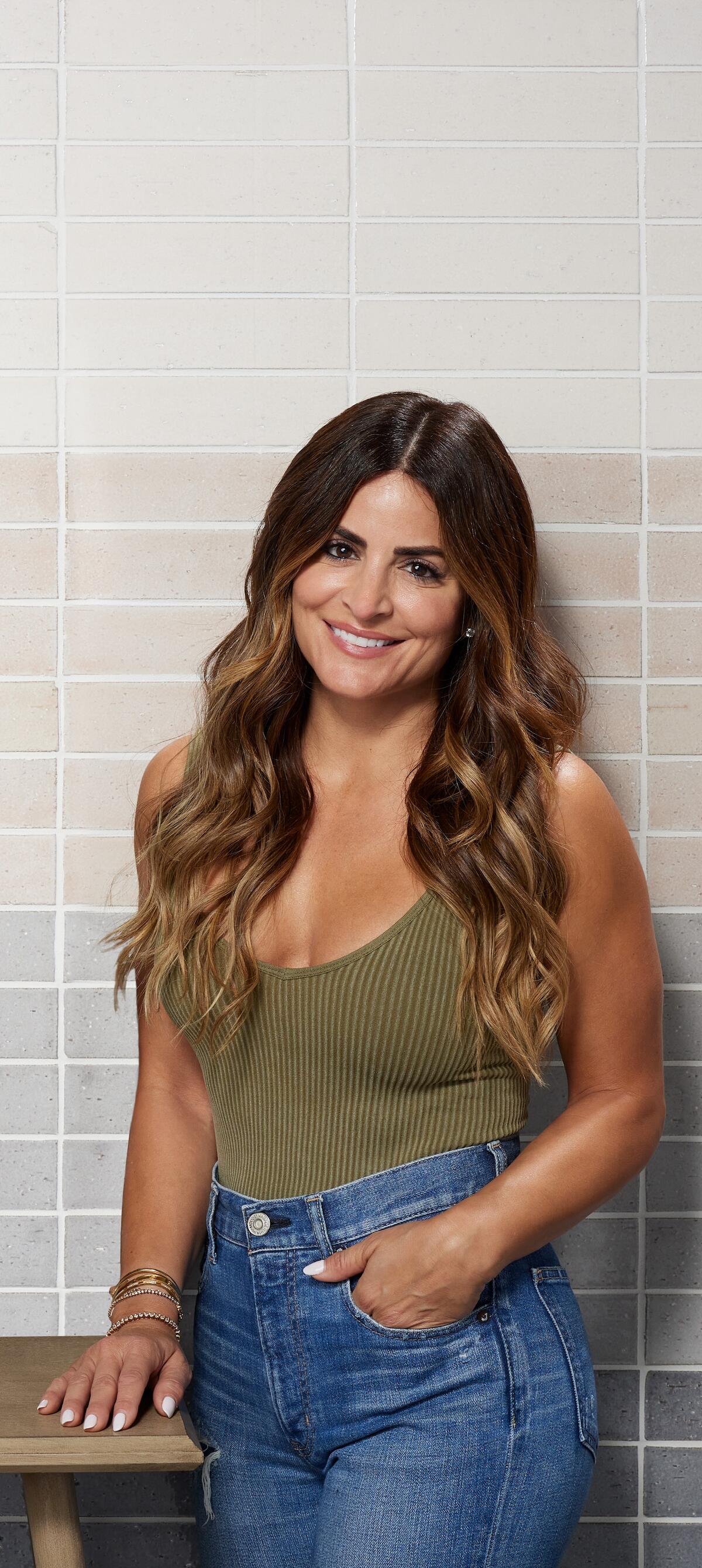 Courtesy of The Tile Shop
In bingeable HGTV hits like Windy City Rehab, Rock the Block and Ugliest House in America, interior designer Alison Victoria improbably yet impeccably pairs the no-nonsense, city-of-big-shoulders aesthetic of her native Chicago with an elegance and femininity all her own. The shows often find her in denim, flannel and a hard hat, ripping up floorboards or installing drywall, but if she decided to accessorize a silk evening gown with a power drill, somehow the look would make perfect sense. It's this same sensibility that Victoria has brought to her first collection with The Tile Shop, in which classic shapes are revived with surprising textures and colors, mosaics allow for every nuanced shade and vein of marble, and metallic trim makes kitchens and bathrooms glint irresistibly. "I'm really strong, but there's also this softness to me," says Victoria of her personality on- and off-screen. Her debut tile designs capture just that dichotomy.
"She's very glamorous, but she also gets down to work," says The Tile Shop director of design Kirsty Froelich, who reached out to Victoria about creating a collection after watching the designer on HGTV in the early, lockdown days of the pandemic. "She's not just about the beautiful end result; she knows what it takes to achieve it."
The collection of eight unique styles is anchored by Brick x Brick, a glossy porcelain subway tile with a slightly rugged surface that's cast in a palette of four subtle pastels: Pearl, Petal, Pewter and Powder. "It's subway tile with a twist," says Victoria. "I wanted it to look like old bricks you'd see on the exterior of a Chicago house, covered by layers of paint. All those layers tell a story. The crackles, the depth, are what bring it to life." With its combination of classic lines, rough touchability and neutral yet unexpected tones, the design is destined to refresh kitchen walls, shower stalls and fireplace surrounds in a variety of residences. "It could go in a beach home in the Hamptons, or a Scandi-style 1970s setting, or a modern farmhouse in Calabasas," says Victoria.
Courtesy of The Tile Shop
For those who prefer their weathered, easy-like-Sunday-morning subway tile with a little Saturday night sparkle, Victoria has the solution: two Precious Metals pencil-trim pieces, available in gold and rose gold, to border any type of tile. "My addiction to gold has gotten out of control. I use it everywhere; it's just part of my vocabulary," she says. "If there isn't something gold-toned in a design, then it wasn't done by me."
"Edging isn't usually glamorous, but this changes that," adds Froelich.
The two mosaic tiles that complete the collection harken beyond urbane Chicago to Victoria's Mediterranean roots. Elia—Greek for "olive tree"—consists of Greek Volakas marble in a winding leaf pattern that evokes movement and nature. "This design feels like extending an olive branch," she explains. "I visit Greece every year, and I wanted to share a common bond with the place that is so sacred to me." Rendered in scalloped rows of green, Gem recalls classic architecture. The choice of both color and shape holds meaning for the designer, who considers green as essential as black and white and often adds archways to her interiors. "The deepness, darkness and richness of the color in this honed marble with a rounded edge is my absolute favorite," she says. The style has already been introduced to several of her clients' homes, as well as her own. In Victoria's Las Vegas house, she used it on not only the bathroom walls but the floor too.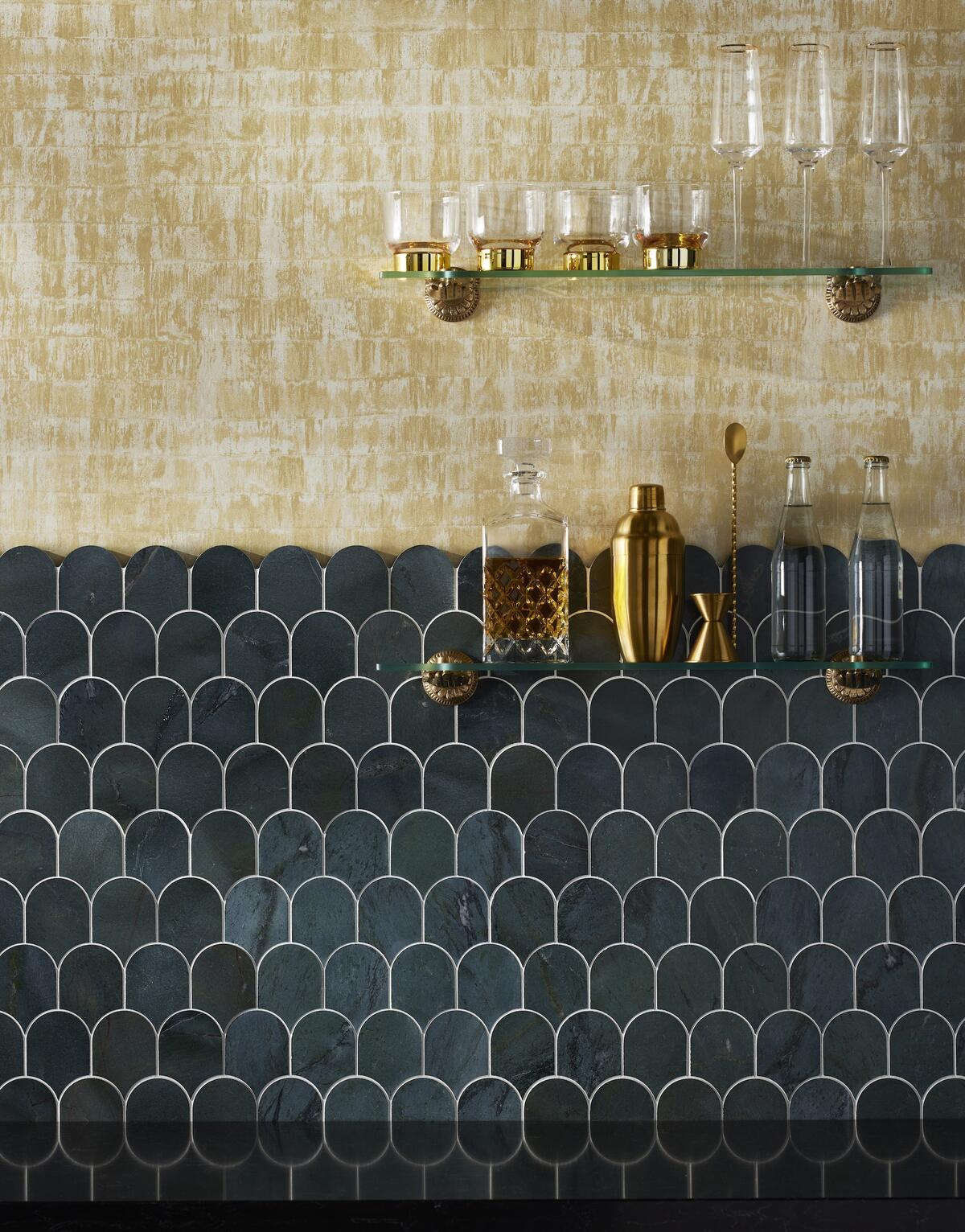 Courtesy of The Tile Shop
"Alison will take an average rectangular entry and turn it into a stunning archway with a carved wooden frame. She'll use rounded mirrors and windows throughout her projects," says Froelich. The collection presented an opportunity to adapt Victoria's signature curves to tile—and to feature emerald green, a first at the time for The Tile Shop. To make the application even more daring, Gem can top out with a scalloped rather than straight horizontal line at the midway point of the wall—intriguing as a kitchen backsplash or in lieu of decorative trim in a partially tiled powder room. "It's such a distinctive treatment; it's something unexpected and cool," says Froelich
"I don't put my name on products unless they're authentic and organic," says Victoria. With The Tile Shop's reputation for quality and track record of expertly curated artisanal collaborations, the brand proved a worthy partner for the celebrity designer. "I'm paying homage to every aspect of my history," she says. "It's such a personal collection to me."
This story is a paid promotion and was created in partnership with The Tile Shop.
Homepage image: The Alison Victoria collection includes two marble mosaics, porcelain subway tile in a pastel palette, and two tones of metallic gold trim | Courtesy of The Tile Shop