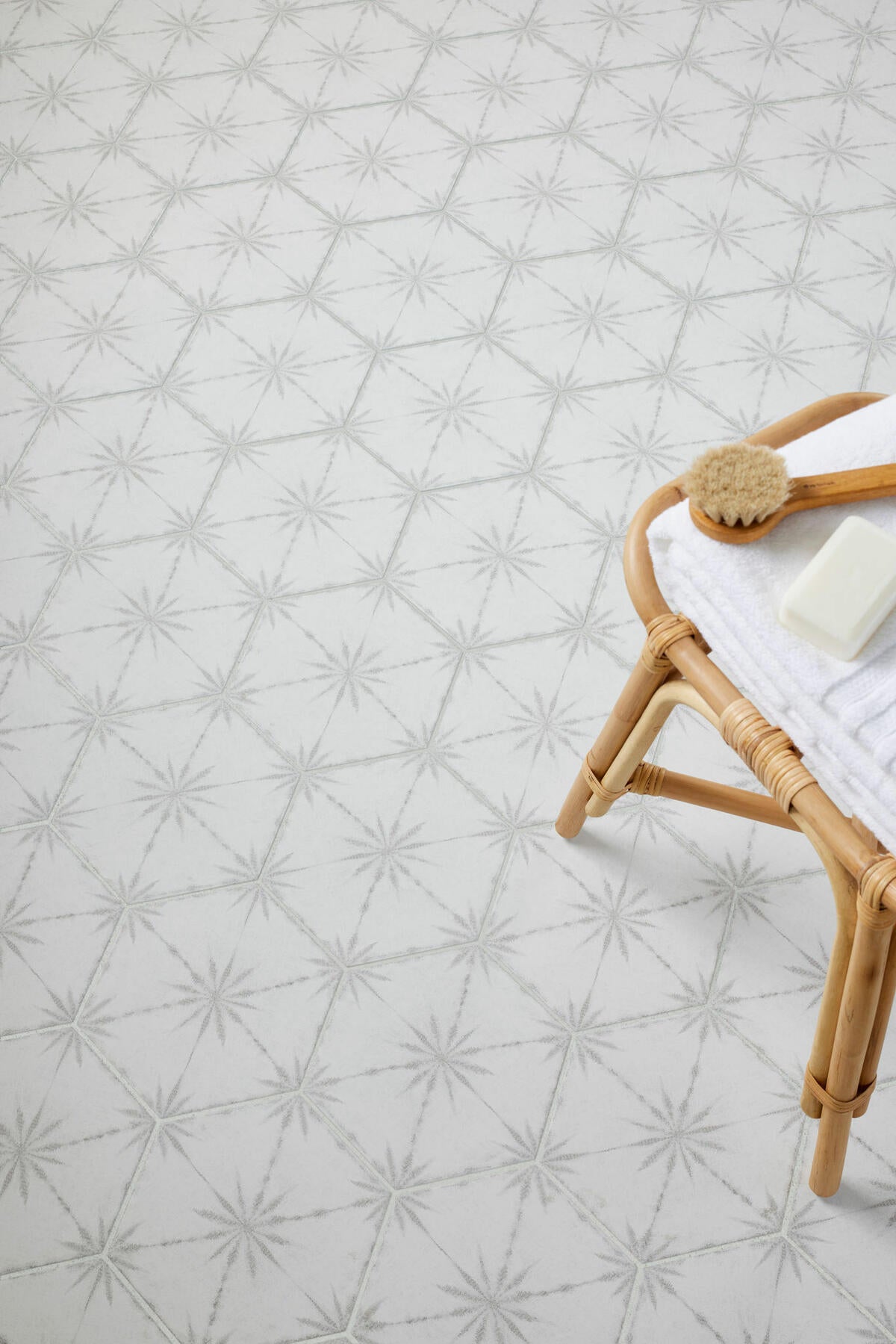 Courtesy of The Tile Shop
Winter has just begun. Plymouth, Minnesota, where The Tile Shop is based, averages 52 inches of snow a year. Already craving the comfort of warmer days? Take heart: It's always sunny in Southern California. Summerland may sound like a state of mind, but it's also the real-life town in Santa Barbara where designer Jeffrey Alan Marks resides—and the name of his debut collection for the legacy Midwest tile company.
"It feels very traditional but also very beach house," says Marks of the Summerland pattern, a soft-edged starburst that evokes sparkles of sunlight dancing across ocean waves, and sand dollars and starfish washed ashore, with a hint of Mission Revival influence underscoring the print. Summerland is available in three universally appealing neutrals, all inspired by beachy locales. Miramar features the quintessential weathered blue that has become Marks's signature hue. The darkest of the trio, Toro, is "not quite black, because I don't decorate a lot in black and white. It's more of a charcoal, slightly faded, to keep it airy," he says. Rincon, a sandy greige, is the lightest. Each shade is set against an off-white base.
"We went back and forth for about eight months to figure out what the ground would be," says Marks. "It's not that stark white-white that scuffs and gets dirty easily. There's a muted quality to it that's going to hold up well to dogs and kids and whatnot."
While Summerland is Marks's first tile collection, the design draws on his expertise in textiles. "Because Jeffrey is synonymous with beautiful fabrics, we wanted to convey the sophisticated look of linen without adding texture to the surface of the tile, since grooves attract dirt," explains Kirsty Froelich, director of design and product development for The Tile Shop—and a fan of Marks dating back to his halcyon days on Bravo's Million Dollar Decorators. Instead, the tile's surface is flat with a matte finish. "If you think about casual California elegance, matte is what comes to mind." The combination of the linen effect of the print—viewed up close, the starburst pattern replicates embroidery stitching—against the warm white coloring makes the already durable porcelain suitable for worry-free floors and more.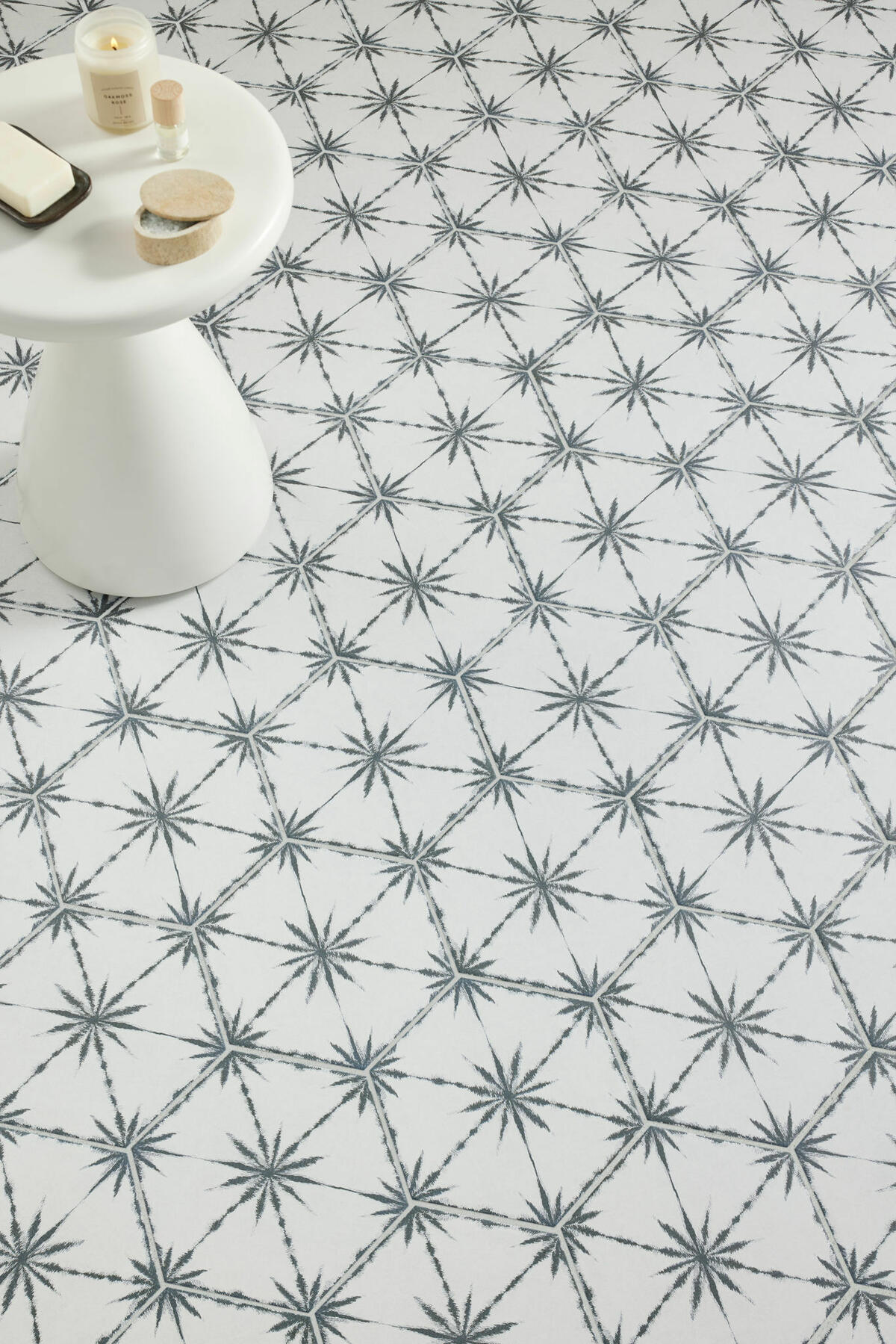 Courtesy of The Tile Shop
"I like to do an accent wall, especially in wet rooms," says Marks, who envisions Summerland in bathrooms, as a backsplash for a home bar or in a subtly decorative whole-room treatment behind open shelving in a kitchen. "I just designed a house in Manhattan Beach where I backed the ground-level, glass-fronted living room in tile to add personality and make it feel more indoor-outdoor," he says. It's a tactic he's used in his own home, where he just tiled his young daughter's bathroom, bottom to top. "It's great—in the bathtub she can splash anywhere she wants."
Compared to the ubiquitous subway shape, Summerland's 9-by-10-inch hexagonal dimensions lend themselves to an artisanal application. "A lot of my clients have traditional homes, so I wanted to do something more in keeping with the classic Cape Cod or Hamptons aesthetic," says Marks.
"The hexagon in that size is one of our most popular formats throughout the country, and the porcelain composition adds to its versatility," says Froelich. She's noted a movement away from the white-tiled, black-accented, wood-floored farmhouse trend toward an Arts and Crafts style that complements the midcentury modern and bungalow properties homeowners are buying and fixing up now. "When you have a smaller space, you can experiment with a more artistic vibe to enhance the character of the architecture. It brings a kinetic energy to a room that white subway never will."
Courtesy of The Tile Shop
Progress is well underway on Marks's second collection for The Tile Shop (the brand also has lines with Annie Selke, Morris & Co. and Laura Ashley, as well as new collabs in store for 2023), and while we're sworn to secrecy, trust that those designs will be equally organic and unique. With fabric and lighting partnerships, a soon-to-be-revealed rug collaboration, plus a book in the near future, the designer is far from slacking. But no matter how hard he multitasks, his creations seem destined to reflect breezy, laid-back SoCal coastal luxury wherever they're placed, be it an apartment on Chicago's Magnificent Mile or a ranch in Bozeman, Montana.
"I'm planning on using Summerland in my pool house in East Hampton, the walls and the floor both in Miramar blue," says Marks. "Everyone wants to be at the beach, so why not bring a little bit of it into your bathroom or kitchen?"
This story is a paid promotion and was created in partnership with The Tile Shop.
Homepage image: The hexagonal porcelain tiles of designer Jeffrey Alan Marks's Summerland collection bring SoCal sophistication to floors and walls | Courtesy of The Tile Shop