Intricately interwoven vines in gently weathered white. Giant sunflower blossoms with petals of sky blue. A scattering of stars against a charcoal-gray ground. With such lush patterns to choose from, all rendered in pristine, durable porcelain, why would anyone opt for plain beige minimalism ever again? That's a question The Tile Shop definitively answers with its latest designer collections, created in partnership with Laura Ashley and Morris & Co., two heritage British textile brands that are everything but bland.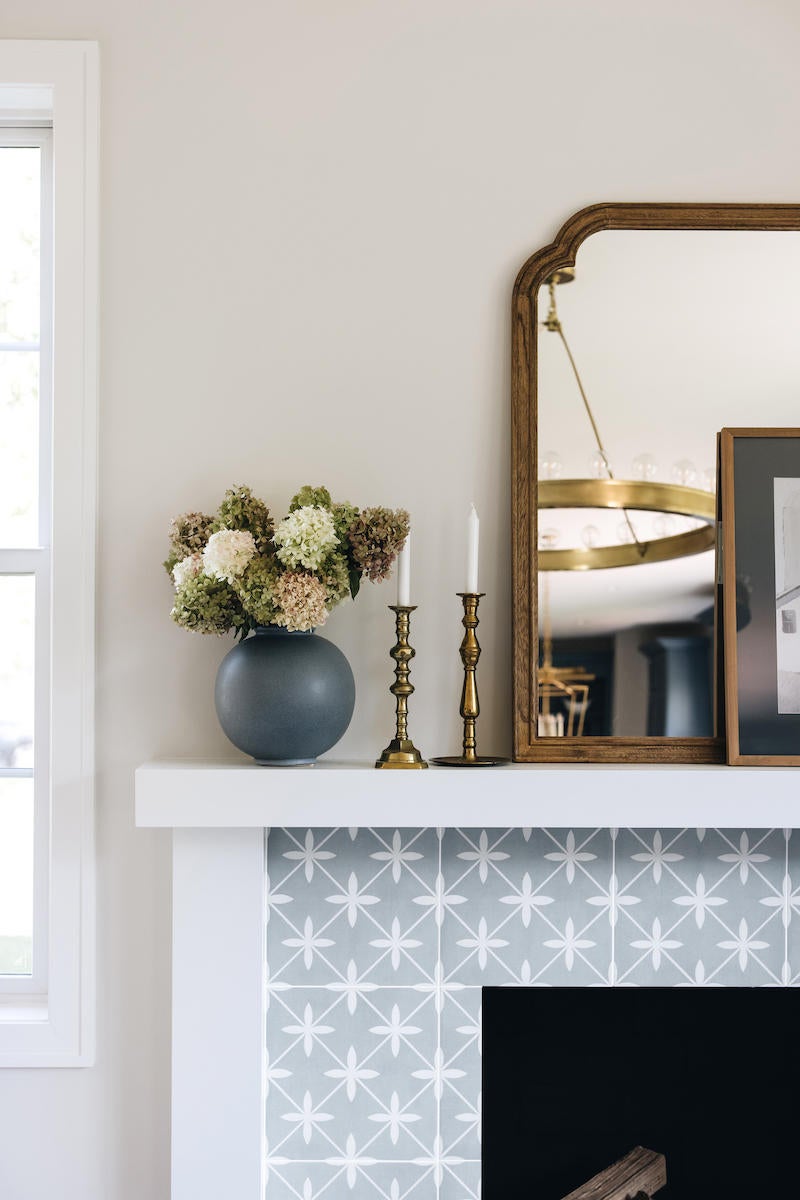 Courtesy of The Tile Shop
"Our customers are embracing beauty and pattern, and these collections speak to that desire," says Kirsty Froelich, director of design for The Tile Shop, who attributes some of the move toward maximalism to the pandemic. Whereas customers may have previously prioritized a no-frills aesthetic that would lend a property to resale, now they are more interested in personalizing the spaces where they've spent much of the past two-plus years. "One positive thing to come out of COVID is that people want to put their stamp on their home and be surrounded by what's meaningful to them," she says.
That phenomenon has driven a "pattern renaissance," according to Ellie Tyerman, senior designer for licensing at Morris & Co., the legacy British brand founded by William Morris in 1861. "Homeowners are being a bit braver and more playful about mixing prints and more experimental about where they put them," she says. For its debut decorative tile, Morris & Co. had an embarrassment of riches (all registered with the British Library) to choose from. After reviewing about 20 of its top-selling patterns in the American market—out of an incalculable archive housed in the London headquarters including everything from Morris's diaries to the original carved applewood blocks he used to hand-print fabrics—The Tile Shop decided on a single design, Pure Net, first introduced as a ceiling paper in 1895. With a pleasingly symmetrical, four-sided design and cornice-like details, it was perfectly suited to repeating squares. For the palette, after what Froelich describes as "a lot of trial and error," the partners agreed on three tonal colorways: Black Ink, Cloud Grey and Linen, all inspired by Morris's journal entries about long-ago trips to Iceland. Says Tyerman: "He writes of the chalky skies and the tranquility of the snow: calm and bright colors that create a feeling of peace."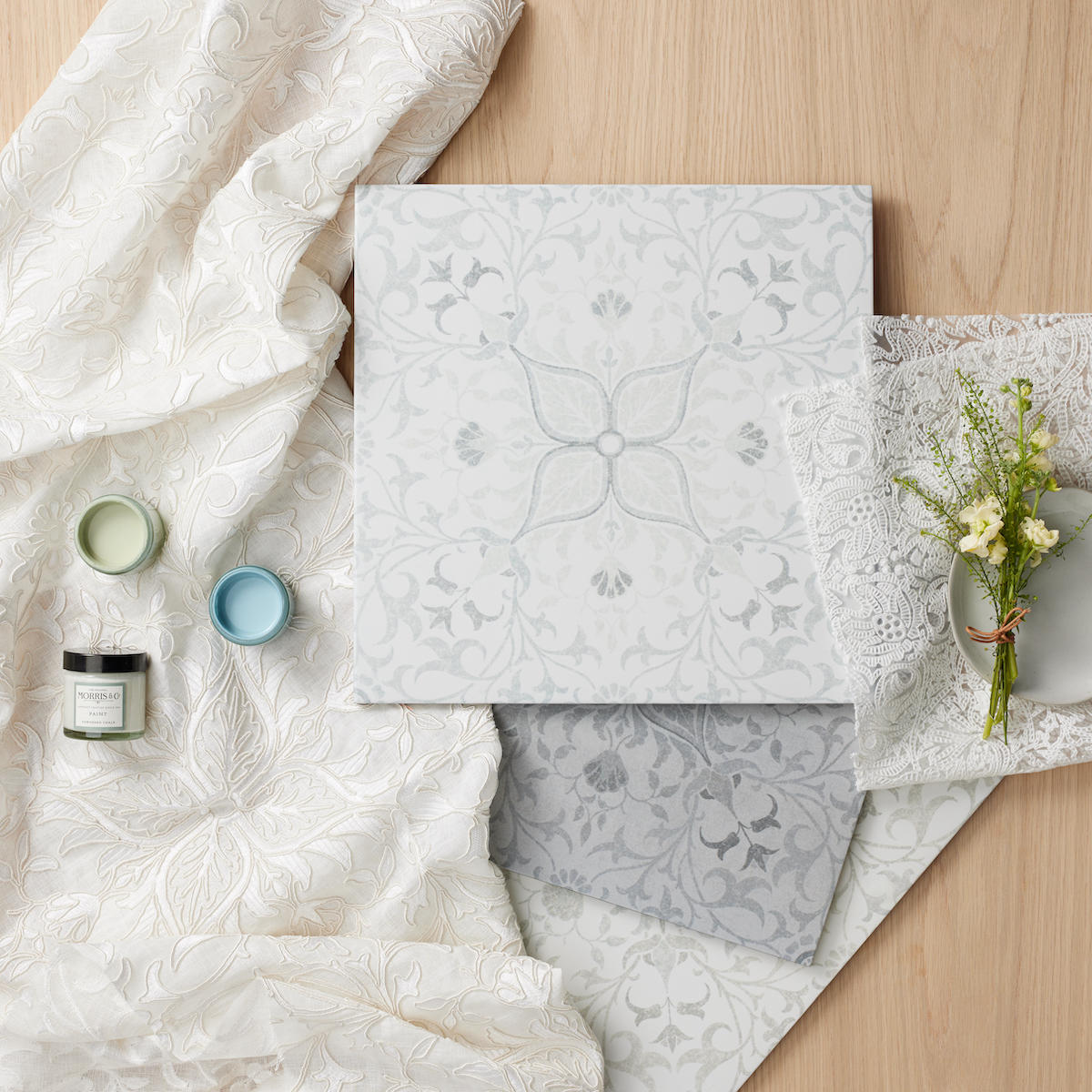 Courtesy of The Tile Shop
While founded a near-century later, in 1953, The Tile Shop's other recent brand partner, Laura Ashley, shares a similarly strong legacy and aesthetic identity. Beloved for decades in the U.S. for its romantic floral dresses, modern versions of which have since been adopted by the cottagecore crowd via fashion collabs with Urban Outfitters and Batsheva, Laura Ashley was ready to further expand its footprint to the home sector and connect with younger shoppers.
Beginning with porcelain variations of its bestselling Wicker and Mr. Jones designs in 2018, The Tile Shop's Laura Ashley collection now also includes the hexagonal Louise Star and the just-launched graphic Sunflower print and undulating Leaf mosaic. To cater to the trend toward softer colors, hues range from muted Dove Grey and soothing Pale Slate to deep Midnight blue. "The Tile Shop team looked at everything, even large-scale florals, but ultimately the designs came from our wallpaper versus our fabric archives, because wallpapers tend to have a cleaner, more simple design that, like tile, is intended to cover large, flat surfaces," says Penne Cairoli, president of Laura Ashley USA. The team's expertise extended to every last detail, "right down to the color of the grout between all the little mosaic leaves," she adds.
As collaborative as the partnerships were, each brand presented its own set of challenges when it came to translating its classic textile patterns to porcelain tile. For Morris & Co.'s Pure Net, that meant resizing the vertical orientation of the original wallcovering to fit within a standard 13-inch-square shape, eliminating some of the meticulous detailing and adding a textured effect that, in a hat tip to the brand's Arts and Crafts roots, mimics the appearance of woodblock printing. "It gives the porcelain an organic look that pays homage to our heritage," says Tyerman. Interpreted in tile, Laura Ashley's whimsical stars and spiky sunflowers are geometric almost to the point of abstraction. "That's purposeful," says Froelich. "What I love about Laura Ashley is that they seek out fresh and exciting opportunities. They want to introduce their brand to the generation whose mothers first wore their dresses. The graphic treatment of the Sunflower print, for example, not only brings the outside in, but does so with such contemporary flair."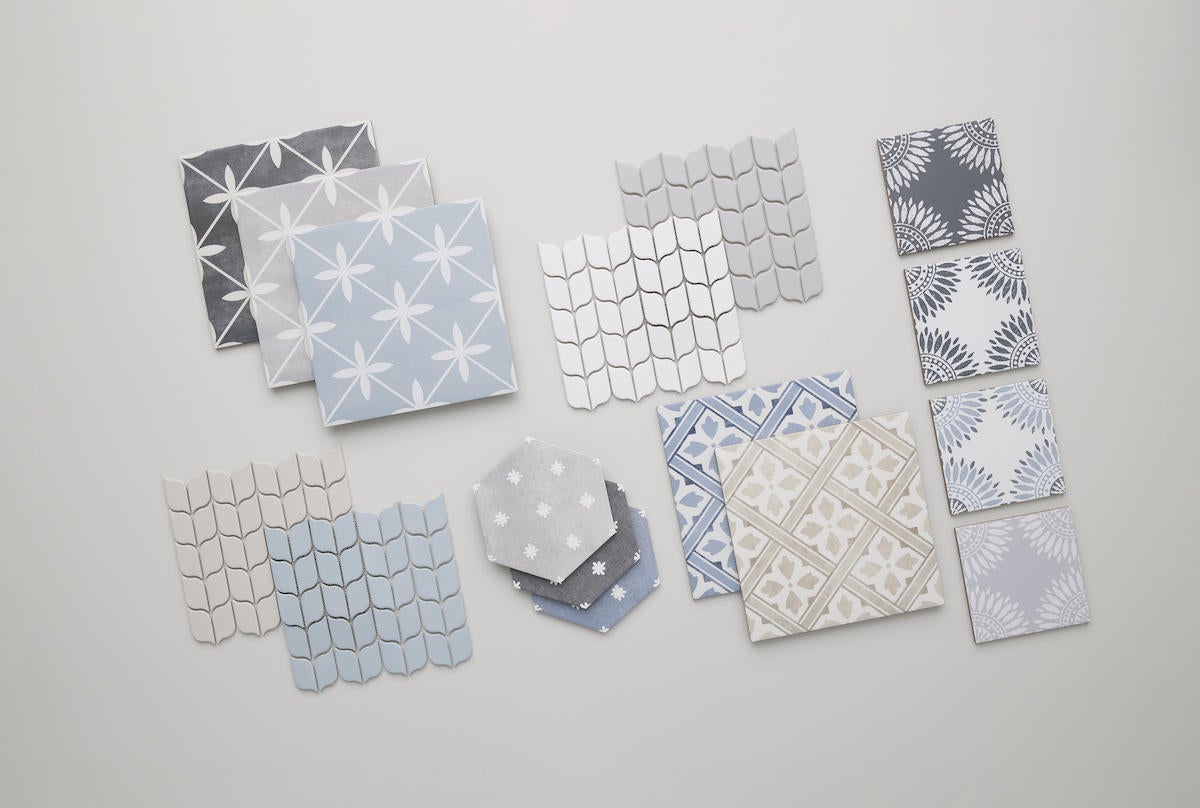 Courtesy of The Tile Shop
The three companies, creating their collections in the time of COVID, worked almost exclusively by Zoom and shipped samples. "We've yet to actually meet in person," says London-based Tyerman of her Tile Shop colleagues in Minnesota. (Located in South Carolina, Cairoli was at least on the same side of the Atlantic.) Plus, on top of the pandemic-induced supply chain delays, The Tile Shop's manufacturing outlets across Europe—from Turkey (where Pure Net is made) to Poland to Italy and Spain—have been seriously impacted by fuel shortages caused by Russia's war in Ukraine. "It's become incredibly expensive to run kilns. Costs have gone up around 40 percent," says Froelich. Necessity being the mother of invention, she recently returned from a scouting trip to Brazil and predicts South America will play a prominent role in The Tile Shop's development and production strategies going forward.
Considering the historically deep benches of both brands, their glowing reviews of The Tile Shop's mindful approach to collaboration and the commercial success of the two lines, opportunities for future collections abound. For Laura Ashley, which will celebrate its 70th anniversary in 2023, Cairoli imagines greens gracing the color palette, while Froelich is pondering a seashell motif, its swirly round shape a pleasingly soft counterpoint to the inherent hardness of tile. Tyerman dreams of using Inky Fingers, an indigo blue that evokes William Morris's earliest experiments dyeing fabrics. A second Morris & Co. pattern inspired by another 19th-century floral ceiling paper, St. James, named after the palace and reintroduced during the Queen's Platinum Jubilee, is on the docket to debut in 2023. For American customers who just can't get enough of the comfy yet modern English countryside of it all, both collections are sure to be just their cup of tea.
This story is a paid promotion and was created in partnership with The Tile Shop.
Hompage image: Morris & Co. Pure Net tile in Black Ink | Courtesy of The Tile Shop