In our series, What I Love, we're asking designers to build us a mood board of what's inspiring them right now.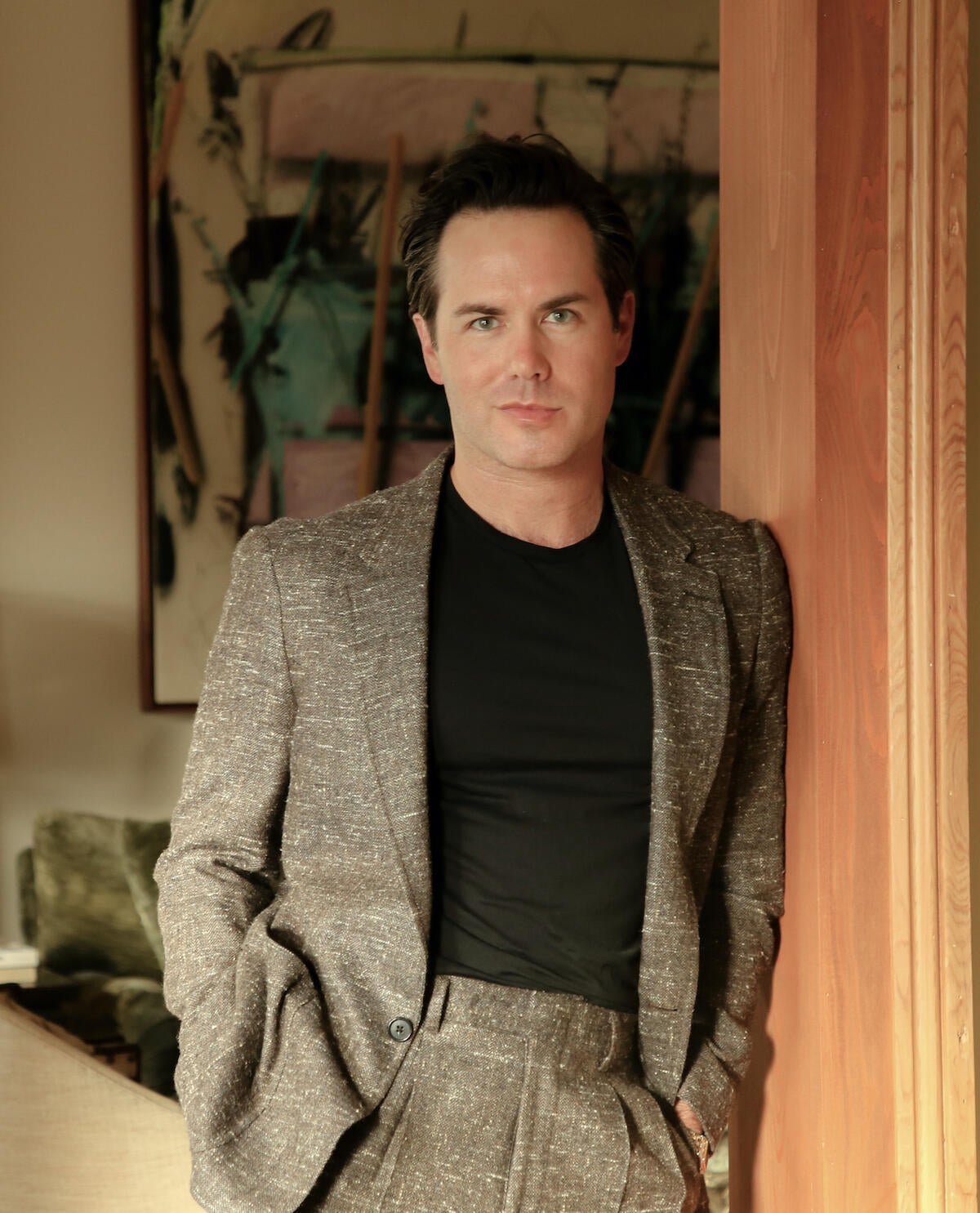 Chad Graci has an affinity for escapism. The New Orleans designer's penchant for pairing romantic old-world finds with of-the-moment designs allows him to create spaces that feel warm yet otherworldly.
This flat lay—inspired by his bathroom and hallway design for the recent Kips Bay Decorator Show House Dallas—offers a superlative case in point. "My two-room area is loosely titled 'Bon Vivant Hideaway' and channels the exoticism of El Morocco and the worldly enchantment of The Stork Club," he tells Business of Home. "I am creating a series of fantasy spaces to withdraw to when that glamorous party is just 'too much.'"
Though the scheme is teeming with lavish details, including ball fringe trims and monogrammed linens, Graci took care to layer in an array of elegant earth tones and touchable finishes to strike the balance between livable and luxury. "By combining rich, layered colors like cranberry lacquer and gold leafing alongside textures such as honed and fluted exotic marbles in lilac and bold black, these rooms come together in a way that is fresh, glamorous and grounded," he says.
Here, Graci breaks down the details—from hand-sketched wallpaper prints to smoky mirror samples.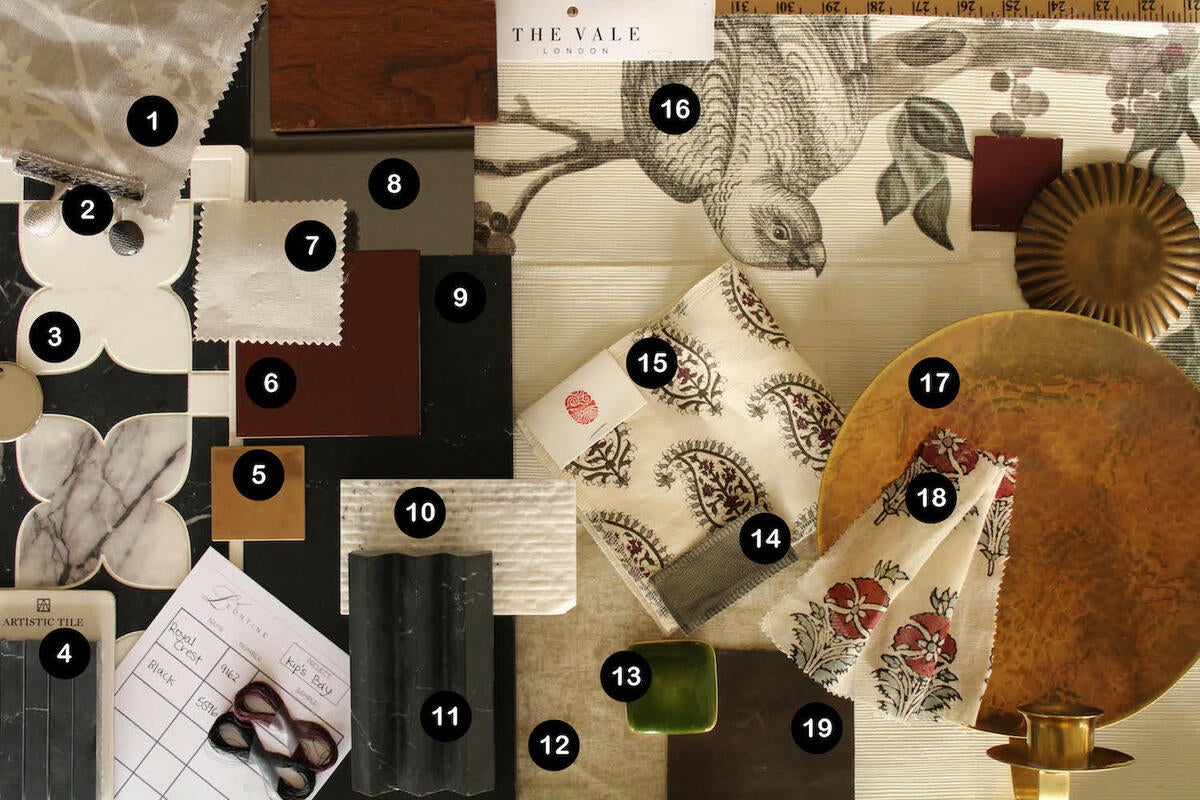 Courtesy of Chad Graci Interiors
1. CHINOISERIE LINEN FABRIC IN DOVE BY MARTYN LAWRENCE BULLARD AT THE SHADE STORE
"Love this for the hand of the linen and its subtle herringbone weave."
2. CÉLINE OMBRÉ BALL FRINGE IN SLATE BY SAMUEL & SONS
"I added this trim for some drama and a dash of whimsy in an otherwise serious bathroom."
3. ISABELLA LILAC WJ MOSAIC BY ARTISTIC TILE
"This is a fresh take on the black-and-white marble floor that we have been seeing everywhere. I love the classic pattern but spiced up with some lavender marble."
4. ABBEY ROAD BIANCO DOLOMITI DOLOMITE MOSAIC BY ARTISTIC TILE
"A new version of a simple shower floor mosaic. The elongated shape echoes the Pinnacle fluting and the raked nature of the lilac marble."
5. ARTIFACTS FAUCET IN VIBRANT BRUSHED BRONZE FINISH BY KOHLER
"This timeless faucet in a fresh finish tie all the elements of this bold bathroom together."
6. BEWITCHED BY BENJAMIN MOORE
"This color is both dramatic and unique—it's a fantastic grounding hue that works with so many color combinations."
7. CUSTOM CARLO MONOGRAM GUEST TOWEL IN QUARTZ LINEN BY LEONTINE LINENS
"These custom hand towels elevate any bathroom with a sophisticated air."
8. CALLEN MIRROR SAMPLE BY ARTERIORS
"A step up from a basic mirrored wall, this smoky gray mirror gives depth and seriousness."
9. CAMBRIA MAMMOTH CAVE IN MATTE FINISH BY CAMBRIA
"This nonoverpowering product strikes the right note with white veining and a soft, warm black."
10. RAKED LILAC MARBLE FIELD TILE BY ARTISTIC TILE
"This marble's beautiful lavender veining and raked finish catch the light just so."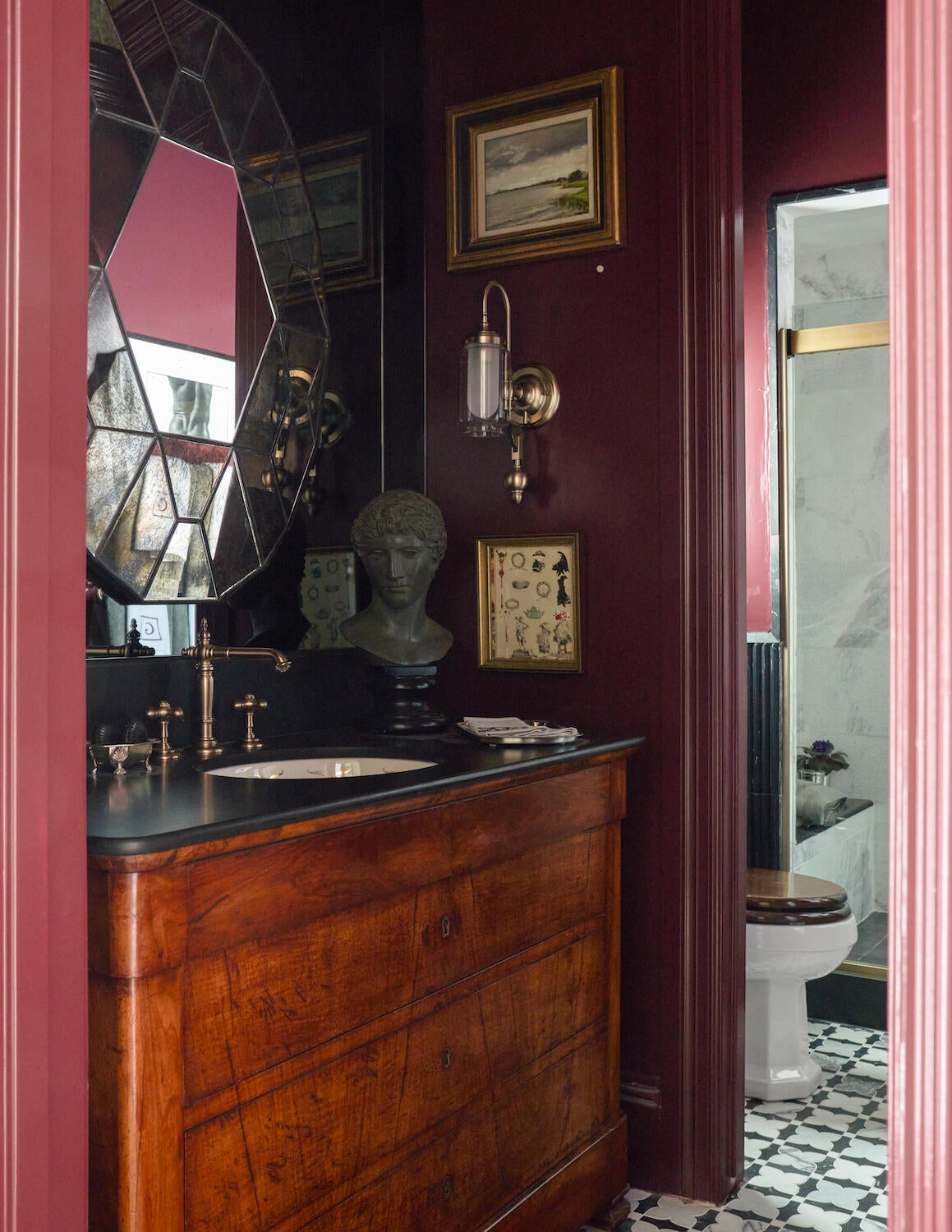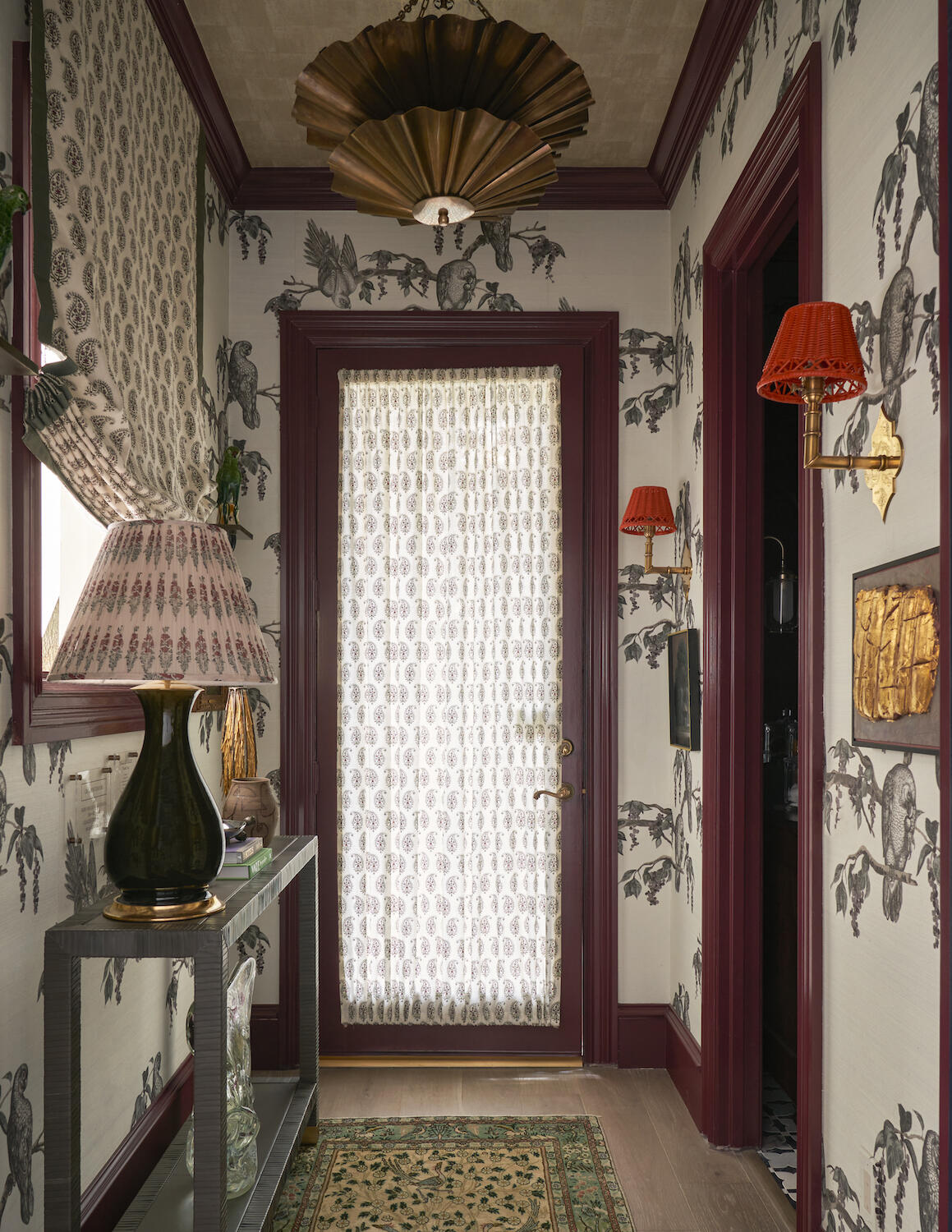 11. PINNACLE NERO MARBLE FIELD DIMENSIONAL TILE BY ARTISTIC TILE
"I love this because it is giving me deco, but not dated deco. So architectural."
12. TEA PAPER WALLPAPER BY COWTAN & TOUT
"Love this for a durable, cleanable shimmer!"
13. CERAMIC GLAZE FINISH SAMPLE IN SPRUCE BY CHRISTOPHER SPITZMILLER
"Christopher Spitzmiller absolutely has the most beautiful glazes. Spruce livens up the otherwise quiet palette."
14. FRANÇOISE BORDER IN CHARCOAL BY SAMUEL & SONS
"This simple tape trim in a greenish charcoal makes the completed Roman shade feel tailored."
15. ARYAN CHOTA FABRIC IN EUCALYPTUS BY NAMAY SAMAY
"The colors are so right. That subtle burgundy with the moss green tones are a soothing combination."
16. TASSEL BERRY WALLPAPER IN BERRY BY THE VALE LONDON
"Drop-dead gorgeous colors. This is perfect for hanging art on because there is so much open texture."
17. THE ATEN LIGHT BY SOANE BRITAIN
"The hammered, concave surface of this sconce gives the right amount of glimmer to this scheme."
18. FIELD POPPY ON MUSLIN BY ROBERT KIME
"This is the fabric for a custom, shirred lampshade to work with the spruce-glazed Spitzmiller lamp. I like mixing patterns with different scales."
19. CUSTOM LEATHER SAMPLE FOR OSWALD CONSOLE BY ARTERIORS
"A leather-wrapped console warms up the palette."
Homepage photo: A flat lay by Chad Graci | Courtesy of Chad Graci Interiors