The 50 States Project is a series of candid conversations with interior designers across the country about how they've built their businesses. This week, New Orleans–based designer Chad Graci tells us what he learned from working for legendary decorators on both coasts, why he moved his firm into an office tower and how he's getting frank about what design costs with his clients.
Did you always want to be a designer?
I did. Even when I was 10 years old, it was either that or be a soap star. My father was a residential architect when I was growing up, so I always found myself in his office after school, going through floor plans and drawing on them—just playing with all of the tools. When I got to college, I was already familiar with how all of those things worked and how to use a scale and blueprints and whatnot.
I knew that I wanted to transition to interior design, but I went to architecture school because I thought it would be the best foundation to build an interior design career. It taught you how things are made, and all of the drawing and rendering tools that I use pretty much every single day as a decorator. I know how to relate to contractors and architects; I can be on a job site and understand what's going on, how things are put together and where they came from. I definitely think it was an invaluable part of my education.
How did you make the transition from architecture to design?
Early on, I worked for Michael Carbine, a builder-architect here in New Orleans. From there, I moved to Los Angeles, where I worked for the late Greg Jordan, who to this day still inspires me endlessly. I saw and learned and got to be involved with so much under his tutelage. After that, I moved to New York to work for David Easton, who is also no longer with us, sadly. My time there really shaped my entrée into the design world.
Did you know right away that residential interior design was the right fit for you?
I knew right away. It just felt—easier is not the right word, but it felt more natural and intuitive.
When did you know that it was time to go out on your own?
I had recently left Easton's office to try a different decorating firm when the financial crisis happened, and it was a strange time to be in a new office. Suddenly, there was no new work. I decided to go back to New Orleans and work for Michael again, decorating for him. I got to the point where I felt like I had a lot more to say, and a lot more drive and ambition, than what was being asked of me. I felt like I was bursting at the seams with creativity, wanting to implement all the things that I had learned in my years in New York. It's hard to spread your wings like that under someone else—and it wasn't a bad thing, it was just time. That's really how I knew. Then I took a part-time job teaching at Louisiana State University, which allowed me to bridge the gap from leaving that office to starting my own thing.
So that you didn't have to have a full book of business right away.
Exactly. Because, I mean, I definitely didn't have a full book of business. I had one fabulous project in Kansas City for some friends from Boston who had bought a sprawling colonial there and hired me to do it. That was my first real job. I had been doing things for friends around town on the side, but this was the project. Everybody needs that one project to step off the cliff—and hopefully there's a magic carpet somewhere right below to catch you. This project was large enough that I could do it alongside my teaching responsibilities at LSU and just devote all of my time to it. I'm so proud of that project. It was in 2010 or 2011, and I still use the pictures from that project to this day.
Where did jobs come from after that, and how did clients find you?
After that Kansas City job, I landed a condo in the Arts District here in New Orleans, which turned out to be a fabulous job and beautiful. The client was also a very social person, so a lot of their friends saw it and called me. From there, it just grew.
Did you have a strategy around that growth?
I really didn't. I was so focused on the current project and then getting the next one. I did a lot of outreach to promote myself in local publications and with local photographers, mostly trying to make a name for myself around town. If you're super professional, hyperorganized, have a good work ethic and do your best, word gets around.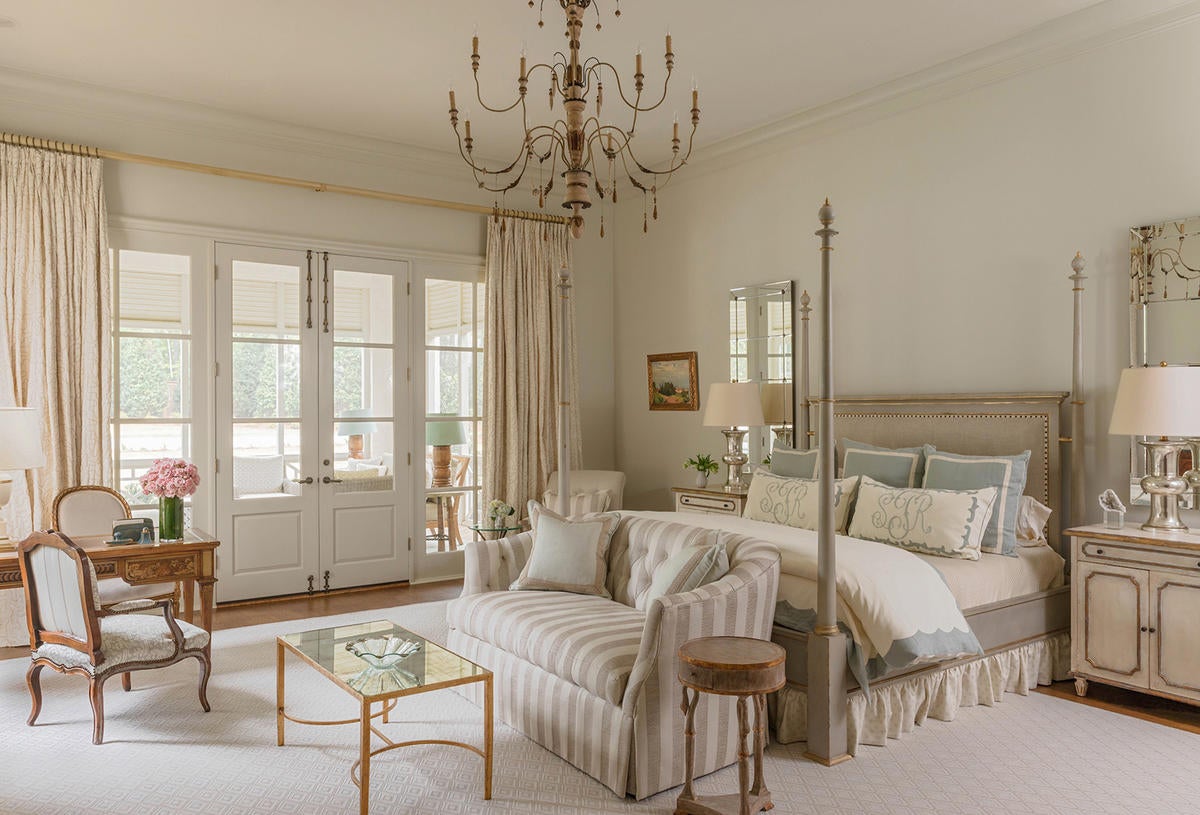 How many projects are you working on at the moment?
It's hard to sever the cord right now if you're still waiting on things—we've got five of those projects. And then we've got 10 projects that are actually happening right now.
And what team do you have around you to support you in that?
I have a bookkeeper and an assistant. I had someone else, but she recently had a baby and decided to stay at home, so we're looking for another person to work in the office. I see the need for another design assistant to keep up with the minutiae.
My plan is to stay small but bigger than what I am now. We recently moved offices, from a smaller space to a bigger office in a better building. That seems counterintuitive to what a lot of people are doing right now—going back into an office space—and some people really questioned my move, because we're in a real office tower. But to me, it is the best thing that I've done in a long time to grow my business, because it gave me a platform on which to grow.
When you say "office tower," it sounds very corporate.
There's an architect upstairs, and I'm the designer in the building. There are a couple of law firms, an advertising agency and a doctor's office. It feels like we've all banded together in return-to-office life, and it just feels right. I also love the presentation it makes to a client when they walk into a gorgeous reception area with furnishings that are evocative of Graci Interiors. It helps clients get an immediate sense of what we're all about without us even having to say anything, and they can see quality things here in the office. It's great to have visual tools in a meeting, where we can say, "This is how your chair will be upholstered," or, "Sit here—this is the cushion, and this is how it can come together." I love the office as a tool for design.
What made you pick the tower rather than, say, a street-front showroom or office?
I don't really want to have an off-the-street type showroom. I feel like there's a lot of that here, and it all feels the same, in a way. I wanted a different experience, and I wanted it to feel a little more elevated, in the sense that not anybody can just come in here off the street.
How hands-on are you with each project, and then what are you delegating to your team?
We have a big meeting coming up this week, and right now we're running around town grabbing lamps and resources and fabrics and just putting it all on our counter room by room, weeding out and pinning up and taking down. I pull everything together in the beginning and then delegate the putting it together—the paperwork and the proposal packages, that type of thing. I'll do selects and fabrics and shopping and jumble it all together into something that makes enough sense to pass off, and then someone else puts it all together in a format that's presentable on paper or in an email.
How much of that structure you've put together is pulled from what you saw at the other firms you worked for?
The way that I approach a project, the way that the work is delegated, the shopping patterns—and even the way we put together proposal packages—is the way I did it at Easton's office. Each item has a sheet: it's got our logo at the top, and a signature approval line at the bottom. Under the logo, there's the room name and an item name with a number that corresponds to a numbered furniture plan, and then there's a big picture of the piece with a fabric sample stapled to it. Under the image is a full description with dimensions and price. And then the next page will be option B, if there are options.
How do you feel about options? Are they important in the process, and when do you use them?
Sometimes they are important—especially if price is an issue, I think people feel more comfortable when there's an option because they can see the difference between a more expensive thing and then a less expensive thing. It helps them see why the more expensive thing is better.
So instead of being about value engineering, it gives them the confidence to get the quality thing.
I think so. And then there are some places where I think the less expensive thing is great, too, and it's just a personal preference. But I do not like to give more than three options—two is probably the best if you're going to give an option, and three is OK. Anything more than that and I think it starts to look like I'm not sure, or it puts a little too much work on the client.
And are there some things where you'll just say, "This is your only option"?
Lamps. It's, "These are the lamps. These are great. Go for it."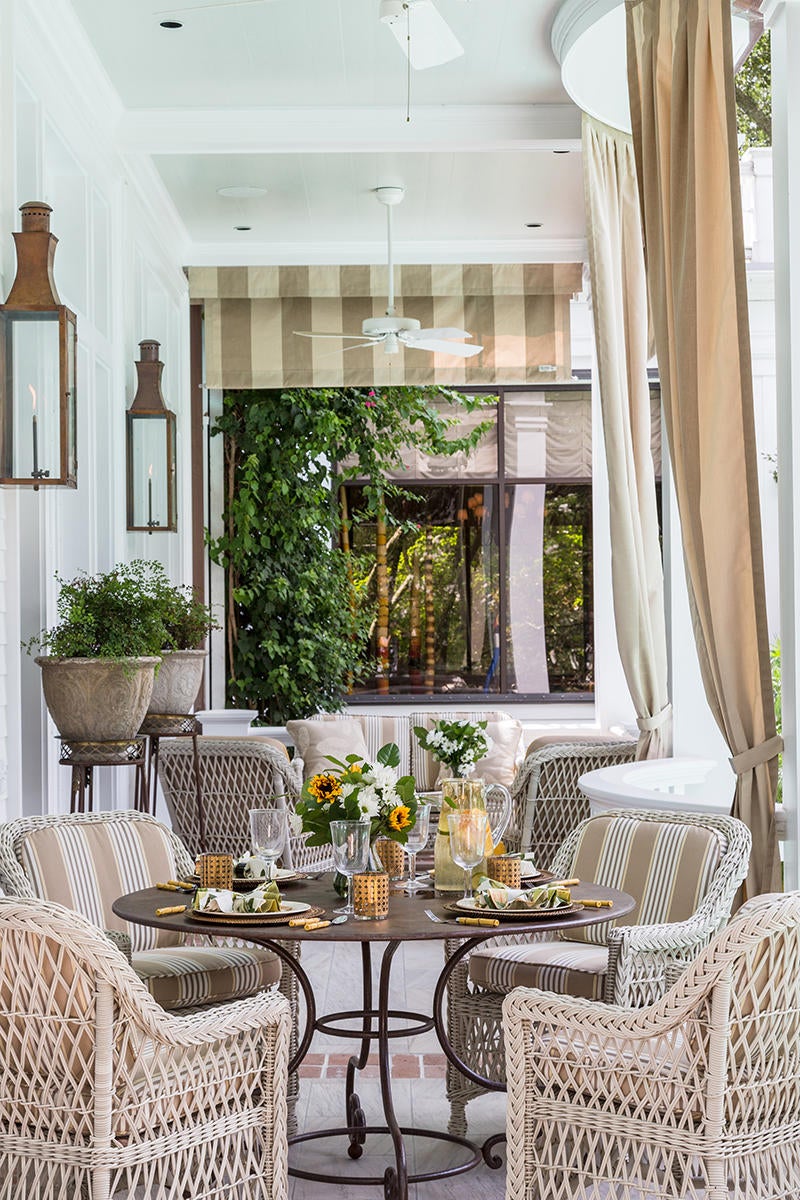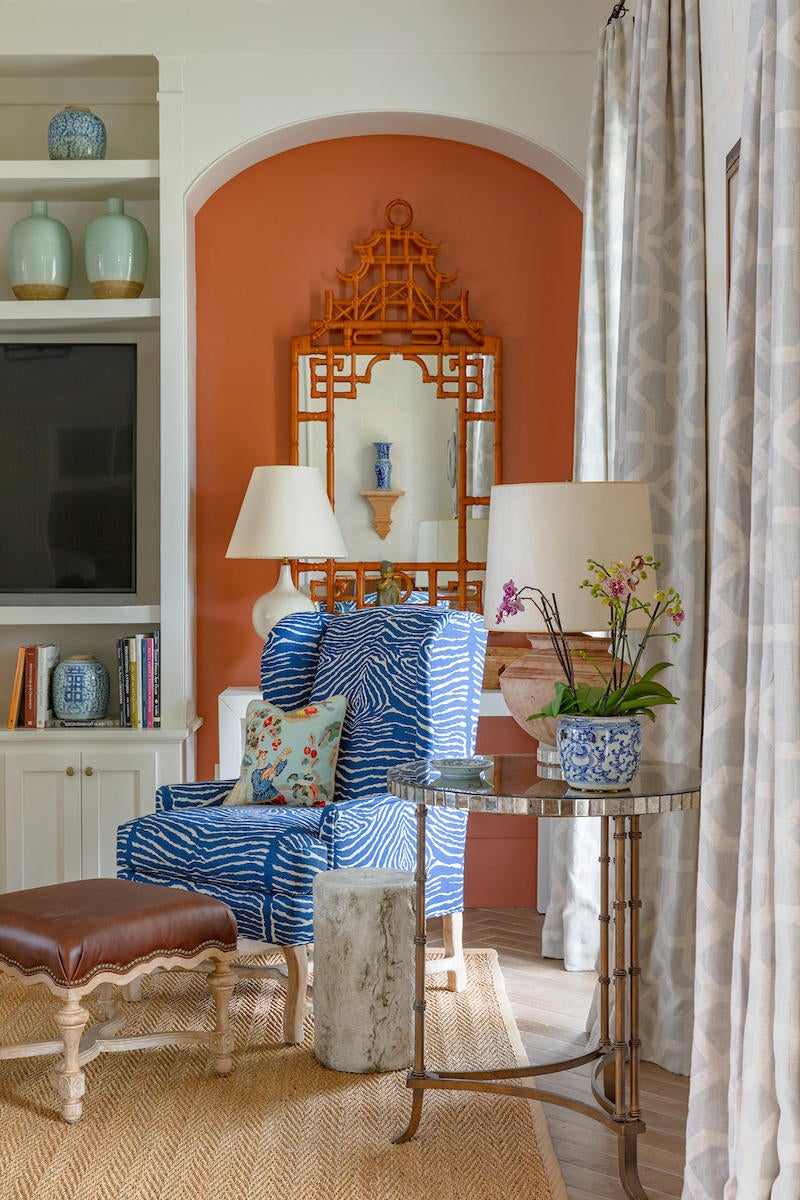 What's the design scene like in New Orleans right now?
We have such a wonderful architectural history to build on, and people really respond to their environments. You have to play to the architecture here—I mean, the scale of everything you put in some of these Garden District houses is so important, especially with those 14-foot ceilings. And because the architecture is so strong and so specific to New Orleans, any old thing from West Elm or some big-box store is just going to look dead in such a rich and real architectural envelope. People need guidance to know how to balance these strong and robust architectural legacies that we have here with current modern living.
The market is also pretty volatile. Homes are going well over asking with all-cash offers, so it's very competitive. The clients that I'm getting right now are a mix of people who have been here a long time that are around my age—young-ish families who are finally getting to buy the houses that they've always wanted, and they want to invest time and money into making it right. We also have a lot of out-of-town people that call us because they bought a second home here for weekends or for festival season. I'm also doing some projects out of town that are larger ground-up, full-scale build-outs or gut renovations.
As you've grown your client base, how are you deciding what projects you say yes to these days?
That's a great question, because it's very difficult sometimes to say no to a project that you know would be lucrative. I like to meet the client first and talk to them in person before I decide. Then I can weigh my options: Will this project make me money, or will this project take away time, effort and attention from other projects that are important and currently making money? Is this a long-term project, or can it be broken into phases?
It's hard for me to justify a small project right now unless it's for a friend, because that's hourly, and it's just time away from the big-picture projects. At this point in my career, I feel it's very important for me to be able to devote attention to detail and time to each project, so I wouldn't feel good if I had to rush through something to do something else.
How do you work with clients at the beginning to get a sense of their hopes and dreams for the space?
The first thing for me is just to listen. I like to walk through their existing space to see how things are—what's all over the place, what rooms are lived in or not, and trying to understand what they're disappointed in or what they want. From there, the most important question is, "Who's using these spaces? Is this a room for the dog and the kids to hang out in, or are you entertaining here? Do you want a special room just for that?"
I'm experiencing this return to separate spaces for everything. The husband wants an office room for himself, the wife wants a sitting room, and then there's a place for the kids. There's also a place for them to all come together, and then there's an actual living room again. But the living rooms today aren't so sequestered—and I don't think they're so precious that they can't be used. I just think if you give people these retreats—and that's what everybody wants now—it takes the pressure off of the formal rooms to perform as formal rooms.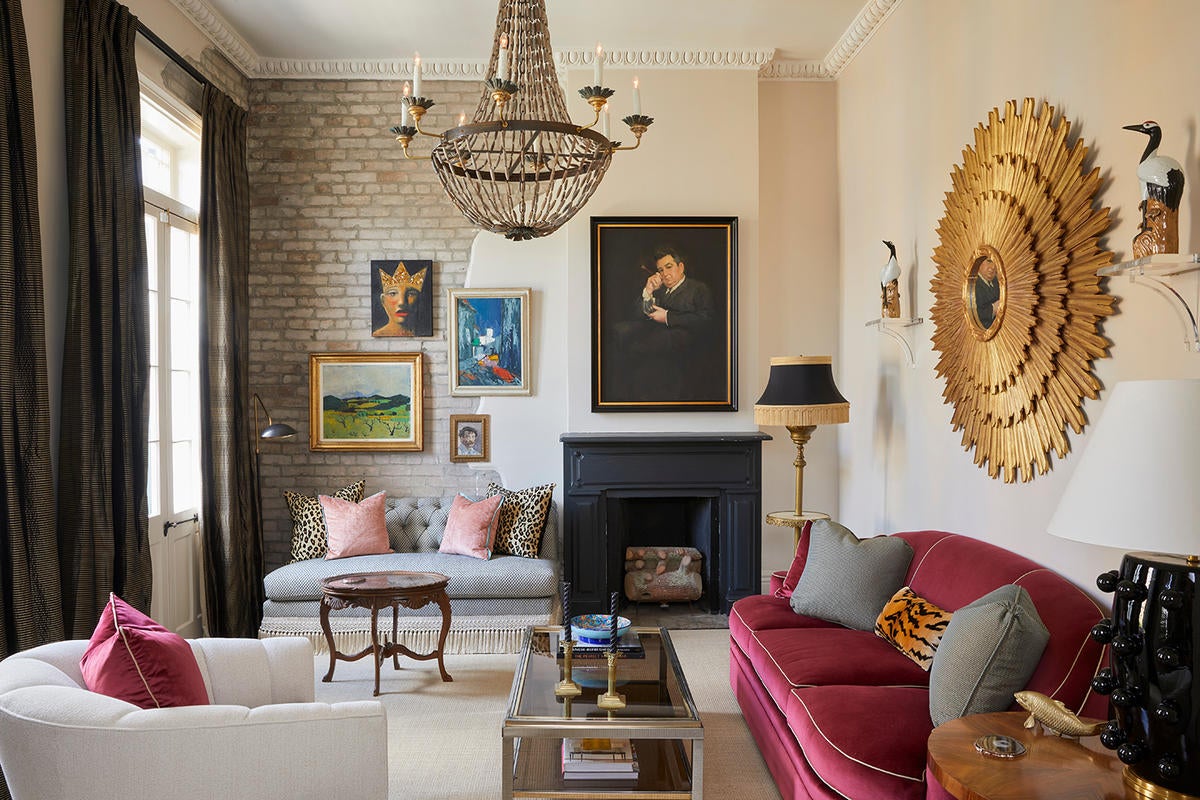 How have you approached billing for your work?
Believe it or not, my billing structure hasn't changed much from how it was at the big firms I worked at before: We charge a design fee, plus markup on wholesale. We build in a certain number of architectural drafting hours into the design fee, and then we have an hourly fee structure that kicks in if it goes beyond that. I mean, I've scaled back to fit the economy and location of my clientele, but I feel like transparency is always the best scenario in billing.
What does transparency mean for you?
Everything's very straightforward and spelled out—everybody knows how much they're paying for something, what the markup is and the shipping cost per item. At Easton's office, it was very clear. I did not do the billing, but I prepared proposals and spreadsheets, and people knew what they were getting. His markups were a lot larger than mine, but the structure worked for me and I understood it—and really, I do think it's less work on our end for accounting and billing if the same markup is applied to everything. It's far easier than weighing, "This is retail, but this isn't, and this is hourly."
Have you ever gotten pushback on that?
Some people don't get it, and then we end up not working together. When people are like, "Why do I pay a markup if I've already paid a design fee?"—I mean, if you don't understand that, then maybe you shouldn't hire someone. I explain that the design fee is to walk in the door. We have employees to pay and expenses per project that we need to cover, and the design fee is that bottom line—what makes it worth our while to do the work for you. And then the markup really covers time, effort, paper, ink, gas while running around, shopping, getting things from point A to point B. It's just an incredible amount of time and effort, and I think it's important for clients to understand that.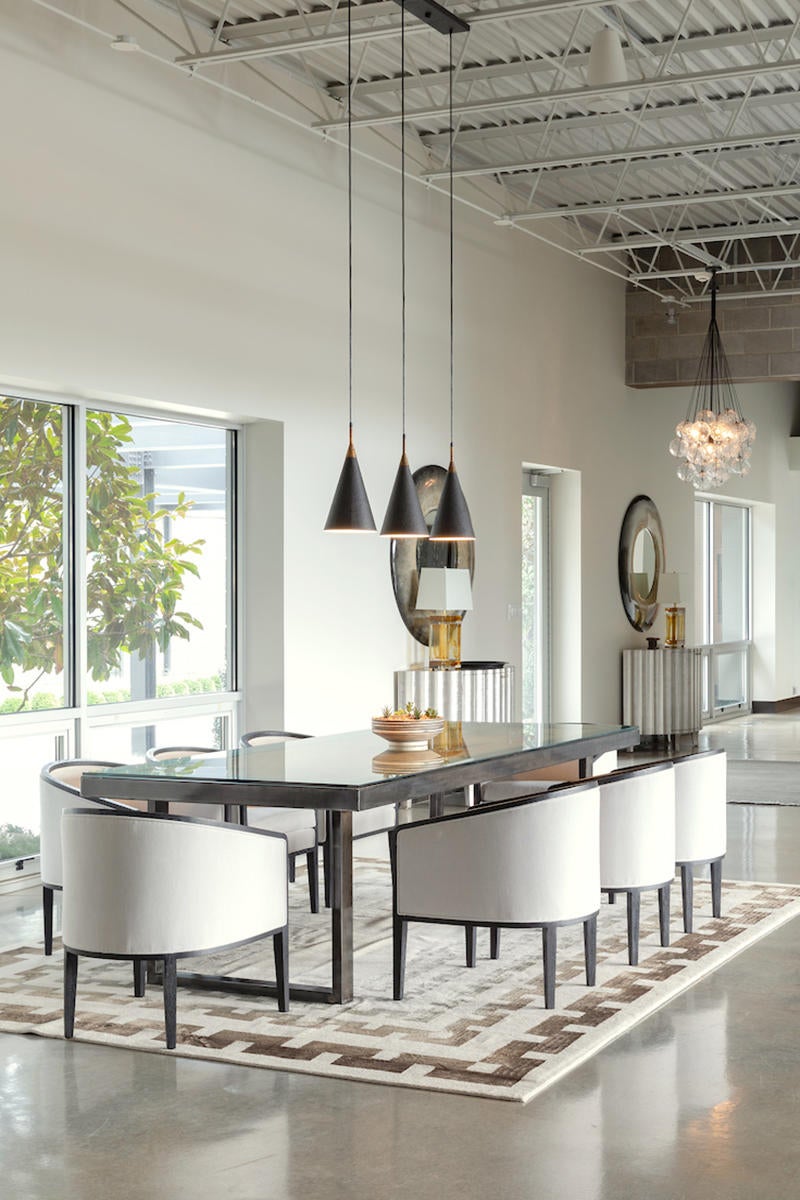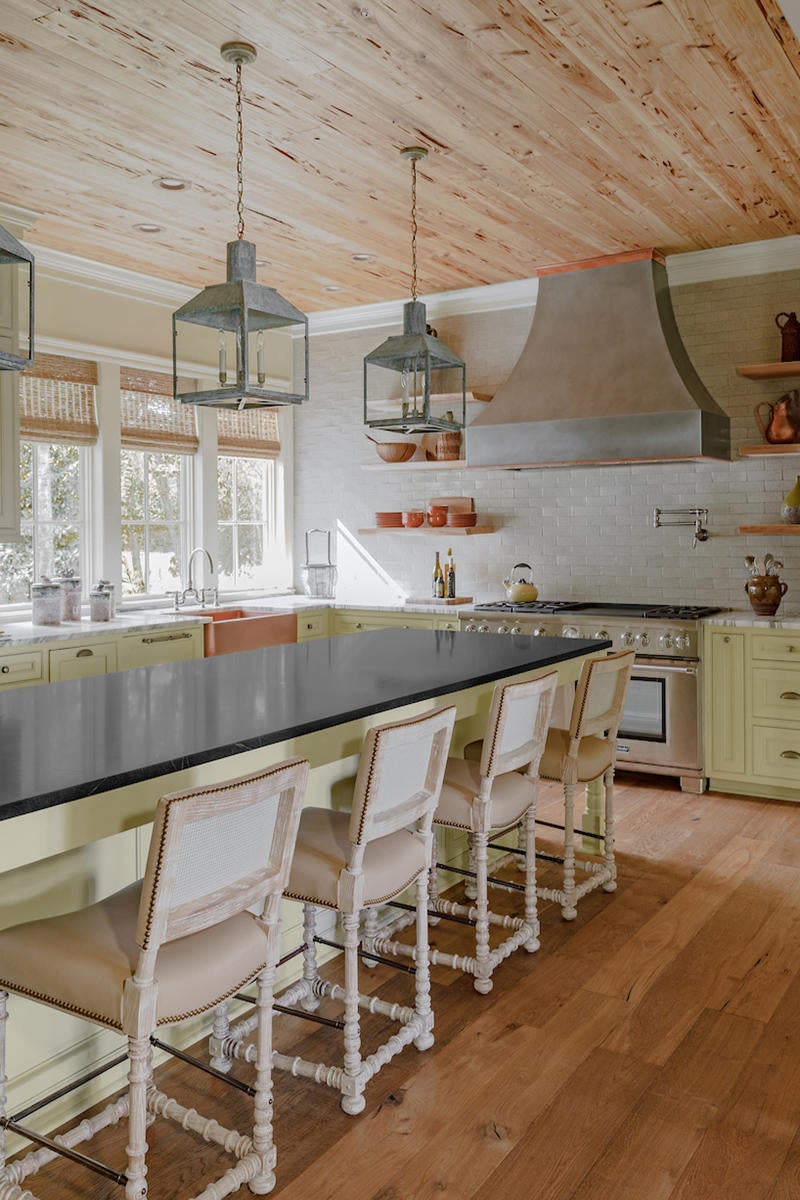 When you look at your business, what is your biggest challenge?
I'm sure you've heard this from everyone you've spoken to, but the biggest challenge is that nothing ever ends because nothing ever comes in all at one time, or when it's supposed to. It's the dragging out of things—and, frankly, the disappointment around lead times. It's just so hard to explain to people a 36- to 52-week lead time on a chair.
The time frame in general, or the unknowns with such a wide range?
The range of time—and the time in general, really, too. My clients have been extremely patient and understanding, but I feel like the time is up for that. People are getting a little frustrated and annoyed—as am I, frankly. I'm tired of hearing it, and I'm doing everything I can these days to find things that already exist. That's how we've shifted: We're flying to cities to shop for existing things. We're shopping here in New Orleans for things that exist. We're using online platforms for things that exist—things that can just ship, and if we reupholster them, it's still less of a lead time (and often a lot more cost-effective).
Do you mean buying stuff off the floor at showrooms?
Definitely some of that. I had a quick-turnaround project for a client who bought a condo in a big football town and wanted it done quickly and within a certain budget. It's definitely possible to do that kind of project, but it can be frustrating. The biggest problem we had was if something said it was in stock and then they're like, "Oops, my bad. It's in stock, but it's going to take four weeks to ship." We just had a situation this morning where we're doing a nursery for a friend of mine, and they loved this glider that was in stock. We went to order it immediately after the meeting because I didn't want to lose it. It says "in stock and ready to ship," but as soon as she confirmed the order, we got an email that it was back-ordered. I'm like, What? It almost felt like they were doing it on purpose. That's the stuff that just takes the wind out of your sail.
Where do you see the opportunity to grow for your firm?
We have amazing projects, which I'm so excited about. Growth is hiring a couple more staff members, just to enable us to complete these projects and continue to take on the level of projects that I want. And clients aside, I do feel like the next phase is exploring the world of licensing. I know it's an incredible amount of work, but it really does sound like a lot of fun to me.
What makes you want to be in that space?
I kept having to tweak things. There are maybe 10 things that I've had to custom-design—and that I keep using, because they work for clients. I have some great pieces that were left to me by my grandmother that really have inspired some appropriately scaled pieces of upholstery. I know there's a lot out there right now, but there are certain things that I want to explore. I have a bunch of files that I keep adding to—stuff where I keep thinking, "This should exist." So I think that's the next frontier for me.
That sounds like a very soulful way of coming into the licensing business.
I think so, too. And I'm not saying that I want to have this enormous furniture line—just a small capsule collection of pieces that mean a lot to me that have helped me along the way.
To learn more about Chad Graci, visit his website or find him on Instagram.