It's a family affair at Original BTC, the British lighting brand that launched new lighting collections at ICFF in New York earlier this year. Founder Peter Bowles and his son, company director Charlie Bowles, discuss their approach to family business, fake products, and the evolution of their brand.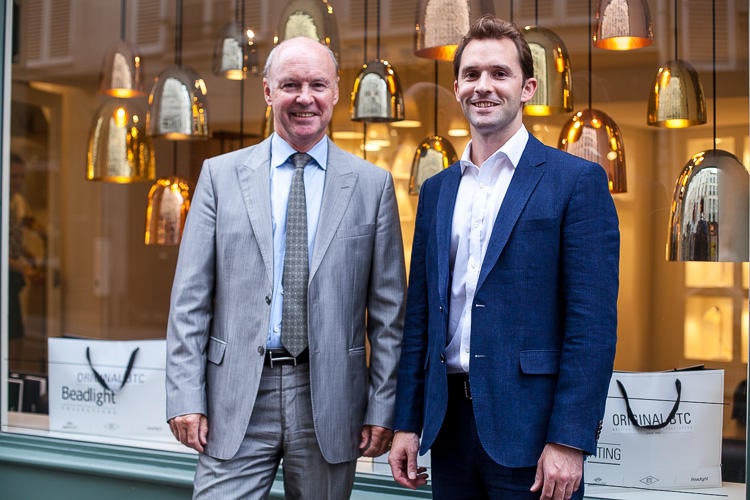 What are some trends you've noticed in the lighting industry since you founded Original BTC?
Peter: The largest difference in trends since I launched Original BTC has, of course, been the use of more efficient light sources. But beyond that, lighting has taken a much more prominent role in both interior and exterior decor, with much more importance placed on design and materials. When I founded Original BTC, there was a lot of traditional lighting, a lot of plastic, a lot of poor-quality products and a lot of bright, stark lighting.
We created trends and brought change to the market in so many ways. We introduced industrial lighting and industrial styling into the home. We led the change and trend toward more-relaxed, less-processed lighting with more emphasis on what the lights were made of. We introduced bone china ceramic as a material for light shades. We considered the whole light, introducing matching ceiling roses in both design and material (not plastic cones widely used at the time).
We introduced braiding to standard two-core and three-core cables—before us, it was always just plastic cable or old-style twisted cables. The idea for this came from my iron at home, and now pretty much everyone around the world does this! We led the way with the trend for using decorative industrial bulbs through our Davey brand, and our Beadlight brand was the first to put LED lighting into aircraft cabin lighting some 20 years ago.
Do the trends vary between the U.S. and U.K. markets?
Peter: From my experience, I don't think trends vary very much between the U.K. and the USA; time lag on styling between the U.S. and the U.K. has pretty much gone with the internet. We have always found the U.S. to be very receptive to our brand and what we have been creating. The U.S. has always been a strong market for us.
How have you seen the industry evolve with respect to customer demand?
Peter: We have our own glass factory, our metalwork factory and our own ceramics factory, all producing in the U.K. Our product developments have moved us now more [toward] the middle and upper end of the market. The huge increase of cheap imports and copies from the Far East have helped to bring change to the accessibility of new designer products to the masses but at the detriment of U.S. and U.K. manufacturers who were unable to innovate and change. I always set out to design lights that are timeless. Our customers' enthusiasm and demand has increased, even on items that I designed almost 30 years ago. I also think that like much of the world, the U.S. is very receptive to British-designed and -manufactured goods.
How did you decide to bring Charlie onboard—had he always been involved in the company?
Peter: When I started Original BTC and then a family, the two often intertwined. I have always loved what I do in business, but the family came first as long as business was good. I have four children and am so pleased I didn't miss out on their growing up. I always would tell them what was going on and also gave them some little jobs, like putting screws and raw plugs in bags to earn a bit of extra pocket money and feel they were helping. I can still remember all of them sitting on a big bed organizing each other to do them as quickly as possible—great teamwork which still exists today.
Charlie has always been interested in design and manufacturing, and he started attending exhibitions, then did a catalog in his gap year before going to university to study design. After university, there was no big plan, but we started working together and he soon became a very important member of the team. The company wouldn't be where it is today without his input.
What are the challenges of running a family business?
Peter: Working with each other and being competent can be horrendous in family businesses, but we have been so fortunate that we all really work together well, Charlie and two of his sisters, Gina and Hettie, work full-time in the companies and one daughter, Nancy, is currently working part-time. We have all grown up together and I am so fortunate they are all so hardworking. One of the challenges for me is sometimes having to watch them come under pressure and stress that can invariably come and go in business—it's all part of caring and achieving, which they all do so well. The whole company of 120 people is like an extended family with us all working together.
Charlie: To be honest, there does not seem to be any, other than trying not to talk shop when not at work! It works fantastically well. We are very lucky, as I know it is not easy for a lot of families to work together.
How do you work together?
Peter: We definitely work together really well and I think we work together with mutual respect, have fun, and mutually enjoy setting aims to see what we can do. We have never argued or shouted at each other, and I very much enjoy spending time together with him whether working on not.
Charlie: We are a great team—we are on the same wavelength and are keen to keep improving and growing the business in every way possible, while sticking to our core values.