1stdibs's "Contemporary," a shoppable catalog replete with editorial, has launched. The catalog spotlights new and customizable products found on the website. It's the first edition in what will be a quarterly schedule.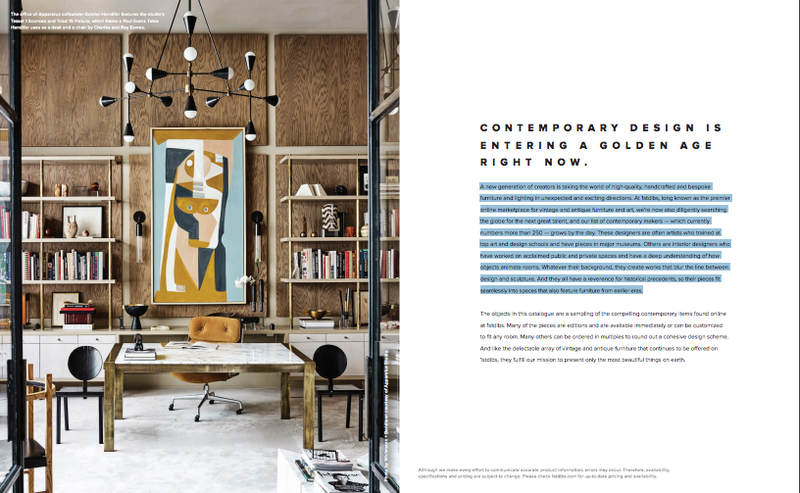 Among the editorial-meets-retail features are profiles of Apparatus, Workstead, Faye Toogood and other makers, and a spread on customizing upholstery. As the introduction reads, "A new generation of creators is taking the world of high-quality, handcrafted and bespoke furniture and lighting in unexpected and exciting directions. At 1stdibs, long known as the premier online marketplace for vintage and antique furniture and art, we're now also diligently searching the globe for the next great talent, and our list of contemporary makers—which currently numbers more than 250—grows by the day. These designers are often artists who trained at top art and design schools and have pieces in major museums. Others are interior designers who have worked on acclaimed public and private spaces and have a deep understanding of how objects animate rooms. Whatever their background, they create works that blur the line between design and sculpture. And they all have a reverence for historical precedents, so their pieces fit seamlessly into spaces that also feature furniture from earlier eras."
The category of contemporary design on 1stdibs has doubled in size since its introduction to the site last November. Today, the category accounts for 15 percent of all furniture sales on the site and spans 30,000 items.
"In just one year, we have been able to build a substantial new and customizable business offering the best selection of dealers and makers in this space while maintaining the quality of both craft and design that distinguishes 1stdibs," Cristina Miller, SVP of seller relations, explains. "The launch of the catalog allows us to highlight the depth of the offering while providing additional details and stories on the various makers and artisans that make the category so unique."
Other Contemporary-section initiatives include a partnership with designer Jonathan Adler, who recently launched a 90-piece curation for the site, which will grow weekly. Adler tells EAL, "They're looking to add more contemporary designers to their stable, so they gave me a ring. I'm a 1stdibs fanatic so of course the second they called I said yes, yes, yes."