Application periods are now open for some of the industry's most prestigious scholarships and fellowships. Update your portfolio and copyedit that essay before applying to these top scholastic awards.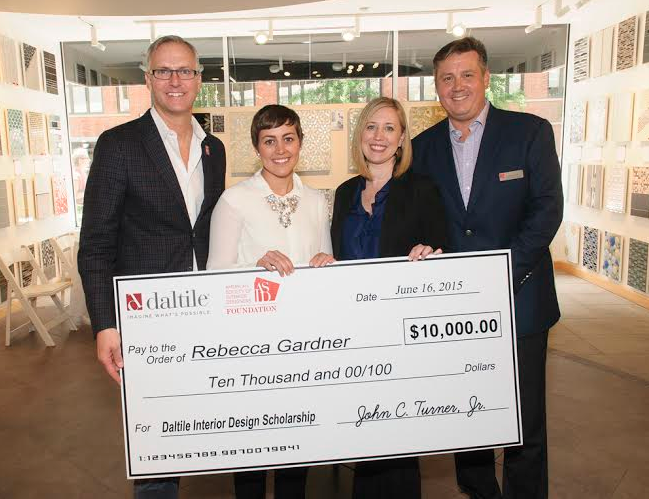 Gensler Scholarships
Along with substantial monetary support, award-winning firm Gensler provides summer internships to its scholarship winners. First place for the Gensler Diversity Scholarship, which recognizes architecture-pursuing collegiates from underrepresented and minority races and ethnicities, receives $20,000, while a second-place recipient earns $10,000.
The late Gensler principal and design director Don Brinkmann, who passed in 1998, was long dedicated to nurturing young design talents. In his legacy, Gensler launched the Brinkmann Scholarship, which is open to U.S. college students enrolled in an interior design program. The deadline for both scholarships is December 2, 2017.
The ASID Foundation Scholarships and Grants
Several industry partners have teamed up with the ASID Foundation to recognize the design community's emerging talent through scholarships and grants. The prestigious Daltile Interior Design Scholarship awards a total of $27, 500 in annual financial aid to the winners of Daltile's design challenge. The application period for the design challenge opens in July 2018.
Other, more specialized financial awards from the ASID Foundation include the David Barrett Memorial Scholarship ($12,000), the Joel Polsky Academic Achievement Award ($5,000), the Joel Polsky Prize ($5,000), the Irene Winifred Eno Grant ($5,000), and the Legacy Scholarship ($4,000) for undergraduate and graduate interior design students. The application period for the David Barrett Memorial Scholarship is November to December, and it is March to April 2018 for the others.
The Architects Foundation Scholarships
The philanthropic branch of the American Institute of Architects (AIA) is on a mission to preserve the work of design masters while also helping advance emerging leaders. In support of the later, the Architects Foundation offers three annual scholarships. The Diversity Advancement Scholarship, which is co-sponsored by the Benjamin Moore & Co. Foundation, grants up to $20,000 to students from a minority race or ethnicity who are pursuing a degree in architecture.
In honor of Sho-Ping Chin, FAIA, a path-paver for women in architecture, the Architects Foundation will present a $10,000 scholarship to female architecture students who are in their third or fourth year of an undergraduate program. Also included in the Payette Sho-Ping Chin Memorial Scholarship is the networking opportunity to be paired with a senior mentor from Payette for the scholarship year.
The final of the foundation's scholarships is in memory of Jason Pettigrew, an emerging architect who was working toward licensure when he died at age 29. The Jason Pettigrew Memorial ARE Scholarship rewards emerging professionals working toward their licensure by covering the fee of the Architect Registration Exam (ARE) and study materials. Pettigrew application process will open spring 2018, while all other Architects Foundation scholarships hold a January 17, 2018, submission deadline. Regional scholarships are also available by accessing individual AIA chapter pages.
IFDA Scholarships
Undergraduate students enrolled in an interior design or related design and furnishing program are able to apply for a scholarship on behalf of the IFDA Educational Foundation. Offerings include the IFDA Leaders Commemorative Scholarship ($1,500), the Part-Time Student Scholarship ($1,500), the IFDA Student Member Scholarship ($2,000), and the Window Fashion Certified Professionals Scholarship ($1,000), as well as legacy awards honoring Vercille Voss ($2,000), Ruth Clark ($3,000) and Tricia LeVangie ($1,500). The deadline for entries for all scholarships is March 31, 2018.
Houzz Scholarships
Students currently enrolled in an undergraduate or graduate design or architecture program are welcome to apply to one of Houzz's several scholarship offerings. A survey about the applicant's education and career goals and an essay question are all it takes to apply for the a scholarship, with categories spanning Women in Architecture, Residential Design, Sustainable Residential Design and Residential Construction Management. Each offers $2,500 in support, and the deadline for submissions is December 15, 2017.
Ike Kligerman Barkley Traveling Fellowship
Starting this year, the award-winning architecture and interiors firm is establishing the IKD Traveling Fellowship. The new initiative will award two graduate students up to $12,000 in funding for travel and research. The fellowships are open to a select group of architecture and design programs, and the deadline to apply is December 31, 2017.