A view inside the made-to-measure world.
This is not our most patient hour. Technology has coddled us. With UberX, track-shipping screens and the indulgent magic of Amazon Prime, a wait longer than five days feels like an eternity.
The digital warp is undeniably excellent for interior designers. Yet as we march toward faster-better-stronger, something naturally recedes, sliding further into the Old Way of doing things and treading against market shifts and changing preferences. Within the high-end realm of residential interior design, no other group highlights this story more poignantly than the design workroom. The very essence of these makers—the slow hand of craftsmanship and bespoke artistry—is what makes them both vital and vulnerable. How have their businesses changed? Are they at risk of closing? Is retail the only kryptonite to these specialized heroes? We pull back the pinch-pleated curtain of this rarified world to find out.

The very essence of these makers—the slow hand of craftsmanship and bespoke artistry—is what makes them both vital and vulnerable.
To appreciate the distance between hand craftsmanship to a finished product, visit Home Depot. Only contractors are buying wood. The aisles carry branded home improvement quick fixes. Everything outside of the paint department is foreign. So, we outsource the business of making. At the elite level, a small group of tradesmen and women are the couturiers of interior design. Just like the workrooms of Balenciaga, Dior and Chanel, only a precious few have the real skills to execute something special.
And, like fashion, they are virtually anonymous—part of a serious insiders-only contingentthat usually garners back-page credit in a magazine's resource guide. They are of the ultimateblack book. They are the furniture workshops,upholsters, drapery makers, guilders, finishers,fabricators and restoration experts who makedesigners look good and feel confident in unfamiliar territory.
"They've helped make my business," says interior designer Celerie Kemble. "When I was just starting out and I didn't know what kind of seatfill I wanted in a sofa, they knew for me. They taught me so much about materials and process—they gave my business a level of quality when Ididn't know what I was doing. You can learn concepts from school or books, but somebody needsto show you physically. When it's matter of quality you need tactility, you need someone to put it in your hands."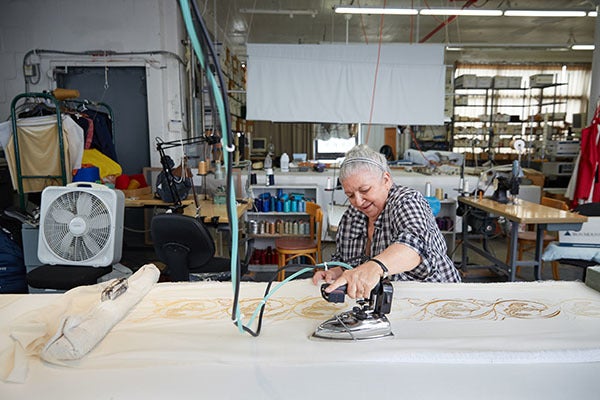 Careful ironing by Penn & Fletcher
Workrooms are essential for interior designer Summer Thornton. "We commission customwork from craftsmen for almost every project wework on," says the Chicago-based principal of Summer Thornton Design. "In fact, I can't think of any projects that haven't had custom commissions. For me that's a big part of what makes a design sing and what I enjoy about my work—it'sall those little details of craftsmanship that giveit depth, authenticity and originality." Seeking specialty makers for everything from custom wallpaper and window treatments to painted floor patterns and cabinetry, Thornton is constantly collaborating with workrooms.
One of Kemble's favorite discoveries is Monica Alcota, an artisan whose studio Etched Design specializes in mirrors, antique treatments, restoration and superlative finishing work in materials like shagreen, leather, palm wood and parchment."I was with my upholsterer going across the street to the workroom that turned his chair legs, and Monica was in a cubby on the same floor," says Kemble. "I saw what she was working on, so I took her business card. That was 15 years ago. She's saved my life 100 times."
Argentina-born Alcota is humble and prolific (she is trained in custom framing and decorative glass, including sand blasting design). She is also a one-woman show, working alone. Imagining her pensively mixing custom pigments or perfecting a bespoke tortoise shell piece in a sliverof a studio does have traces of romance, that kind of optimistic, Etsy-era earnestness that says, "divorce the desk job and be a maker." Of course, it's a daily hustle for independent design shops. When the phone rings, you take the call. Every commission is a major time commitment. Deadlines are serious business and orders equal survival. A tiny miscalculation when measuring or scheduling could be an expensive misstep that leads to disaster or hysterics.
THE PRICE OF BEAUTY The concept of "cheap," so popular in our fast-food culture, is one that has made every consumer pause. It's led to wildly unrealistic expectationsand the query, "Can we do this any cheaper?"
The design community at large reveres craftsmanship, but do their clients hold tailor-made goods in the same regard? "It varies,"says Brandon Phillips, co-founder of Miles &May Furniture Works, an artisan furniture studio in Geneva, New York. "Culturally, Americans aren't always wonderful about appreciating the value of what hands do versus what heads do."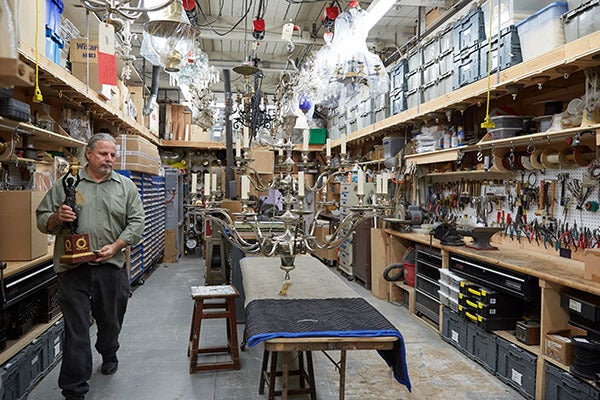 Joseph Biunno in work mode
Heads know how to fret about cost. And they seem less attuned to the rest of the process. "If the main driver of any design consumer is price, then they're not going to find it in the workroom environment," says Phillips, whose handsome wood and metal pieces are imbued with tradition andrich with technique. "For instance, my peers—the IKEA generation who first had accessibility totruly disposable goods that weren't insanely horrible—years later those same people started lookingfor quality products. They recognized there's valuein something well-designed and well-made."
Miles & May was started by friends from The School of the Art Institute of Chicago. The company has a furniture collection with new piecespresented annually, as well as a custom furniturepractice. Like every artisan, Phillips and his teamcontend with misperceptions: "People think we're a carpenter's shop, which is different from a design studio that builds," he says. They also don't understand that "developing the design is 50% of the work. The physical production is only part of a finished piece," he explains. "Time is the biggest commitment. You have to commit in order tomake something fully custom. A significant portion of time is spent drawing and engineering and thinking about materials."
Ernie A. Smith, founder and owner of Penn& Fletcher, a 30-year-old company hailed for its superb custom embroidery, also reveals a few assumptions about his business. "The misconception is that embroidery is easy and inexpensive," he says. "Small embroideries for fashion done overseas are so inexpensive that the impressionis that custom large-scale embroideries should be relatively cheap as well. It is easier to handle and embroider a blouse front than it is to handle and embroider a king-sized bed coverlet. It is not that American wages are high, it is that foreign labor is so low."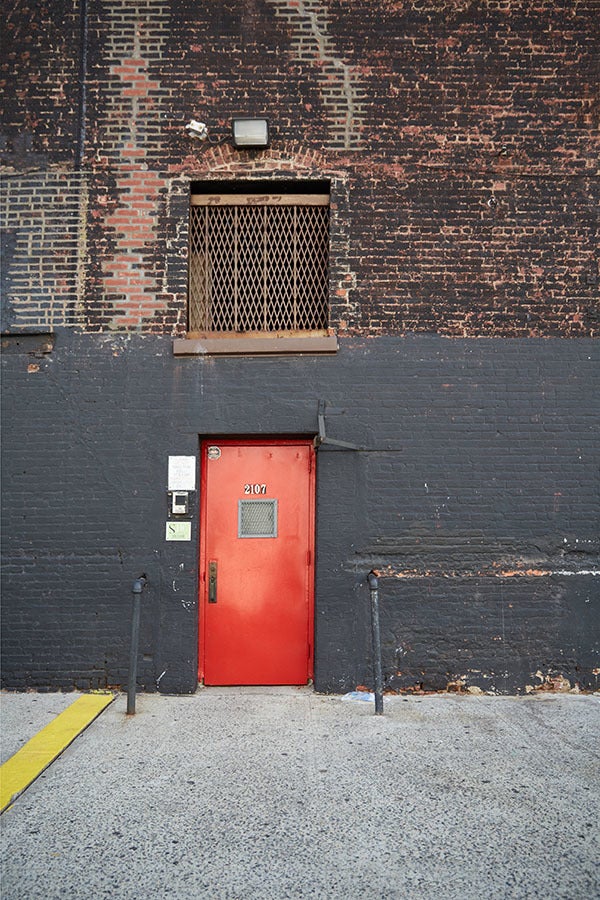 Digital life creates blind spots, particularly in the fine arts. "I don't think people understand what labor costs in our field," explains Joseph Biunno, an antique furniture restoration and reproduction specialist in New York. "If your car needs to have a tune-up, you see a sign with an hourly rate and it doesn't seem to be an issue. Then they call you back and they tell you this needs to be fixed and that needs to be fixed, and it's now going to cost you $3,500. What do you do? After crying you say, 'When can I pick it up?' If we did that, if I look at an antique chair and I anticipate a price, then when I open it up to see the inside, the condition and the concerns, and now we see it's going to cost more than the original estimate, then everyone freaks out. Why does the automotive field get away with what they do, but we can't adjust a price?"
Since 1985, Joseph Biunno, Ltd., has been interior designers' premier address for pampering exquisite, museum-quality antiques, treating furniture in the throes of a bruising midlife crisis, commissioning excellent reproductions and browsing an in-house line of drapery hardware, finials and adornments, including a library of over 300 fluted, hand-carved, glamorous, watch-yourself furniture legs. "Nothing plain," he assures the Alvar Aalto crowd.
The clamor for inexpensive furnishings and cheaper options has been sabotaging the residential design market for years, but for an established craftsman in the modern world, it seems especially cruel. As business has slowed, Biunno has lowered his hourly rate, yet there are expenses—rent, electricity, employees and insurance.
At the top end, custom, handcrafted furniture isn't a high-volume business. It's an individual art. Archie McAlister recognizes this, and sympathizes with artisans facing vexing predicaments: lower rates or accept a pastiche of somewhat-related tradesman gigs that become their own vicious cycle. McAlister's studio, Dog Productions, is aspecialty woodworking shop based in Brooklyn. Turning out pieces for a cadre of top-tier residential interior design clients, Dog Productions is noted for its beautiful hand finishes—veneers and lacquers that require extra attention—and their installations, which he describes as more like art handling.
On pricing, he explains, "You have to really be willing to lose a bunch of jobs by charging what you have to in order to survive, otherwise you're destined to fail. It's no offense, but you need to charge what you can."
Interior designers wholeheartedly place a premium on quality, custom design not only for superlative interior results, but because it offers aunique calling card. "It's essential for a designer to have that stable of craftsmen because that is what is going set them apart from mass market," says designer Michael Tavano, principal of his namesake firm in New York. "Workrooms help you offer the client something they can't get anywhere else because clients want that personalized piece that their friends aren't going to have."
Tavano is co-founder of Marks & Tavano Workroom with partner Lloyd Marks, in business since 1998, fashioning luxury upholstery, window treatments and a line of Pooch Palaces.
"So many of these crafts are dying arts," he says. "For us, as a busy workroom, it's not easy to find skilled craftsmen anymore. We're bringing younger people in and training them with our artists—it's an investment in time and skill. It used tobe a much broader group of designers you worked with. Now it's a smaller group, and you're able to offer more personal service to the designer, whichis wonderful, but your price point has to be higher, unfortunately. The client has to be able to spend. From a workroom standpoint, everyone has tomake a living. You're paying your skilled craftsmen and women more, so your costs are more. And to stay in the city to do these things is costly."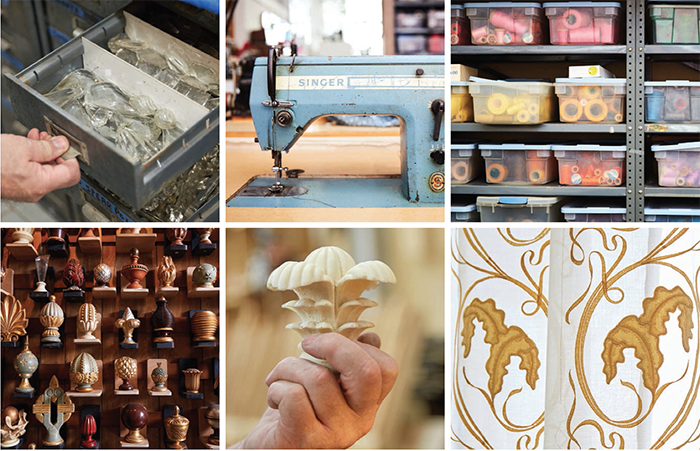 Tools of the Trade|Top Row from left: A drawer of crystals awaiting lighting fixtures at Joseph Biunno; a Singer sewing machine and spools of embroidery thread at Penn & Fletcher in Astoria, New York; Bottom Row: A display of hand-carved drapery hardware and a craftsman's freshly created finial at Joseph Biunno; close-up of Penn & Fletcher's beautiful curtain detail
INSIDE JOB
Promoting a design workroom is like cutting celebrity hair: Word of mouth is everything. "We haven't really done any advertising since the eighties," says
Joseph Calagna
, owner of
Anthony Lawrence–Belfair
, a fourth-generation upholstery, draperyand furniture workroom in Long Island City. "Theoretically you never had to market," says Joseph Biunno. "In the decorating world, if you were good, you were found out. It used to be that getting the work was the last thing on your mind."
Calagna and Biunno are not exaggerating. They are intimates of the industry; and like many top-tier design workrooms, they are multigenerational family businesses—all with front-row seats to this fascinating, complex and unfolding interiors docudrama. While each shop varies in size, the narratives are familiar: Kids absorbed the craft, spending weekends and summers at the shop sweeping floors, working on the bench and earning the right to drive the company truck.
Biunno learned the business from his father, who learned it from his father—a maker's bloodline that he cemented as an apprentice after high school. Joseph Calagna's grandfather began the Anthony Lawrence upholstery workroom in Greenwich, Connecticut, in 1976.
"Now I'm trying to train my daughter, my nephew and my niece's husband—they will be the fourth generation," he says. "The difference between them and myself is that when I came to work for my father, it was my father, my mother and Angelo, our sole upholster. Those were the only employees we had, so I had to do it all."
Donald Wainland, a 60-year veteran of theindustry and owner of Wainlands, a high-endmetal fabricator in Astoria, New York, started in his father's antique shop. To keep the lights on, they began offering antique cleaning and repair services, welcoming in a stream of candelabras, fixtures and authentic gilded French Louis XIV beauties—"the glitzy stuff." When Wainland's urge to tinker led him to metal craft, his talent flourished. Eventually he earned a reputation for producing ultra-specialized grilles, registers, curtain hardware, custom staircases and the kind of work thecompany has done for clients like Tiffany and John Saladino. Twenty-five years ago, Wainland's sons, Markand Neil, joined the business.
For designers, engaging a family-run workshop represents another level of collaboration. "It's such a comfort for me, because they're not going to let me down. I've known these people for 25 years, and it's about a relationship versus a company," says New York interiordesigner Katie Ridder of her long-standing associationwith Anthony Lawrence–Belfair.
Celerie Kemble has a particular affinity for the relationship. "One of the things that's special about my business being a second-generation company is that I'm still working with a lot of the people my mom worked with,"she says. "These artisans represent generations of skilland generations of loyalty, and to know that when one of my workrooms hears panic in my voice, they care and they know—that's a rarity. And they'll respond like afamily member would. They say, 'We'll solve this today.'"
Acclaimed designer Ryan Korban believes, "It's simple: No one can truly to what they do. It is the type ofcraftsmanship that can only be passed down from generation to generation. As long as luxury environments exist, we will need these craftsmen."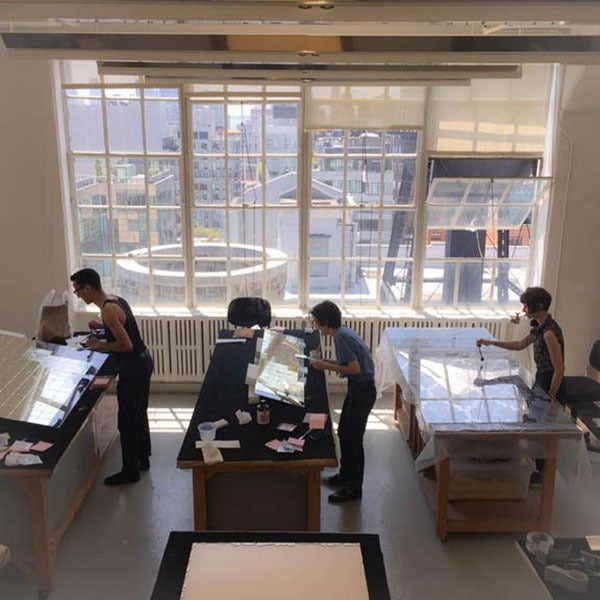 Artisans in verre eglomisé studio of Miriam Ellner
GENERATION WHY When a business is built on a backbone of grandfathers, sons, mothers, uncles and cousins, the stakes are high. "When you work with family, there are no rules,"says Biunno. The common belief is that when one generation retires, the younger one rises to take the helm. Sometimes that isn't the case.
Throughout his 44-year career, Biunno has insisted that his kids stay out of the business. "I saw the writing on the wall. I saw what was happening with our trade," he says of the long hours, stress, and uncertainty. As the industry continues to morph, he has watched other tradesmen and workrooms struggle as the owners question whether they can continue to keep a shop open for the next few years, what sacrifices will be made to sustain the business, and if their fates will be mired in debt.
Other workrooms are keeping it all in the family."Now these kids are coming into an 80-man shop,"says Joseph Calagna. "They're college-educated, their mentality is different now and I have to teach them all that I have learned through my experiences and what is in my head. It's hard because I just learned this business by doing it and being taught by great craftsmen. Great baseball players never make good teachers of the game. I mean, how does a great baseball player teach what they know by instinct? How to pass the knowledge on is the hardest part our type of business faces."
Passing the torch also means accepting that the skills and priorities of the younger set are different from their mentors. Don Wainland credits his sons with growing the business. As the younger group steps in, they bring MBAs, digital savvy and theirown ideas about what's next. Sometimes that means passing on the family business entirely. Calagna acknowledged that some shops shut their doors if the kids can't or won't take over. "The ones that do survive have a younger generation that want to be in it, like my kids," he says. "They'll make it because they'll run the business and find the employees."
The distinction between makers and laborers is one that dignifies the effort and the pursuit. Every workroom we spoke with emphasized the need for talented, skilled craftspeople."Over the past 40 years as the art of making things in America diminished, the availability of entry-level jobs requiring artisan skills dried up," says Smith. "Now, for three generations, potential new artisans have not been given the opportunity to train. Artisans who were in their twenties 40 years ago are now retiring without trained and seasoned artisans to replace them. This is a major crisis in the artisan community.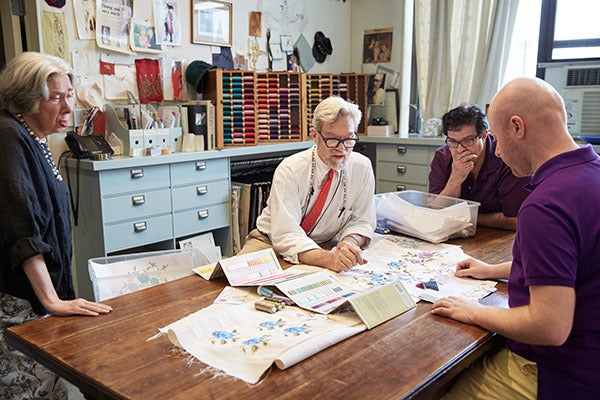 Ernie Smith of Penn & Fletcher meets with interior designer Kirill Istomin
Parallels to the fashion world are fitting, as these crafts are true specialties that converge with a higher level of making. Smith says he was fortunate to learn from embroiderers at Eaves-Brooks Costumes in the 1980s. Today at Penn & Fletcher, he is working on machines that originated from 1920s fashion company Brody Embroidery, where one of the machines is over 140 years old.
In talking with other small artisan companies working in the decorative arts, I realized that although our craft may produce a different product, our business problems were basically the same," Smith says. "A group of us came together to form The Artisans Guild of America, a 501(c)(3) nonprofit to assist in perpetuating and advancing artisan workrooms by sponsoring apprenticeships, informing the public about artisan work and sharing resources." Smith is the president and founder of the organization.
Brandon Phillips and Michael Tavano regularly engage with students at the college level and sometimes younger than that. From Tavano's perspective, "some people are craftsmen at heart, and there need to be opportunities for them to make a living and be successful. That's only done when the jobs are out there to do it. Our workroom is across from a high school. We talked to the guidance counselor and asked about the kids' interest in summer jobs. We have three kids that came in that are so interested in the craft. One is on the administrative side, and the others are learning in the workroom—it's encouraging to see that."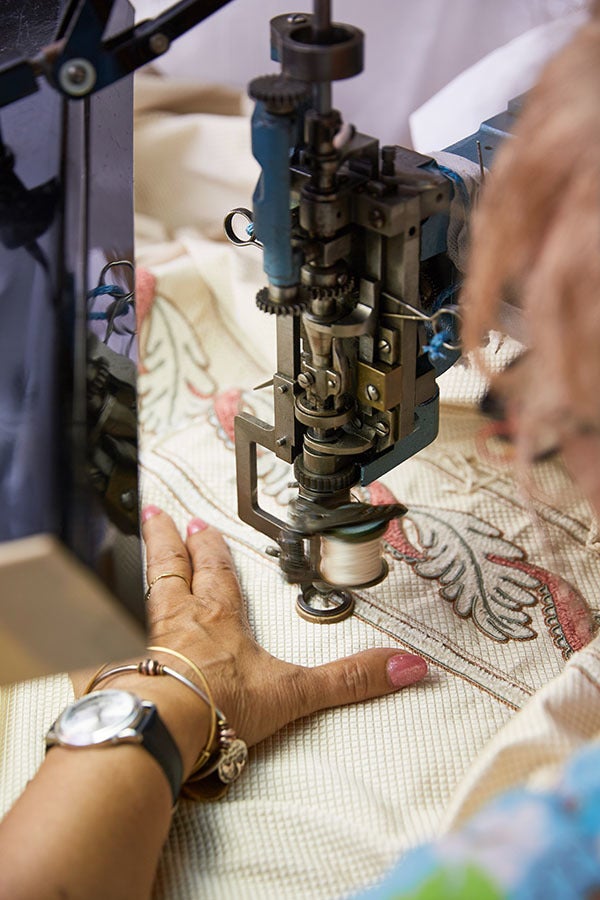 THE HEAT "The mid to late nineties were phenomenal,"says Joseph Biunno. His business employed 25 artisans, the workroom was bustling and the interior designers were always in pursuit of there fined, meticulous pieces that came to be his hallmark. Elegant projects, cultivated clients and sophisticated designers—it was a time of champagne wishes. It was also an era of connoisseurship. Wealthy clients collected art, spent the time assembling collections of wine, watches and objet. Clients understood why a pair of bergers were special. Throughout his tenure, Biunno collaborated with design talents like Parish-Hadley and David Easton, the kind of luminaries who defined taste.
The recession changed everything. Vacating his spot in Manhattan, where he had been for 35 years, Biunno moved to Long Island City. Similarly, McAlister observed change in his own Brooklyn surroundings. Williamsburg used to be the heart of craft studios and artists, from woodworkers to metalsmiths and lighting manufacturers. The companies with large overheads couldn't make it, nor could the younger enterprises still building their clientele. Many left, due in major part, to astronomical rent—a problem that everyone agrees is a characteristically New York dilemma. In Los Angeles, designer Joe Lucas and established drapery artisan Eric Soroe report a much sunnier picture, as space and availability are different.
While the recession gave the industry (and the entire country) brutal economic and cultural whiplash, it forced an existential inquest aboutvalue and meaning. We began to examine how to live and what to live with. Businesses like Biunno's were in a strange paradox: while the country questioned investment, overt displays of wealth, materialism and happiness, here was a gifted group of workrooms that represented enduring quality, preservation and honesty—everything that we seemed to be groping around for.
TASTE LEVELS One immutable factor for every workroom is the change in decorative tastes, an aspect that Joseph Biunno and those in the antiques, gilding and more traditional crafts feel acutely. "It's a sleeker crowd," he says of the current generation of young, urban dwellers who don't stay in their residences for decades or invest in long-term decorating. Coupled with midcentury modern mania that has lasted (perhaps a little too long?), the call for restoration on Chippendale dining chairs isn't as frequent. "There has been a major change since these new buildings have gone up with floor-to-ceiling glass windows, lots of light and great views of the city. They don't have crown molding, there's no place for a chair railor molding to go around a doorway. Even for our hardware business, our designer clients are saying, 'We can't put a pole in because there are no walls to mount it!'"
Donald Wainland has noticed a propensity for contemporary. "We've seen the transition from Louis XIV to contemporary furniture and styles," he says. "Things you would have thought would have stayed popular in terms of traditional merchandise have changed. We used to do hand-forged scroll work with flowers and details; more and more the look is becoming simple and more plain."
Chrome, glass, lacquered surfaces and metal—the world has gone gaga for it. Although we appear to be in the final moments of our Mad Men hangover, the question lingers: What if a workroom can't produce that look? Are they relegated to the aesthetic version of publish or perish? The industry has to play nice with trends. As Tavano reminds us, at one time the larger manufacturers—high-end fabrics, carpets and heritage brands—used to dictate style in home furnishings. Now the large retailers are shaping the visual landscape.
MODEL BEHAVIOR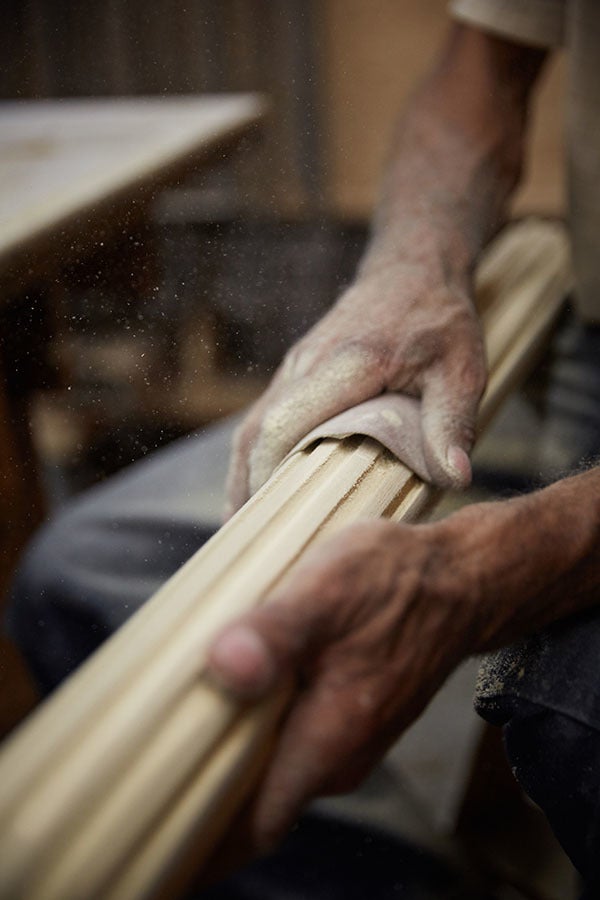 Polite society says stay away from conversations about politics and religion in mixed company. Design circles have revised that rule to include Restoration Hardware. Views on both sides are strong. Studying the retail effect on workrooms steers us toward two factors, quality and price. Most of the upholstery shops receiving sofas and seating from various big-name retailers express the same opinion: they're not well made. Seeing the guts of a mediocre sofa and trying to square that with the hefty consumer price tag leads to uncensored remarks.
Rather than feel incited by retailers, the artisan community is emboldened, confident in the power of original design. "What I see,"says Wainland, "is that as soon as a designer like Peter Marino comes up with something unusual and exciting, the next thing you know everyone copies it. So he does something else. We are the innovators to the people that are bringing all these wonderful things to market. I don't see retail as a threat at all because these designers are brilliant."
Archie McAlister is aligned with that view, "There are a lot of publications photographing exteriors and interiors, and that information is disseminated so broadly and quickly that it benefits designers to have original ideas," hesays. "So if you want to stand out, you want to present something that's not run-of-the-mill, and that's where we come in. As long as the designer or architect's imagination is going in the right direction, they'll do well. And their clients choose them for that reason."
At times the retail presence seems unavoidable. "Every time I go into CB2 or West Elm I hold my breath," says Bladon Conner, a furniture craftsman and co-founder of Aaron Bladon, a Chicago-based artisan studio and design collection. "I see all these processes we do on our furniture, and all of the sudden they're doing them on a massive scale and charge a tenth of what we do."
He continues, "We've been ripped off by small and big companies alike, and it hurts, but you have to keep moving. You can't be static. While there are big companies that have vendors who can make and mobilize quickly, they don't have the same power of design behind what they're doing."
In their workroom, Lloyd Marks and Michael Tavano see all manner of furniture. "We have alot of clients whose furniture has been handed down," says Tavano. "We see Billy Baldwin sofas that are still in mint condition, and they're spectacular; the frames are impeccable. You're buying a sofa for the quality and comfort. Designers and clients need to understand the difference between a sofa that is custom-made with a kiln-dried frame and hand-tied springs that is going to last and is made here in the United States, versus something from a big retailer."
Workrooms and artisans aren't the only ones feeling the burn from established retailers. "Some of the bigger companies are trying to make it so you don't need to shop anywhere else and by getting rid of the designer discount and other things they're trying to surpass us. They say, 'You can do everything here,''' says Los Angeles designer Joe Lucas. His devotion to workrooms and makers is unwavering, believing that a project "loses the character and personality," otherwise. His own love of the handmade is expressed through his expanded Harbinger by Hand showroom, a blend of furniture, lighting, accessories and furnishings that keep the focus on craftsmanship. Recently Harbinger created a showcase for textile and rug company Merida, a designer favorite, frequently name-checked in this story.
Lucas has also found his own glamorous détente in a world of digital sourcing. "I've taken a handful of lines for Harbinger through Instagram. There's a hardware company I found through Etsy. The nice thing about the internet and social media is that you can start a business and really get out there without huge investment." He also cites the incredible opportunities for artisans to truly self-start. "I feel like even more small businesses are opening because people can be creative now, and start lines because they can do it for less money and put their work online themselves."
GETTING SCHOOLED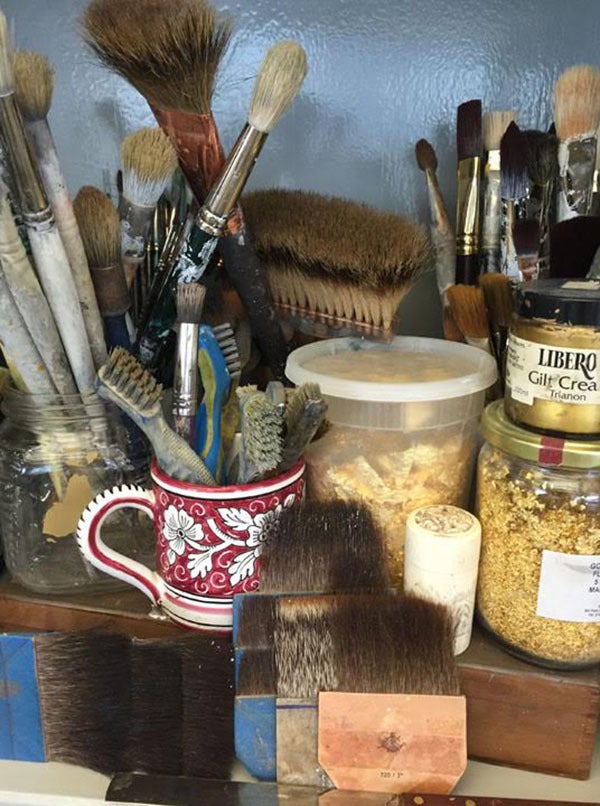 For the past few years, the design lexicon has been one long stream of "craft-maker-authentic-curate-Brooklyn-custom." That is to say, craftsmanship is now a universal ideal—even ifit has been siphoned for marketing purposes. Designers are now responsible for explaining and demonstrating the differences in ways they neverhad to before.
Celerie Kemble, the patron saint of work-rooms, is eternally confident when presenting handcrafted options even when clients go rogue. She recalls a project that needed custom-treated mirrors. The client had procured a few affordable samples, and Kemble asked Monica Alcota of Etched Design to create some samples. "Here she is fighting against sheet glass out of China,"says Kemble. "I put them side by side for the client and say, 'Which one is prettier?' The clients asked if it's worth it to go with Monica's mirrors, and I said, 'Yes, if you do a whole wall with mathematically repeated splotches, it will look like someone threw bird poop at it.'"
Summer Thornton is all for the show-and-tell. "For those clients who are indifferent, we usually show a few examples of the craftsman's work and the details in it and then they're on-board. One client of mine had a closetful of custom-made hand-stitched luxury suits, so I talked to him about the skills his tailor has and the difference it makes in the final result...he got it and went for custom."
Designers like Kemble and Thornton are fluent, advocating on behalf of workrooms, but they are not always the majority. Michael Tavano believes that education needs to start happening with emerging designers pronto. "The younger designer has to understand: There is a skill to telling the story of a handmade good, and how to sell a custom piece. You're selling something that cannot be found on Houzz and Pinterest," he says. "How do you get that across to clients? Bring them into the work room ... then it becomes personal."
Maybe the ultimate distinction from catalogs and perky shop vignettes is Kemble's explanation, "I say, 'It's not a commodity; it's an art." Sometimes you reach that level of artisanship through your buying power. And ultimately, it's about keeping something alive."