Most designers have a great workroom on speed dial. Texas designer Nancy Charbonneau explains how having a seamstress on staff is a key part of her business.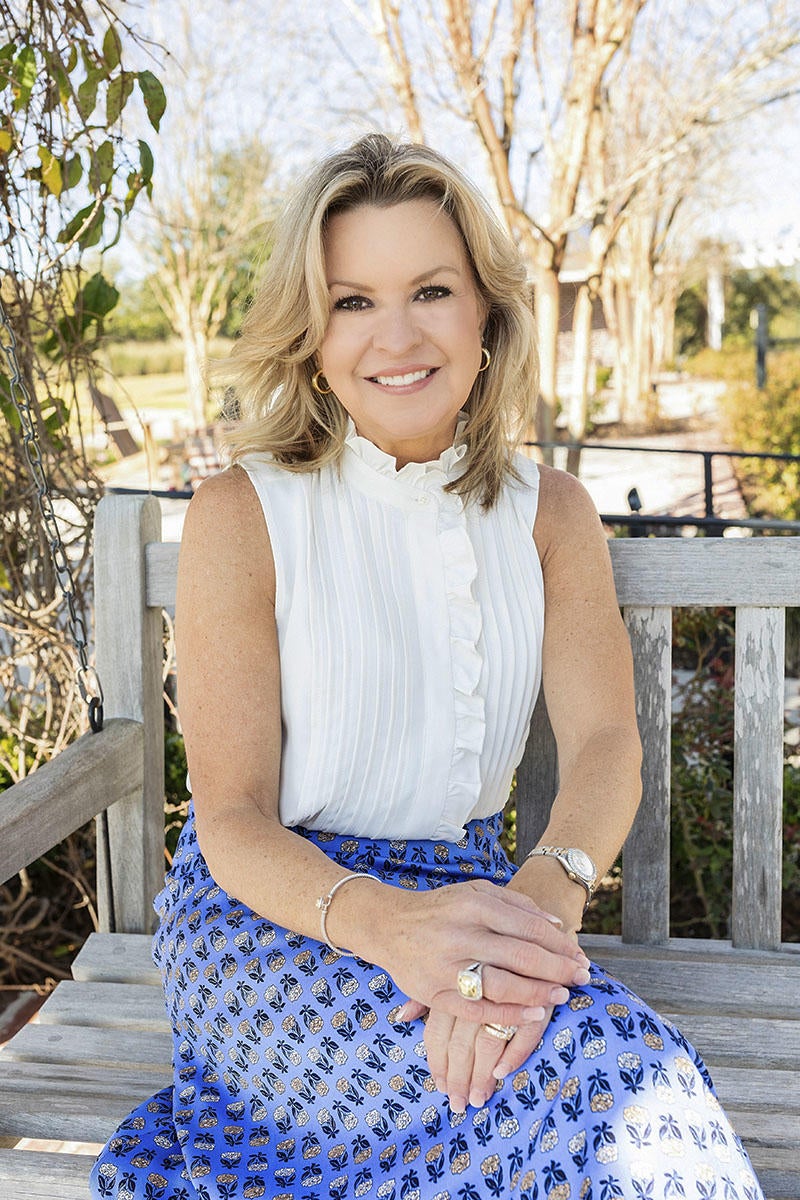 I grew up in a house my dad had built, and he made my mom a sewing room in our basement, so I was brought up with a drill in one hand and a sewing needle in the other. At first I thought I would go into fashion, but then in college I switched my major to interior design. This was in the late 1980s, and I was blessed to have to take a drapery workroom class—they would never have that now!—which really combined my love of textiles with design.
When I graduated, I started doing drapery for people in Atlanta while I was looking for a design job—I had a workroom in my basement and I was doing all the sewing. Eventually, I moved to Texas, where I was going to be a stay-at-home mom—that lasted only about six months. Neighbors started asking me about the fabric samples I had hung up in my garage, and pretty soon I launched a design business with a retail store where I stocked fabrics by the bolt. There I was, 28 years old, calling all these giant mills! They thought I was nuts, but somehow I did it. The store had a workroom in the back, only this time I wasn't the primary seamstress.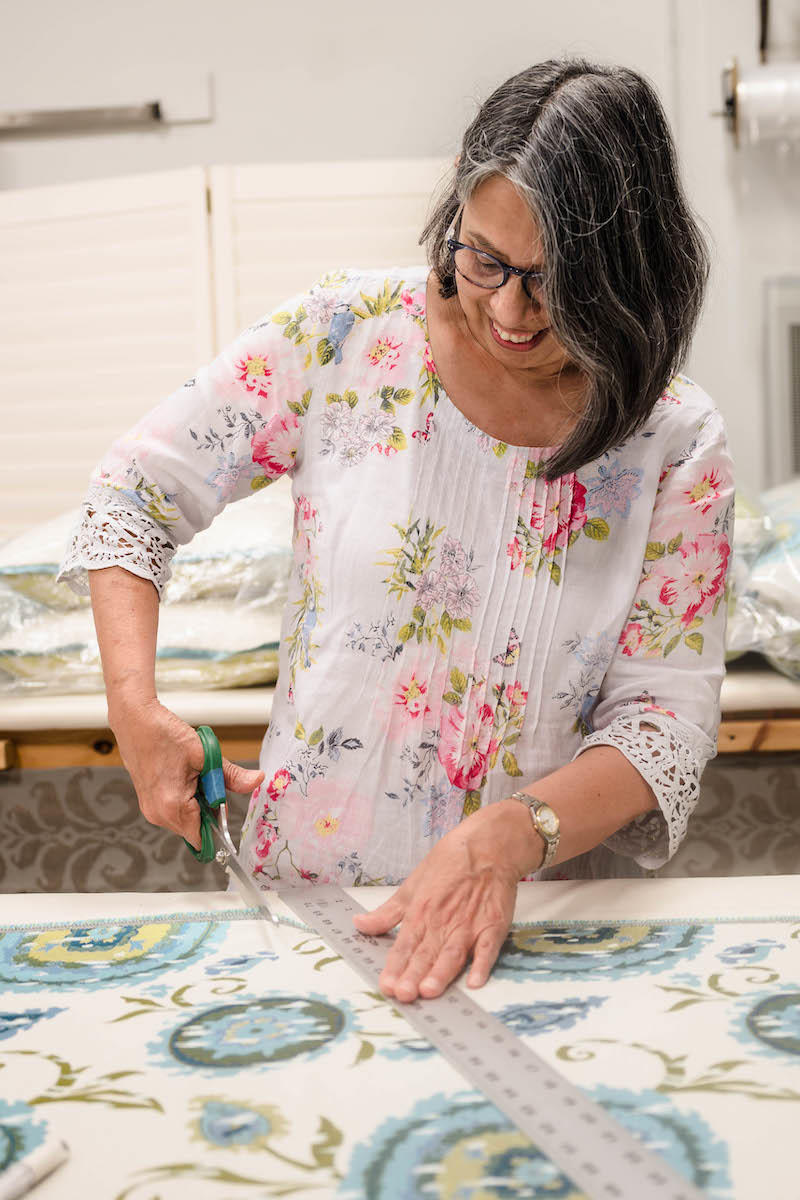 We don't have the retail store anymore, but I've always had a workroom as a part of my business. That's been a non-negotiable for me from the beginning. It comes in handy every day in terms of what we can do: bedding, pillows, a lot of drapery. Recently we had a client come back, wanting to switch out the fabric on the backs of some pillows we had made for her 10 years ago. That kind of thing is no problem—we can do it right away, as opposed to sending it off and having to wait six months. If we're doing an install and the floor isn't level, we can have our seamstress go out and hem the window treatments quickly. It really assists with the customer service side of things.
In addition to servicing our own projects, we occasionally take on work for other firms. I think other designers really value working with someone who knows drapery from a designer's perspective, and we have inquiries about that frequently. Our services are not inexpensive, and if someone just wants to have simple drapery made, we're probably not for them. But for the detailed, meticulous stuff—that special attention to detail—there's really no one better than our seamstress.
A workroom is a great thing for a design firm to have. Of course, you have to be committed to having someone on staff, and it's hard to find great talent—it's a bit of a dying trade, and younger generations don't seem to want to do it. We were lucky to find our lead seamstress, Munira Kapasi. She worked for a company that did quilting for us, and she has been here since that company went out of business more than 15 years ago. There are times when it's slow and she might not have anything on the workroom table, but she'll take that time to go through our resource room to keep us organized, or help us refine our work orders so that jobs get processed better. We've always found a way to make it work.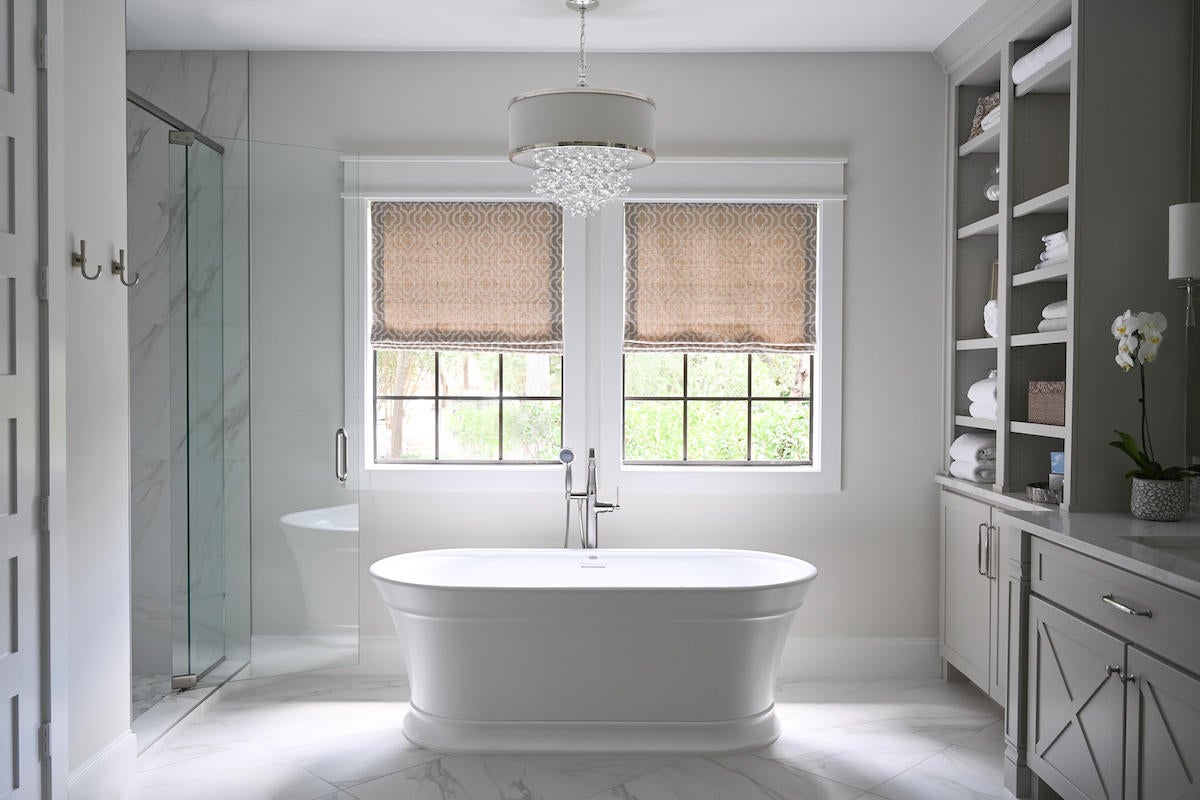 Courtesy of Charbonneau Interiors
In addition to the workroom, we have a wood shop and a custom metal shop that are attached to our company so that we can make our own frames and our own drapery hardware. We can also do little fixes: If we get a chandelier in and it's not quite the right shade of gold, we can paint it. My dream is to expand that side of the business. We can do ottomans right now, but I'd love to find an upholsterer so we could do sofas as well. I think it's an opportunity to have something that is different from everyone else in this age of internet shopping and Google Images searches. There's a lot to be said for that! Technology helps us in so many ways, but in others, it can make us identical. Not only is the workroom a profitable part of our business—it has to be—it also sets us apart. 
Homepage image: The workroom's longtime seamstress Munira Kapasi at work | Courtesy of Charbonneau Interiors