A few years ago, designer Bria Hammel read a business book that changed the way she approached her firm's growth. Now she's telling her own story.
Entrepreneurship is in designer Bria Hammel's blood. When she was growing up, her father owned and operated a successful manufacturing business—an influence that bolstered her penchant for savvy commerce. After completing her design degree, she moved to Minnesota in 2006, where she began working at an Ethan Allen design studio, rising quickly through the ranks to a position of leadership. "It was great because I gained those management skills and started to think of interior design as a business, not just a creative [occupation]," says Hammel. "It was good for me to have a realistic view of what it would be like for me to have my own firm."
In 2012, she launched Bria Hammel Interiors, and after about a year working solo, she realized that she didn't just want to be a designer—she wanted to own and operate a business. She began by hiring an assistant, and through a steady stream of referrals, the firm began to grow.
As her staff expanded, she turned to her father for guidance. He suggested she follow business expert Gino Wickman's Entrepreneurial Operating System (EOS), a framework designed to simplify and streamline businesses to ensure that all employees are working in positions suited to their strengths, toward a common goal, with shared values. When her business coach recommended the system, too, the designer began reading Wickman's book Get a Grip. "There were so many relatable moments in the book where I could connect it to people on my team," she says. "It made it all feel really realistic and doable."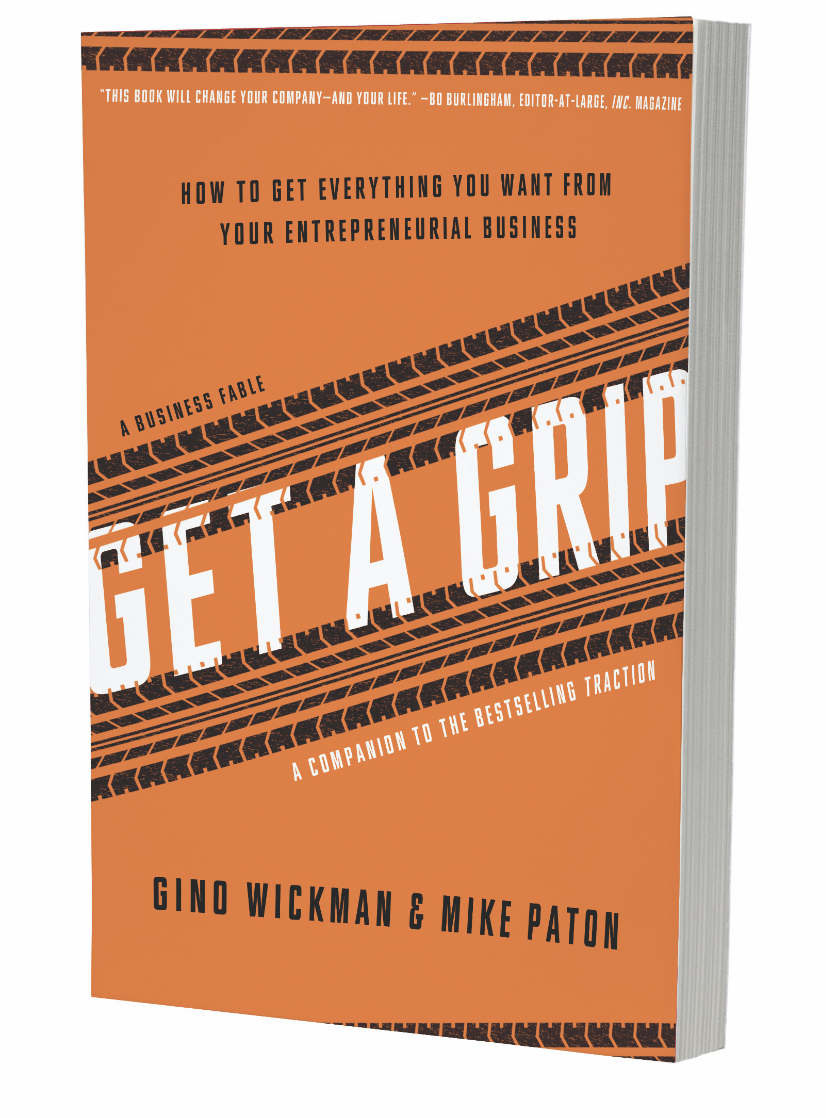 Get a Grip employs a fictional company and set of characters to demonstrate how to troubleshoot real-life business challenges and reorient a company for success. Its protagonists, Eileen and Vic, are partners at the head of a company where growth has plateaued and interpersonal conflict has skyrocketed. Eileen works with an EOS Implementer named Alan, whose approach seems enticingly simple: two days of professional development focused on a return to the basics of company values, goals and operations, followed by quarterly check-ins. Over the course of eight chapters, the book outlines the cornerstones of a successful business in an engaging yet educational fable written by Wickman and his co-author, Mike Paton.
"A lot of visionary entrepreneurs learn best by watching others, so we wanted to do some experiential teaching with Get a Grip," says Paton, who became an EOS Implementer after meeting Wickman, and later approached the author about a follow-up to his first EOS book, Traction. Where Traction tackles the program with a DIY lens, Get a Grip unpacks how an EOS professional can help entrepreneurs turbocharge organizational change.
Crucially, the story helped Hammel understand how to include her team in the company's growth. "When you're a scaling business, it's hard to share your vision of what you want the company to be and where you're going," she says. "When you have a lot of people on your team, I think it's really important for those people to understand, 'Here's where we are, and here's where we want to be.' It's a lot of work, [but] when they can see what's in your head, it gives them a clearer picture and gets them excited about wanting to do it with you. EOS really helped me figure out how to share my vision in a way that didn't scare my team."
Hammel now operates two businesses under the umbrella of her interiors practice: a full-service design firm and an e-commerce business, both steered by EOS. "It's a great system for creative people because it gives you that structure and takes the pressure off as far as, 'How do I scale? How do I grow my team? How do I set the vision for the business, and not just focus on the design work?'" she says. "The system takes care of itself, and then you can have more time to do design."
THE Q&A
Bria Hammel asks Get a Grip co-author Mike Paton to apply EOS principles to her growing design business.
Bria Hammel: Once I've implemented EOS in my business, what should I focus on next?
Mike Paton: It becomes all about people and process. We're trying to help entrepreneurs live their ideal lives. If they get their business operating to where their presence isn't necessary 100 hours a week, it frees them up to do all sorts of things, like spend more time with their family or pursue other passions. The whole purpose of EOS is to create a business that isn't dependent on the owner, or one or two leaders. If you're continuing to grow the business, the leadership is going to have to turn their a attention to consistently upgrading the quality and quantity of people. We've learned that the people who get you here can't always get you there. [Going] from a solo operation to 15 or 20 employees [is not the same as] getting from 20 to 250 employees—if that's what you want! That's where the devotion to rigor and discipline around process and ensuring you have a world-class recruiting and retention program for people comes in.
We operate two businesses under one roof with one leadership team. If you own multiple companies, at what point should you separate the teams?
When my clients have multiple business units operating with one leadership team, typically there's a leader representing the e-commerce side, a leader representing the design part, and then there are shared services like marketing, finance and HR. That structure can work—until it doesn't anymore. What I really want to tell you is, You'll know. Or the leadership team will know, because you'll start to see strain before shrapnel starts flying out of the machine.
Imbalance is the first sign of strain. "I'm working 65 hours a week, and I'm still going home Saturday afternoon wishing I had 10 more hours to give to the business" is a sign of imbalance. Another kind of imbalance is [when] the leadership team is meeting weekly and spending 85 percent of the time talking about the e-commerce business and 15 percent of the time talking about the design business. So if I'm on the design team, I'm sitting there thinking, "Well, this isn't an effective use of my time or energy, and my business unit isn't getting my needs met by this team." Be on the lookout for signs of imbalance and strain and ask yourself, "Is this really the right structure for our business?" If the answer is no, then you have to get in a room, roll up your sleeves, and figure out whether it's time to go to two distinctly separate leadership teams or otherwise reconstruct it.
How many people should be on a leadership team? Is there a sweet spot?
Three to eight, but hopefully closer to five or six. When you get more than eight people on a team, they start communicating to advocate, not to understand. That's dangerous because [then] you are fighting for air. When you get more than eight, the meetings take longer, it's less healthy, and almost always there's somebody on the team who's a spectator at most meetings.
Should you bring an EOS Implementer back in as your business grows?
Yes. The typical arc is that a client spends 10 days with [the Implementer] over about two years, spread out quarterly, and then they graduate. We want our clients to feel that we've taught them everything we can. About 70 percent of my clients go away forever. If they come back, they [tend to] feel like the business has gone through a major growth spurt or pain point and they need to tighten up their business and get help with the leadership team gelling and solving issues. Others have me facilitate their two-day annual planning session each year. You should feel totally comfortable reaching out to your Implementer and saying, "Would you come have a conversation with me, or observe one of my meetings and let me know if it would be a good idea to get back in the room with you?" We do that all the time.
As a creative who starts a business by yourself, it is so hard to shepherd it through all the major transitions it needs to become a successful 10- or 20- or 50-person organization. I see entrepreneurs put so much pressure on themselves to always be the person who's got all the answers, does all the important work, takes care of all the most important customers, makes all the most important decisions—[but] the minute you start losing the passion for the work that drove you to start the business in the first place, some really bad stuff is about to happen. That's when you should start thinking about how you can hold on to the work that you love to do and are best at, and build a team around you that does everything else. And that's what EOS is for. It gives people who start businesses on passion, determination, rugged individualism, skill or talent just enough structure, discipline and cross-team accountability to never lose passion for coming to work every day. 
Homepage image: Bria Hammel | Spacecrafting Photography