Conservation and community are key for three design entrepreneurs abroad.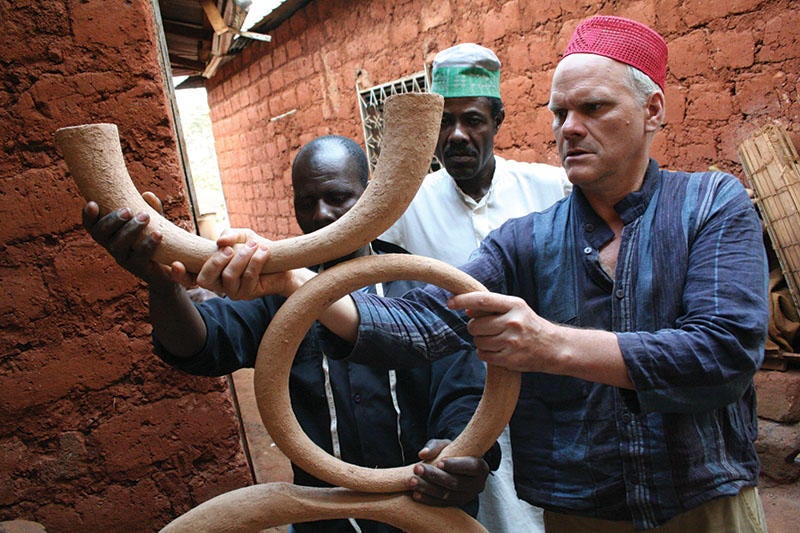 Tucker Robbins just touched down from a trip to Cameroon. Stephanie Odegard has officially moved to India. And, when we last caught up with her, Christina Bryant was mid-flight over the Pacific. These global citizens aren't just building sustainable businesses, they're nurturing and preserving artisan communities in all corners of the world. The product differs—Robbins is best known for furniture and accents, Odegard's name is synonymous with carpets, and upstart Bryant's bag is textiles—but each one's motivation is similar: to support artisan communities. 
Robbins's upcycled product reflects the indigenous materials of each region he visits—a collection made of wire from resource-poor Honduras, where he collaborates with metalworkers via nonprofit Aid to Artisans; lattice side tables, hand-carved from trees that provide shade for coffee bushes by the royal family of the Bamun tribe in Cameroon; and pieces made of Peruvian porcelain sourced from a workshop that a family member helped found. "People would much prefer to design and trade than to get their guns out," he says of the sometimes conflict-ravaged countries he visits to work with artisans. Robbins seeks out regions equipped with "integrated systems that my work can enhance," such as farming communities and coffee-industry regions, where he has ongoing partnerships dating back to 1986. "What makes these countries great is the people on the ground and the connections you have," he explains. "I've worked with families for several generations now. It's a commitment. I could certainly do it cheaper in China, but it's not the same—it's about the uniqueness of our planet and how the people interact with it."
I want to bring up the traditional artisans so that their families are fed and their crafts don't die.
—STEPHANIE ODEGARD
Odegard, a former Peace Corps volunteer who later consulted for the UN and the World Bank on marketing artisan products, formed her hand-knotted contemporary carpets company in 1987. She left the company and moved to Rajasthan in 2016, to both promote craft and combat industry fatigue. "This whole idea of moving there was to better understand it, capture it before it's gone, to be inspired," she says. "Sitting in a showroom at 200 Lex, I wasn't being creative anymore. I was just trying to maintain." To that end, two years ago, she started her next act: Stephanie Odegard Co. Ltd., an office staffed with two Indian CAD designers and a general manager (the administrative and sales teams are back in New York) who coordinate the production of rugs and accessories by artisans hailing from Nepal, India, Tibet and Italy. Next up are plans to buy property and build a design atelier and guesthouse, as well as continued work on her web presence. (Among India's other skilled tradespeople, she points out, are highly qualified web developers.)
There are cultural norms to negotiate while doing business abroad; the balance between quantity and quality is one. "More often, people seem to be interested in big orders that would be less expensive," she explains. "But India isn't like China, where you can order 200 or 300 or 1,000 of anything. That would never work. A big order to them is more like 24—it's not a country that churns out."
Bryant, who founded the home decor company St. Frank in 2013, focuses on artisans and small businesses in under-resourced settings  across two-dozen-plus countries, from Bangladesh to Zimbabwe. St. Frank's production currently supports about 500 craftspeople, over 85 percent of them female. (In addition, she partners with 19 small businesses in places like Guatemala and Turkey on the brand's vintage lines; all of its finishing, including framing, is hired out to small businesses in the U.S.) St. Frank's stateside production is growing too: Its first domestic partner, a group of Navajo artisans, signed on earlier this year.
All three adhere, in their own ways, to a people-centric and preservation-centric ethos that Odegard describes pointedly: "I want to bring up the traditional artisans so that their families are fed and their crafts don't die." This work, she says, "is the way I saw that I could give back something to the world."