As showroom foot traffic declines, fabric businesses are increasingly turning to a sophisticated network of outside sales representatives to reach designers at their desks. 
"All of the costs have gone up, but the number of visitors has gone down," says Andrea Rubelli, CEO of Donghia and an executive at the Rubelli Group, a fifth-generation Italian textiles business. There's no hand-wringing about it, just a simple acknowledgment of the facts: "You can't have huge, American-sized showrooms [in design centers] anymore, because there aren't enough people who walk in every day to cover the rent and the cost of the salespeople. The profitability of most showrooms is going to be negative soon. It's happening, and it's happening very fast."
Designers' shopping habits are changing, says Nina Butkin, vice president of design at Fabricut. "It used to be that designers would come into the showroom and spend hours there. The person working in the showroom would help them, guide them, educate them. That is still happening, but not necessarily face-to-face. Interior designers and the consumers they serve have much more access to everything on the internet. Designers go online, then call the showroom and ask, 'Can you order me a sample of this?' [It's up to the] showroom salesperson to say, 'That's great, but are you familiar with this product too? It's similar and may be interesting [to you].' There's still a lot of work with customers going on, but we're all trying to adjust."  
That doesn't mean the showroom model is necessarily on the ropes. Though Fabricut is constantly expanding its outside sales program in pursuit of new distribution channels, be they online or with new showroom partners, the company has maintained its existing showrooms and staff. Although Rubelli's companies tested going without showrooms in a few markets, he found that the physical spaces play an important—albeit secondary—role. "There is still a large community of designers who need showrooms," says Rubelli. "It's not enough business to support the showroom, but big enough to be important." Ten years ago, 70 percent of Rubelli's business in the United States came from showroom sales and 30 percent came from outside reps; today, it is the reverse. "You can no longer count on a showroom to make the sale, with outside reps to get something additional. Now, the outside reps chase business where the business is," he says. His companies have spent the past year investing heavily in talent, both in their showrooms and out. "The showroom today is a service point more than a sales point."
Opportunities for intrepid outside salespeople are on the rise. Since last fall, heritage textile brand Holland & Sherry has hired nine new traveling sales reps; the brand now has at least one or two outside salespeople in every territory—seven in New York City alone—who are working outside of the showroom four days each week.
"It's the toughest job out there," says Holland & Sherry vice president Daniel Waldron. "You're in your car, you don't have a lot of support, and you're doing a lot of cold-calling." That uphill battle is rewarded with a more competitive commission structure, but Waldron says it can be grueling, especially at the outset as sales reps build relationships. Each of his reps takes 48 to 60 meetings with design firms each month; the company aims to get in front of its best clients every four to six weeks, and to visit secondary markets two to four times each year. (Holland & Sherry has also invested in the marketing collateral that reps take to meetings, like videos and lookbooks, to get the most mileage out of the appointments.) "It's about timing, not how hard you push. It's like putting more balls in the raffle tumbler—the more times you are in front of a client, the more opportunities you have."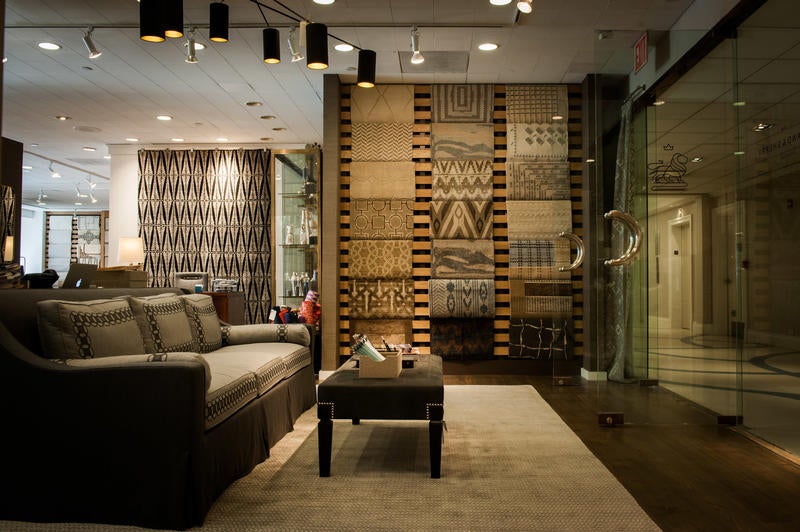 Courtesy of Holland & Sherry
In metro-area showrooms, Holland & Sherry's reps are often calling on existing clients. But secondary cities like Minneapolis, Baltimore, San Diego, and Richmond, Virginia—where the nearest design center may feel out of reach—have been promising early markets for new clients and sales growth. "There are a lot of talented designers who don't have access to product the way they do in major cities, and we've found so much good traction there," says Waldron. The hiring spree and shift in focus are already paying off: In most regions, at least half of the company's revenue now comes from outside sales. (The only exceptions are New York and London, where heavily trafficked showrooms do a brisk business.) Though the company opened a showroom at the Design Center of the Americas in Dania Beach, Florida, in 2014, since then, more than 75 percent of the region's sales have been generated through road reps. Yet Waldron insists that the company's showrooms play an important role—even simply as a home base for reps and a place to fulfill sample requests, or as a gallery for designers to view the brand in a cohesive setting.
"We still believe in the showroom model as it stands, and it is very important to us to have our look on display for local clients in our 16 locations worldwide," he says. "But as we expand in the near future, outside sales will be at the heart of what we do. Together with simplified presentation models and targeted stocked-product sales, we have seen our business grow quite substantially—especially in areas outside of the major showroom locations." He affirms that the path to success requires hiring the right people: "If you find dynamic individuals with the will to succeed, they become much more valuable to our interior designers than any showroom can be."
"Our goal is to become a resource, and hopefully an initial resource, for designers when they start a project," adds Waldron. "If we meet with your junior designer and leave eight fabric books, three wallpaper books, and one leather book that get put on the shelf—that, for us, is free advertising. If a designer goes to look for something when they start a project and our books are there, there's a better chance. And hopefully when those designers are starting a new project, they'll think, This company has come to my attention; they obviously care because they came out to visit me."
Not all brands have the ability or the desire to send reps across the country. Design industry veteran Crans Baldwin knows the business well enough to see that, while the lament about declining foot traffic might be industry-wide, there are pockets of the country where business remains steady and strong. "There's a rising shadow network of small, successful showrooms," he says. "If you want to be really blown away, go to the showroom locator on the Robert Allen Duralee or Kravet websites and look up states like Texas, Connecticut, Missouri, Florida or Maryland. All of those states have independent, to-the-trade showrooms that are doing just fine, thank you." Those showrooms may not have all of the top lines, he says, but they offer easy access to enough resources—and extra perks too—in areas where it may be difficult to get to a major design center. The appeal is not so different from that of a sales rep who brings product to your office: "These design showrooms figured out how to make it work without the fancy names by offering fabulous service," says Baldwin.
That kind of personalized attention to designers' needs was something Baldwin thought he could replicate himself. Thirty years ago, he started his career as a regional sales rep for Baker. He became a national sales manager for several textiles and home furnishings brands, then spent 20 years in executive roles, Cowtan & Tout, Bergamo Fabrics and Donghia, as well as five years as a consulting executive at Edward Ferrell + Lewis Mittman and Dedar. But in February, he saw an opportunity, and re-entered the road-rep business himself. His new, Darien, Connecticut–based firm represents fabric, wallcovering and furniture companies large and small throughout the tri-state area.
"The market has moved towards the client," says Baldwin. He says he doesn't see himself going head-to-head with online shopping, as one might assume; rather, his competitor is the rep who gets the meeting instead of him. "The internet is a good way for a designer to check out something they've heard about, but it's not a good discovery tool for fabric," he explains. "The competition here is either a hot, of-the-moment line—that's competition because every designer wants to see them—or a very well-serviced line with a good rep."
For Robert Shields, a designer at Tiger Lily's in Greenwich, Connecticut, one of the biggest benefits of working with reps is the ability to collaborate. On a recent project, a client wanted chintz—not exactly an everyday textile for his business. "I called Crans, and he came over the next day with chintzes from Rose Cummings and Clarence House—beautiful things we hadn't seen in years." For another project, Shields explained a client's penchant for the Old World English look to his de Gournay rep and received a customized assortment of samples. "Reps at higher-end lines really understand their product and can tailor a presentation for us to take to the client," he says. "I even know designers who give reps their entire project and say, 'This is what I'm looking for.'"
Collaborating with reps also offers an inherent time savings that Shields appreciates. "It's so easy to call up a rep who knows us and say, 'I'm looking for such and such.' They're on-site or the samples arrive in the mail the next day—that makes our business much more efficient." Geography plays a critical role. "When I was based in D.C., I was close to a design center and used it a lot—it was easy to pop over for an hour or two," he says. In Greenwich, he relies on road reps like Baldwin and an extensive in-house sample library. "I'm only a 45-minute train ride into the city, but that still adds hours to the day, and it's just not realistic on a daily basis." Though he and his team make trips to the New York design centers in the fall and spring for inspiration and to see what's new, most of their business is conducted through regional reps. "I'd hate to see showrooms disappear," he says. "They're very valuable, especially when it comes to furniture—and inspiration, too. There's just no way to replace that experience with a picture."
It's a sentiment Waldron at Holland & Sherry understands. "It's still important to have that brick-and-mortar established," he says. The company's 9,000-square-foot showroom on the 14th floor of the D&D Building is a testament to that continued commitment. "It's worth the rent," says Waldron, noting that upwards of 60 designers come through the door each day. "But if you're going to be successful in this day and age, there's no showroom left where you can sit back and let business come to you. Time is an interior designer's most valuable commodity; more and more, we see that designers don't have time to get to the design center. We hope to make their lives the slightest bit easier by bringing the product to them."
Homepage image: Courtesy of Holland & Sherry