For more than 30 years, David Sutherland has traveled the globe in search of the world's best teak for his Dallas-based luxury outdoor furniture company. He tells BOH where he's found it—and where he's looking next.
"Teak is a unique wood in that for the first few decades of its life, it doesn't have the properties we need for outdoor furniture—the density, oil content and silicate content—that keep bugs out of it and keep water from hurting it. Those properties start to occur in a teak tree when the plant is in its 20s, but those trees still have a lot of heartwood and aren't quite as strong. We try to harvest from trees that are at least 30 to 50 years old.
"Back in the late 1980s, teak came from Thailand. But they completely denuded their country and had to stop all logging. It was a real wake-up call for the region. We have had 20- and 30-year partners who source wood for us, primarily from Myanmar and Indonesia. About 95 percent of the world's teak still standing is in old-growth forests in Myanmar. These old-growth forests have had time to develop the density we're after—the trees are more than 100 years old. However, as the country becomes more capitalist, its government is trying to find out what its natural resources are really worth. For the past few years, they've cut exports to less than 20,000 tons of teak each year, down from 400,000 tons. The world price is escalating, and 90 percent of what they have available, they are not selling. That impacts our partners, but they've seen this coming, and they're prepared. They've stockpiled hundreds and thousands of cubic meters of materials. The only way you can make teak furniture cheap is to use less of it—the raw material is the biggest expense—so if someone's starting out today, it's very expensive. 
"There is a lot—not plenty, but certainly a lot—of mature wood in Indonesia. The trees aren't indigenous there, so they are grown in massive old plantations. And for every tree they take down, they plant 50 more. It might take 65 years, but it's a valuable investment. Running a teak plantation is also a big, concerted, consistent effort. The teak is constantly managed. It can't be allowed to grow indiscriminately; it needs half of the year to be dry, the other half wet. 
"From the beginning, I've worked with agents who knew where the teak furniture factories were. My goal was to find the finest quality and the best producers. We still work with some of our original factory partners. As our design evolved and we began combining teak with other materials—woven, aluminum, stainless steel—a factory that does only teak would recommend me to a factory that specializes in aluminum. People at a certain quality level know each other and refer one another. That's how we've developed our cadre of suppliers for the materials and the expertise that we need.
"I've seen governments come and go, but business stays pretty solid. The availability of materials and the ability to have a significant labor force is ultimately more important. That said, the level of corruption in Indonesia is almost indefinable. That's why I don't own factories in that part of the world—I'm just a customer who's willing to pay the price to get a beautiful product, free of government intervention.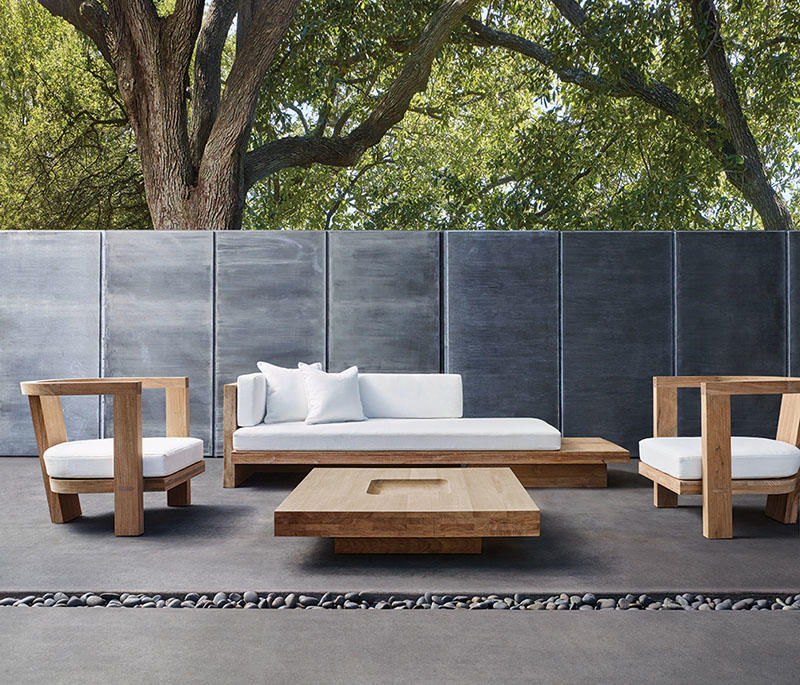 "When I first started, I thought I could get the wood overseas and bring it to the U.S. A manufacturer did a study and told me that because there was not a consistent supply of teak for my use in America, he could never tell me what the price would be to manufacture here—it'd be a different quality wood at a different price every time. Then I went to Indonesia, where there is a consistent supply of high-quality teak. They could secure that material at a price they could guarantee for a period of time—oh, and by the way, they had relatively inexpensive labor. But I didn't go there for the labor, I went there for the raw materials that weren't available in America. 
"At some point, once the cost of labor and materials becomes similar around the world, the main difference in cost will be freight. I'm looking for ways to manufacture in this hemisphere to improve both delivery times and price. That won't happen for another 10 to 20 years, I would say—and it could be quite a bit longer—but it doesn't hurt to be prepared. There are huge plantations of young teak in Brazil and Costa Rica, which are much closer to our company headquarters in Dallas, and which, in 20 to 30 years, could become the next source."