Repeat business and referrals from happy clients are the lifeblood of a design firm. Here's how to maintain those relationships long after the final bill is sent. 
One project's end can be following one's beginning—as long as the homeowner is happy. Building and sustaining good relationships with satisfied clients is the true secret to the success of any firm. But what's the trick to preserving the rapport after install day? 
The most holistic approach to turning a new client into a repeat client is to go into each relationship as though it will, in fact, be ongoing. Josh Hildreth, an interior designer in Washington, D.C., builds this expectation into his design process, emphasizing that there may be periods where he and his clients work together constantly and other times when they'll hit pause over the course of many years. "I tell them, '[Even] when the initial scope of work is finished, I will never stop thinking about your space,'" says Hildreth. "If I happen to be in France at a market and I see the perfect bowl for your kitchen island, you're going to get a message from me. The best way to appeal to a client for future work is to touch their passion for beauty. I find that if you give them a special object that they connect with, it usually triggers other needs."
For New York–based designer Wesley Moon, it's rare to have clients he works with only once. "My client relationships just don't seem to end," he says. "It's like we don't want to let go of each other. You keep in touch about finishing details, and eventually, they're ready for a room refresh, or they're moving, or whatever the need might be." The bulk of Moon's current workload is a second (or third, or fourth) home for a previous client. "I've even moved into doing work for entire families," he says. "I did two houses for one woman, and she recommended me to her parents and her sibling—now I've done two houses for each of them as well." In this industry, one great relationship can lead to a volume of work that even the biggest of marketing budgets could never drum up.
It's worth noting that while the goal is to end a project on a high note, for most designers, laying the groundwork for an enduring client relationship starts with the initial consultation or intake questionnaire. Those icebreaker questions about the family's birthdays, anniversaries and favorite movies, artists and restaurants are a way to connect, yes, but they also provide easy entry points for follow-up contact long after a final invoice has been sent.
Designer Eva Bradley, co-founder and principal of San Francisco–based firm Studio Heimat, keeps a spreadsheet of responses to such questions, and makes an effort to send gifts for special occasions. "About two months ahead of a client's first wedding anniversary—the traditional gift for which is paper—we commissioned a paper silhouette of one of their wedding portraits and had it framed," she says. "We like to sit down and look at the database every month to decide which gifts might need a littlemore planning, like that portrait, but even sending something small on a birthday is a reminder to our clients that we think about them regularly. Getting a thoughtful gift shows it's not just a gesture to maintain a business connection. It shows love. It shows warmth. It shows that you care."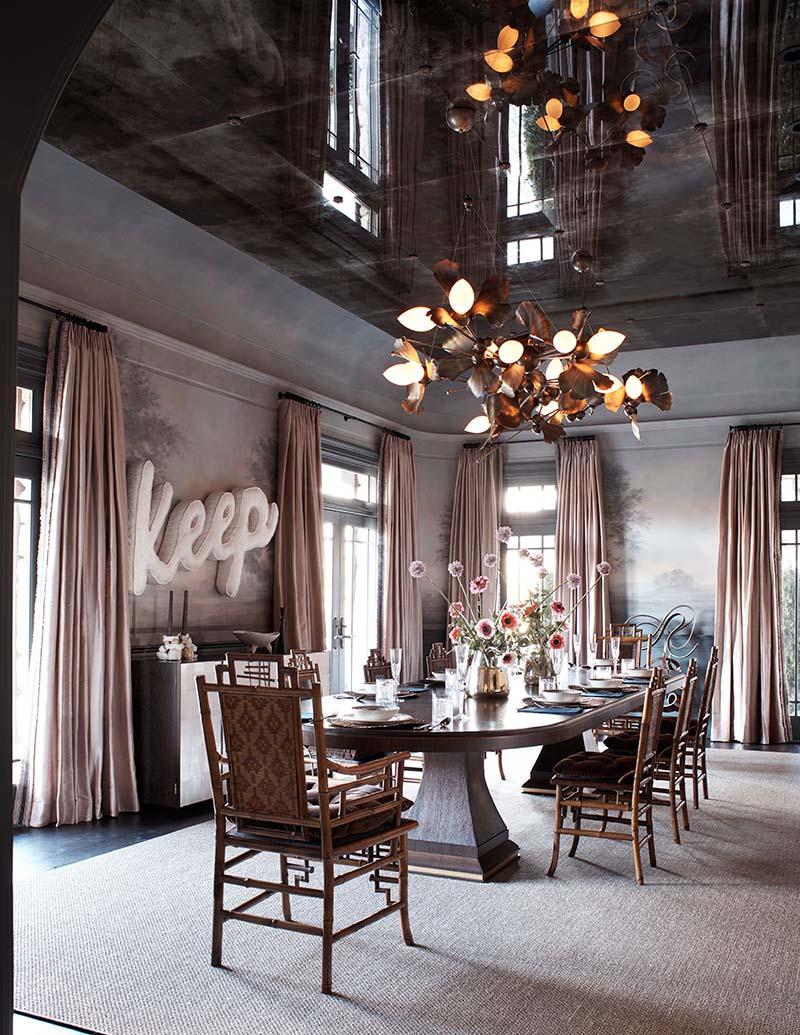 Because most of Bradley's clients have the means to buy themselves anything they want, a truly creative present carries more weight than something that's simply expensive. "We have a bit of a leg up because we know what could look good in their house and exactly what their style is," she says. "We would never want to give something that seems like, 'Oh, I just bought this one gift for all my clients this Christmas.' We want to stick out."
In addition to gift-giving, she and her Studio Heimat co-founder, Alicia Cheung Lichtenstein, cultivate opportunities to socialize with clients throughout the year, thus preserving and deepening those friendships. They'll often buy extra tickets to galas, gallery openings or design events and extend invitations. "It lets the client know we're thinking of them and allows us to bond in a different setting," says Bradley.
For Hildreth, in-person gift delivery elevates a thoughtful gesture into an opportunity for authentic connection. "Any moment after the job is done when you can create that personal moment, the better," he says. "It's never about pitching them for business. It's always about providing this positive distraction and a moment for delight."
But it's not all ribbons and bows— keeping up a superior level of customer service can be more valuable than even the most thoughtful gifts. For Chicago and Nashville, Tennessee–based designer Amhad Freeman, that meant standardizing his follow-up communication to ensure he's giving all of his clients equally lavish post-project attention. His first move is a check-in one month after install day. "I like to see how everything is going and to hear how they're living in the space," says Freeman. "I want to see if they're enjoying it or if there have been any issues." It's also at that point that he asks the client how they felt about the design process as a whole. "Client feedback is so important," he says. "I'm not the type to send Christmas cards to my client list, but having a good rapport is crucial to me."
Sometimes, keeping a relationship strong comes down to being available and responsive, even if don't have any plans to charge for those hours between projects. "I'm not a nickel-and-dimer," says Moon. "I know the value of what I do, and I charge for it, but I make enough on a project that if a client texts or emails me a question after the fact, I'm not going to bill them for that. I do a lot of answering quick questions. If there's a leak and they need to replace the wallpaper, I'll bill them for the wallpaper but not for my time. I know they will look to move or redecorate eventually, and hopefully, they'll call me."
Hildreth also chooses to forego billing for time spent sourcing additional pieces for clients after projects have wrapped—but he does keep his markup. "It's about setting the table to have that conversation about the next project," he says. "It's when you send over a lamp that would look perfect on a desk in a client's bedroom that they may be like, 'You know, we've actually been thinking about doing our pool house, too.'"
Bradley says that assuring clients that they can reach out as needed has been the most effective means of staying connected. "If there are issues with furniture or appliances and they are not handled correctly, then it leaves such a bad taste in the client's mouth," she explains. "If their soda fountain's gas tank is empty and they don't know how to replace it, they know that they can call us and that we will take care of it. If something comes up and they aren't sure how to address it, we're there."
Social media also has a hand in maintaining relationships, as it's easier than ever to keep up with clients' lives while inviting them to see what you're up to. "I used to send newsletters to my client list, but social media is more instant because you can see who liked or commented on a post," says Rhonnika Clifton, a designer based in Houston. "Occasionally, you'll get a nice comment from a client you haven't been in touch with for a while, and it's great to see that they're still following your work."
Much like chatting with an old friend, there's an ease that comes with working with repeat clients. Not only do you already have a sense of their likes and dislikes, but the client trusts you and your vision in a way that they may not have on the first go-round. "The devil you know is always better," says Moon. "It doesn't take as much out of you on a personal level when you're working with someone on their third house. I still get so nervous on presentations for new clients, but with repeat clients, I know what they like."
Hildreth also finds that his best work comes when he has the opportunity to dig deeper with a client on a subsequent job—plus, existing clients generate the best referrals. "Ultimately, if you do a good job managing and building relationships, you don't need as many new clients," he says. "The bottom line is real, but I've never run my business with a hard focus on the bottom line. It's always been about putting clients first and delivering a wonderful experience. If you're doing that well, the business always comes. We haven't ever had a dry spell."
Homepage image: An aqua-hued backsplash offers a fresh take on the classic blue-and-white color scheme in this kitchen by Studio Heimat. | John Merkl