In 2003, Rochdale Spears Group chairman and founder Geoff Hawkes went all-in on Vietnam, constructing the beginnings of what is now a 2.2-million-square-foot, vertically integrated manufacturing footprint with a foundry and sawmill. Today, the company—which operates its own SONDER Living line, a robust hospitality program, and provides product design and manufacturing for the likes of RH, Anthropologie and Williams-Sonoma, Inc.—wouldn't want to be anywhere else. Hawkes tells BOH how he built his business abroad.
"We were an early adopter of manufacturing in Vietnam. Back in the early 2000s, China was more developed, already well-known for low-cost, high-volume manufacturing. We were looking at it from an artisanal point of view—high design, high quality, and smaller batch sizes—and decided that Vietnam offered more of the boutique element to production. We brought craftsmen from venerable English manufacturers to teach our employees, and now they've got something the West has lost: the ability to do repetitive, artisanal work. We are extremely lucky, because if we were setting up today, we're exactly where we'd want to be. 
"In the old days, factories were always sited close to raw materials, but there aren't actually a lot of raw materials in Vietnam. We ship sawn logs from managed forests in the Appalachian Mountains into Vietnam—that's how important it is to be close to skilled labor. By committing to and investing in that talent, we've become an employer of choice. Our work environments are equal to those of any Western factory, with lighting, heat and dust control. We run training programs and invest in retention programs.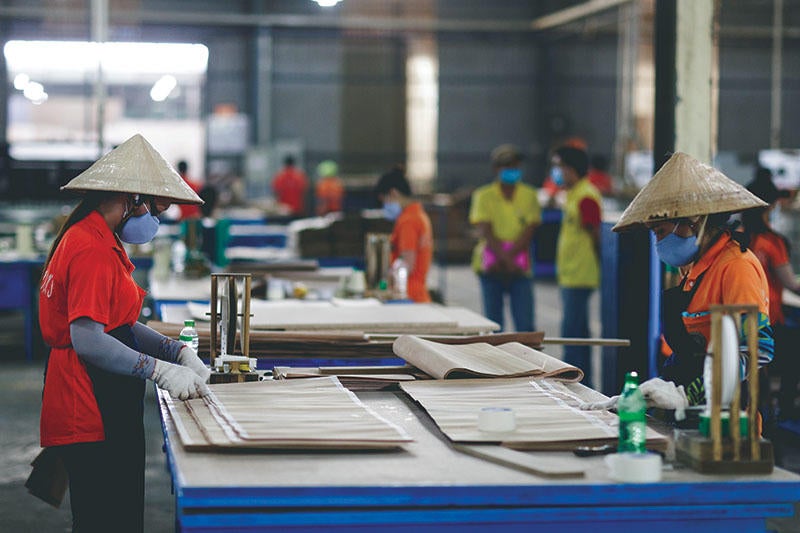 "Our factory is like a village inside of a city. As you go down the street, you see little clusters of people doing millwork, glasswork or marquetry. Parts of the factory look like every other big factory, but other parts are like going down alleyways—smaller groups of artisans doing faux shagreen or silverwork. All of that comes together in the final product, which is hand-finished. And all the way through this, we're still trying to get scale, trying to drive down price points and increase quality standards.
"We also own an upholstery manufacturing plant in Hickory, North Carolina, and the biggest problem in growing our operations there is finding people who want to do the work. You can build upholstery as cheaply in North Carolina as in Vietnam, so we've reached back into America and done local manufacturing there. That said, things like intricate lighting and carpentry work will never go back to the United States at a price point Americans can afford to buy. All you have to do is look at Stanley [which recently sold nearly all of its assets in a corporate restructuring]—that's 'Made in America' for you. How far will the consumer go—will they pay an extra 4 percent for an American-made product? 5 percent? Certainly not 10 percent. We saw that in the white goods industry and in the demise of the British car industry. What really matters for consumers is the quality of the product and a good value."