Designers are exploring how to create passenger experiences that are more private and personalized, from legroom-enhancing seat recliners to bespoke baby bassinets. Plus, here's what to know when your high-flying clients ask you to design their private jets.
Whether you're an aerophile or a reluctant flyer, there's no denying that the in-flight experience is unlike any other. On what other occasion are you confined to such a small space, sometimes for days at a time, surrounded by miles of emptiness? Aviation is unique for everyone involved—from engineers and designers to pilots and passengers—and as such, presents one-of-a-kind design challenges and opportunities.
"Our customers are focused on interiors that function best for how they use the aircraft," says Shannon Watson, lead designer at StandardAero, a Scottsdale, Arizona–based firm that provides a range of business aviation services, including custom interior design for private jets. "For our clients, the plane is often an extension of their office or home." Consider what you do in those spaces: Send emails, take calls, eat, watch movies, read, sleep. For a private jet or passenger plane to accommodate all these activities elegantly, every inch must be utilized—and every piece of plastic, nylon or metal must be weighed, literally, against the economic and ecological cost of bringing it on board. With such practical concerns in mind—not to mention the matter of safety—it's easy to see why aesthetics haven't always been the top priority in aircraft interiors.
"Fundamentally, airlines are engineering organizations, and it takes 98 percent of their effort to get the plane in the sky and do everything safely," says John Tighe, design director at JPA Design, a London-based international firm whose recent commercial aviation clients include Brussels Airlines, Singapore Airlines and Finnair. That may be changing to some extent: "In the last few years, the people we work with at airlines have gone from product managers to user experience people," he says. "More than just an employee title change, that signifies a larger trend toward airlines becoming more design-led, with a heightened focus on product."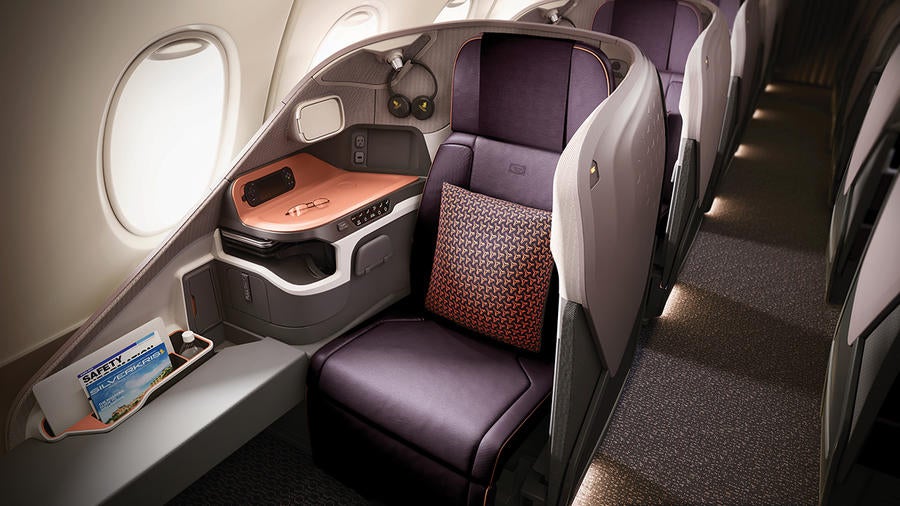 Courtesy of Singapore Airlines
That product, in both the commercial and private aviation spheres, has long been influenced by automotive design. "When it comes to upholstery on private jets, we often mimic what customers are accustomed to in their high-end cars," says Kylie Fencil, a designer at StandardAero. "We're using quilted and perforated inserts, piping and contrast stitching. Leathers tend to wear very well, and can be re-dyed to extend [their lifespan]. With so many options for texture, color, and specialty treatments like embossing or transfers, we are able to give customers unique style in addition to durability."
Now, it's not just automotive design leading the way—residential design is finally making its mark on aviation. Shay Geyer, owner of Frisco, Texas–based IBB Design Fine Furnishings, began in brick-and-mortar residential and commercial interiors, but has also worked in the aviation space, designing three private jets—including, most recently, a "fashion-forward and eye-catching" G4. Inside the black-and-titanium-metallic painted exterior, Geyer chose fabrics that evoke a modern yet luxurious atmosphere: ombré carpeting and leather chairs with square-stitch-quilted racing stripes down the center.
"Space is a real commodity in an airplane," says Lee Mindel, principal architect at New York–based design firm SheltonMindel, who has completed five private planes for his residential clients. As a result, the devil is in the details—and design decisions that might be trivial in a larger space are paramount to a plane interior's success: "The things you touch and feel all have different messages. How do you wrap the fuselage so that it's comfortable? How do you adjust the lighting so it isn't in your face, but adequate for reading? When you walk on the floor, what should that rug feel like? What do you want to sleep on, or look up at when you go to bed? When you have dinner, what should the flatware, table surface and napkins be? Those are all experiences you have in a very small space, so you have to be very cognizant of them."
Upholstery is one of the environmental details that has a major impact on a passenger's comfort in a confined space like a plane. "We worked on these seats with Spinneybeck that [were inspired by] Italian driving gloves," says Mindel of a recent private jet project. "We perforated leather on the cushion part of the seat, then surrounded it with solid leather so it looked sporty. It feels like an Hermès saddle—something you want to touch and sit on."
In the end, it comes down to creating an experience that is comfortable for the body and the mind. The ability to choose the settings of your seat's incline, overhead light, air vent or window shade can make or break the ability to sleep or relax. "As a vehicle passenger, you're not in control anymore," says Tighe, who has also noticed the growing parallel between car and plane design, and a more home-like atmosphere pervading both. "On a long flight, the top priority for most people is to have their own envelope of space and be in control of it."
Then there's the desire to feel alone, even while in a tight space with a slew of other passengers. Achieving privacy, or the illusion of it, is the goal of features like staggered seat layouts, privacy panels, strategic tray tables, lighting and protective headrests. These features are especially key on commercial aircraft, where they can help passengers feel buffered from their surroundings—an effect Tighe's team dubbed "hooding," inspired
by seeing a business-class passenger wearing a cheap raincoat to help him sleep.
The concept motivated them to devise a curved seat shell and cocktail tray positioned to create an intermediary point between the service crew and business class passengers on the Singapore Airlines A380. In economy class, JPA collaborated with Italian seating manufacturer Optimares to design a seat whose bottom moves forward while the back reclines, allowing for generous room to sprawl without any loss of space to the passenger behind, which recently launched with Qatar Airways.
These kinds of innovations can be seen, to varying degrees, throughout all classes, elevating the passenger experience from economy through first. "The seating landscape has shifted toward experiences that balance the communal aspects of flying with the need for privacy and personal space," says Tamae Satsu, senior interior designer at Seattle-based design consultancy Teague, which has helped create interiors for Oman Air, Fiji Airways and Air Canada. "Lighting design is also transforming the cabin environment, softening hard surfaces and creating a sense of space and unique brand signatures for airlines."
Customization is another prevalent theme in current aircraft interiors. On commercial planes, designers are developing add-on features that the crew can deploy on individual seats to accommodate passengers with specific needs—whether that's a tool to increase comfort for an elderly or disabled person, or a detachable baby bassinet for traveling parents. ("There might be only four of 300 people using these features, but a bad flight for four babies is a bad flight for everyone on board," quips Tighe.)
On private jets, customization is more likely to appear in the aesthetics: "We designed a cypher [a modern monogram] on the black lacquered entry to the G4, as well as on custom china," says Geyer of her client's jet. "Lighting and technology were very important to the client, but that posed a challenge for us, since audiovisual technology in aviation is far behind what you use in the home."
The scaled-down size of private jets also requires shrewd spatial planning, which has led to a drift toward minimalism, according to Nikki Gledhill, CEO of MBG International Design in San Antonio, who has designed luxury private aircraft for top executives and heads of state. "There's been a shift to a less-is-more approach," she says. And that's not only so the space feels bigger, but also for economic reasons.
"The trend toward organization in galleys and cabinetry is in part to maximize space, but also to lower weight and reduce operating costs where possible," adds Watson.
The growing focus on design holds promise for the future of flying. "It's an industry where it's best not to create hard-and-fast rules that limit innovation," says Tighe. "It's in everyone's interest for us to be able to create lighter seats, better passenger experiences, and create new rules around those designs. Once you realize the hundreds of people involved and the work that goes on behind the scenes, the fact that it's possible to fly so cheaply is frankly astonishing."
KNOW THE RULES
The Federal Aviation Administration is responsible for testing crash and material safety for all product designs inside commercial or private aircraft made in the U.S.
FAA crash tests simulate intense impact and measure how the product reacts, ensuring that passengers won't have fatal force exerted upon them or be trapped inside an aircraft because of a warped armrest or safety belt, for instance. This process has prompted designers to innovate with materials to minimize weight while maximizing stiffness and energy absorption.
Material-safety testing checks for flammability and toxicity. Every fabric, foam, plastic and metal on board must be tested individually and together in every combination to ensure that none create an unintended catalyst effect in which they are more flammable when paired than alone.
Both crash and material testing require hundreds of meters of sample fabric and solids, which can cost anywhere from a few thousand dollars (if the material passes the first test) to several hundred thousand dollars (if multiple tests are required). The FAA tests take only a matter of minutes, but if a product fails, the chemical and structural reworking that go into meeting safety regulations while preserving the design integrity of its structure, color, texture and durability can take years—motivating designers and clients to get it right the first time.
 
Airport Evolution
The sky is full of leading-edge design innovations, but perhaps even more mind-boggling are the on-the-ground aviation trends revolutionizing how people transition from earth to air. "Amenities are making airports destinations," says Samantha Flores, director of HUGO, an incubator at Corgan, a Dallas-based architecture and design firm that has worked on more than 150 airports worldwide. "We are seeing yoga rooms, day spas and other areas for relaxation and wellness. We have done research into light therapy rooms that can help reset the circadian rhythm and adjust to time zone changes to fight jet lag." Other emerging features include refuge areas for passengers with reduced mobility
or disabilities; social sensory rooms for travelers with autism; induction loops at gate lounges that amplify announcements into hearing aids; and the incorporation of green spaces and virtual-reality meditation rooms that have a calming effect on stressed-out travelers.
Also high-priority for leading airport designers are new automation and baggage solutions that solve pain points for fliers. "Every traveler wants greater control of their experience, and with today's tracking technology, it could be possible," says Stephen Beacham, director of interior design at HOK, a firm whose recent international airport projects include Seattle-Tacoma, Tampa, and Chicago O'Hare. "If the airport knows who is arriving and when, there may be ways to leverage this data to create a more seamless journey with fewer disruptions."
Such technology is in development at many airports, and already being implemented at others: The JetBlue terminal at New York's John F. Kennedy International Airport uses biometrics at security checkpoints and the gate to speed up boarding. At London Gatwick (and soon to arrive at Dallas–Fort Worth and Rotterdam the Hague), an autonomous baggage fleet streamlines the baggage process from checking to loading in lieu of a complex conveyor system.
Not to be forgotten among the flashier inventions like robotic food delivery
and gate-view livestreaming are simple innovations like Emirates's waste-reducing vertical farm at Dubai International that is used for in-flight meals, or boutique bathrooms with luxe finishes and curated artwork. And if you needed any more convincing that airports are the new place to be (or at least not hate being), know this: According to Flores, security, the mother of all airport bummers, may one day involve artificial intelligence to the extent that you won't have to take off your shoes—or even stop walking.
Homepage photo: © Michael Moran/OTTO