Do you love rooms dressed head to toe in slabs, or are you hoping "marble everywhere" is a passing phase? These designers face off on whether the look is an enduring one.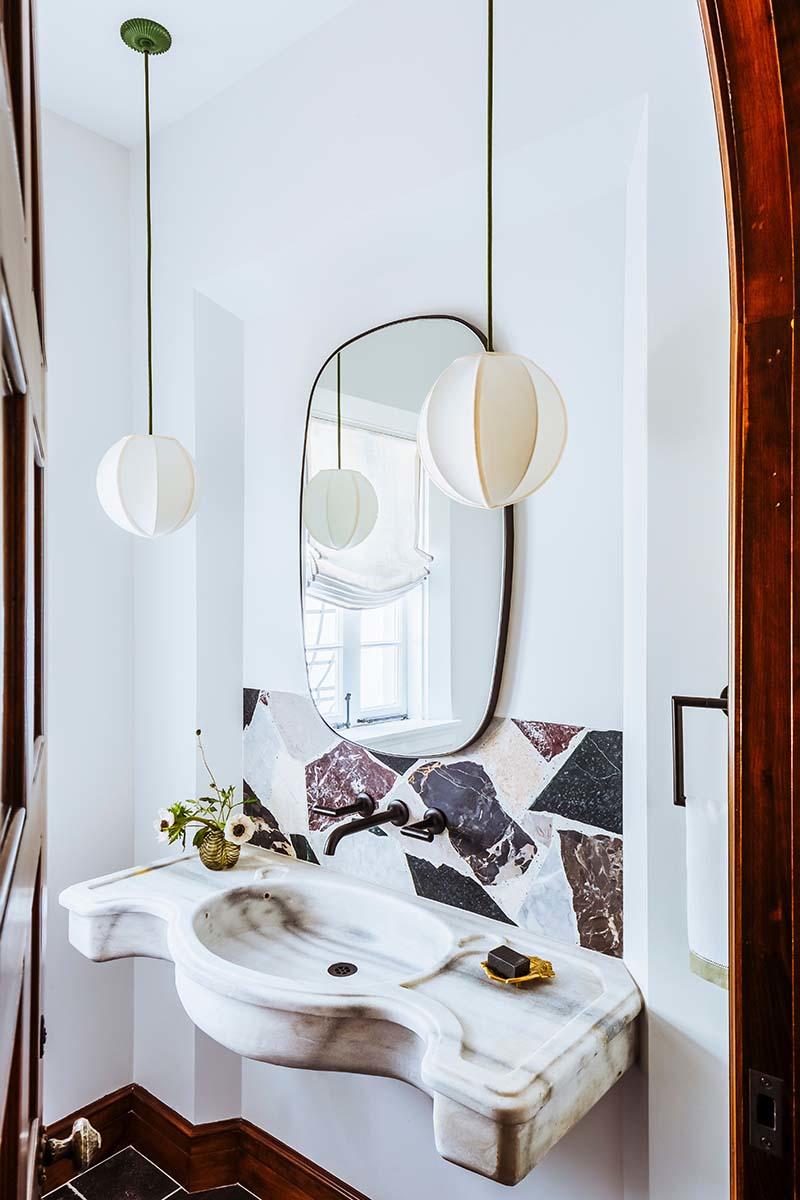 Daniel Johnson Photography
Mark and Mikal Eckstrom
Maison MXM, Omaha, NE
While we love marble, we dislike the all-marble kitchens and baths that have become ubiquitous in shelter books and social media. Most of these feel austere and museum-like, cold and lifeless. It's also sometimes just way too much. For example, cabinetry faced in marble? The acoustics alone should be enough of a deterrent! We spend quality time in our kitchens and bathrooms, and we prefer warmth and a more mixed approach in these spaces—not to mention a livable one. And may we discuss sustainability for a moment? It's hard to see how marble is truly "green" when fabricators create substantial material and water waste in the production process. Instead, we gravitate to hand-thrown tiles and brick, and we achieve creative heft through glazes, colors, patterns, grout and textures.
For this project, we renovated a powder room in a historic 1927 Spanish colonial with reclaimed bluestone flooring and an antique marble sink from an 18th-century Turkish hammam, applications that give both stones new life. The Palladiana backsplash is another example of our commitment to sustainable stone usage. We fused remnant marble from a boneyard with terrazzo grout, using marble chips that repeated the colors of the home's overarching palette—a conversational and functional marble focal point with cropped edges that make it modern against the curvaceous sink. We paired this stone with streamlined plumbing fixtures and lighting, and the overall outcome is a powder room with a look and feel that is both of the past and of the present.
This considered approach stands in contrast to the all-marble rooms we're seeing in celebrity homes and on magazine covers. Pinterest and Instagram can often dilute design trends to the point where everything begins to look the same. Indeed, the materiality of marble has turned into conformity. A mausoleum is the one exception where we are fans of an all-marble look—and where we may send this trend with an appropriate epitaph: Finis!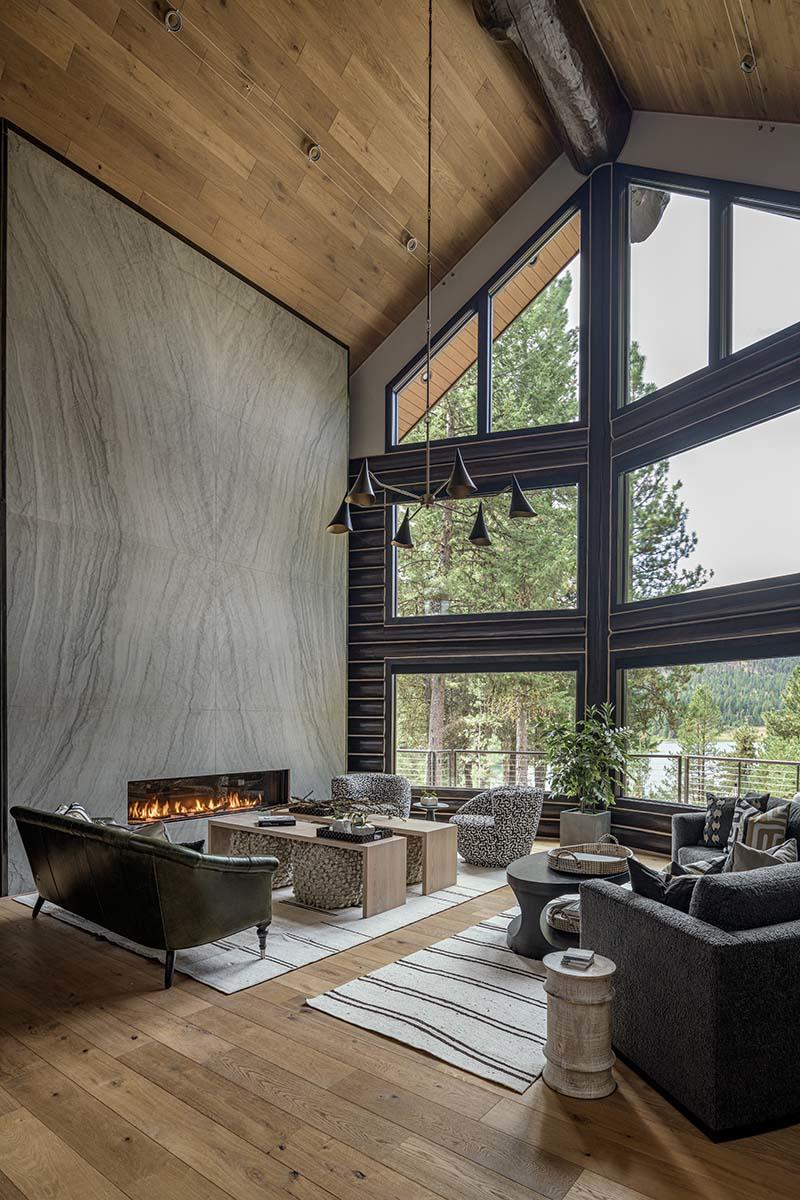 Jordan Yankovich
KovichCo, Boise, ID
I am always dropping by our slab yards to see what is new and interesting, and I love coming across unique, surprising stones I have never seen before. My favorite way to use these slabs is on a vertical surface—walls, backsplashes, fireplaces, showers—which allows you to truly appreciate the beauty of the stone. When you have an incredible slab installation on a wall, it's magnetic: People are drawn straight to the stone and inevitably end up touching the wall. For me, petting the walls is a sure sign of design success.
I look for slabs with distinct personalities that fit our designs and our clients—and, with luck, that help tell a story. In this living room remodel, we used the stone to anchor the space but also to shift the location of the original fireplace, which was strangely off to the side, too small, and covered in ugly river rock from floor to ceiling. We used four slabs of leathered Sea Pearl quartzite to widen the presence of the fireplace while using the existing chimney for our new 6-foot-wide gas unit. The new stone slabs offered not only an alluring focal point but also covered the sins of the past. In another recent project, we used 47 slabs of Scala marble from Ann Sacks to line an entire primary bathroom suite. The stone is white with swirls of black and gray and pools of green—the kind of pattern you never tire of looking at. Our design concept for this space was built around our client's love of Italy, and the green pools came to represent Venice. I, for one, wouldn't mind soaking in a bath looking at swirls of Venice!
There definitely are some looks out there that we keep seeing, like a whiteand- gray stone on a modern fireplace surround (yawn), and using slabs of stone can be a lazy shortcut to a luxury look. But as long as there are beautiful stones used in an intentional and thoughtful way, marble slabs are never really "out." Hot new materials come and go, but I would place my bets on team monolithic marble any day. The Greeks, the Romans, the Hapsburgs and Mies van der Rohe can't all be wrong.