Artisan brands like de Gournay and Fort Street Studio rely on the immense skill of Chinese artisans—but "Made in China" is not always an easy sell for consumers.
"Lots of people cower when you mention manufacturing in China, but I find it the most wonderful place to work," says Jemma Cave, design director of hand-painted wallpaper studio de Gournay, who splits her time between the firm's office in London and its studio just south of Shanghai. "It's important for us to make everything in China because we're using all of the traditional painting techniques."
At hand-knotted rug manufacturer Fort Street Studio's New York showroom, senior vice president Paul Melo faces a similar set of prejudices, and often finds himself defending why the company would choose to make its luxury goods in China. "It's a country that has a history of silk production and silk products," he explains. "Ways of working with the fiber and the knotting techniques have been in the country for thousands of years and are built into the DNA of the craftspeople."
 In 1994, Fort Street Studio founders Brad Davis and Janis Provisor happened upon a struggling silk carpet factory while traveling through the Chinese countryside. The couple, both artists, were captivated by the ombré effect in the petals of oversized flowers featured in Chinese Deco-era carpets the factory had produced—which requires a mastery of both dyeing and knotting techniques. "Brad and Janis pioneered the painterly, non-repeating design in carpet with that watercolor look, before software existed to take an image and make it happen," says Melo.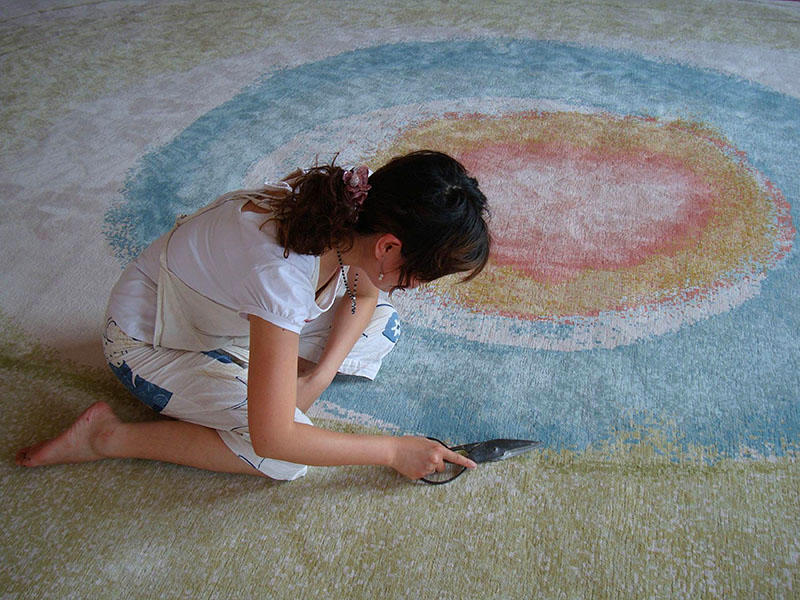 In the factory, weavers sit side by side, every three feet, for the entire width of the rug at hand. It takes almost a week to string the loom with cotton; after that, each weaver can complete about one foot each week (a 9-by-12-foot rug would take 12 weeks to weave). Then, the completed rug is cut off the loom for finishing by hand—the pile is hand-sheared, the edges are hand-surged and trimmed. Weavers work in teams based on the tension in their knots, so a missing weaver can't easily be replaced; as a result, a rug's delivery might be delayed if a weaver, say, catches a cold. As such, the company takes care of the 80 or so weavers it employs with a clean, air-conditioned factory, government-mandated health insurance, and even an organic garden. "Weavers are our resources, so it's important to keep them happy and healthy. There's so much human involved in the product that you have to start there."
Fort Street Studio and de Gournay share several key plot points: enterprising Western founders who went to China looking for expert craftsmanship; bespoke businesses that fulfill custom orders in months, not weeks; and a company-wide reverence for traditional techniques. An accountant by trade, de Gournay founder Claud Cecil Gurney found himself in Shanghai after searching in vain for chinoiserie wallpaper for his London home. "He couldn't find anything the U.K., and in America it was too expensive," says Cave. "Then he got to China and discovered that hand-painted chinoiserie was a dying art form." The local government put him in touch with a small team of artists who were able to do the job; when the paper was installed, in 1984, his friends went wild for it—so Gurney hired the artisans he'd worked with and opened an atelier.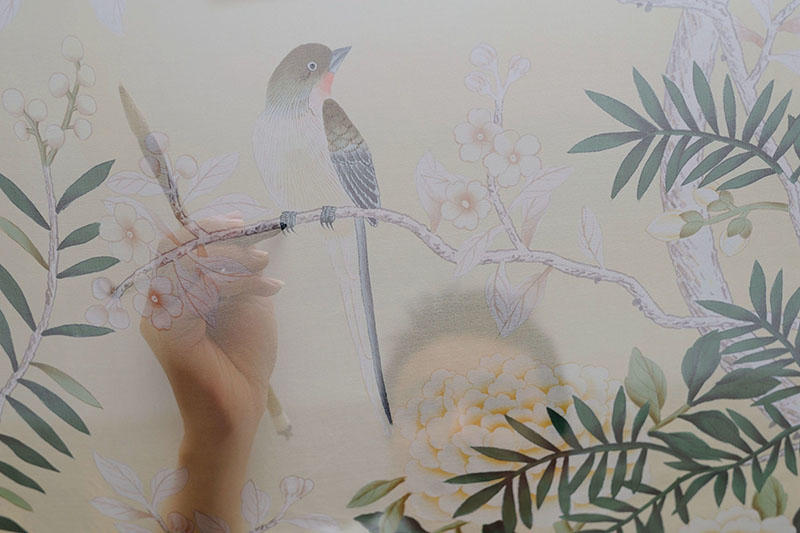 In the studio, most of the designs are painted flat on long tables, using a traditional technique that utilizes two brushes—one to apply ink to the paper, and the other to manipulate the color with water. The scenic-painting department is the only one that uses easels; there, as many as five or six artists may work on a pattern. "Some people may specialize in a particular type of flower and would be called in to do a repeat element in the pattern; others, for example, might be excellent at feathers," says Cave. Many of the painters have been with the company since its start. "Everything runs like clockwork, and there's always a complete sense of calm in the studio. For projects with time-sensitive deadlines, the artists will simply say 'We can't paint any faster, so this is how long it takes.'"
She notes that the Western world's history with chinoiserie dates back to the 18th century, when importing the paper from China was the ultimate luxury. "The pendulum swung to mass manufacturing—and now back again."