Netherlands-based design studio Formafantasma crafts a collection of office furniture from recycled tech waste.
In 3300 B.C., the widespread forging of bronze kicked off a new era of human civilization. Three thousand years later, gold coins began to circulate, smoothing the friction of global trade. In the 19th century, the industrial production of steel fueled wars and conquests that still shape the geopolitical order today. Metal production has always acted as a fulcrum at the turning points of history—and we're headed for another one. In the near future (as soon as 2080, by some estimates), the biggest metal reserves won't be underground but above: Instead of mining for silver and copper, we'll be recycling it. Such a shift will change everything. Whether it's for better or worse is up to us.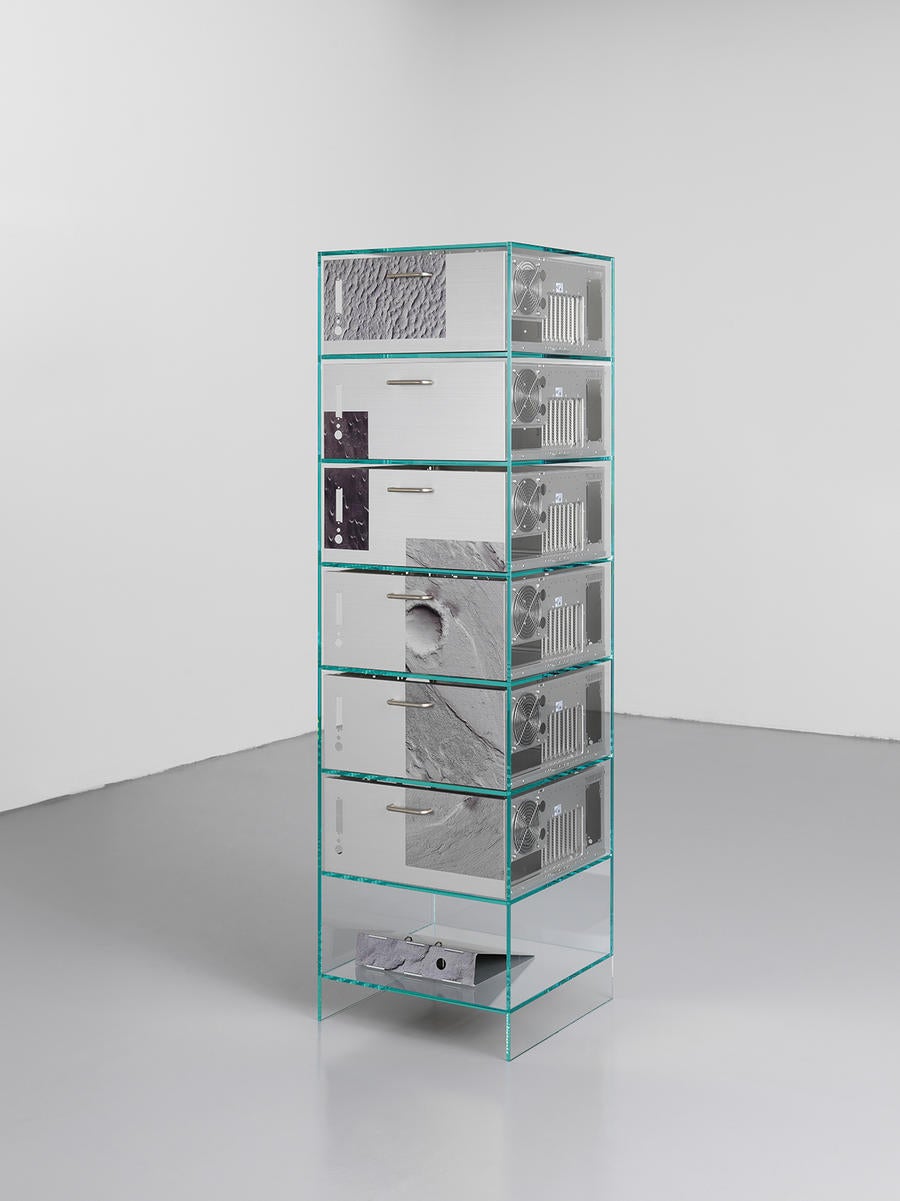 Courtesy of Formafantasma
This coming sea change inspired Andrea Trimarchi and Simone Farresin, the creative duo behind Formafantasma, to undertake the expansive multimedia project they call Ore Streams. They have built a reputation for intellectually rigorous design, creating pieces for Italian lighting brand Flos, as well as for Lexus, Fendi, Hermès and Max Mara.
The project was originally commissioned as a furniture collection for the National Gallery of Victoria's 2017 Triennial in Melbourne. "Australia is one of the few first-world countries whose economy is still largely based on mining. We wanted to investigate the relation between the sourcing of materials and their transformation into products," says Farresin. "We expanded it into a research project."
"Expanded" is an understatement. Ore Streams is a voluminous piece, comprising visual essays, research results, animations, over a dozen filmed interviews with waste management experts, and a collection of office furniture made from recycled tech components. ("In the context of design exhibitions, people still expect to see furniture," says Farresin.) In total, the exhibit is an attempt to grapple—intellectually and artistically—with the challenges that a recycling-based production economy may present.
Farresin cites rubber-clad copper electric cables as a striking example: "They are commonly covered in black rubber, yet due to the dark color and opacity of the surface, they are not recognized by visual detectors. A simple design choice like using colored rubber or even a patterned surface could dramatically improve the recycling of the copper used in the cables," he says. Another: "Too often e-waste objects are not labeled with information about their materiality. We envisioned a scenario in which objects would be delivered to recyclers with an embedded QR code and universal color coding."
Ore Streams is almost more Ph.D. thesis than design piece. However, the furniture itself, sold in limited quantities through Formafantasma's Rome-based gallerist Giustini/Stagetti, is strikingly beautiful—a testament to the union of form, function and concept. Farresin hopes that the pieces will be appreciated for their aesthetics, but also that they'll start conversations. "The objects are still interesting [visually], but they're dealing with broader ideas," he says. "In this sense, they work as a Trojan horse."
Homepage photo: Courtesy of Formafantasma