Five years ago, Jean Lin used her life savings to sign a five-year lease for a second-floor showroom on a graffiti-inflected block of New York's Canal Street. That space became home to Colony, a gallery for independent American designers and makers that currently represents 13 furniture, lighting, textile and object designers. Now, Lin has created a new initiative to discover and exhibit up-and-coming talent—and help them establish sustainable business, manufacturing and marketing practices.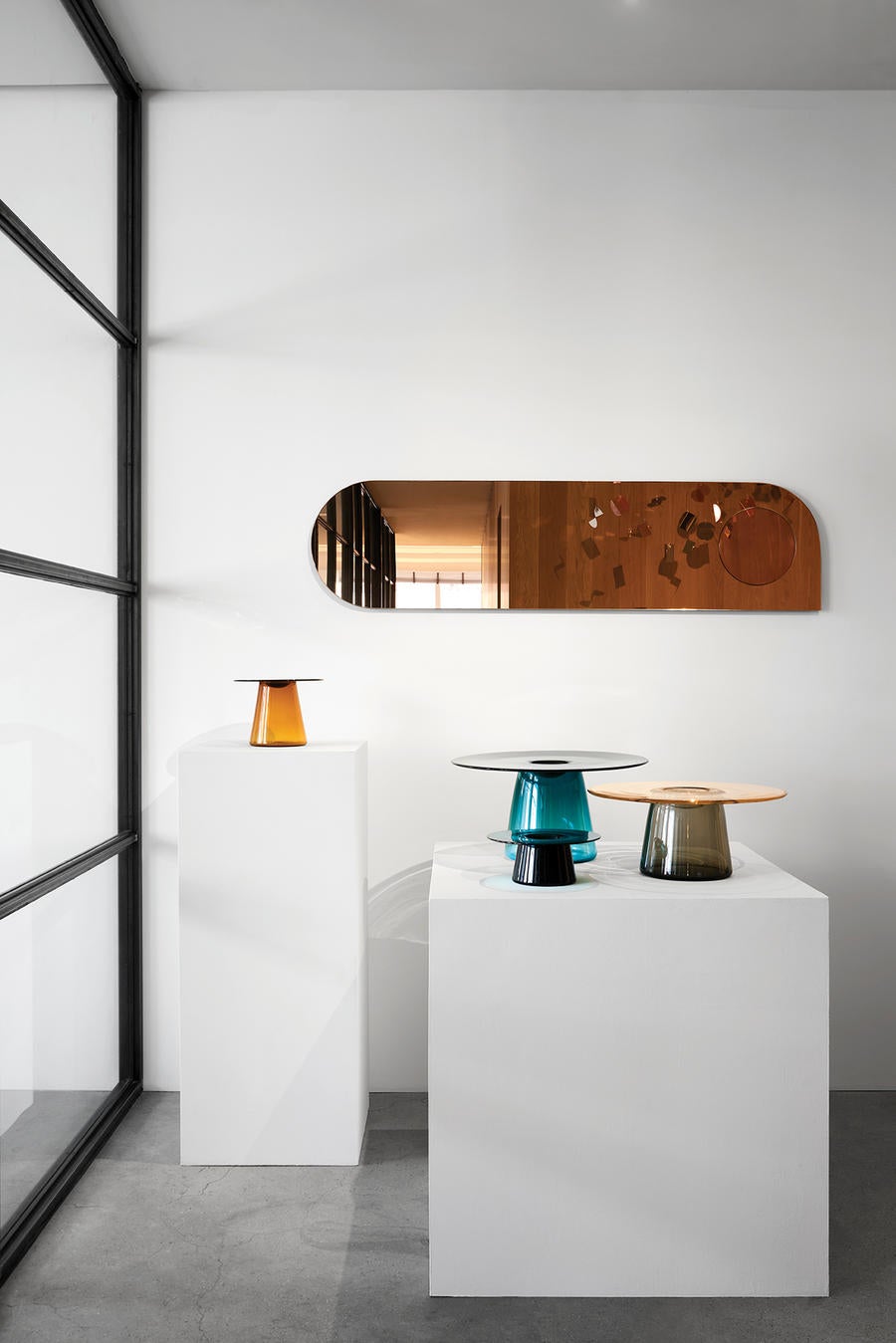 At the outset, Lin was motivated by the harsh realities (and challenging profit margins) of the independent makers she had met through editorial and trend forecasting work. After Hurricane Sandy hit New York in 2012, she curated a charitable exhibit of work made out of storm debris, which was sold to raise funds for disaster relief, and began to identify the common pain points experienced by the designers she was collaborating with. "I thought of Colony as a community builder where these talented designers could face those challenges together," she says.
Though Lin's corner of SoHo has changed considerably since her gallery opened, Colony's block has retained a modicum of grit. Inside, the gallery exudes a quiet, whitewashed cool: Shapely tables and curvy upholstery in shades of ochre, oatmeal and cream are arranged into loose seating arrangements and showcased on low pedestals; delicate fringed wallhangings by textile artist Hiroko Takeda float atop painted brick. The magic is in the deft medley of pieces—each more singular than the next—into a cohesive vision.
Instead of collecting a traditional gallery commission, which often ranges from 40 to 60 percent of a sale, Colony operates in the spirit of a cooperative: Lin charges her designers a monthly co-op fee and takes a much smaller percentage as a commission. "The idea is that they can have confidence in us and treat us a little bit more like inside sales—we're part of the team," she explains. "The hope is that they can grow with their sales rather than chasing their margins."
In another embodiment of Lin's designer-first mindset, none of Colony's artisans are required to be exclusive to the gallery. "When I first thought of the idea, there weren't a ton of platforms that were open to showcasing independent designers in this way," she says. "I was determined to create a model that was so friendly to the independent designer that it felt more like a community, like a part of their business."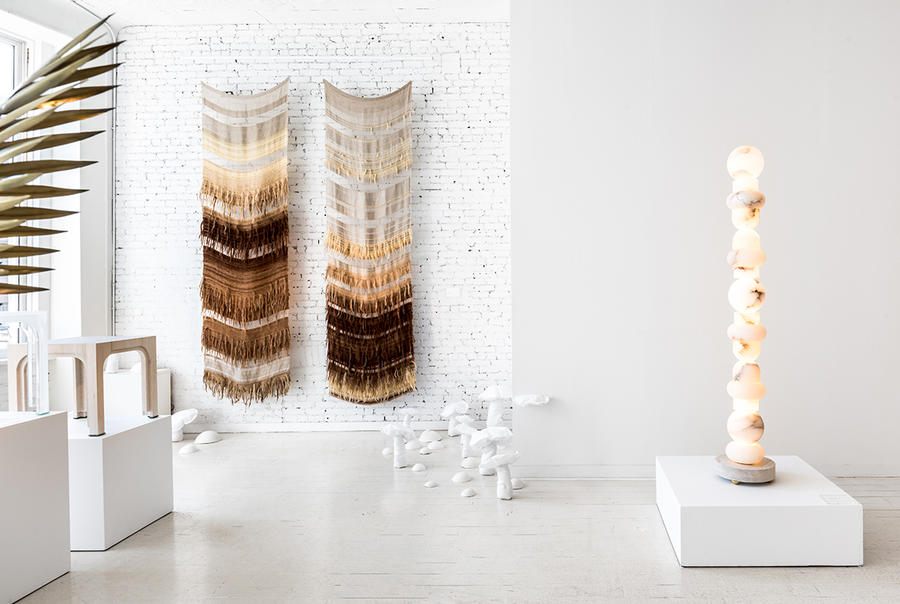 Even as they have grown, many of Lin's early designers, like Takeda and made-to-order wallpaper maker Flat Vernacular, have stuck with her. Though lighting manufacturer Allied Maker opened its own showroom four blocks away last year, the brand has remained part of the co-op. "I met [Allied Maker founder] Ryden Rizzo when he was working out of his parents' garage, and to watch them grow has been amazing," says Lin. She credits Egg Collective (an early client that signed on in order to seamlessly transition from a space in the Brooklyn Navy Yard to a SoHo showroom of its own) with helping to drive interest in Colony when it first opened. "The model continues to be one where the success of one designer grows everyone—an 'all ships rise with the tide' kind of thing."
In many ways, that mentality has been the gallery's secret sauce: a focus on community that is complementary, not directly competitive. The hope is that when designers come in looking for one thing, they'll discover another maker at the same time. "In the beginning, it was more of a curation exercise from an editorial standpoint—who I thought was making great work," she says. "Now, it really is a formula of amazing design, great craftsmanship and quality, but also business savvy, production capability, and sellability."
The model has not been without its financial challenges. But instead of cashing in on her relationship with artisans, Lin has been agile in developing other revenue streams. The gallery's interior design practice continues to grow, and its creative direction, branding and marketing consultancy, which launched in 2016, now accounts for half of the company's revenue.
Two years ago, just as Lin began to find her footing, a restlessness set in. "I felt nervous that we were all dipping into the same pool of talent," she says. So she partnered with the blog Design Milk in fall 2018 to produce Coast to Coast, a series of scouting trips to Austin, Detroit, Miami, Nashville, New Orleans and Santa Fe orchestrated to find the next generation of great American makers.
Lin was also developing a new way of working with up-and-coming artisans after meeting with Brooklyn-based weaver Molly Haynes, who had submitted her work to Colony for review. "I could see that she had a lot of talent, but she wasn't quite there yet with her business, with production," recalls Lin. "I developed the idea of The Conception Series while brainstorming how we could be a part of her growth and her story."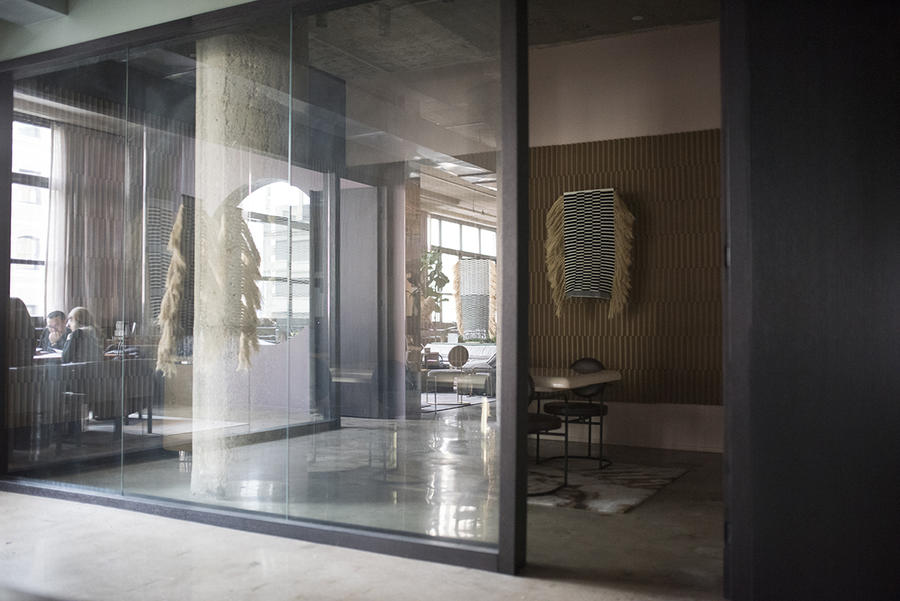 The Conception Series is effectively an incubator for young design talent. The makers in this program have a different relationship with the gallery than co-op members do: Their collections are exclusive to Colony, which takes a higher commission. In exchange, the artisans work with Lin to transform their businesses, harnessing her market knowledge into meaningful change—a collaboration that culminates in their own pop-up exhibition.
Lin drew up a curriculum for The Conception Series based loosely on a design entrepreneurship class she teaches at Parsons. At the outset, she thought they could do it in eight hour-long weekly phone calls, but she's found that working with a maker to transform a business can take anywhere from four months to a year or more. "We talk about what it means to own your own design company, how to price your work, who you want to sell it to, how you want to market it. Those are things independent artists think about all the time, but when you're in your own head instead of in the market,
the answers don't necessarily come to you."
A prime example: pricing. "When we met [Detroit-based artist Nina Cho], her pricing was far off the industry standard, and she was cutting herself out of a significant profit on her sales." Cho had already established relationships with some galleries, retailers and interior designers, and Lin was surprised that no one had ever said anything to her about how she was pricing for the trade. It wasn't just that the formula was wrong. "Pricing is also intuition. You have to do market research and have a feel for what pieces have an intrinsically higher market value."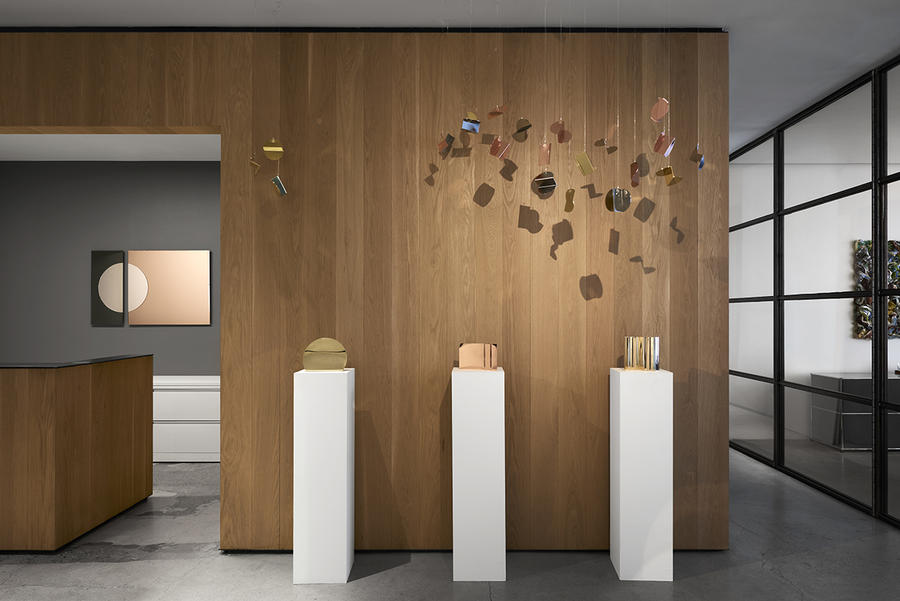 Conception 02, a capsule collection of minimalist mirrors by Cho, opened in November 2019 at the offices of Morris Adjmi Architects. Earlier that year, the series began with Conception 01, Haynes's solo show with Colony, handwoven pieces in black-and- white cotton that reflect an undulating landscape punctuated by sisal fringed details. This collection debuted at the INC Architecture & Design offices. There's no timeline for the next show, but Lin is currently working with two more artisans she met on the Coast to Coast tour.
Though she's involved in the nuts-and-bolts work of helping budding designers launch their businesses, Lin never loses sight of the big picture—that is, how the path of individual artisans contributes to the collective success of makers. "In the same way that green products have become the norm, we're working toward a place where the small maker, small designer or small business can exist seamlessly in the same project with some of the most iconic designs," she says. "It's happening because of the enthusiasm of interior designers and architects who care about that, and hopefully, in small part, because of places like Colony that provide them with a place to discover it."
Homepage photo: Jean Lin | Courtesy of Colony