A season of missed industry shows spurred our editors to reimagine Business of Home's guide to High Point Market, focusing on the inspiration journey that design professionals need now. In addition to revealing the latest product introductions, trade shows are often an essential source of inspiration. We asked eight designers to dream up a room featuring pieces they would have discovered at High Point this spring. Here is the first in the series.
---
From the hills of Los Angeles comes this warm living room by Brigette Romanek, whose creativity and love of interiors led her to start her design firm in 2018. By day, the windows in this sun-soaked retreat provide hours of shadow-play thanks to the geometric pieces that fill the room. By night, perched over a constellation of city lights, the space becomes a place to recharge.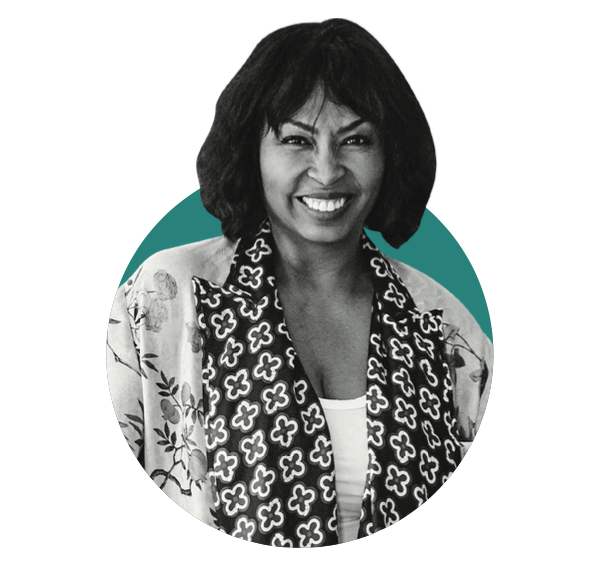 Courtesy of Romanek Design Studio
What was your starting point for this space?
The space itself—the energy, the feel, the surroundings of a living room that's in the hills of Los Angeles, in the clouds. I didn't study design, but from the moment I was keborn, I had an innate love of design and composition—a heightened sensitivity to what kinds of environments made me feel good or bad.
Did you have a client in mind?
It's for a client that is busy and needs a refuge—a quiet, beautiful, peaceful place full of their favorite things. It makes a strong design statement but is still soft.
Where are you looking for inspiration these days?
My library, the internet, the outdoors, art, conversations—life. Someone was saying to me how they wanted to take a few days off to look at things in a new light. But for me, I'm just inspired by every single thing. It sounds corny, but it is genuinely the truth.
For more from Brigette Romanek, check out her interview in our 50 States Project, where she tells BOH what it's like working with famous clients, how being named to the AD100 changed her business, and why she makes a conscious effort to find inspiration in the little things.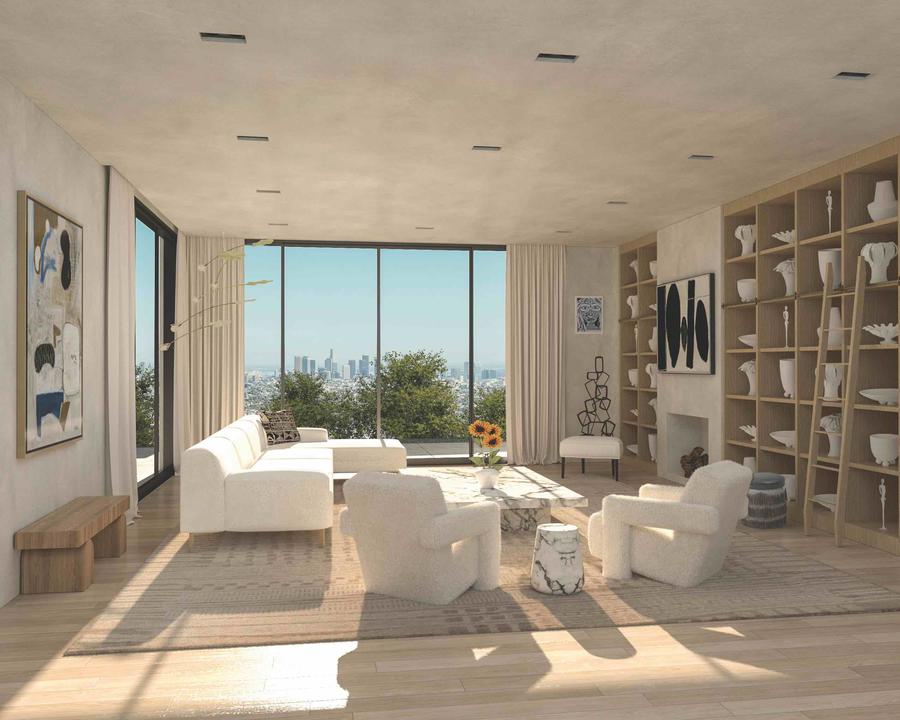 Courtesy of Romanek Design Studio
1. Vibrant blue mingles with chocolatey neutrals in this conversation-starter, X Marks the Spot, an original work from South + English by the artist Linwood.
2. The simple, solid shapes of the wood Keane bench from Four Hands become a sophisticated seating option or accent.
3. Lily pads and light bulbs swirl around one another in Kenneth Cobonpue's Lily mobile chandelier.
4. The strong lines of the Hayes lounge chairs from Codarus are softened by all-over white upholstery.
5. Dramatic marbling takes center stage in Sunpan's gray-and-white-swirled Aries side table.
6. A precarious-looking stack of rectangles forms the sculptural mahogany back of the Oscar occasional chair by Lily Koo.
7. Among the collection of shapely white ceramics from Abigails on display is the wide-lipped White Lemon bowl, which is ringed with dancing citrus.
8. An elongated human figure assumes a postured, patient stance in the chalky white Skinny sculptures from Phillips Collection.
9. Three tiers of ombré tassels add muted warmth to the Ike ottoman by Massoud Furniture.