Tastes on the open seas are shifting to favor minimalist decor over the ornate, interest in sustainability is slowly growing, and designers report that yacht owners are adding more bells and whistles to their floating residences than in their real homes.
If planes are where we carve out cozy personal spaces as we hurtle from point A to B, yachts are all about the journey—expansive, floating residences that should feel like a vacation home you never want to leave. "In the past, kings and princes ruled their castles," says Giovanna Vitelli, vice president of Azimut Benetti Group, the world's largest manufacturer of megayachts. "Today, boats are the contemporary castles—there is no limit to what you can do with them."
Headquartered in Avigliana, Italy, Azimut Benetti Group comprises several sub-companies, including two—Azimut Yachts and Benetti Yachts—with boats that retail for anywhere from $600,000 to $400 million and range from 34 to 350-plus feet. (A quick primer for the uninitiated: Vessels over 80 feet are considered megayachts; superyachts are 100 feet and up; and gigayachts more than 300 feet.) From sweeping floor-to-ceiling windows—Azimut Yachts says it was the first brand to break from old-fashioned porthole windows—and trappings like diving centers, Jet Skis and helipads, tricking out yachts of this scale requires pushing the limits of imagination.
Often, yacht owners invest more in these mobile aquatic palaces than in their on-land addresses. "It's an opportunity to make more of a statement than you could with a home, unless you're building from the ground up," says Evan K. Marshall, founder of an eponymous London-based design firm that has created custom interiors and exteriors for luxury yachts for clients around the world. "[Designing a yacht] is such a project, so much effort, that often when we're working with people in this echelon, they'll tell us they don't want to spend as much on their house after spending millions on a yacht."
Still, though they might rather be hanging out in their stateroom than in their living room, clients aren't immune to the influence of home on their boats. "Often, yacht design is tracking what's happening in high-end residential design," says Marshall. "Right now, there's a trend toward more contemporary interiors, minimalist features and colors—something we're enjoying, because for a long time, yacht design was associated with over-the-top lavishness." Though his clients still occasionally ask for opulent features like crystal chandeliers, marble floors, grand pianos and Renaissance frescoes, the aesthetics of ship interiors—like a superyacht coming about—are slowly but surely changing course.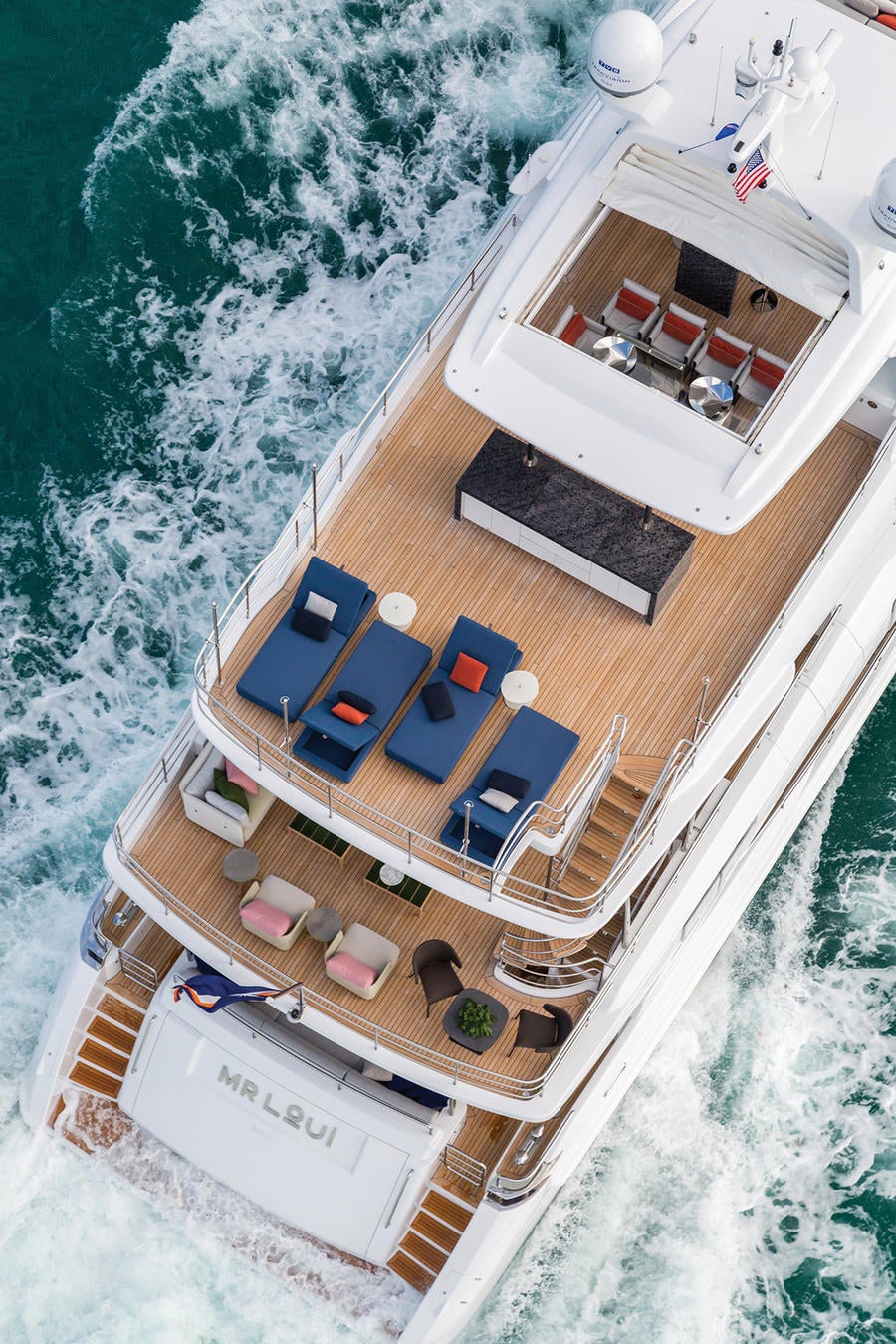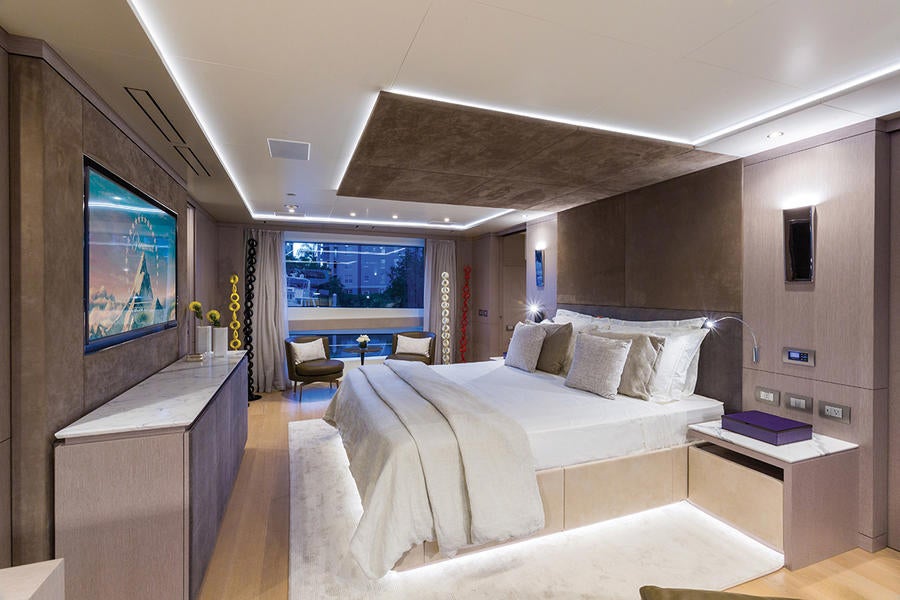 That goes for not just the one percent of the one percent who own personal yachts, but also for anyone spending time on a large, live-in boat. There's been an ascending evolution in the tastes of commercial cruise customers, says Karen Keating, director of design at Kravet Contract, a division of Kravet Inc. that produces commercial-grade product. "The cruise world has all these different levels, just like hotels—from the family-oriented to the super-high-end," she says, noting that the demand for cruises continues to grow, with an estimated 30 million people predicted to embark in 2019. "However, the trend of elevated design can be seen across the board," she says. What "elevated" looks like varies widely by cruise brand market niche, but one common quality is an increasingly sophisticated atmosphere.
"Across the whole ship and yacht industry, we are seeing a desire for rich texture and a less commercial vibe, even if the products have to meet commercial standards," says Keating. In June, Kravet Contract launched Kravet Cruise, its own dedicated line of product to meet the growing demands for ships ranging from private yachts to large-scale cruise ships with up to 2,000 staterooms. "This shift toward boutique design, whether through specialty restaurants or elegant accommodations, is becoming more evident. Individual styles range from trendy, niche designs to a more classic look, but the bar for sophistication is being raised across the board. It's not just that you want to feel peaceful because you're on a ship—you also want to have a special experience that you wouldn't have at home."
If it sounds like a fine line for designers to walk—homey but not too homey, comfortable but stylish—it is. And it gets even more complicated when you factor in performance and safety requirements. Both Keating and Marshall compared designing ships to designing hotels, with the regulations tightening as ship size and capacity increases. Kravet Cruise's collection is designed to meet such requirements, with hundreds of SKUs (including sheers, drapery and multipurpose upholstery) that are fully compliant with International Maritime Organization (IMO) standards. "Designing performance-quality fabric requires additional attention beyond aesthetics," says Keating. "We continue to focus on high style, but we [also] look at the ship interiors—cruise staterooms and restaurants—and take into consideration performance qualities when it comes to endurance and fire safety, whereas you may need to consider water and UV exposure for other parts of the ship, such as with spa, pool, lounge and exterior spaces that are subject to sun, salt and sea."
Just like in hotels, designers must supply a fire certificate for all materials used, ensuring that fabrics are up to code. Brands like Kravet Cruise can often accommodate custom client requests, pulling from the brand's wider product selection and treating those fabrics with a flame-retardant finish or adding special foam backing to certain upholsteries so that they pass fire code. But in cruise ship common areas, Keating says it's best to use inherently flame-retardant materials, which are generally seen as the safest, rather than retroactively treated ones.
On smaller ships, such as yachts under 100 feet, IMO cabin regulations might be slightly less strict, but designers must still account for plenty of special factors. "Fabric durability starts to come more into play with smaller-production yachts, where wear and tear is of a different nature because of how owners use the space, or there's more sun or rain exposure," says Marshall. "Now, there are more options from companies like Sunbrella, which provide performance fabrics that look and feel like indoor ones but are fabricated in a way that can withstand exterior elements."
Marshall has also noticed a slow-but-growing interest in making ships more sustainable, even if the industry lags behind most others (and even if fuel-guzzling yachts, by their very nature, seem at odds with keeping the Earth clean). He's witnessed small advances in the form of LED lighting—now the standard on almost every ship he designs—and companies, including the Italian brand Alpi, that produce luxury synthetic wood veneers that mimic alluring but endangered species like ebony, burl and teak. "In the next 10 to 15 years, you'll see less real teak decking," predicts Marshall. "Sustainability is not always the first thing on the client's mind, but it's something more and more people are requesting. The industry isn't there yet, but will get there eventually."
In the meantime, designers are focused on leveraging the resources at their disposal to take ship interiors to new levels—which can mean finding ways to accommodate some very unusual decor requests, like a client of Vitelli's who didn't want to look at the same inert wall decor every day. So the company created a high-tech system inside the yacht's stairwell area that alternates images on the wall according to mood. How in the world does that work, you wonder? "Of course, it is not magical," explains Vitelli. "The technology registers body temperature and facial expressions and reacts accordingly to produce an image." Not magical, perhaps, but staggeringly cool.
KNOW THE RULES

The International Maritime Organization's International Convention for the Safety of Life at Sea (SOLAS) sets the regulations for safety tests and checks on all passenger ships worldwide.
Each year, cruise ships take part in dozens of random safety inspections to ensure that the ship is adhering to all IMO requirements. Fire prevention is the IMO's top concern, particularly for large cruise ships, which must adhere to detailed fire safety criteria. For designers, this mostly means choosing flame-retardant materials and designing around other onboard safety requirements like escape zones, fire detection systems and more.
Brands that specialize in manufacturing IMO-compliant materials often have dedicated departments that ensure all products will pass regulations, such as fire-retardant upholstery, window treatments and bedding.
The smaller the ship, the fewer people it can hold, so regulations for personal yachts, though still stringent, are less extreme than for cruise ships. Yacht manufacturers like Azimut Benetti work with authorities to certify fire-protection features, lifesaving appliances and marine-pollution prevention efforts. Yacht clients also tend to seek high-end custom designs, which means that designers like Marshall often spec luxury fabrics and then treat them to meet fire codes.
Homepage photo: Courtesy of Azimut Benetti Group