Hadiya Williams's mixed media designs pay homage to the African diaspora.
Growing up in Washington, D.C., Hadiya Williams was immersed in art and activism. Her mother, Louvenia, was a pioneering member of the National Association of Black Social Workers, an organization that broke away from the National Association of Social Workers in 1968, at the height of the Black Power and Civil Rights movements. At the organization's conventions and conferences, Louvenia was introduced to the work of groundbreaking creatives of the era. "She filled our home with contemporary artwork by Black artists," recalls Williams. "Black American artwork of the 1970s is heavily influenced by West African traditions, and I'm interested in the intersection of those two cultures."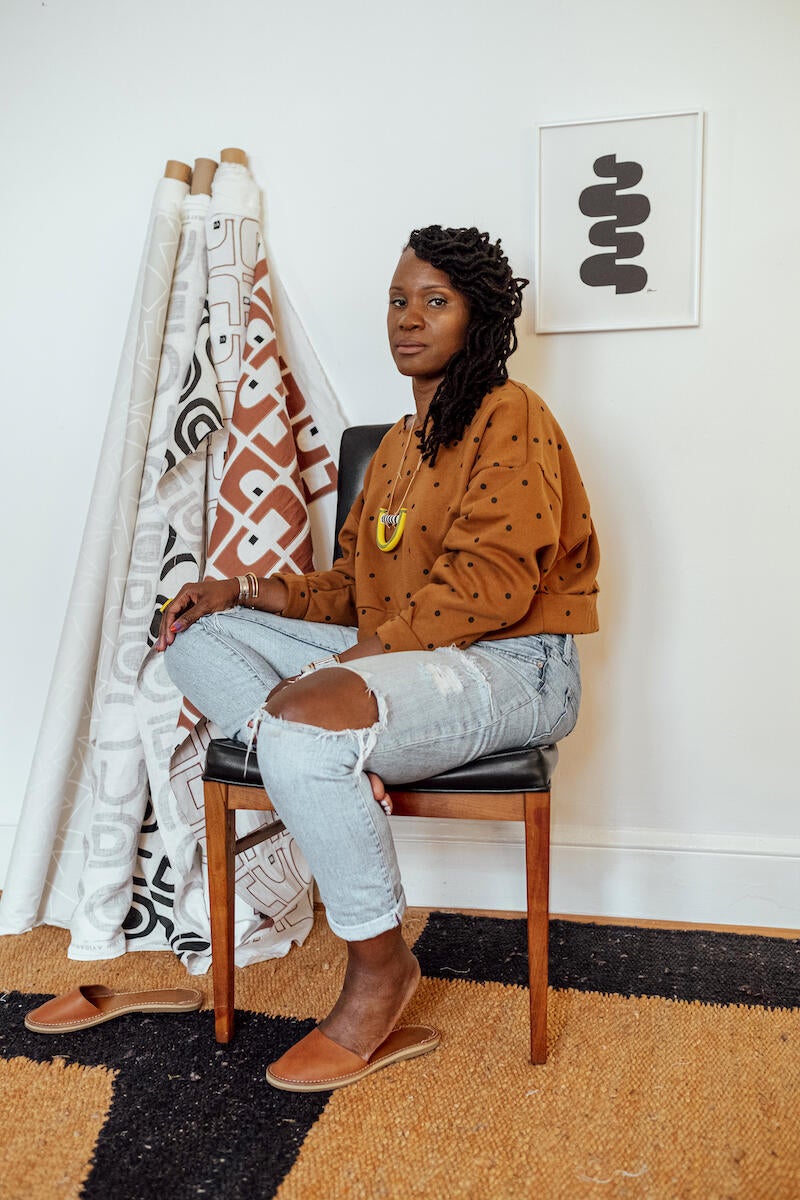 Courtesy of Ja'Mon Jackson
Tapping into her creativity wasn't always a priority. Williams took her first digital graphics course while pursuing a degree in computer science, and quickly fell in love with graphic design. Though she worked as a software engineer by day, she continued to experiment with the medium after her graduation, taking small design jobs on the side. When the company Williams worked for announced mass layoffs in the early aughts, she saw it as an opportunity: "I enrolled at Columbia College in Chicago and earned a second degree in graphic design," she says. "It was the best thing I did for myself." 
After more than a decade working as a graphic designer, another class would inspire her second pivot—this time, it was a ceramics workshop she signed up for on a whim at a local studio. Intrigued by the medium, she continued to experiment with polymer clay at home and sign up for more classes.
Then, in 2016, a close friend who was planning a Coming to America–themed wedding in New Orleans asked Williams to design the graphics—including the invitations, signage and select decorations. The personal nature of the project was another spark, pushing her to realize that she needed to make a change: "I realized I wanted to do some-thing creative outside of in-house graphic design," she says. Today, an assortment of those wedding designs are housed in the permanent collection of the National Museum of African American History and Culture at the Smithsonian Institution. 
In 2017, Williams soft-launched Black Pepper Paperie Co. with a small selection of hand-painted polymer clay–based pieces, such as earrings, necklaces and trinket trays. She also joined a 100-day Instagram challenge, selecting black and white designs as her theme and focusing on clay as a medium—an exercise that helped her build a following online and boosted sales. With the proceeds, she says, "I was finally able to buy a test kiln and open my own studio." 
A wave of exciting design opportunities quickly followed. In addition to selling her ceramics in local stores and pop-up shops, Williams collaborated with the National Museum of Women in the Arts on a line of clay necklaces, and was commissioned by boutique hotel Eaton DC to create an exclusive series of decor accents displayed in its guest rooms. Next, retail giant Best Buy asked Williams to design a set backdrop for the brand's Black History Month campaign in 2020—and the rest is history. "It was my first time dabbling in textiles and I was enamored," she says. "I incorporated both tech and African symbolism into the design and saw firsthand how well those motifs translated to fabrics and wallcoverings."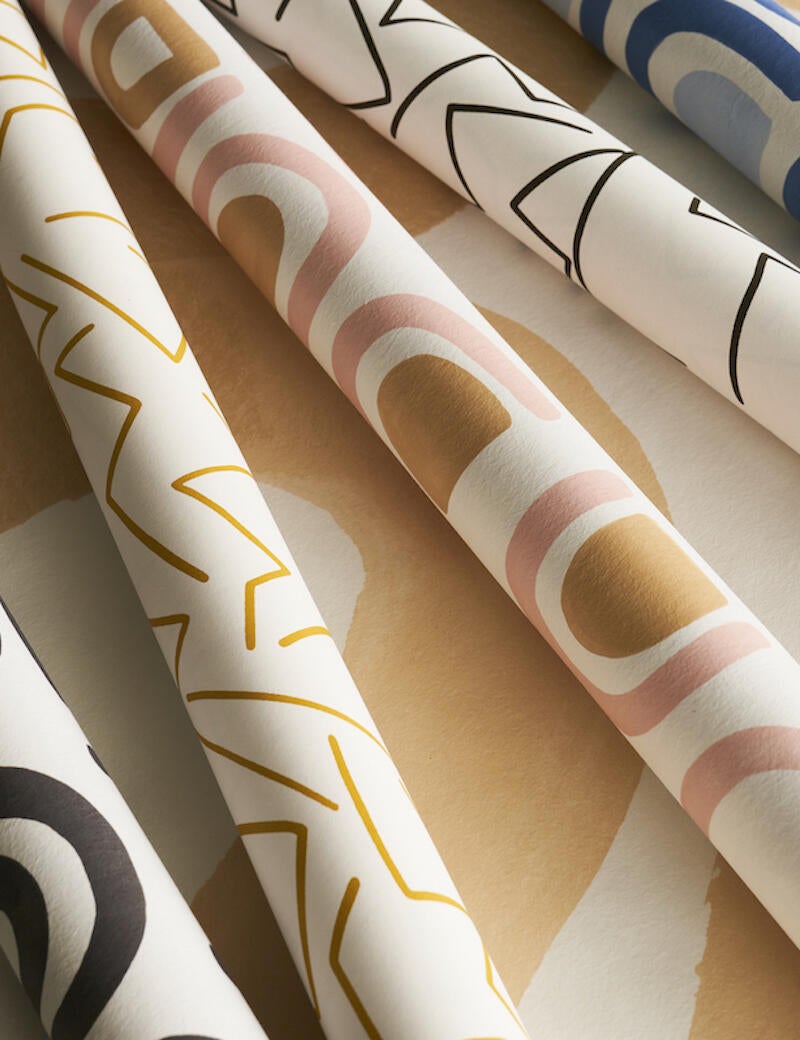 When the pandemic hit, Williams—with the help of her partner and studio manager Gerald Watson II—opted to relaunch the Black Pepper Paperie Co. website with a fresh slew of colorful ceramic wares. The result was sudden and shocking, with goods flying off the virtual shelves. "As we were uploading each item, we'd push publish and it would sell within seconds," she says. "We literally watched everything sell out in real time."
Soon after, Schumacher tapped Williams for her first major textile collaboration, a collection of retro geometric fabrics and wall-coverings inspired by her genealogy research into her own ancestry, the Great Migration and the 1970s film The Wiz. "I wanted to explore what it means to 'find home' as a Black person," she says of the fabrics and wall-covering line. Then came a peel-and-stick wallpaper collab with WallPops—a partner-ship that sprung from the Black Artists + Designers Guild, of which Williams is a member—and a line of art prints for West Elm Local. In December, Williams released a capsule collection in collaboration with the American Natural History Museum, featuring ceramic wares adorned in color-blocked palettes that evoke the traditional Bamileke beaded sculptures found in Cameroon. 
As she moves forward, Williams continues to deploy a medley of mediums and motifs to design ceramics and textiles that tell a story. "My work is most inspired by the African diaspora and the ways we connect across cultures," says the artist. With her sights on everything from rugs and lighting to ceramic tile, the future is both expansive and rooted in looking inward. "I'm still making products in small batches, but the plan is to expand manufacturing capabilities while working with other artisans," she says. "All of my surface designs begin as paintings or hand-cut paper collages. My process is intuitive—I tend to go with the flow and see where the design takes me."
Homepage image: Grey Traverse peel-and-stick wallpaper from the Black Pepper Paperie x NuWallpaper collection at WallPops | Courtesy of Wallpops