Augmented reality and 3-D-embracing innovators Hutch and Modsy are creative bellwethers for tech's impact on interiors.
For many in the furniture and design world, the first introduction to augmented reality (AR) came several years ago when Google first unveiled Tango, an AR computing platform that allows a phone or a tablet to "see" space the same way we humans do. Tango would become the backbone of applications that would enable the likes of Chairish and Wayfair to project a three-dimensional image of a sofa or table lamp, for example, onto a customer's phone screen. The user would aim his or her phone in the direction of where that sofa would be placed, and voilà!—it would appear as if by magic, no stressful visualization required.
This same technology has been refined and expanded to address one of the biggest stumbling blocks faced by every furniture salesperson on the planet: the customer's inability to imagine how a piece of furniture will look at home. It's a simple problem, but it demands a complex solution.
Two enterprising companies are about to overcome this design blind spot by pairing the right tech with a smarter user experience. While Hutch and Modsy might not be familiar names right now, they will be. These companies are disrupting conventions about the design process by offering consumers the ultimate try-it-before-you-buy-it confidence and empowering them to take the reins. And major financial players are taking notice. Venture capitalists are placing big bets on the hunch that 3-D rendering technology and AR are going to create huge opportunities for those companies that can help lead the home furnishings world into the technological age.
Vision Quest
The venture capital community has long seen furniture retailing as a world ready for a healthy dose of disruption. While the furniture industry is growing at a rate of 2.9 percent annually, e-commerce sales have more than doubled in the last six years, from $15 billion in 2012 to a projected $32 billion by 2018. E-commerce accounted for 21 percent of total furniture sales in 2014, and it is forecast to grow to 30 percent by 2018, according to research firm eMarketer. The share of those sales made via mobile will continue to grow dramatically as well. In the same way that Warby Parker revolutionized eyewear sales, or the Dollar Shave Club managed to build a billion-dollar brand while Gillette was looking the other way, tech startups have come along ready to make decorating easy and enjoyable for consumers. For VC firms, the key to successful investing is identifying companies that not only solve a problem but transform an industry.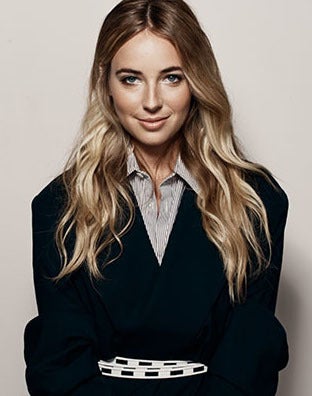 Hutch is already making an impression on investors, raising millions in funding and attracting big names in the process (Tinder founder Sean Rad was an early investor). While the app helps design lovers reimagine their spaces, it ultimately strives to make the process fun, a vital and often lacking component in the home space. Hutch's true power is in its simplicity. Users take a photo of their room, upload it to the app, and within hours receive an image of their space as a blank slate. The room has been cleared out, virtually, and is ready to be designed. Users swipe between pre-designed room styles and filters—such as those inspired by Marfa, Texas or the Ace Hotel—and a selection of home furnishings. They can also create new designs starting from scratch with their blank room.
When asked who she sees using the platform, Hutch co-founder and CEO Beatrice Fischer-Bock laughs, explaining that the three biggest causes of stress are death, divorce and moving. "Millennials are Hutch's target audience, and they are moving constantly—new jobs, new apartments—and that means new furniture." Her instincts are on point. Not only is mobile poised to take a serious bite out of the digital commerce pie, but by positioning Hutch as an approachable, engaging platform, the founders have made the company appealing to investors seeking an easy entry into the market.
Reality Bytes
If there is any question about how often consumers make poor decorating choices, consider the sheer volume of product returns in home decor. Scroll through the furniture reviews on any website, and for every five-star mention, there will also be a familiar complaint: "It didn't look the way I thought it would." While this should make every end user run to the nearest interior designer, the truth is, some consumers will always want to do it themselves. Modsy is pioneering a design revolution rooted in that truth.
The company calls itself "a personalized home design solution" that uses "advanced 3-D visualization technology to change the way consumers decorate and shop for their homes." Founder and CEO Shanna Tellerman was inspired to develop the platform after trying to decorate her new home, which led to "frustration and boredom." While she loved receiving the West Elm catalog when it arrived, translating the look herself was a different story. Of Modsy, she says, "I imagined a one-stop digital catalog that would allow anyone to easily see, imagine and buy all within the context of their very own home."
As a contrast to Hutch's more freestyle approach, with Modsy, users provide eight photos of their room along with measurements. Seven to 10 days later, the company will send a customized 3-D room model of the space, complete with two new room designs. Both designs are 360-degree renderings that are perfectly to-scale and incredibly realistic, "so users can see how furniture and decor will look in their actual homes before they purchase, eliminating the guesswork from the buying process," according to Tellerman. From there, "customers can revise and edit their designs until they land on one they love," she says. Once customers have their renderings, they can swap in furnishings, choosing from Modsy's extensive catalog of 3-D rendered products. All the pieces can be ordered directly through the company's centralized shopping cart.
"I imagined a one-stop digital catalog that would allow anyone to easily see, imagine and buy."
Shanna Tellerman
Giving consumers the opportunity to shop directly for furnishings is central to both Hutch's and Modsy's business models. Each platform recognizes that consumers want the freedom to browse products, swap them in, take them out, purchase exactly what they like, and ultimately feel rewarded when they've landed on a design scheme of their own making. While the Hutch app is free, the company has been partnering with furniture brands, entering into revenue-share agreements with specific companies or simply buying wholesale. Hutch's co-foundres have also been attending High Point Market for the past five years to stay current. Fischel-Bock estimates that the U.S. furniture market is approximately $200 billion, between retail and wholesale, and is highly fragmented. Hutch would only need to capture a small portion of the market to generate enormous returns.
Modsy currently has two pricing options: $69 or $199 per room. The higher-priced option includes access to a remote style adviser, while both options offer two custom-designed layouts from the company's in-house design team. The product catalog includes over 100 retailers, among them West Elm, Restoration Hardware, Crate & Barrel and Design Within Reach.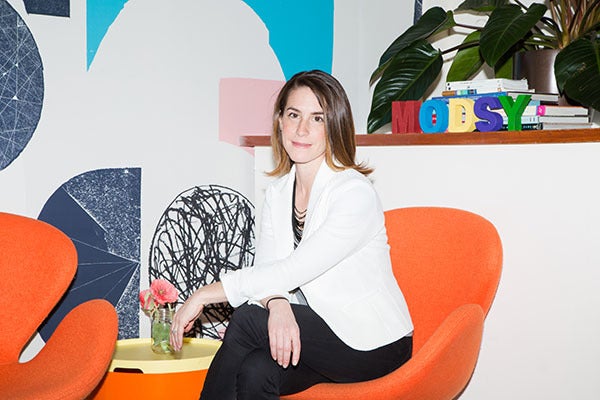 The design process for every Modsy customer begins with a style quiz, a series of visuals that helps the company's design team uncover a customer's tastes and preferences. While the format seems familiar, Tellerman brought something very distinctive to the process by overseeing the development of a highly sophisticated Style Genome tool. "The Style Genome is Modsy's algorithm that helps users identify their unique style without having to tell us in words," she says. "Our algorithm analyzes the user's choices and matches them to a style so our stylists can show them products they'll love."
Her hope is that through machine learning, after processing results from thousands of customer surveys, a consumer's tastes and style preferences will become easier to predict. This enables Modsy's design team to make even better product choices for their layouts, and ultimately make those products available to purchase. It's where AI meets AR—and it speaks to Tellerman's background. A Silicon Valley veteran who has been immersed in the world of 3-D technology for more than a decade, Tellerman earned a Bachelor of Fine Arts and a Master of Entertainment Technology from Carnegie Mellon University. She launched her first startup, Sim Ops Studios (Wild Pockets), a spinoff company from Carnegie Mellon that focused on democratizing 3-D game development. After selling the company, she joined the Google Ventures team.
Hutch's platform reflects its demographic. The company has created a series of two-dimensional style filters that, with the press of a button, will position rugs, sofas, side chairs, coffee tables, end tables, lamps, curtains and even artwork into place. Some of the filters are based on color (Rose Day and Emerald), some on style (Relaxed and Ranch), while still others are based on exotic locales (Portugal and Positano). If one style filter doesn't suit, users can choose another one and swap furnishings in and out. They can also click on any item to see its product description and cost.

Tellerman was inspired by a mix of highly successful startups, one of which is Stitch Fix, a subscription service that delivers clothing and accessories in the same way that Modsy wants customers to "try on" furniture, lighting and accessories in their own homes. Stitch Fix has raised over $40 million in venture capital and is rumored to have filed, secretly, for an IPO. It is a fitting model to emulate, as it has had tremendous success in its market and a highly loyal clientele.
Kickstarting
Startups are frequently at the mercy of their investors, yet both Modsy and Hutch have navigated the VC world expertly. With concept in hand and a strong reputation in the field, Tellerman quickly raised $2.75 million in seed money from Norwest Venture Partners, Metamorphic Ventures (now named Compound) and others, including angel investors from the home design space like Susan Feldman, the co-founder of One Kings Lane, and Eoin Harrington, senior vice president at Restoration Hardware. To date, Modsy has raised $10.75 million, including $8 million in Series A last year.
The Hutch story is fascinating. Three of the co-founders—Fischel-Bock, Madeline Fraser and Lizzie Grover—attended George Washington University together, where they studied interior architecture and design, and fine arts. While in school, they started a company called Zoom Interiors, an online interior design service that offered users a free, over-the-phone design consultation. They quickly found that quite a few of their fellow students were in need of these kinds of interactive design services, as were many first-time apartment dwellers.
After graduating, the team focused on growing their new enterprise. They were looking for a way to raise capital and were also seeking a business mentor. In 2015, they appeared on the popular television program Shark Tank, where entrepreneurs present their startups to a team of wealthy investors. Their appearance caught the attention of Sean Rad, co-founder and chairman of Tinder. Rad was so impressed with the concept that he called the team to arrange a meeting. He also introduced them to future business partners Ben Broca and Ethan Gromet. Rad and a group of investors provided over $2 million in seed capital, and Rad was instrumental in bringing on Peter Thiel's Founders Fund for the Series A round, which garnered an additional $5 million. After reconceptualizing, the team evolved their business model away from virtual design consultations and focused on visualization, capturing the interest of consumers who enjoy interior design and need to buy furniture.
This July, Hutch announced that Zillow, the online real estate marketplace, would be investing $10 million in the company, and Zillow CEO Spencer Rascoff would also be joining the board. Rumors quickly swirled that Zillow would soon be acquiring Hutch, but the company insisted this was just an investment, for the time being. "Zillow Group has no plans at this time to add Hutch to Zillow Group and is investing in the startup to help them expand and innovate on its existing products and services and attract more users to its app," says Amanda Woolley, Zillow Group communications manager.
If Zillow were to acquire Hutch, it would easily enable brokers to virtually stage and present spaces to would-be buyers and renters. And with Rascoff now on Hutch's board, it would be surprising not to see a partnership of some kind emerge in the future, especially now that staging has become such a necessary part of the real estate listing process.
Trade Application
Given the sophistication of its 3-D renderings, Modsy has a huge opportunity within the trade. Interior designers, especially those at smaller firms with limited resources, are already seeking out the company's services. Tellerman says that the company's scaled renderings are so good that some of their retail partners want Modsy to help create their product libraries for them.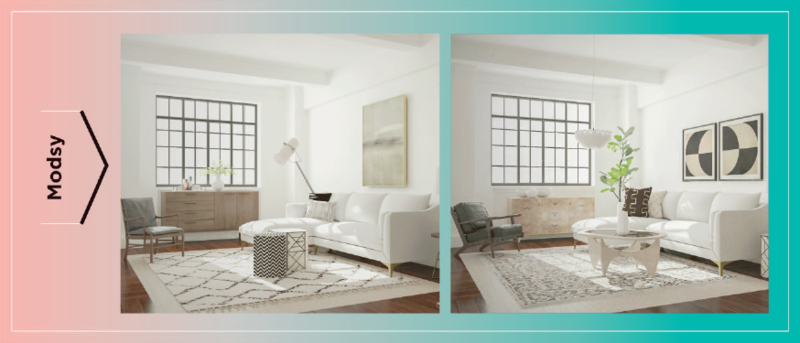 Given its current rate of growth, it won't be long before the company is faced with choices about which of the many paths it should pursue. Tellerman says that, at present, her focus is on the consumer side of the business, and on continuing to ensure that the customer experience is seamless. While most designers can close their eyes and see a finished space, communicating that precise vision to clients can sometimes take more than a sketch or a mood board.
For New York-based interior designer Matthew Frederick, 3-D renderings have become an invaluable tool in his high-end design practice. Even at the luxury level, he says, clients still have a hard time imagining how their finished space will look once the drapery is hung and the custom sectional is placed before the fireplace. Frederick can order a rendering so detailed that it will not only let clients see the finished treatment on the walls, but will even reveal how the light will land on a precious piece of art in the client's collection. These images provide the ultimate peace of mind, he says.

Given the sophistication of its 3-D renderings, Modsy has a huge opportunity within the trade.
To start, Frederick gathers the dimensions of the furniture in the room. Given that he custom-designs several pieces in a single project, sending CAD drawings of furniture is easy enough. He then assembles high-resolution images of fabric samples, strike-offs of the custom rugs, and any artwork and lighting that will be present in the room. The designer then turns to a secret and highly trusted source, located in Indonesia, to begin the rendering process. Depending on the level of detail, renderings might cost $1,000 for one or two furniture pieces, but can easily run into the tens and even hundreds of thousands of dollars if a client wants to see a whole house fully furnished.
"Clients never fail to be impressed, and such detailed images help to raise the level of professionalism that my firm can offer," explains Frederick. Only half-jokingly, he suggests that it is also a great way to protect oneself when working with clients who "can't always be counted on to fully recall what they agreed to." Frederick requires the client to sign off on every rendering. He rests a lot easier once they do.
At all levels of the marketplace, AR and 3-D rendering technology are going to make a meaningful impact on the world of design. This fall, Apple will release iOS 11. The new operating system will include ARKit, Apple's first foray into making AR technology available to the world's 700 million iPhone users. Look for the rate of change for this transformative technology to increase exponentially. Siri, let's go furniture shopping!