Add an extra set of hands to your studio with these online retailers' services, which bend over backward to work with the trade.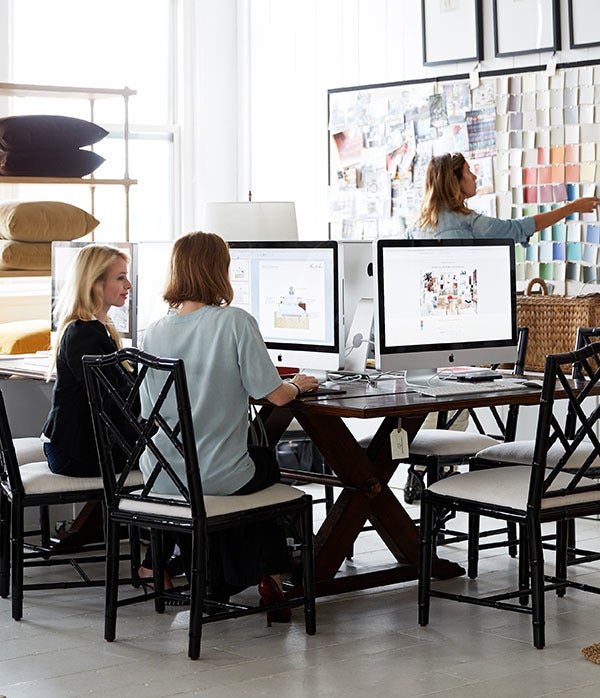 Making use of web retailers' concierge services is a major life hack, especially for smaller design firms whose assistants are tied up tracking orders and managing schedules. The benefits extend beyond the typical trade discount and dedicated customer service reps—some go as far as to offer sourcing help and marketing muscle in exchange for your loyalty. Three standouts are here to help you manage the daily design stress so your intern can get back to taming that product library.
At the Ready ATGStores.com might be best known for its dizzying 1.06 million products—theLowe's-owned retailer sells everything from furniture and lighting to decorative hardware. However, the company and its specialized trade program has also been riding shotgun with the design trade. ATG's Pro Services department offers a dedicated staff, seven days a week, of over 60 specialists who possess in-depth product knowledge for residential, retail and hospitality projects. Designers can also shop The Mine, a curated, design-forward selection. "We like our trade clients to consider their dedicated account executive as an extension of their own team," said Michelle Newbery, president of ATG Stores. "We also provide weekend support, 24-hour turnaround times on quote requests and free access to online buyer-management tools that make ordering easy."
Agents work directly with vendors to negotiate the best discounts on designers' behalf, regardless of size or frequency. Delivery is always free, and, in most major cities, designers can request installation and assembly services.
First-Name Basis "Our best designer clients are on a first-name basis with our team," said Elizabeth Brown, CEO of Viyet, the three-yearold luxury resale site. They call and ask, 'Are there any Holly Hunt coffee tables coming?' We can let them know before they hit the site." Viyet sells a curated selection of "design center brands" consigned from designers and showroom floor models. New items are released on Mondays and Thursdays.
In addition to sourcing, many designers also consign through the site, where they receive 60 percent of the selling price. Viyet's white-glove service includes on-site agents who will measure and photograph the items for sale and manage delivery once sold. The site can also store pieces for an additional fee—a major plus for designers whose clients are relocating or those who just need safe storage. Designers like Young Huh and Michael Smith, who have consigned with Viyet, have been promoted with featured shops, email blasts and events. Emerging designers can also be featured on Viyet's social media feeds, email newsletters and homepage if their portfolio photography is up to snuff.
On-Site Agents The industry's favorite former flash-sale destination has evolved. One Kings Lane has trade-focused customer service agents who handle more than product inquiries. Jessica Smith, OKL's head trade specialist, and her team help with swatch requests, full design assistance or sourcing from the company's network of 500 vintage dealers. "If the client is not seeing what they are looking for, our team of vintage buyers is here to help find that special piece," she said.

Our best designer clients are on a first-name basis with our team.
Smith recently helped a designer who needed five consoles for a hotel project. "He had a tight budget and an even tighter time frame. We were able to source the perfect console, as well as work with our logistics team to rush these tables to him in a week." Another bonus: Designers who source with OKL goods may get featured editorially on the site's blog and social media channels (reaching 500,000 followers on Instagram alone). More established designers can earn perks that spotlight their work, including home tour features, highlights of their new furniture collections, Instagram takeovers and targeted "tag sales." "Because we have multiple styles, we can be a one-stop shop for the trade," said OKL president Debbie Propst.