A new book from AphroChic blends history and modern living to paint a picture of the Black family home.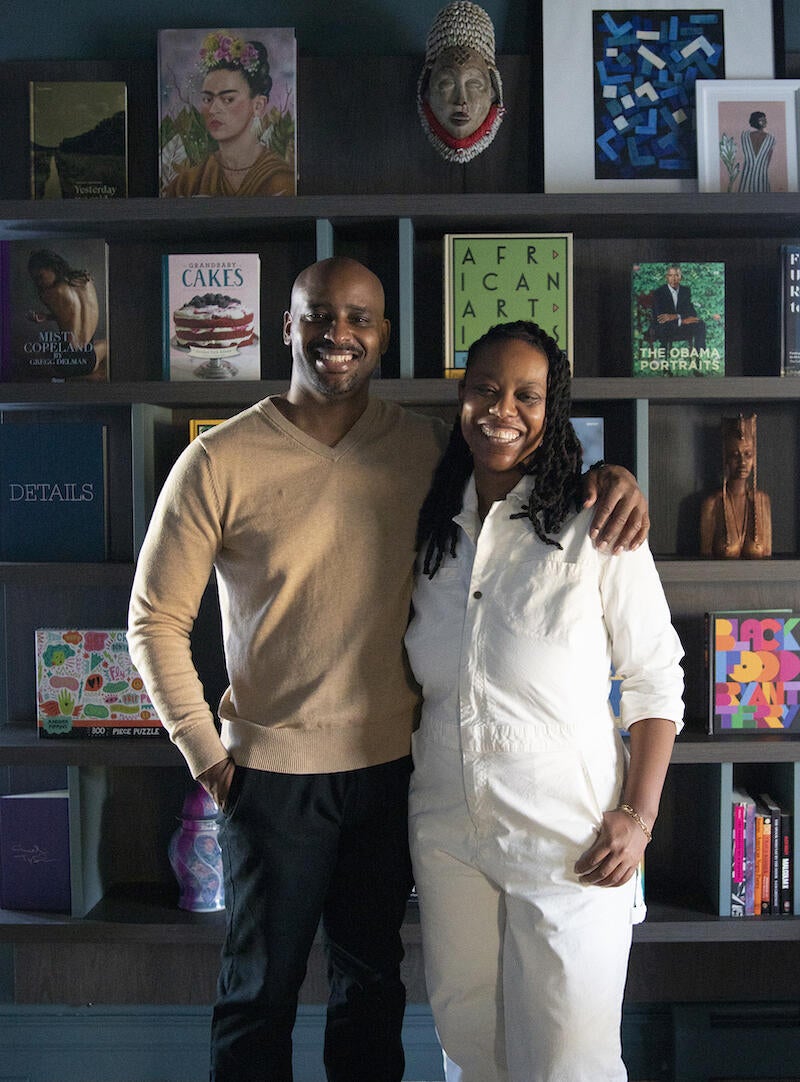 A vividly painted living room hung with family portraits going back five generations. A framed employment rejection letter by the front door. Fuchsia millwork as a back-drop for a reupholstered dinette set, passed down from a beloved grandmother. Such are the spaces and stories that readers will find inside the second book from Jeanine Hays and Bryan Mason, the Brooklyn-based spouses behind AphroChic, a blog they founded in 2007 that quickly grew into an interiors and lifestyle brand focused on African American life at home. The duo knew they wanted their new project to go far deeper than a traditional design book, exploring not only beautiful interiors but also the largely untold narrative of Black homeownership in America. While the finished product features plenty of glossy pages filled with stunning spaces, AphroChic: Celebrating the Legacy of the Black Family Home is also interspersed with history lessons that unpack the ramifications of everything from the Emancipation Proclamation of 1863 to the COVID-19 pandemic on Black families. Ahead of the book's mid-November release, Hays and Mason shared its origin story, why Black design defies categorization and the importance of exploring sorrow and joy in equal measure.
The Q&A
You had written a book before. What did you want to achieve this time, and how did the book evolve into its current form?
Jeanine Hays: During the Black Lives Matter movement in 2020, there was a lot more being written about the experiences of enslaved people and of the descendants of enslaved people. I was reading an article one day about the period after emancipation. It was not this glorious time—it was a really horrific moment in American history, particularly for people who had been enslaved. When the government said that slavery was no longer legal, plantation owners sent people out onto the street. People—my ancestors—were forced into what were basically refugee camps, and many died. I started thinking about my ancestors: What was this story of home in this country for us? I realized that I wanted myself and others to have a better understanding that the concept of home for Black people in America has been a story of resilience—of immense pain and immense joy. That's where the idea came from.
Design books are about beauty. And this is a book that is full of beautiful, gorgeous interiors. But it's also a book about the stories of these families. It's something that we were really proud to be able to do—to create a book that's different from any other design book you've ever seen, one that has history in it while still remaining aspirational, inspirational and full of beautiful design.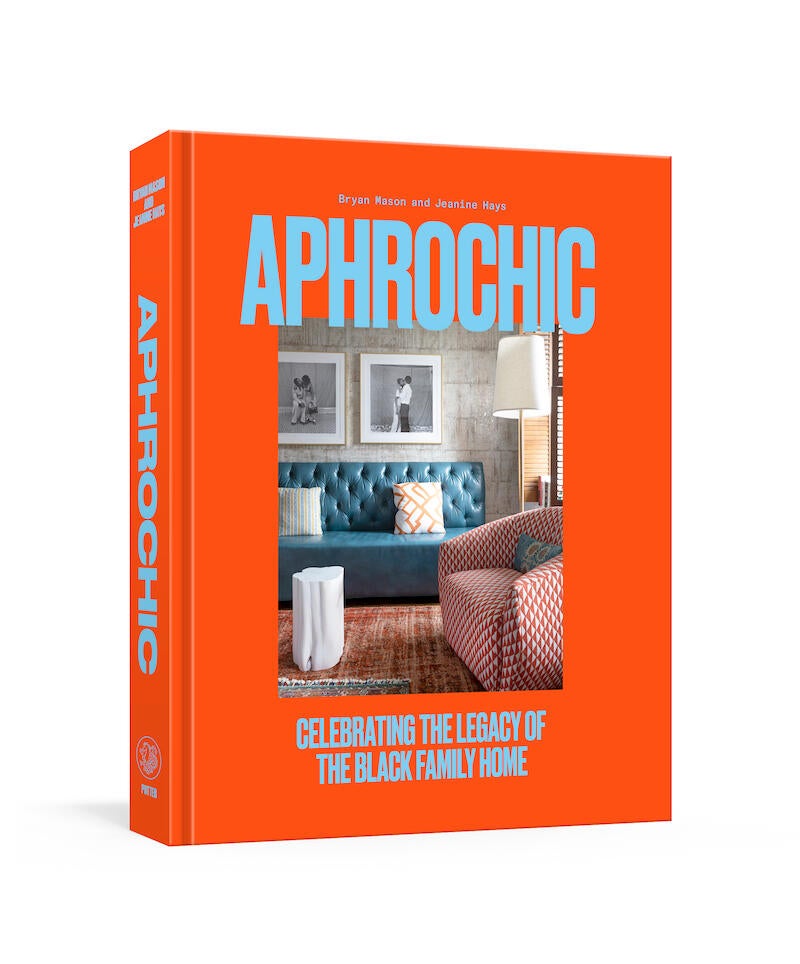 Bryan Mason: I'm not sure how much anybody really needs just another design book at this point. It was a question of relevance and what there is to be said. Going into this book, we knew that Black homeownership rates in the U.S. had dropped to their lowest levels since before the signing of the Fair Housing Act in 1968—and that was before COVID hit. To us, there was a story that needed to be told as to why this was going on. We couldn't leave it at, "Here's Black people in great houses" without saying, "OK, but this is not the situation for the majority of Black people." Speaking for the African American community, representation is not something to be taken lightly. We wanted to tell the story from both sides, as Jeanine said, in terms of both Black suffering and Black joy. There's rarely any attempt to see the whole story. The point for us was to show Black joy in context—to show that you can't understand one without the other. They are both a constant part of our experience.
How did you strike that balance and find the homeowners that were the right fit to tell both the smaller portraits and the bigger story?
Hays: We focused on people who we have loved throughout the years—folks who we feel are authentic and are living a beautiful life. This is not a book full of designers. We have teachers, chefs, writers—and they just happen to also have just an incredible aesthetic. As we talked with them, we were surprised because they were all very open and trusting. We asked about their lives: How was it growing up? What's the first home that you remember? We got people talking about their grandparents or their room when they were little. We discovered that every family has an incredible story, and that the stories aren't shared enough. I think any time you do a deep dive into family histories and how people started out in this nation, there is a story and a lot of complex history—people who immigrated, people who were enslaved, people who are indigenous. It's been beautiful for us to be able to tell those stories.
Mason: We focused on weaving the individual stories in and out of the historical narrative. If someone tells you that their family came to California from the South in 1910, or 1940, then you know that was part of the Great Migration. We talk about that—not only that it happened, but why. You begin to realize that the Black family home is this missing character in a narrative of American history. That begs the question: why? You start seeing the impact of this lack of representation as well as what we call the hard work of forgetting. It's not just a matter of the erasure of a certain group of accomplishments or pivotal historical moments—it really is a shaping of common knowledge through popular culture. For us, design has always been a lot more than pretty things arranged in a room. We feel we can read it back into the culture that created it, and that continues to create it.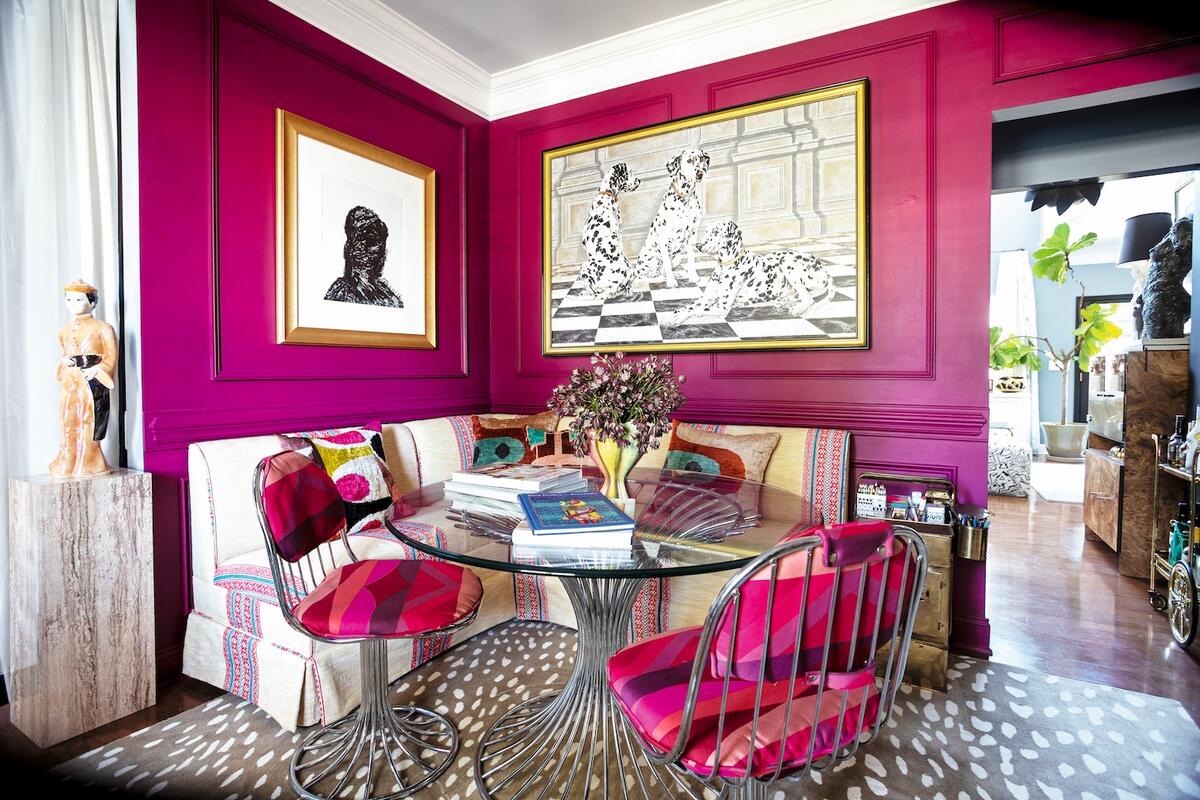 In the introduction, you wrote that African American design defies categorization. How do you start to define the canon or characteristics of the Black family home?
Mason: In the book, we look at Black design as a cultural artifact and a response to certain needs that history has created for the African American family. In the context of those needs, Black design can't be categorized in terms of the furniture or color palettes or eras, but it can be understood as tenets that go into creating the overall feel of the space. The ones that we've chosen to focus on are safety, control, representation, celebration and memory. But those five themes are not going to look the same in each of the homes featured in the book.
Hays: It's not about crafting a home based on a Pinterest board. Our spaces really are about telling the story of who we are.

Mason: When we asked, "What does the Black family home mean to you?" every person we interviewed said "safety" first and foremost. That's something that needs to be understood. Looking at African American design is a unique thing because it [goes beyond a straightforward] sense of physical safety—bars on the doors and things like that. It's safety from all of the pressures and the craziness, as well as the very real possibility of being killed. Being able to get home and breathe a little bit and go, "I'm safe"—even knowing that may not be 100 percent true, you feel better. You have that space for your representation, and you don't have to fight for it anymore. You have that control to make your design decisions and you don't have to explain it to anybody. You don't have to justify why you are where you are because it's your home. That's a very particular, special thing for us to be able to come home to at the end of the day.
How did some of those themes manifest in the homes and family histories you published?
Mason: Safety was a big one. I think the really great example of safety and why it's such a big element is [design blogger] Colette Shelton's home in Beverly Hills and her family's history. She tells these stories she got from her grandmother. One of them had to do with a cousin of her grandmother, who was accused of whistling at a white woman—a very similar situation to [what led to the 1955 lynching of] Emmett Till in Mississippi—and then they had to run. Her grandmother remembers waking up in the middle of the night to frantic family members at the door, and then the entire family had to leave town right away. There's a whole branch of Colette's family somewhere in Kansas that she knows nothing about because that was where they ran to that night. They never saw each other again—and all because somebody said this Black man had looked at a white woman.
This is why it's so important for us to start from such a seemingly distant point as Reconstruction in 1865, and bring it all the way up to today, to avoid the possibility of somebody going, "Wow, it was really terrible back then." Because you can look at Colette's story, and then you can look at somebody like Breonna Taylor in 2020, and see that safety is no less of an issue today. There's no less of a need for the home, and for the way that we design them.
Hays: In [chef, competition host and television personality] Alexander Smalls's home in Harlem, New York, he has a beautiful ochre wall with all these family images. That's memory—he's holding on to those images of his mother, his aunties, his father, his grandfather, and they're all there around him. And that, in turn, creates that feeling of safety—of a warm hug. In a similar way, [author] Jason Reynolds's home [in Washington, D.C.] has these moments that are reminders of where he came from. His grandmother's employment rejection letter, where she was actually denied a job because she wasn't literate, is framed in the front of his home. He can see it every day when he walks out the door so that he knows what he's fighting for. Being able to have those pieces of our story and always be surrounded by them is definitely a big part of the Black family home.
Mason: I think memory comes into literally every single space. We have several heirlooms in our own home, which we feature in the book—things that we're really excited about and that we really love. Hanging on our kitchen wall, we have an old velvet painting of [Southern soul musician] Isaac Hayes that my aunt used to have, years ago. She had been an assistant for a photographer back in the '60s, but as a career, it never really went anywhere because she was never allowed to blossom the way that she could have. We have other relatives who wanted to be interior designers at a time when Black people just weren't interior designers. It was a passion, but it was never able to become a profession. So as we continue to navigate the dominant forces of Eurocentric design and white privilege, we know that there were people in our families who've gone through this and they made it, so we can make it. That's why memory is such an important tenet.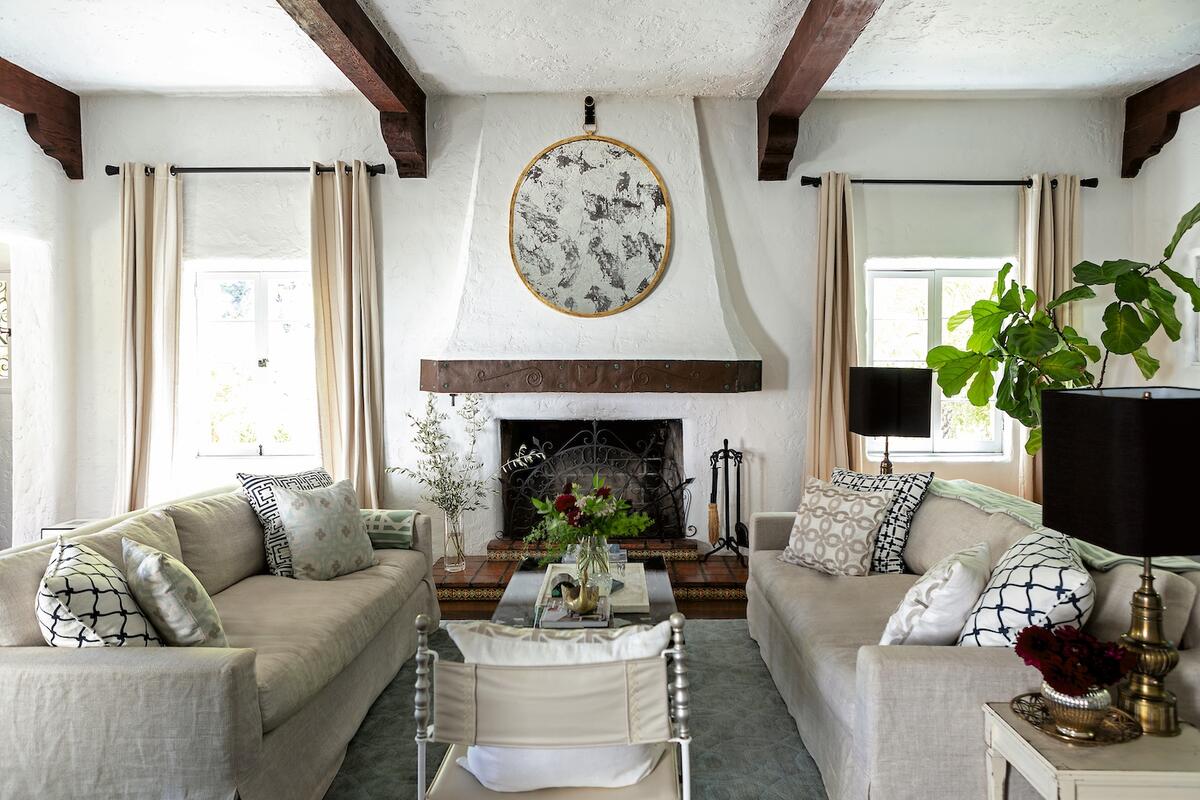 I often hear people say, "I wanted people to walk into our home and know who we were." Seeing the spaces in this book is one of the first times I really saw that in action.
Mason: A lot of the credit for that has to go to our friend [the late photographer] Patrick Cline, who photographed all of the spaces in the book. We continue to be saddened and devastated that we can't share this stage with him. He would have loved to have been a part of this conversation. He always had this amazing ability to pull the soul and feeling out of a space and capture it on film. There was nobody else who we could've done this book with—it just wouldn't have worked the same way. It wouldn't feel the same way.
Much like the artifacts in the homes you highlight, the book will preserve elements of Black design history and culture. How did you weave those stories into the larger narrative?
Mason: The book touches on history, economics, politics, sociology. It is, in essence, a very truncated ethnography. The reason it's able to do all of those things is because societies are designed in ways that are not entirely unlike the way that we design a room. Part of what we're trying to point out here is, if the Black family home is missing from how we talk about American history, that's by design. Talk to any Black homeowners and most of them have some horror story about what it was like trying to buy a house. That's by design.
The importance of a historical perspective is it shows you that's not just how it is—that may be how it is now, but it wasn't that way always. You can see how it became this way. So it doesn't have to be this. Just like with a room, if you don't like what's in the room, change the room. Paint the walls, swap out the furniture, change your upholstery, whatever. That idea resonates in the same way. It works the same way in that, the society in which we are conceiving of design, also exists by design.
Hays: Design today should be about access. It should be about everyone being able to have a home, and be able to create that beautiful space that comforts them—that they can work in, live in with whatever it is they need. I think a home is a human right, and I think that this book hopefully helps people have a deeper understanding of what's meaningful about design, rather than it being about money or success.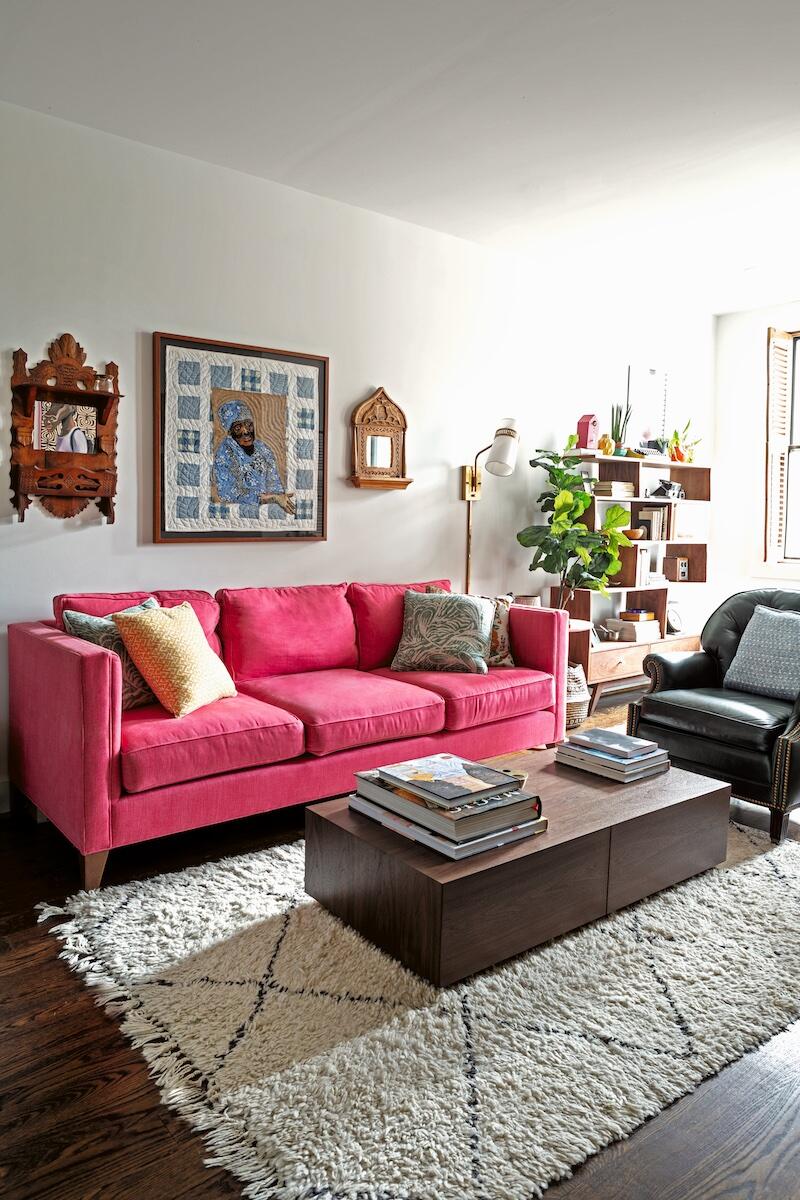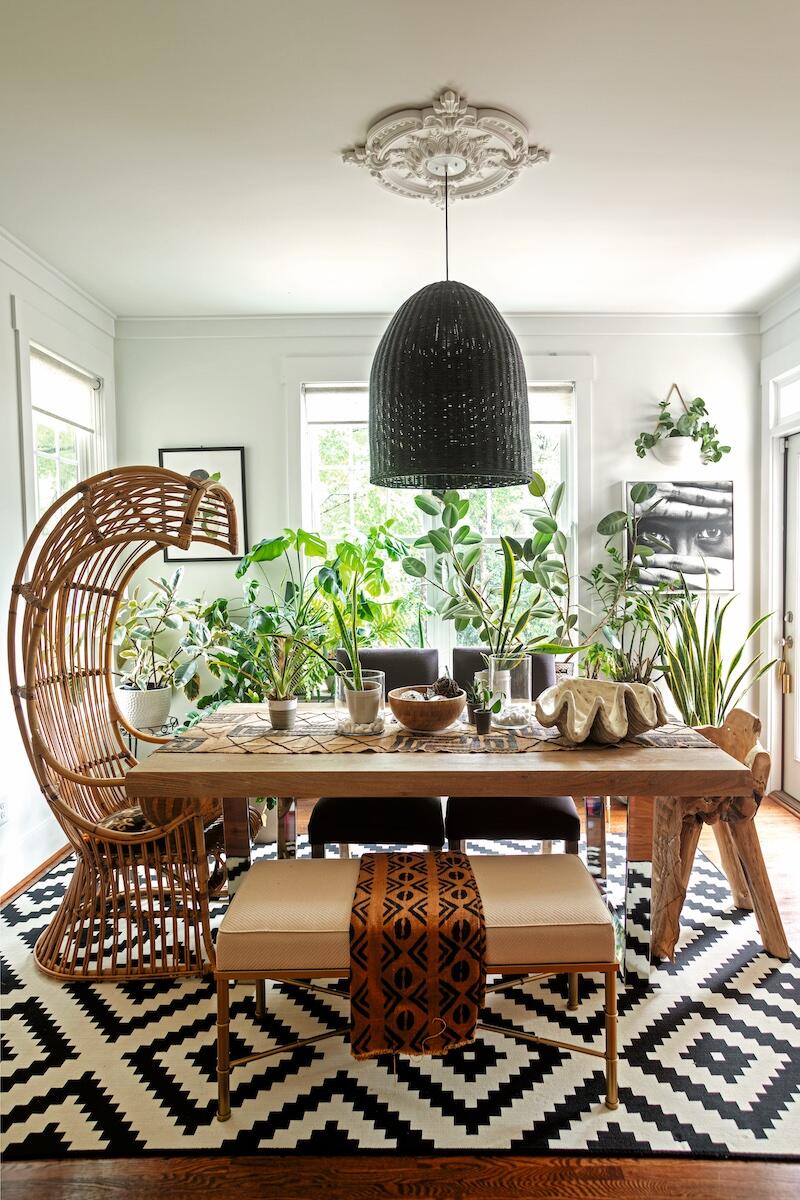 So much of the way design history is taught focuses on motifs and movements in Europe—a oneness of thought, where it's easy to say, "For these 30 years in France, we did this." In contrast, I love how pluralistic your interpretation of African American style is. How do you hope that becomes part of design canon?
Mason: I think that what we hope for is the realization that design is not Eurocentric, monolithic or linear. Design exists as a part of culture. Because of that, it exists in every corner of the world, with every group of people. The way that design is taught, envisioned and represented—not only in our classrooms but in our magazines, events and all of the things that we create to turn design into an industry—those are very Eurocentric, and ultimately, they don't have to be.
Hays: Design belongs to every culture. To me, it's very sad that American design is so one-note and homogenized. We have a country that is full of an array of beautiful cultures, and that's not celebrated. We limit ourselves if we don't start to see the whole picture of who we are. This book will hopefully widen the gaze to showcase that, yes, if you have Black food culture, if you have Black music, why don't we have Black design and celebrate that aesthetic? It really is about individualism, self-expression and soulfulness. It's about embracing your family's story, and that's such a beautiful thing. 
AphroChic: Celebrating the Legacy of the Black Family Home is released on November 15 and is published by Clarkson Potter, an imprint of Penguin Random House.