Two years after launching her textile brand, Valérie Louis's mission to explore the beauty of African-Caribbean culture is more relevant than ever.
While working for Haiti's tourism bureau in 2015, Valérie Louis noticed that none of the decor in the country's hotels captured the essence of the tropical land. "The vibrant colors and culture that you see in the Caribbean, our birds and flowers—none of my daily environment was represented in the [furnishings]," says Louis. She began to do some research and wasn't able to find any fabrics or wallpaper that were directly inspired by Afro-Caribbean culture. "Someone told me, 'If you can't find it, then it's because it's your idea,'" she says. So in 2018, Louis launched her own textile company, Yaël & Valérie, named for her daughter and her.
Yaël & Valérie now has eight collections, all of which are inspired by and made in Haiti. "It's a very unique product, and people have really responded to its authenticity and exoticism," says Louis. "There's a story behind every collection, every motif, every face, every bird. A color might be inspired by the way a certain flower looked at sunset or during a rainstorm. It's all connected to my experiences and my dreams."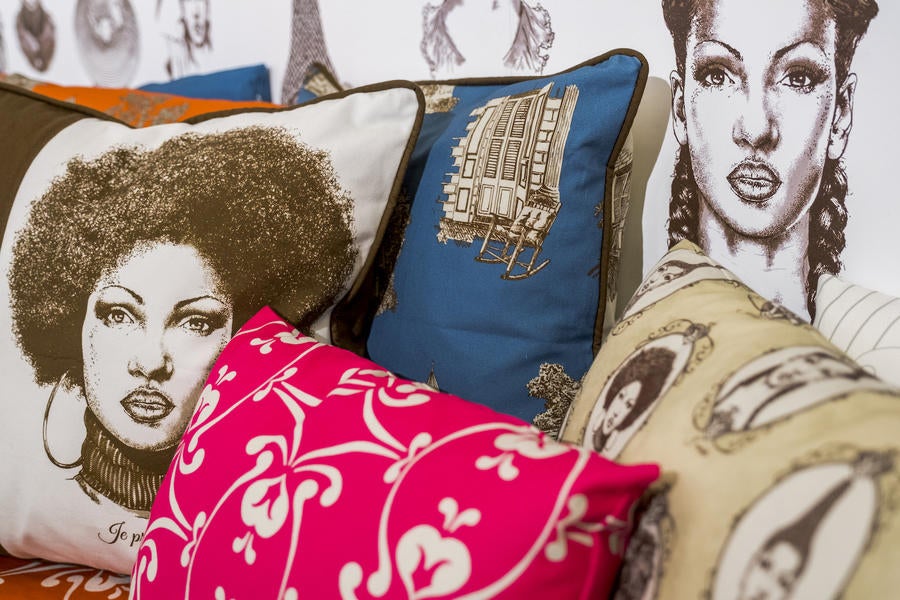 Courtesy of Yaël & Valérie
The line is sold through 54kibo, an e-commerce platform that specializes in contemporary African design, and on Yaël & Valérie's website. Louis intentionally keeps her fabric's pricing lower than competitors' (around $100 a yard) out of a desire to
make the textiles available to a wider customer base. "The mission of the company is to show the beauty of African-Caribbean culture in a way that's accessible to everyone—to foster discovery and appreciation, and to build mutual esteem," she says.
Black faces have historically been underrepresented in textile design, something Louis is trying to remedy with prints like Past & Connection, which depicts the faces of powerful Black women throughout history. "African culture is just as beautiful, old and rich as any other culture," she says. "I feel that the only way we can change the world is by letting people discover that. Through beauty, we can break the barriers of racism."
Homepage image: A portrait of Louis sitting in an armchair clad in Yaël & Valérie's Makaya textile | Courtesy of Yaël & Valérie