When Amazon was just getting started and Jeff Bezos was looking for a suitable name for his new company, urban legend has it that he settled on Amazon because it symbolized an endless river for shoppers to navigate. (Fun fact: An early contender was Relentless.com, which still links back to Amazon.) It's a good story, and it could be true for all we know. But in a case of reality superseding mythology, Amazon truly has become a place where you can buy virtually anything—even a house.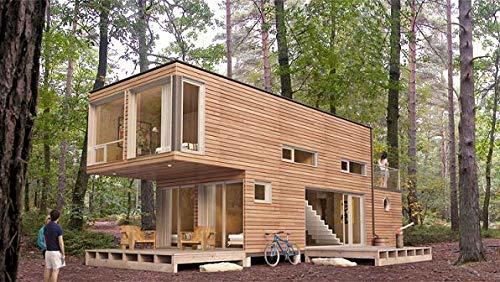 Tucked into the 353 million individual items for sale on the site are a surprising number of actual houses. Not miniature models for your Christmas village or Barbie Dream Houses, or even housing plans for the do-it-yourselfer. No, these are full-blown, human-sized houses you can have delivered by your friendly Amazon delivery guy—probably not in one to two business days, mind you, but they will show up in a few weeks and you'd better have a place for them. The houses currently for sale on Amazon range from 147-square-foot tiny houses and two-bedroom cabins to dual 40-foot-long shipping containers that can be configured as two-story homes. (At press time, there was only one left in stock.)
Most of these homes come in the form of a kit that require some sort of assembly, the exact nature of which is often not crystal clear from the website's descriptions. Additional work on plumbing, electric and a foundation are usually required (and not included). And as the lucky owner of an Amazon home, you probably need to be handy with power tools … or have a brother-in-law who is. Prices—you supply the land too, of course—start as low as just under $6,000 for that tiny cabin, to the $15,000 to $30,000 range for some of the more sizeable homes, all the way up to nearly $100,000 for a three-bedroom setup with expansive glass and even a sauna, which is billed as perfect for ski resorts or as a private lake house.
It's worth noting that most of these housing kits are offered by third parties rather than Amazon itself. And here's the most amazing part: Shipping is free for most, regardless of your Prime status.
Amazon seems to be out ahead of other online sellers with its house offerings. Wayfair, for instance, limits its houses to the canine and bouncy varieties. But IKEA, which always seem to have low-cost answers to your home needs, is taking a different tack. The Swedish furniture giant has partnered with a construction company to develop 162 apartments in Great Britain's West Sussex that include "market rate" units made of building components in the tradition of the retailer's modular, flat-pack furniture technology. Reports suggest that the homes look pretty much like what you would expect from IKEA, with simple white and wood finishes and kitchens from the retailer's supply closet. So far, no specifics on prices—but there will probably be no mistaking IKEA's fingerprints on this project.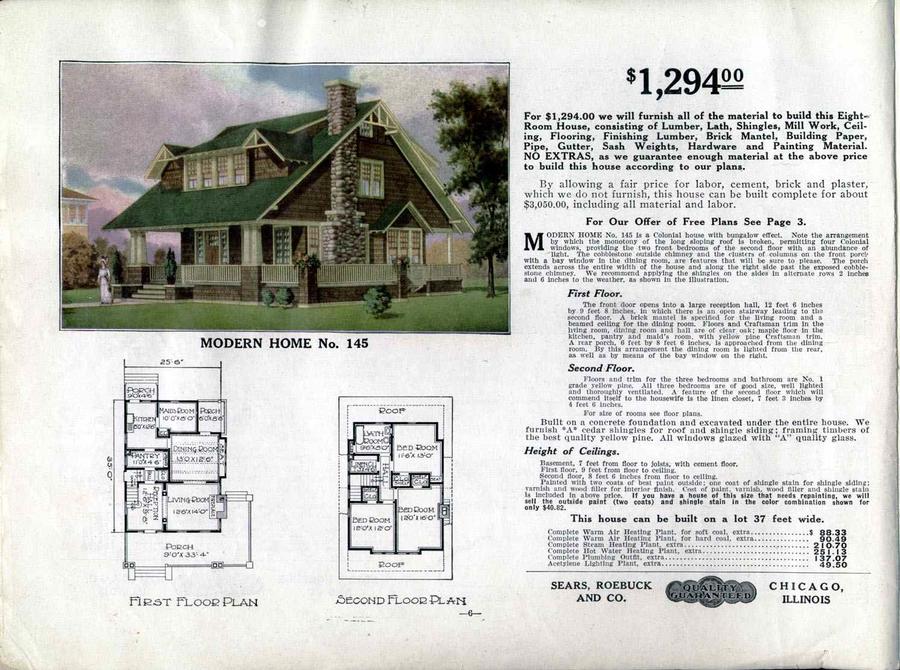 Courtesy of the Sears Archive
All of this house-for-sale retailer activity may seem groundbreaking, but in fact it's an idea that goes way back to the turn of the 20th century, when an enterprise by the name of Sears, Roebuck and Company began selling home kits in America on its way to becoming the biggest retailer in the country. Sears sold as many as 75,000 complete home kits between 1909 and 1940; many of these still stand today, prized by collectors and investors for their vintage feel and finishes. The irony that Amazon—often referred to as the one-stop-shop successor to Sears—is now doing what the nearly defunct Sears did in its heyday shouldn't be lost on anybody.
Will the Amazon homes still be around in 100 years, treasured by collectors and having stood the test of time? Or will they fall victim to the disposable, throwaway society we seem to live in today? Impossible to predict—but when they say there's no place like home, it sounds like more and more retailers are listening.
____________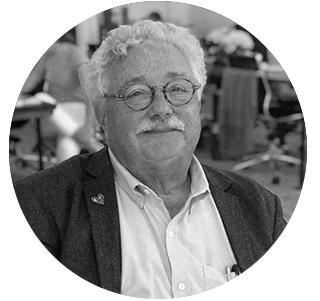 Warren Shoulberg is the former editor in chief for several leading B2B publications. He has been a guest lecturer at the Columbia University Graduate School of Business; received honors from the International Furnishings and Design Association and the Fashion Institute of Technology; and been cited by The Wall Street Journal, The New York Times, The Washington Post, CNN and other media as a leading industry expert. He was also a guest on the BOH podcast, and his Retail Watch columns offer deep industry insights on major markets and product categories.