The furniture category is quickly moving online, and e-retail giant Amazon is leading the way, claims a recent report by Sandy, Utah–based e-commerce analytics firm One Click Retail.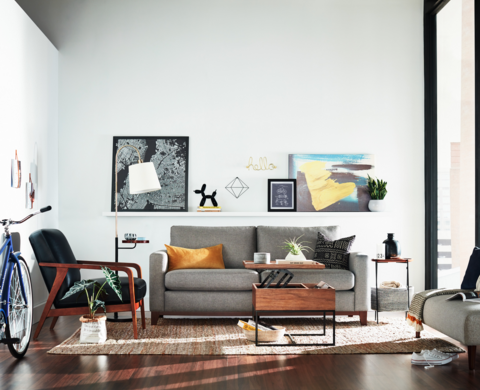 "By our estimations, Amazon already holds the largest market share in this space [furniture e-commerce] after more than tripling its annual furniture sales since 2015," wrote Ojastro Todd, marketing analyst at One Click Retail, in an article titled "Furniture: The Amazon Effect."
The firm, which gathers research based on "a combination of website indexing, machine learning and proprietary software," estimates that Amazon's furniture sales in 2017 totaled $48 million, a year-over-year increase of 51 percent. The retailer's top furniture categories were mattresses and box springs (four out of the top five furniture pieces it sold were mattresses), bedroom and living room, followed by home office and kitchen.
In 2017, Amazon launched its first specified home retail site, Amazon Home, and with it came four new warehouses meant to create a seamless delivery for large furniture and appliances. In that same year, the company debuted two private-label furniture brands, Rivet and Stone & Beam.
"Furniture brands looking to compete in e-commerce, the industry's fastest-growing space, need to begin at Amazon," wrote Todd, who cites market competitor Wayfair as having doubled its investments in search and television ads to help stay the largest specialized online furniture retailer in the U.S.
"Wayfair, Overstock and brick-and-mortar chains are competing with each other for the greater share of Google's search results, but Amazon doesn't have to, because most online shoppers are skipping search engines anyway," wrote Todd. "So for furniture brands to compete in e-commerce, it's time to invest in an Amazon-first strategy."