Yann Santerre is no stranger to alternative materials.
In 2015, the French architect and civil engineer masterminded "The Bic Structure," an undulating public sculpture made of more than 12,000 clear plastic pens. He was also tapped to build a footbridge prototype for French industrial materials company Lafarge out of Ductal, its ultra-high-performance fiber-reinforced concrete, which is modeled on the mechanics of a stone arch.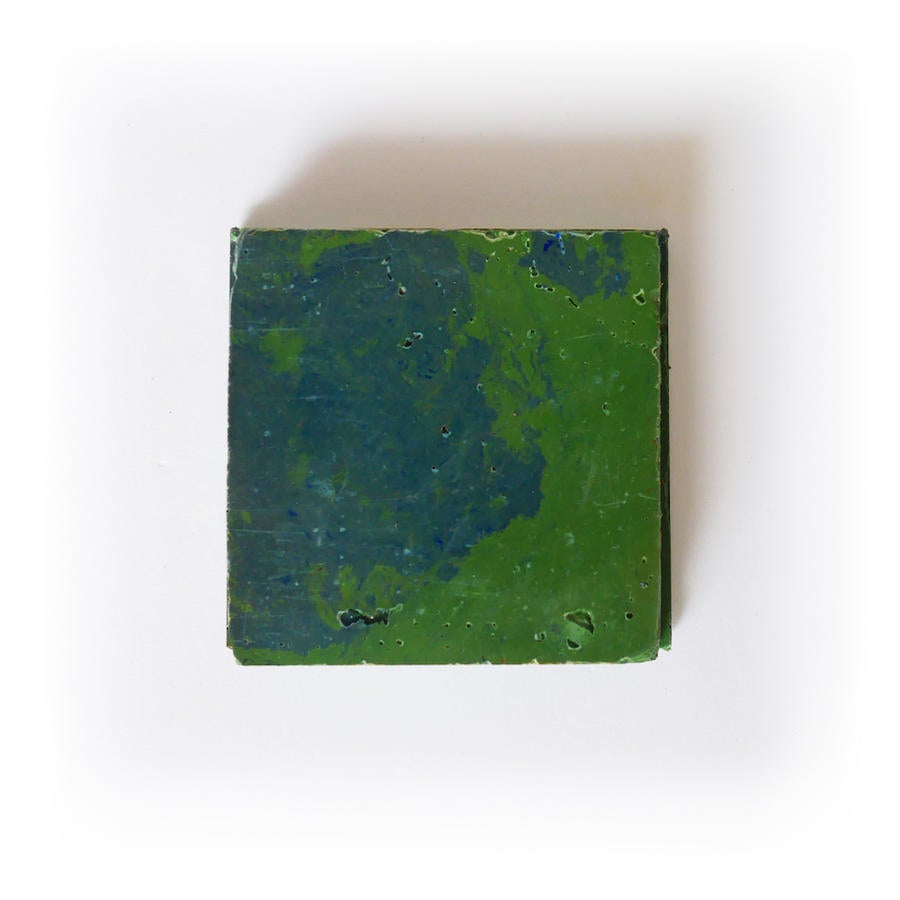 But in his day-to-day work as an architect—Santerre began his career at the French railroad network SNCF developing footbridges for the Grand Paris project, then worked on several international stadium projects—he was stymied by the lack of durable, sustainable options for building materials. "If we need to reduce the everyday consumption of our buildings, we also need to reduce the energy stored in our materials," he explains, referring to "gray energy," the hidden energy cost associated with a project.
"For example, for a residential building with an expected lifetime of 50 years, only half of the building's emissions will come from the everyday consumption; the other 50 percent come from the construction process and the [production of the] materials used to build it." Santerre began exploring ways to produce more efficient materials—a search that led him to the banks of a river in his hometown.
Santerre grew up along the Vilaine River in Brittany, in the west of France. Following the installation of a dam in the 1970s, the waterway began to silt up—an inevitable development when a river's current slows down, as particles normally suspended in the water instead settle at the bottom. Ports around the world routinely invest in dredging in order to ensure that the waterway is suitable for commercial use: "It is estimated that we should remove more than 100,000 cubic meters of mud every year in order to [preserve] its natural aspects," says Santerre. But the young architect saw possibilities in the ubiquity of the harbor's challenges: Create a building material out of the dredged silt. "Sixty percent of the world's population lives within 60 kilometers of the coast, and by 2045, 75 percent. To develop a resource from port muds is to allow the local use of a readily available resource."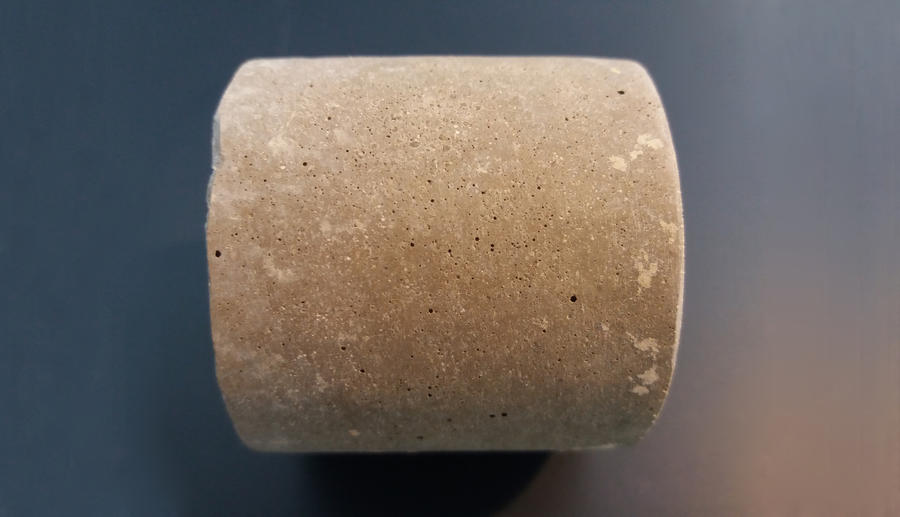 This spring, Santerre debuted prototypes of his new material—called Gwilen, the Breton name for the Vilaine river—at Salone.Satellite in Milan, Salone del Mobile's showcase for young, rising talents. His booth featured several manifestations of the material: colored tiles, tables, pin trays, a larger tile for flooring, pavings for exterior application, and several prototypes of occasional furniture that explored forms, colors and textures. The company is still in its early stages, and Santerre was candid about the exploratory nature of some of the items on display: "We are currently exploring all the great properties of this material in order to define all of its potential for design, and also for architectural applications," he says. "We aim to have a little factory by the end of 2019 that will be able to produce a small series of objects and tiles for interior application." Exterior pavers are likely to follow.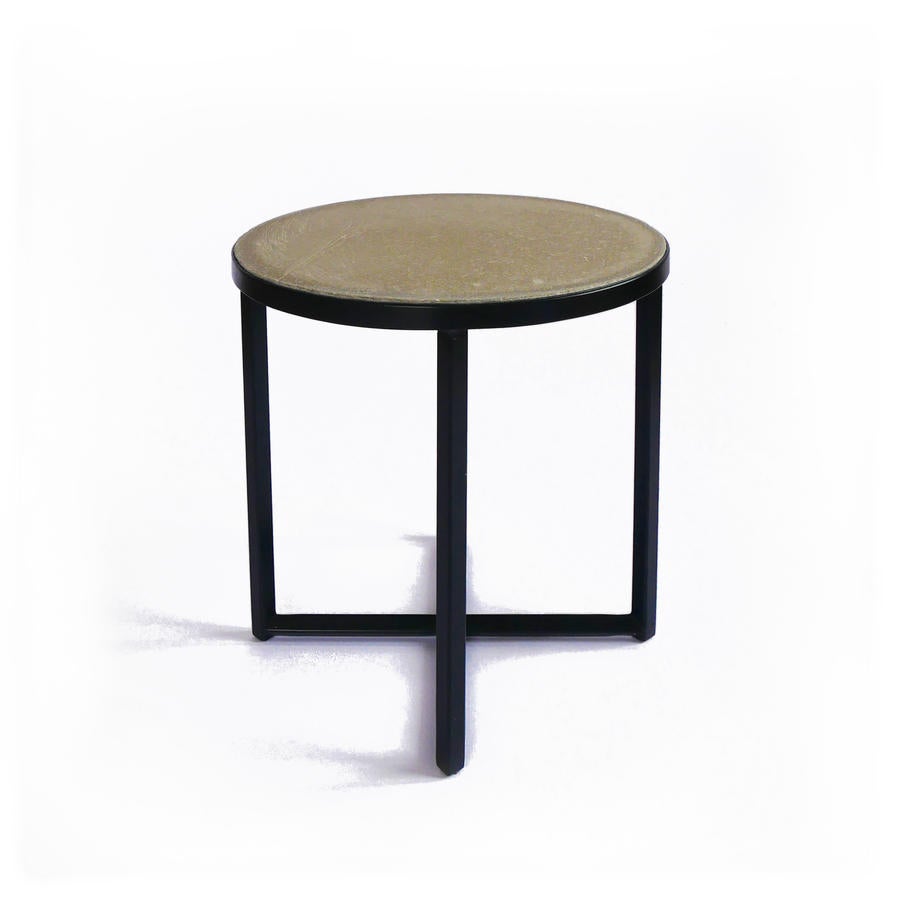 The production process to create Gwilen is inspired by diagenesis, the naturally occurring process of sediment becoming stone. "To be inspired by nature is the best way to conceive harmoniously," says Santerre. In addition to repurposing a raw material that would otherwise be disposed of as waste, Gwilen also requires a much lower firing temperature, further reducing its energy consumption and carbon footprint.
Santerre ultimately plans to expand the material's reach through partnerships—and the sooner the better: "Once the process is working at scale, I hope to help others to produce it locally," he says. "I think it is quite urgent to reduce the disastrous impact that the construction industry has on the environment, so I am looking for the fastest way to do it."
"It is quite a new way of thinking, but my experience in architecture and on some sculptural and experimental projects helped me to organize things that usually do not work together," says Santerre. "Those 12,843 pens in 'The Bic Structure' did not want to stay together—they were not conceived for that. It's quite the same with what I am trying to do with the Gwilen project: Find the little piece that will make the whole structure stand proudly."