In Business of Home's series Shop Talk, we chat with owners of home furnishings stores across the country to hear about their hard-won lessons and their challenges, big and small—and to ask what they see for the future of small industry businesses like theirs.
This week, designer and shop owner Amanda Lantz discusses taking over Lantz Collective, the design firm started by her father, Barry Lantz, and expanding it to a store in Carmel, Indiana. Her father, who is also a successful painter, remains involved with the business and launched his first fabric and accessory collection with Kravet this year. His career and Amanda's are parallel stories of being open to change and diversifying as a means of survival.
Ahead of a retail expansion in Florida, Amanda Lantz shares the thrills and concerns that come with growth, and how 2008's horrors have shaped her career.
How much did design play into your childhood? I imagine you grew up being taught about scale.
When I was 6 years old, I would go to the Merchandise Mart in Chicago with my father, and he would say, "Go find me a red buffalo check fabric at the Kravet showroom." I remember it vividly. In my own room, I think when I was maybe 10, I got a chair and ottoman for Christmas and I was so excited—it had bullion fringe, this great cream, nubby fabric. I was so excited. Barry gave me choices—on the wallpaper, on my bedding. I would always go to his projects and see the work he was doing, and at that time, he also did a lot of model homes for a local builder. He would take calls from clients on the landline on the rotary dial at 9:00 at night. I was immersed in the process from a very young age.
Did you always know you'd go into design, or did you resist it at all?
I never had any plans of going into design. My father never pushed it on me. I went to Butler University, and I thought I would work in the nonprofit world and do public relations and corporate communications. I had a job straight out of college as a consultant for my sorority, and I traveled to a different university every week; when I came back from that, I started working in my dad's office to help him out here and there.
I did some other things, then I came back, and then I left in 2008 during the recession. I was like, "I never want to own my own luxury business. I'm out of here! I've got to figure out something else that I'm going to do." Because I could see the way it was going, and I just didn't want to be a part of it. Then I was with Nordstrom for about five years, and I managed the personal stylist team of 18 or 19 [stylists] and did relationship-selling and wardrobing with about 20 clients of my own. Then I said, "If I'm going to come back [to Lantz Collective], I want to have a larger role. I want to own the business and turn it into my own." I bought it at that time, so now I've owned it for six years. [My dad's still] very involved, but it is mine.
When you say the business, you mean the design firm and the store?
We didn't have a store at that time. I had this retail background, and my whole family was in retail—my uncle was with Neiman's for years; both of my grandmothers had clothing stores. My father had a bath store in the 1980s and sold acrylic toilet seats—I mean, crazy stuff back in the '80s! We decided to add the Lantz Collective storefront about three years ago.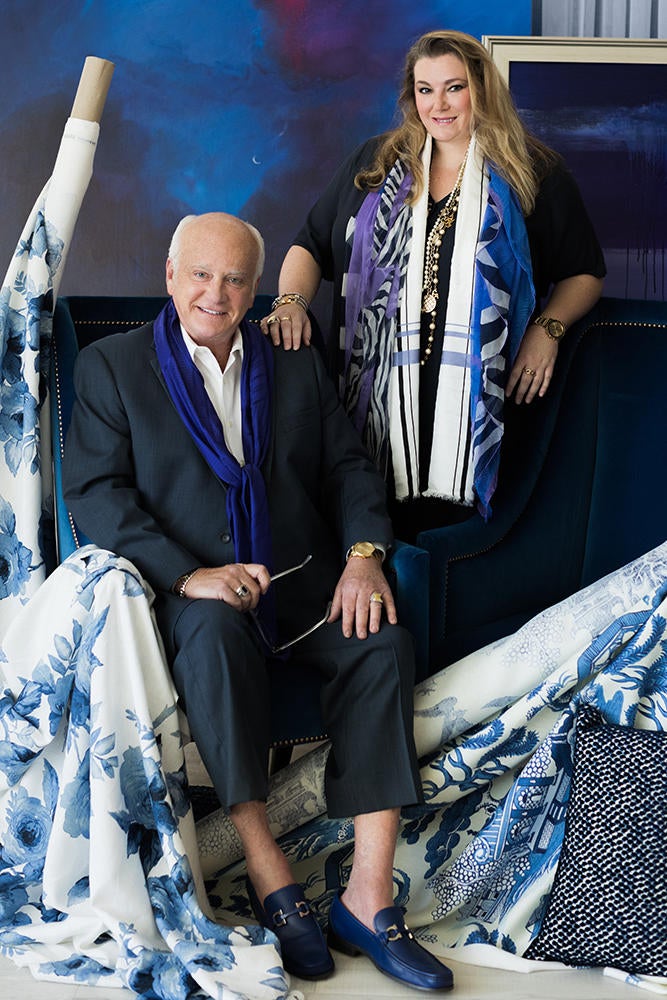 When I bought the business, there were several things that I felt were needed to diversify enough to be in such a luxury business and have longevity. Because I came from seeing 2008, 2009, when things were really bad. A lot of projects dropped off, and it was not an easy time for anyone in the business. So I said, "If I'm going to take over, Barry's going to focus more on his art," because we knew that was an untapped area. We're going to add a retail location and a second location. Those were my goals—the three things that I felt like we needed to do to have more longevity and security.
You have the second location imminently on the way in Naples, Florida, right?
My hope is that we're open by December 1. That space is about 1,300 square feet. It will be primarily retail with a small art studio in the back for Barry to paint. It's probably heavier retail than even what Carmel is—it's a totally different model. When I opened the Carmel store, Barry and I wanted a glorified warehouse to pull things for our clients that also worked as a billboard for our work in a place where we got more walk-by traffic. And it was also a place to show Barry's art. I wasn't going after this huge retail business. It was more of a hook to get design work, and that has really worked. I bought in Paris and from antique dealers at High Point. It's wonderful to have that resource to pull out lamps or whatever, if you're working on a living room.
Naples is going to be a lot of the same thing, but it's also going to have more gift, a little bit of tabletop. It's just more retail. Part of that is [because] I feel safer in the location and market than I did in Carmel. Carmel's still a small market. It's a great market—it's been wonderful for my father for all these years—but it wasn't somewhere that I felt like I could go big on some of these lines that I wanted to carry.
What is the vibe of the Carmel store?
I would call it eclectically styled, and that's very intentional—I wanted to mix modern and traditional. Barry's artwork has kind of a contemporary lean to it. We usually do things by color story within the space. It's harder to buy for that store, because I like to mix in older pieces. I have some antiques, I have some Baker chests, I have some more modern pieces.
Who is your typical customer?
It ends up being our design clients, so on the higher end. One thing I would say, and I don't know if this is country-wide or if you've heard this from other designers, but the men are just as involved in our projects and selections as the women. My father always says, 20 years ago, he would rarely even meet the husband. Maybe in the very beginning, for the business part, and then on the back end. Now, the husbands are almost leading the projects. They're into the style and design. They give me feedback on the fabrics. Some of them think that they're designers. I mean, they're on Pinterest. So, that is my client.
What is one of your favorite vendors?
My very favorite vendor is Kravet. They have become our family. We have the fabric collection with them. Our rep is amazing. I can call her and she can help me with the shops for rugs or fabrics, and turn it around so quickly and hit the nail on the head, understanding what our style is and what we're looking for for the client. There's no one like them.
Is there an item in the store that makes you smile whenever you walk past it?
My father's art [and] the way it's evolved. He painted in high school, went to college to become an art teacher, and was diagnosed with mono after his first year, so he couldn't go back for fall term the second year. Then he got better and went to work in a furniture store in a small town in Indiana making $2 an hour. He was really good and started getting clients, and that's how he got into design [and] away from art.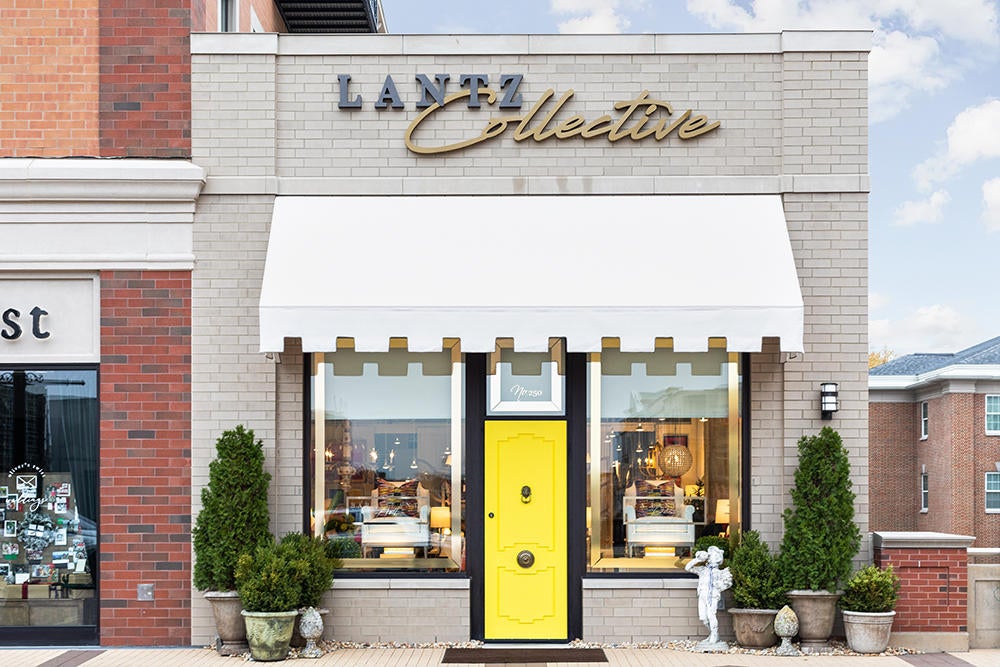 Then comes 2008, 2009, [when] he started painting as a creative outlet to alleviate stress. We did this tabletop event in Indiana; you could vignette around it, so we used some of the paintings he had done. Someone came up and wanted to buy the big piece. Dad said, "Oh, no—they're just props. They're not for sale." She said, "Well, put a price on it." It was a 48-by-60, and I think he sold it for $500, and that's how the art started. To think about a designer who has been in the business for 40-plus years, and now he's shipping art all over the country and has developed a fabric collection inspired by the art—anytime I see his pieces, they make me smile. It's proof that you can really pivot your business—you can add to your repertoire of talents and just keep evolving.
Is there a certain type of product that consistently flies out the door?
His small pieces. The hard part about answering that question is that our foot traffic went down so significantly with COVID, and we don't have a web presence. We did order these mohair throws [by ​​Mantas Ezcaray] that I found in Paris at the show there, and those sold like crazy. They come in all different colors, stripes and patterns. They're gorgeous, and you can special-order them in any color you want.
What advice would you give yourself if you could go back to opening day?
I probably would've done a little bit of a different application, with fixtures, than I did at that time, but you don't know what you don't know. I just wanted things stacked around for a warehouse feel—I didn't want it to feel over-merchandised or over-planned. For Naples, I have more of a consistent fixture design that I'm implementing, to put some of the smaller pieces on. It's just my type-A personality of having some more symmetry in the space that makes me like it better. It may not make it more shoppable—I'm not sure.
I love that it's aesthetic things, and not business structure.
From business perspective, it's done exactly what we wanted it to do. There's some great gift and tabletop stores, and there's only so much room for that in Indiana. You have to know who your [local] audience is, and I feel like we've done a good job with that.
What's your biggest everyday challenge, and your biggest existential challenge?
The little one would be as the business grows, how do I eliminate myself from the weeds in order to focus on the big picture? I'm probably a little too controlling. It's hard for me not to get into the details, to let the small stuff go and trust that it's getting done. When we started out, it was Barry, me, and one other person, and now we have a team of six.
The big-picture challenge is, how big is too big? At what point do you want to stop growing and say, "OK, this is enough"? I said to Barry last night, "We could do the exact same kind of shop in Dallas that we're doing in Naples, and we would probably kill it." But at what point are you just growing for the sake of growing? You're not going to really be turning over more of a profit, because your overhead gets so big. I just don't know the answer.
It's a great problem, but it is a challenge.
It's a problem that a lot of designers are probably having right now, because there has been so much growth. The industry overall is just incredible right now, and people can't keep up. I'm not special in that way.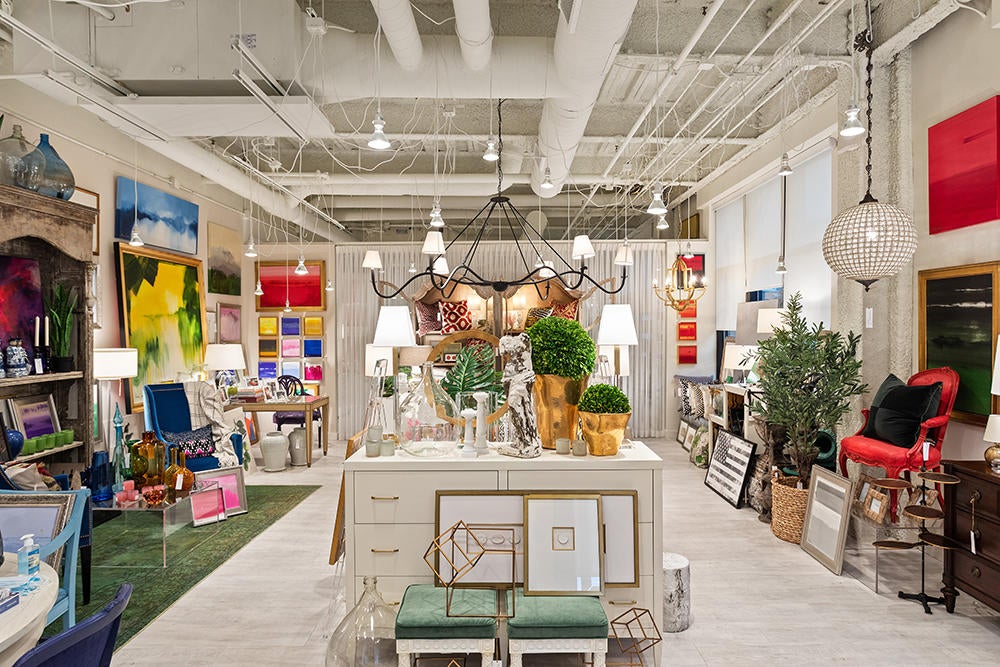 How do you convey to a customer that what you're offering is more worthwhile than cheap stuff from the internet?
It's hard [to educate people] on the "why [these products] take as long as they do" right now, because it's taking so long. In Carmel, I've really focused on having things that you can't just buy on the internet. I'm sure people have come in and looked at what we have, and then they may have ordered it [online], but that's also not our customer. Then I'll sell that lamp to a design customer sometime.
People come into the shop and say, "I love how you mixed this." That's a comment we get a lot [about mixing] the modern with the traditional, because Indiana used to be more of a traditional area, and people wanted to modernize without getting rid of everything they own. Part of it is they see how we've applied the mix, and they realize they can't do it on their own. A lot of that comes from the merchandising. And then, it's [also about] buying things that you can't find in other places, like etchings from Florence. You can't find that online.
What is the future of small businesses like yours?
I think people like to touch and feel, especially for their homes. What's the future of the mall? What's the future of the department store? I don't really know. But we hear all the time, "Oh, my gosh. There's nowhere to go to see things, to actually touch and feel and have an experience." Living in a home is about the experience that you have there, so if [customers] can walk into a shop and have a really good experience, they're much more likely to hire you to re-create that for them. I think that small shops in our industry will continue to be an avenue to growing your business. Even if you don't have a ton of inventory, even if it's more of just a showroom to show your aesthetic, it's a billboard.
What's a great day as a shop owner?
Two weeks ago, we had a woman come in who had happened upon the fabric collection we have with Kravet online, so she dug deeper and was like, "Oh, they're in Carmel. Oh, they have a shop." It wasn't that we had a design studio; we had a shop. So it felt more welcoming, right? It felt more like, "Oh, I can just pop in there without being intimidated," because some people might be intimidated working with a designer. So she popped in, and I had the fabric samples that I could show her; we had a long conversation and I'm now working with her on her condo here, and she's building in Naples, too, and I might end up with that project also. Even if she didn't walk out with a bag in her hand, it doesn't matter. I landed one design job already, probably two.
Homepage photo: A vignette inside Lantz Collective | Photo by The Home Aesthetic