The 50 States Project is a yearlong series of candid conversations with interior designers across the country about how they've built their businesses. This week, Meghan De Maria and Courtney Yanni of Southport, Connecticut–based firm Moss Design tell us about the shift that has pushed them to define their roles, why they want their firm to feel like family, and the reason they always work with an outside art consultant.
How did the two of you meet and come to work together?
Meghan De Maria: We both lived in New York City and had just had our first children. My older sister lived in the city, too, and I was telling her that I couldn't stand being a stay-at-home mom, saying, "This is not for me." And she said, "You need to go to this group, Margarita Mamas." Basically, you would have lunch at this small Mexican restaurant, and they would have a doctor, nurse or author come speak to these new moms. I remember strolling in for my first lunch with my orange Bugaboo stroller, and there was Courtney with her red Bugaboo. I was super shy, but I told her about how I had started sewing.
Courtney Yanni: You were so impassioned telling me about it, and I was like, "I've met my best friend." You don't meet people in New York City who take sewing classes!
De Maria: I was explaining that I was making napkins with a mitered edge. It's actually really hard!
Yanni: And when I moved into my house in Connecticut, she made me these beautiful napkins. I still have them.
De Maria: It was very serendipitous. We became great friends from that point on. That was 16 years ago. We both left the city and ended up in Southport, Connecticut.
When did you get the itch to get into design?
De Maria: I had gone into the city a few times to meet a friend who was a mentor for me, and she kept saying, "Meghan, you need to do interior design. You've always enjoyed it." I was like, "Well, then I'd need to go back to school." She told me about two of her best friends in New Jersey—two interior designers there who didn't go back to school. "They just did it," she told me. But I was like, "No, I'm going to go back to school."
When my daughter Lucy, who's the youngest of my three, was going to kindergarten, I kept saying to Courtney—because Courtney has a stunning eye for all things—I said, "Why don't we just do this together?" But she wasn't ready. She said, "I want one year where the kids are all in school and I have a little time to myself." I was like, "OK, fine, I'll do it by myself." I went to Fairfield University, where they used to offer an interior design certificate.
You went out on your own right after school. How did you find your first client?
De Maria: She's actually Courtney's friend. I was doing a little stuff here and there for another friend of ours, not really charging her for it. This woman who became my first client came to see the other friend's house and loved the paint colors. And the friend said, "Oh, my friend Meghan De Maria is in design school—why don't you give her a call? She's just starting out."
That first job was just advising on paint color—but it snowballed into the client wanting to remodel the whole interior of her home. Then she decided that she actually wanted to sell her house, purchase a 4,000-square-foot house and put on a 4,000-square-foot addition.
And this is your first job.
De Maria: It's the project that you wait years to get—the 8,000-square-foot home—and it was the first project.
That being said, I will say that the real first project I had was actually my own home. We did a huge renovation on our home while I was in school. I did find that when you're doing your own home, it's way more emotional—you end up freezing at various points. I was always asking Courtney, "Can you just do this for me? I can't make a decision for the life of me." In someone else's home, it's actually much easier.
And when did Courtney join the firm?
De Maria: A year into working, I came to Courtney and said, "Look, I have to hire someone." I had this huge project, and I had two people that wanted to do a living room or a family room, but I couldn't take the project myself because I didn't want to bite off more than I could chew. So I said, "Are you ready to take the plunge?"
Yanni: And I was ready!
Do either of you have early memories of being drawn to design?
Yanni: Meghan and I joke about memories of being kids and playing house. We would move our furniture in our bedrooms around. A lot of our play was around design, when I look back about it.
It's interesting, too—when you step back and look at our lives, it all sort of makes sense how we got to where we are now. Meghan went into fashion and then finance, and now she's running the financial aspects of this business. I was a political science major, but I was also interested in journalism. I had an internship in London at a vegetarian magazine that made me want to write about food instead of politics—this was before food writing was really the profession that it is today—so I went to culinary school.
I happened to meet someone who knew the people starting this new network called Food Network. I went in for a meeting, and it was with the person who had founded CNN. The intention was to have food news 24 hours a day, and he hired me because I had interned at CNN and he liked my journalistic background combined with my culinary experience. I started as a PA, ended up a producer, and spent 10 years in the lifestyle television business. I have a sense of styling and working with the camera, whether it's for television or print, because of that experience. And certainly, having the culinary degree informs my kitchen design.
De Maria: It's the kitchen's programming—Courtney's always involved in that for our projects. I'm like, "Courtney's going to come in now and explain where the silverware drawer is."
Yanni: I once told a client, "This is your oil moment." They're like, "My oil moment?" It's like, "Yes, you've just stepped up to the stove and all of your different flavored oils are here. Then to the left are your spices, and underneath we need a double-wide drawer for your pots and pans." Sometimes, you look at these beautiful kitchens, and you're like, "Oh, my God, there's no space next to the stove. How do you not have space next to the stove, or in between the sink and the stove?" It blows my mind that there isn't as much programming thought put into it sometimes. It's just a different perspective. Of course, the aesthetics are hugely important also, but for us, it has to be the combination of both.
When I first joined Moss, Meghan had just done this beautiful first-floor renovation with the builder Christopher Rosow, and one of my early jobs was to outfit her kitchen. I got pots and pans and everything sparkling and new and just exactly what she needs, and I put it all in this beautiful new kitchen that Meghan had designed. I knew, from then on—I was like, "This doesn't even feel like work. This is what I love to do."
De Maria: It was that easy.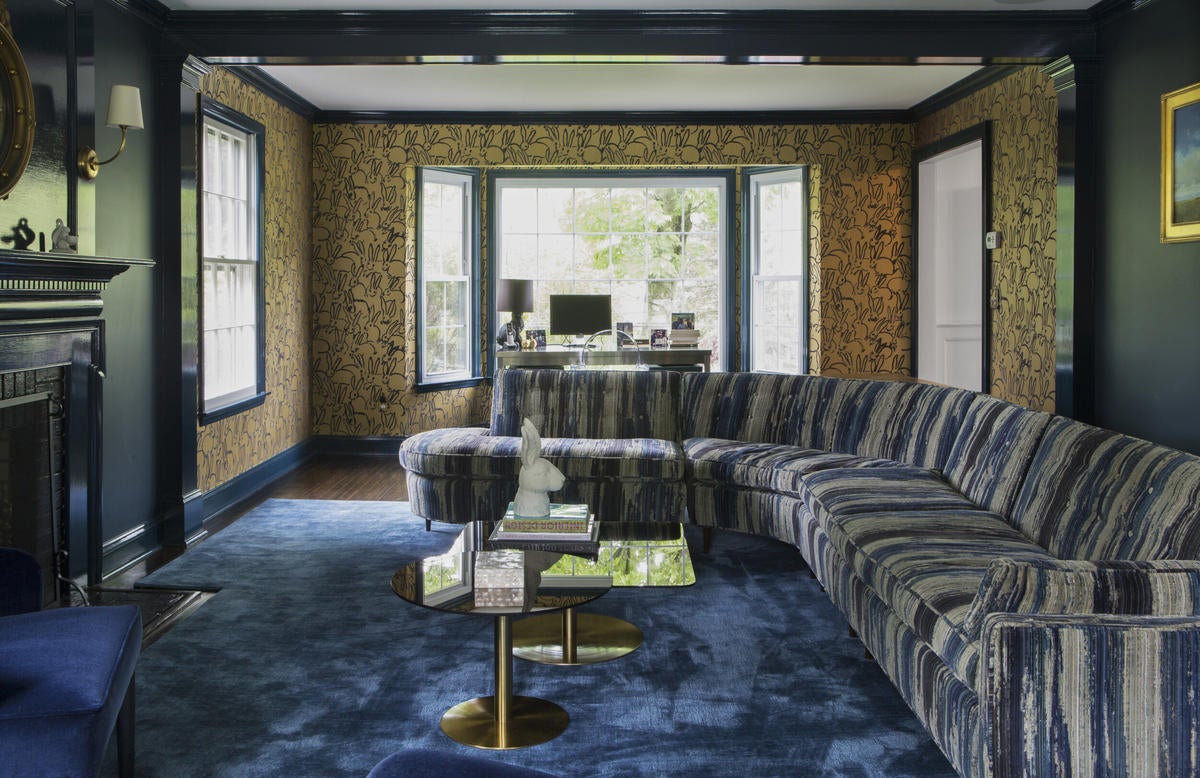 Fast-forward to today, how do you divide up the work that comes in, or how do you work together?
De Maria: We're still trying to fine-tune the process. We started to really grow about five months before COVID, and we knew we needed to hire someone. At the time, it was still just Courtney and me, and then we have a CPA to run all the books and do all of the invoicing. But Courtney and I were still placing and tracking all the orders, scheduling all the installations, working with all the tradespeople, and I was like, "We just can't do all this anymore."
We ended up hiring a project manager just before COVID started. Then, three weeks ago, we hired another project manager. Your question, though, was about how we divvy it up. We've had such huge growth, even in the last six months, that we're still actually trying to figure it out.
One of our challenges as we grow is really defining our roles. I want to focus more on the finances. I work super closely with Joanne, our CPA, because I have to understand how we are growing and where—the percentage of growth, even just with furnishings. What furniture is selling more year over year? How are we capturing the business? How are those percentages defining the business as a whole? Where are the losses? It is really a hard job to run your own business.
Do you find that having someone to handle the bookkeeping is different than understanding where your money is coming from?
De Maria: 100 percent. She can just spit out these reports—which, thankfully, I can actually read and understand with my finance background. I want to see things like what our numbers are over last year's numbers every other week or so, because I want us to be able to continue to grow, both in the design work but also, obviously, in the revenue.
How does what you see in those reports help you shape what you decide comes next?
De Maria: We are very transparent with the hours that we book—we have a log of exactly what was done during that hour. The same for furniture and our markup. It's very transparent, so if a client ever questions it, we can put forth the proper paperwork.
To that point, when you're looking at these massive reports, you realize that a lot of your business is driven by the hours that you bill your client. We've always hated the actual work of keeping track of the hours, because it's our time that we're spending. While you're trying to keep track, you're not billing anyone for tracking it. You know what I mean? We create an invoice that we send to Joanne, and then she sends it to the client, and it's just hours of work that no one's getting charged for. So since February 1st, we've been trying to track our hours on a daily basis and send them right to Joanne.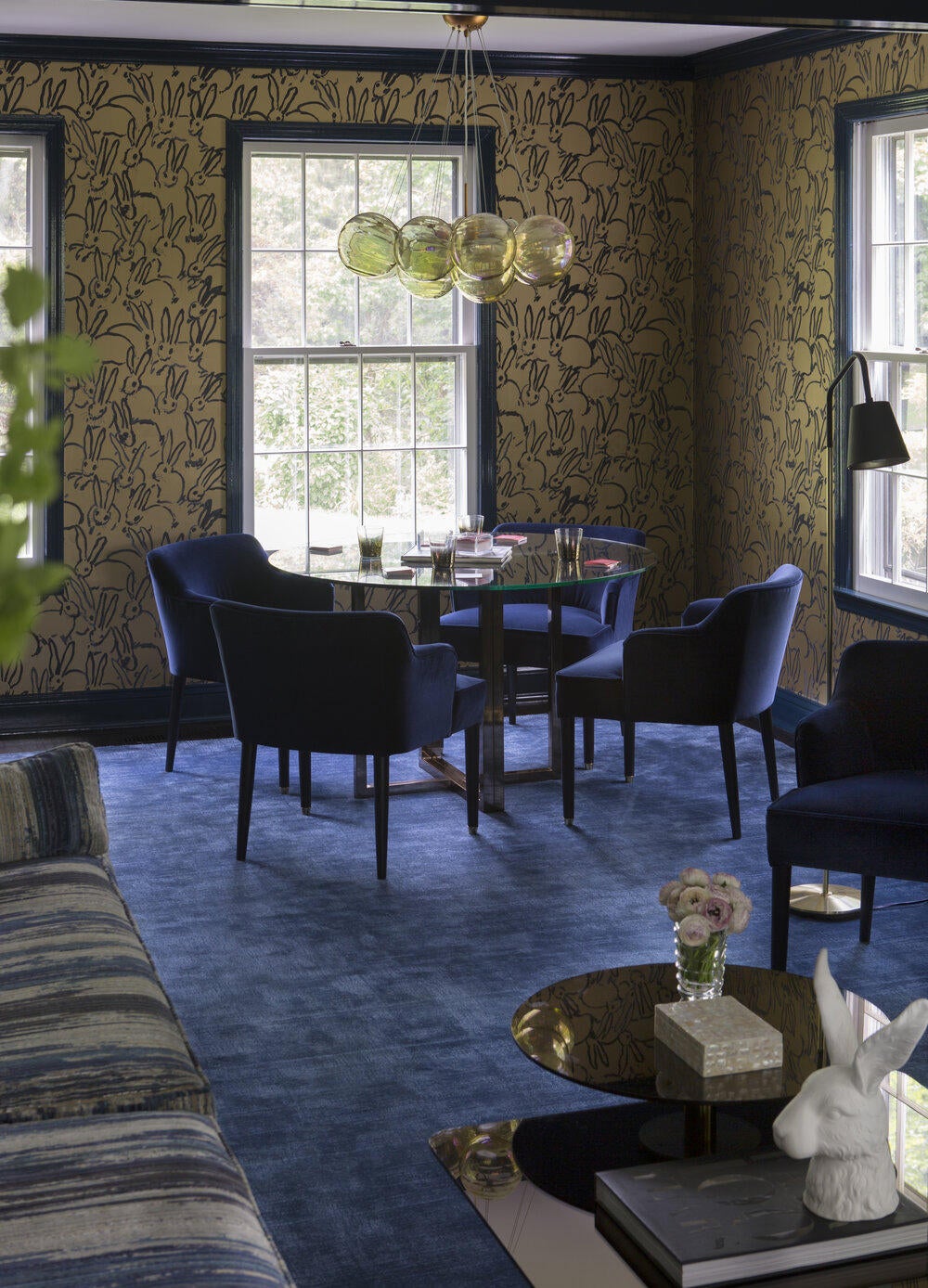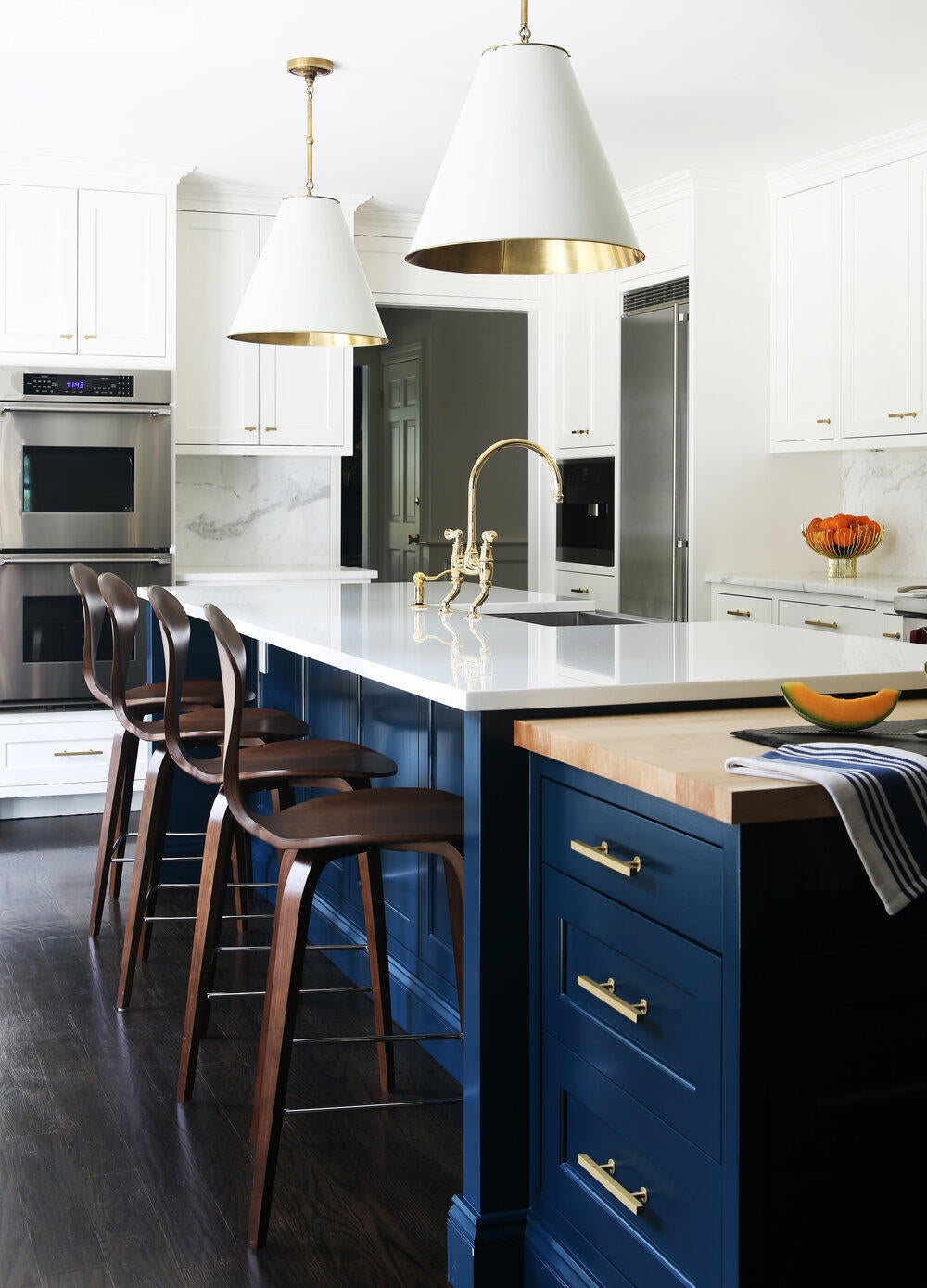 How does that change the process?
De Maria: It allows Joanne to now look at how the business is growing on a weekly basis. We can still measure month to month, but it's going to be fascinating for us to now be able to look at the first two weeks of March versus the first two weeks of February. How did we invoice then? What client did we have then that was driving the business, and what client do we need so that we can keep that momentum? This kind of stuff Courtney hates.
Yanni: I'm falling asleep!
De Maria: But it's so important. It was literally at the beginning of this month that Courtney and I sat down, and I'm like, "Something has to change here."
Yanni: We like to do everything together, but we're realizing that we're spread too thin right now and we have to divide and conquer. I was never involved in the financials—that is not my forte—but we've been thinking that maybe marketing is something that I should be spearheading, because it is a talent of mine and something that I enjoy doing. For Meghan to sit in on every meeting—those are hours that we could be billing clients and working on projects, instead. It's about defining roles.
De Maria: This is a conversation that we're literally in the middle of, because we have to be human. We can't both do everything. But this is such a hard thing for both of us because it's like, "When are we going to sit down and have our meetings?"
Yanni: We're not having enough time for our creative meetings, which is what we really need to carve out. We're so much better together, and we always want to be involved in each other's projects, so we have to protect that rather than both sitting in on a Zoom about something when one of us can be doing something else. We're trying to figure that out.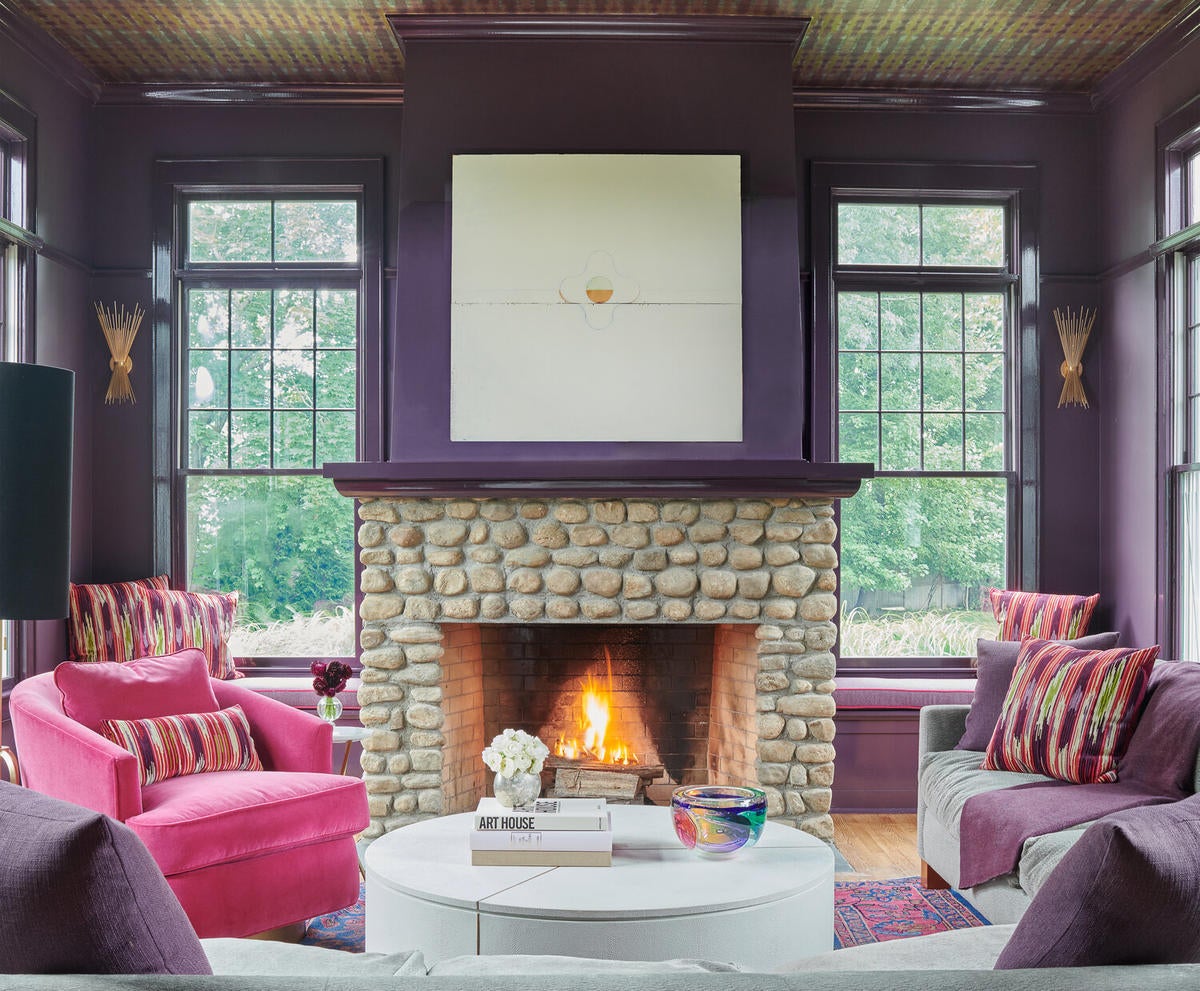 How do the project managers you hired fit into that picture?
Yanni: One thing both of us struggle with when it comes to billing hourly is just keeping track of our time. It's very easy to have a day where I worked all day, but I have no one to bill. Maybe I was dealing with a damaged chest, so I think, "I'm not going to bill [the client] for that." Tracking our time daily has given us personal accountability. If I'm sitting at my computer off on a tangent, I'm like, "No, I have to focus right now and get back to design work that's actually billable, that's moving toward completing a project."
That accountability of submitting our hours daily—it's so important, because billing hours is how we grow our business. It also helps us consider, "OK, how do we bill the most hours?" Well, we need back-end support because I'm not going to bill an hour at our design rates for something like dealing with a damaged good or sorting out those back-end issues. That means we need to have people doing all of that and we can bill for our full design hours. I think that's where you can look at the numbers and say, "Oh, hours are our bread and butter. So how do we bill more hours?"
Back-end support and taking on more projects.
De Maria: Exactly. We knew we needed to hire someone because we were spending too much of our time managing the business end. And at that point, we're not doing what we love anymore, either—we're just managing this machine.
For me specifically, it's so hard to let go of certain things. I'm a little bit of a control freak—I'm like, "No, I'd rather just do it myself" because I don't want to explain to someone how to do it. But we hired these two amazing women. ...
Yanni: They're seriously overqualified. They had huge jobs, they love design—and they love everything we hate about it!
De Maria: Eighty percent of this job is project management. Twenty percent of this job is what we want to do all day, which is the creative side. You're only as good as your team, and our team is amazing.
How did you find these two project managers?
Yanni: You're not going to believe this, but they're best friends.
De Maria: My project manager was the first one to join us, a little over a year ago, and I've known her since I was 15. She went to college with my older sister, worked at [the wealth management firm] Smith Barney, and actually helped me get my finance job there when I wanted to make a career change after working in fashion.
They're both so regimented in the process—they thrive on having a process in place, making sure the process is working properly, and being super organized and detail-oriented.
Did you worry about hiring more friends as you built your team?
Yanni: It's funny, because people have warned us about friends working together. And we've had conversations like, "We can't hire any more friends. We need to be more buttoned-up and professional." But I actually think that's our magic sauce, that we're all very close. We always put our families first—I mean, Meghan is like my children's second mother, they're so close, and I think that understanding of each other's lives makes a difference.
How does that closeness show up?
De Maria: It allows us to just be ourselves. We don't have to be super buttoned-up. We're all in this together—just don't sink the ship! It's a family. If you have a problem, we talk about it, figure it out and move on. There isn't the nervousness of having to approach someone about it.
Yanni: Or pretending to know more than you know. It's safe to say, "OK, I know this is dumb, but ..." We're comfortable with each other—with being vulnerable and being honest—and I think that's the only way you grow.
De Maria: Lately, we've been working with some builders, and I think even they feel the uniqueness of it—it is unique.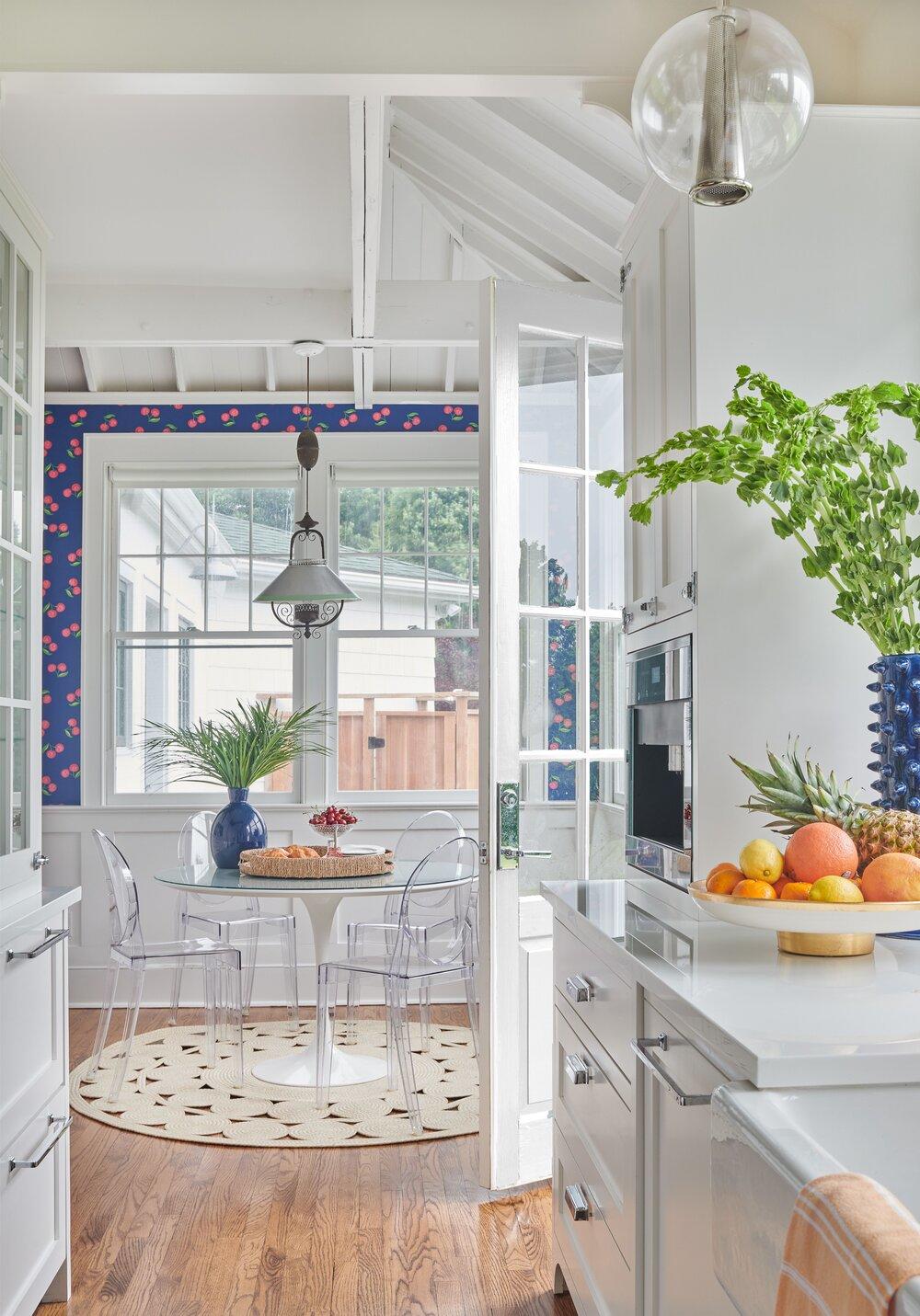 You have said "my projects" and "my project manager," but I know you also collaborate. How do you divide up the design work?
Yanni: When I first started, Meghan handed me projects. Through those, I have a client where I worked on her kitchen, living room and dining room, and then she bought a beautiful loft in Tribeca, so now I'm working on that. I developed those relationships. Then, as I've grown, I've brought in my own business. If we bring it in, it's our job in the sense that we're ultimately responsible for it. We're finding, at this stage, that we can't both share responsibility for a job—somebody needs to have the final word, be responsible for every detail and really own the project.
None of that "but I thought you were doing that."
Yanni: Yeah, exactly—we can't work that way. But in the beginning, during the design phase, we like to start sourcing together for each other's projects. We'll both go to the job site because we like to measure together—and maybe that's something we'll need to rethink in the future—but we like to go to the house, measure together and have those initial conversations.
De Maria: Because when we're there, you're really feeling the bones of the house.
Yanni: It's definitely more than just measuring.
De Maria: It's a discussion: "What do you think of the layout?" "How is natural light coming into the room?"
Yanni: It's a really important step in our process. Then we'll come back to the office, sit together for a few hours, and just hash it out then and there. I feel like that's when we really get into our rhythm. That's where chemistry really shines. It's like a song.
That must be a fantastic feeling.
De Maria: And then we high-five each other every decision. It's like a love fest. We're like, "We're so much better together!"
Yanni: And then we separate. That person goes off and takes the lead on that project. But the beauty is that I know what she's been working on and she knows what I am working on, so I can be like, "I'm switching out this chair for this. What do you think?" The conversation in the office, where we're working on our own work but constantly like, "Wait, I need to review this with you," is so helpful. We both have areas where we're a little bit stronger, so we can utilize each other. And because we started together, we know each project so well, and we can continue the conversations to help each other. But it's ultimately completely our own responsibility to see through the project.
Then you're each working independently, to some extent, with a project manager?
Yanni: Correct. The client only interfaces with us in person, but the project manager takes over the whole process once the design is completed. We're still closely involved—we talk to them probably 45 times a day—but they are really spearheading the rest of the process in terms of logistics. In theory, we are then able to move on to the next project.
And then you come back to the project for the installation?
Yanni: Exactly. We're back for the installation, to work on the accessories and all of that.
In the beginning, you're going to have some tough conversations with clients—that's when you have a little bit of the financial talk—but I think our goal is to really not talk about money with them. We really want to be creative with them. The back-and-forth about money can be between our bookkeeper and the client, and we can stay out of it.
How many projects are you collectively working on right now?
Yanni: I think we have 15 to 16 active jobs at different stages right now. One is the Tribeca loft, we just finished a pool house, but then we have two homes where the clients just want us to do their living rooms. Maybe one-third to half are the large projects, and the rest are smaller—it's a good balance.
Some firms move away from taking those smaller jobs as they grow. Is that something you're considering?
De Maria: Some people have approached us and said, "I know you only do big projects—" and I'm like, "No, no, no. I will always do a powder room. I love doing a powder room."
Why the powder room?
De Maria: Because everyone goes into a powder room, right? Some people will never see the dining room, but everybody's going to see your powder room. It's an easy space to do—and as a designer, I think it's super fun. I try to have it be an unexpected moment so that the person coming out is like, "Oh, my God, the wallpaper on this ceiling!" It's something to talk about—and it's easy, fun, and fairly quick to do.
Yanni: It's nice to have smaller projects to weave in between the larger projects. Besides, I don't think we've ever done just one room, in the end—it always adds up to something else.
De Maria: Yeah, we just wrapped up a huge pool house. It started with sprucing up the main house's family room. Then it was like, "OK, she's ready to do the pool house." We just finished up that, and now we're doing the husband's office, which is huge, and a massive wine room downstairs.
Can you tell me a little bit about your contract?
De Maria: A professor that I became very close with at Fairfield gave me her contract to use, and we work off of her contract. I've added and removed a few things here and there.
Yanni: It states the project rate.
De Maria: It states our markup, which is 30 percent for wholesale furniture, fabrics and wallcoverings.
Yanni: It touches on being able to photograph their home—I mean, it's quite a serious contract.
De Maria: On a recent project—a beautiful beach house on Fairfield Beach, huge project—we added a hard scope. It was always soft goods, but now that we're getting into doing more construction, we had to have something in there for that.
Yanni: We had to let go of a client because he was a lawyer and wouldn't sign our contract. We're actually really serious about the contract—we don't do a thing until a contract is signed and we've received our initial retainer.
De Maria: That's the only client we've ever walked away from.
Why wouldn't he sign the contract?
Yanni: He was like, "No, I own your design when it's done." And we're like, "No, you don't—it's your home, but you're not going to own [the concept]." It just got into the semantics, and we felt like it was too dangerous to move forward. It was an amazing job that we actually walked away from—but at some point, you have to draw a line in the sand. It's that business hat you don't want to wear, but I don't regret it at all.
Can you tell me about being in Southport—the housing market and the types of projects you are seeing?
Yanni: It's definitely a seller's market. Everybody is moving out to Connecticut and all of these areas outside of the city. We have never been busier, in part because of that. We tend to have a lot of people in the financial industries, which is interesting—we have a lot of people who are quite wealthy but are more financially minded.
Honestly, the economy—I feel funny saying this, but COVID has not really impacted the economy out here at the level of the people that we're working with. If anything, they're not going on vacation now, so they have extra money to spend—they're thinking, "This year, I'm going to do our attic or move, because I don't have all these other expenses I had before COVID." It's a very busy time out here—and it's exciting for us that a lot of people from the city are coming out here, because our design is definitely more transitional and we use a lot of color. It's not the traditional Connecticut look, whatever that means. There's a lot of interesting stuff going on in Connecticut design-wise, for sure, but a New York client really suits us.
I know art is key to your process. Can you tell me a little bit more about that?
Yanni: We always put a line in our budget for art; we don't want to finish your room without art. That's incredibly important to us. We actually work with an art consultant who really helps us with that—talk about a family business!
De Maria: My sister, Betsy Biscone, worked for the artist Richard Prince—she was his right-hand for a long time, I want to say 20-plus years. She worked with Gladstone Gallery, worked very closely with Larry Gagosian. She has had 20 years in the art business, and she now has three children and has decided that she wants to be home, so she started her own art advisory. Her focus is emerging artists, and she is really good at what she does. Honestly, we've had colleagues reach out to us to ask, "Who sourced this art for you?"
I think part of this business is finding these relationships with people you can believe in and you can trust, who will work in the best interest of the client, and also be able to put forth—whether it's in the building aspect or even in the art advising aspect—really amazing work.
Yanni: I mean, we can't step away from a room and leave an open wall. Art's got to be put on it! Clients want you to finish rooms, and you cannot finish without art.
De Maria: We had all these clients asking, "Can you help me with the art?" And I said, "I'm not going to pretend to be a jack-of-all-trades." For me and for Courtney, art is really personal.
I get the sense that it's a different discovery process, too.
De Maria: It's a totally different process. You have to have those relationships with the galleries. You have to know who's up-and-coming.
Yanni: Right. Betsy is so connected in the art world, and she finds these amazing emerging artists. She'll always say, "I will reach out to you and let you know the value of your painting, because it will always go up." It's a real investment with her.
De Maria: Whether it's the $500 piece that Betsy sources for the client that she finds by an up-and-coming artist, or the $12,000 piece, or the $30,000 piece—I think there comes a point where it's like, "We're not going to fake it to make it here. I'm not going to pretend I can tell you and advise you on what artist to purchase."
Is it strange to hand off such an important element to an outside consultant, even if she is family?
Yanni: She interfaces with the clients so beautifully. We're always copied on the emails, and the client always says, "Courtney, what do you think? Meghan, what do you think?" We're always involved in the decisions—we get to watch their dialogue and watch it unfold, and I love being involved in the process in that way.
De Maria: Art is different than the couch that has the performance fabric or the boucle fabric. Betsy told both of us, "I just want you to know, your client loves and believes in you, and they are never going to do the art aspect without you basically saying, 'This is the right one.'" And let me tell you—there's a client where it took almost two years to find the right painting. It's a process, and she's very respectful of the process. But we joked—she's like, "The client will spend $15,000 on a couch, but they won't spend $3,000 on the art." Part of the job is getting the client to understand the value of art, how it plays into the space and the appreciation of it. It really gives the space even more of a personality.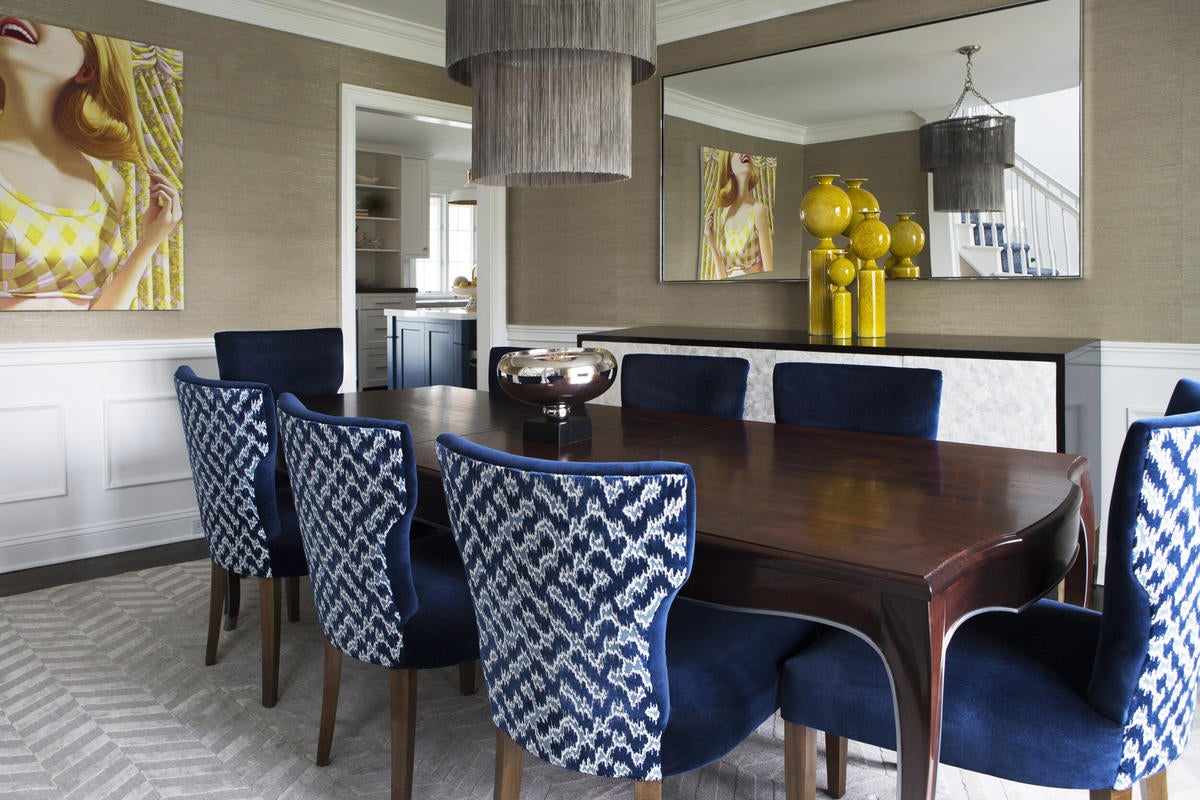 How do clients find you?
De Maria: All word of mouth. We're totally a referral-based business. Sometimes, a builder will recommend us. We have a builder who is doing a $5 million new build and is really pitching us to the client, because he believes in our design and believes that it fits the client really well. We've never worked with this builder before, but we looked at the plans and the house is absolutely stunning.
That's an amazing testament to the two of you, by the way, to get that kind of endorsement from someone you've never worked with.
De Maria: Thank you! We use color, and lately, we're finding more and more that people want color. In the last two weeks, we've received calls and requests and messages on Instagram that are all like, "You really do color, and you do it well." I think people are realizing that their houses are really gray, and they don't want it any longer.
We touched on this a little before, but how many of those projects will you be able to say yes to? How do you filter out what's a good fit?
De Maria: We're pushing projects out now. We are at the point where we're fully booked, and we say to the client, "Look, we're fully booked until—"
Yanni: April, May, even June, depending on the size of the job.
De Maria: We received a phone call this week—we still have to do the interview, but it's for a 16,000-square-foot home in Weston. I was like, "Whoa, this is really happening! We're really booming!" I mean, we haven't gotten the job yet, but it was an interesting conversation because they had built a big house, sold it, and bought this one, and they had a designer for the previous job. I actually was very uncomfortable asking, but I had to understand—so I asked, "Why are you not using that designer?"
Yanni: Because if they had been like, "Oh, she was awful," that's a red flag.
De Maria: I know. Our business is so referral-based, and as of now, none of our clients that's ever purchased another home has used a different designer. It can even be back to back. We just finished up this beautiful home in the center of Fairfield, and now, the client bought this big house on the beach and she's asked us back. Courtney worked on a new project for the third time with the same client, which is the biggest compliment in this business.
Wait, now I'm dying to know—what happened with that client's other designer?
De Maria: It was all about color. She said, "She did the whole house in gray and white, and now I don't like it." So I knew right away we'd be a good fit, because if you look at our website, we do color.
Yanni: They're really seeing it through our Instagram, which is a huge marketing tool for us, and our website, and word-of-mouth referrals from clients, and especially from builders.
I love that you've cultivated such great builder relationships.
Yanni: The builders have been a really good venue for us. Our builders have said to us, "You make our jobs easier and you make our projects better." I think that is just part of the relationships that we build. That goes back to our relationship, and to our business being like a family. We know these builders. We have standards, but we're very respectful, and we build relationships with them. We have each other's back on the project, and we support each other. I can clearly feel that.
Where do you see opportunity to grow, or what does success look like for the firm?
De Maria: Bigger and more high-end. The last three months have been so different than the three months prior. It's wild right now—it's wild, it's exciting. It's like we're no longer in this little pond. We're there. There are pieces that we've had on our boards that we've been inspired by for so long, and now we can actually purchase them for clients.
It's so fascinating, because we're actually actively feeling that change, and I don't want to lose sight of it because it's so exciting. That being said, it's important to carve out the time to make sure our systems are right, because we can't grow unless the process is there and in place.
Yanni: We're at a different level in the furnishings that we're selecting. It's almost like we're unleashed a little bit, like, "Oh, I've been wanting to use this for so long!" Continuing that growth, where budgets are bigger and clients give us the creative freedom to just go for it—and we're absolutely heading in that direction.
De Maria: Right. We want to be able to use the Apparatus light that we've been looking at for literally five years—we need the client that wants to spend the money for that. And you know what? It's actually happening. It's a different level.
For me, these fixtures are like candy. But you have to have the client that really understands it—and we finally have the client that not only understands it but can also afford it. It is a luxury to have that kind of client. And we're there. We still high-low it—we're still going to have a balance—but it's really an exciting time at this firm, I have to say. We've been waiting for years to capture that clientele, and I feel like we're finally there.
To learn more about Meghan De Maria and Courtney Yanni, visit the Moss Design website or find the firm on Instagram.
Homepage image: Meghan De Maria (left) and Courtney Yanni of Moss Design | Jane Beiles