NY Now returns to New York August 12 to 15. On deck at the Javits this season are a selection of new-to-the-show vendors as well as a range of educational seminars from which to choose. Read on for Business of Home's take on what designers need to know.
Market Debuts
Atelier Swarovski is making its grand entrance to the Javits, with objects for the home created in partnership with NYC architect Andre Kikoski and designer Barbara Barry, among others; also attending for the first time is Kartell, showcasing its furniture, furnishings, lighting and home accessories. Returning exhibitors launching new products include Ameico, Made Goods and Pais Textil.
Collections
This year's Accent on Design will showcase nearly 150 brands across several categories, including the latest from Tina Frey Designs and Jonathan Adler. The juried competition gives awards in product design, booth design, rising star, best new collection, innovative use of materials and overall excellence. (Last year's winners include outdoor products brand Barebones Living, textile manufacturer Wallace Sewell, book publisher Taschen, and design company Vacavaliente, among others.) In Handmade, the Artisan Resource will feature nearly 100 brands, while Designer Maker has 350 that focus on limited-production items and craftsmanship, and Global Design is composed of 150 international craft resources.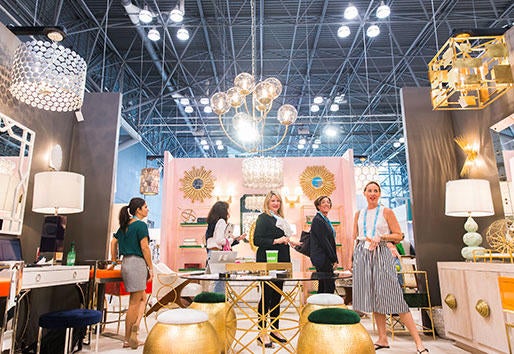 Events
Justina Blakeney, author of The New Bohemians Handbook: Come Home to Good Vibes; designer Wesley Moon; Brittany Watson Jepsen, founder and creative director of The House That Lars Built; and Paula Flynn, founder of The Shopkeepers, are all in town to speak at market's newly debuting panel, Trend Talks, a free series where speakers will discuss trends they spot at market.
As they was popular last year, NY Now is continuing its book signings, with Iris Apfel, author of Accidental Icon, and Erin Gates, author of Elements of Style: Designing a Home & a Life. Additionally, seminars and educational programs include lessons on the basics of importing product into the U.S. market, making crafting more productive, and the New York chapter of International Furnishings and Design Association's presentation on color theory and selection, taught by Betsy Karp and Nancy Fire.