This week in design, tiny homes have hit the mainstream after Home Depot debuted its new ADU kit—a modern one-bedroom, one-bathroom structure complete with a rooftop deck accessible by a spiral staircase for $44,000.
Business News
After a jump in apartment-rent prices over the past few years—with rents rising 25 percent nationally in less than two years during the pandemic—prices are now declining, The Wall Street Journal reports. Rents rose less than 2 percent over the past year, marking the largest deceleration in recent history, according to data firm CoStar Group and rental software company RealPage. Not only does the trend mean bargaining power is shifting from owners to tenants in some rental markets, but it also points to easing inflation, as housing costs comprise the biggest portion of the consumer-price index.
Amid Ikea's expansion plans for the U.S. and U.K. markets, the Swedish retailer is doubling down on its remote interior design service offerings while directing more customer inquiries to an artificial intelligence robot named Billie. As Reuters reports, the strategy falls within parent company Ingka Group's goal of tapping into future Gen Z customers by growing the share of sales made through its digital channels and remote interior design services from 3 percent in 2022 to a goal of 10 percent by 2028. To that end, the retailer has trained an additional 8,500 call center workers since 2021, along with handing off 47 percent of customer calls to its AI service over the past two years.
In other AI-related news, a recent ruling by the U.S. Copyright Office decided that AI-generated images, writing, video and other content cannot be copyrighted—meaning, there would be no legal repercussions for reuse of digital assets made solely by AI tools like ChatGPT, Dall-E or Midjourney. The ruling did note an exception: If a creator sufficiently modifies their generated output—using an image or a draft as a starting point—that asset could be protected by copyright. The decision is considered a first step in the development of the law around ownership for AI-created content and is likely to be appealed and debated in the legal system in years to come.
Elk Home acquired Norwell Lighting, a Massachusetts-based designer and distributor of interior and exterior residential lighting fixtures; the terms of the deal were not disclosed. The 70-year-old company's portfolio includes sconces, flush mounts, chandeliers, pendants and outdoor offerings, as well as the affiliated companies Ilex and Custom Metalcraft—all of which join Elk Home's offerings as the company expands its product price points.
New Jersey–based logistics executive Michael Podhurst pleaded guilty last week to charges of involvement in a multimillion-dollar kickback scheme defrauding Williams-Sonoma, Furniture Today reports. In his plea agreement, Podhurst admitted to paying more than $12 million in kickbacks to former Williams-Sonoma executive and codefendant Eric Marsiglia, who directed the company's business to three warehouse logistics companies owned by Podhurst over a four-year period. Facing multiple charges of wire fraud and money-laundering conspiracy, Podhurst faces a maximum of 20 years in prison for each count, along with nearly $750,000 in fines.
The nearly yearlong labor dispute at the West Coast ports may be nearing a conclusion after the International Longshore Workers Union and port operators announced a tentative new contract last week, The Washington Post reports. The new contract includes an 8 to 10 percent wage increase for dockworkers, along with retroactive pay for the hours worked during the eight months without a contract. If both parties ratify the agreement by the August deadline, a labor dispute that has contributed to frequent stoppages and delays at one of the country's most highly trafficked ports may soon come to an end.
Launches & Collaborations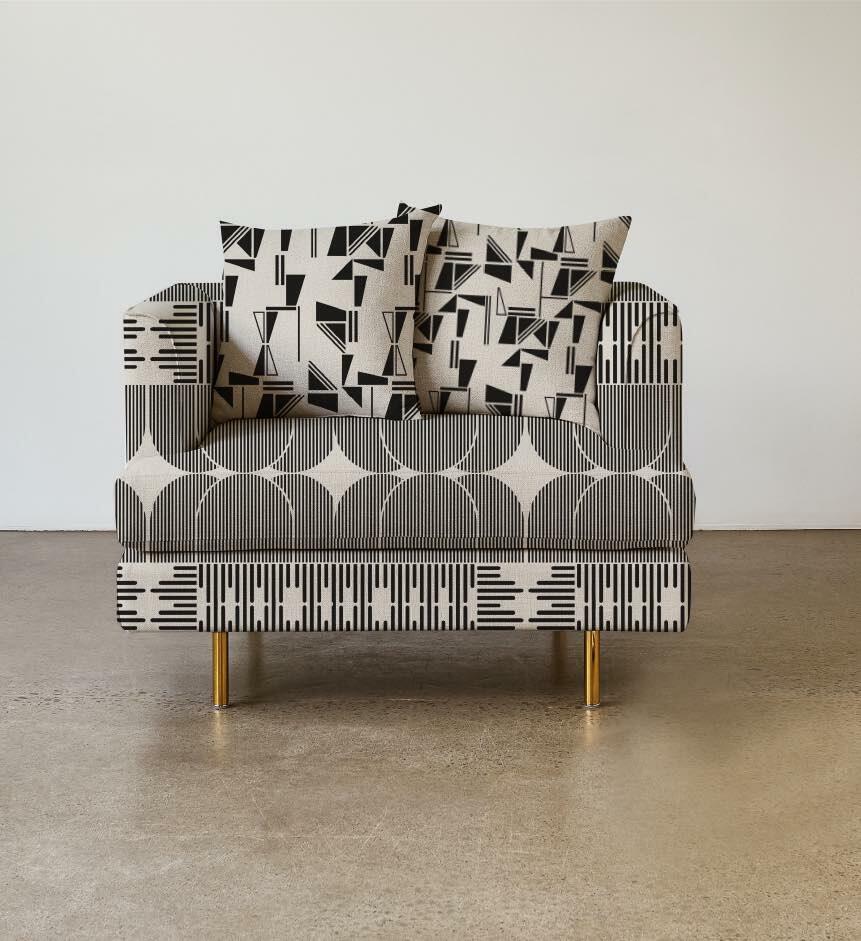 Art studio Society of Wonderland launched a curated collection of contract textile designs through Fabricut's S. Harris brand. The collection pays homage to styles popular from the mid-1950s to the 1970s—including geometric motifs and midcentury modern art and architecture—with patterns crafted by digital artist and Society of Wonderland founder Stephanie Eventov.
Hudson Valley real estate and interior design agency Upstate Down has launched an online shop stocked with favorite items found in the studio's brick-and-mortar store located in the village of Rhinebeck. The site will include an edited assortment of home decor, coffee table books, kitchen items, and bath and body products, curated by founders and husband-and-wife team Jon and Delyse Berry.
Recommended Reading
Italy's Puglia region, formerly a poverty-stricken corner of the country, has undergone a rapid transformation in recent years: Its deconsecrated Baroque chapels, crumbling 18th century compounds, historic stone farmhouses and trulli (traditional cone-topped rural structures) have all gotten the luxury treatment as a new wave of wealthy homebuyers flood into the area. As J.S. Marcus writes for The Wall Street Journal, an influx of foreign buyers looking to embark on ambitious fixer-uppers have sent home prices up nearly 10 percent year over year, producing a luxury outpost in one of the country's least-traveled areas.
When used furniture is posted on e-commerce sites like Facebook Marketplace, the photos tend to lack the polished quality usually found in professional product shots—often, they're instead surrounded by the clutter of daily life and questionable design choices. As Alix Strauss writes for The New York Times, it turns out those personal qualities actually make buyers more likely to purchase. As psychologists and consumer behavior experts explain, the value lies in the power of the person-to-person sale, which inspires feelings of sentimentality and connection that live on in a buyer's newly acquired items.
Call for Entries
The Interior Design Society, in partnership with luxury kitchen appliance brand Thermador, is now accepting applications for its third annual Diversity in Design Pipeline initiative. The program awards five students entering their senior year at an accredited interior design program with a financial scholarship of $10,000, along with mentorship from selected interior design professionals to further their careers in the industry. To apply before the June 28 deadline, click here.
Homepage image: Hudson Valley real estate and interior design agency Upstate Down launched an online shop stocked with decor items found in the studio's brick-and-mortar store | Courtesy of Upstate Down