From Pennsylvania to Paris, design brands are planting roots in new markets around the world. In our May roundup, BOH gathers all the showroom happenings to have on your radar.
Showroom Spotlight:
Vaughan has a foot in both doors with its new NYDC showroom
The long, narrow entrance to the new Vaughan showroom initially served as a point of concern for Victoria de Lotbiniere, the lighting manufacturer's executive vice president. But as the design developed, she came to see the unique feature as a strength: "It turned out to be the perfect way to show off our side tables and consoles, and we have our lighting boards with wall sconces as you go down the hallway," she says. "Then, the showroom opens up like a big surprise, and you see all the lighting, furniture and textiles all at once. It has an impressive appearance, but the space is actually not that big."
Because the brand only had 2,000 square feet to work with for its new outpost in the New York Design Center, the space has a pared-down, uncluttered look that showcases an edited version of Vaughan's core collection of lighting, furniture, mirrors, printed linens and hand-embroidered textiles. The location has a strong "New York feel," according to de Lotbiniere, with big picture windows and walls covered in Farrow & Ball's moody Setting Plaster and London Clay to emphasize the colors of the lighting fixtures. The showroom also features custom-tiered glass chandeliers that riff on 20th-century Italian pizzazz (and hang low to the ground for easy observation) and the brand's furniture line, which launched two years ago during Covid.
It's reasonable to wonder what Vaughan is doing at 200 Lex—the brand already has an established outpost just 1.5 miles north at the Decoration & Design Building. But the company is joining the ranks of design businesses with showrooms in both design centers, aiming to attract more Brooklyn- and SoHo-based customers. "New York feels big enough to tap a new market, and we really wanted to reach out to a different clientele that we were possibly missing at the D&D," explains de Lotbiniere. "We're proud of our traditional heritage but keen to show that we have many transitional products for all markets, and we are seeing people from all over the country coming into the NYDC specifically for lighting, whereas the D&D is a little bit more high-end-fabric-based."
Whether you're seeking either product category, you'll find customizable options at Vaughan's new showroom. "People are always surprised to see how wide-ranging our offering is," says de Lotbiniere. Many customers need the reminder that the company offers a line of textiles, for example. "It doesn't always hit home until you see it laid out like that."

200 Lexington Ave., Suite 607, New York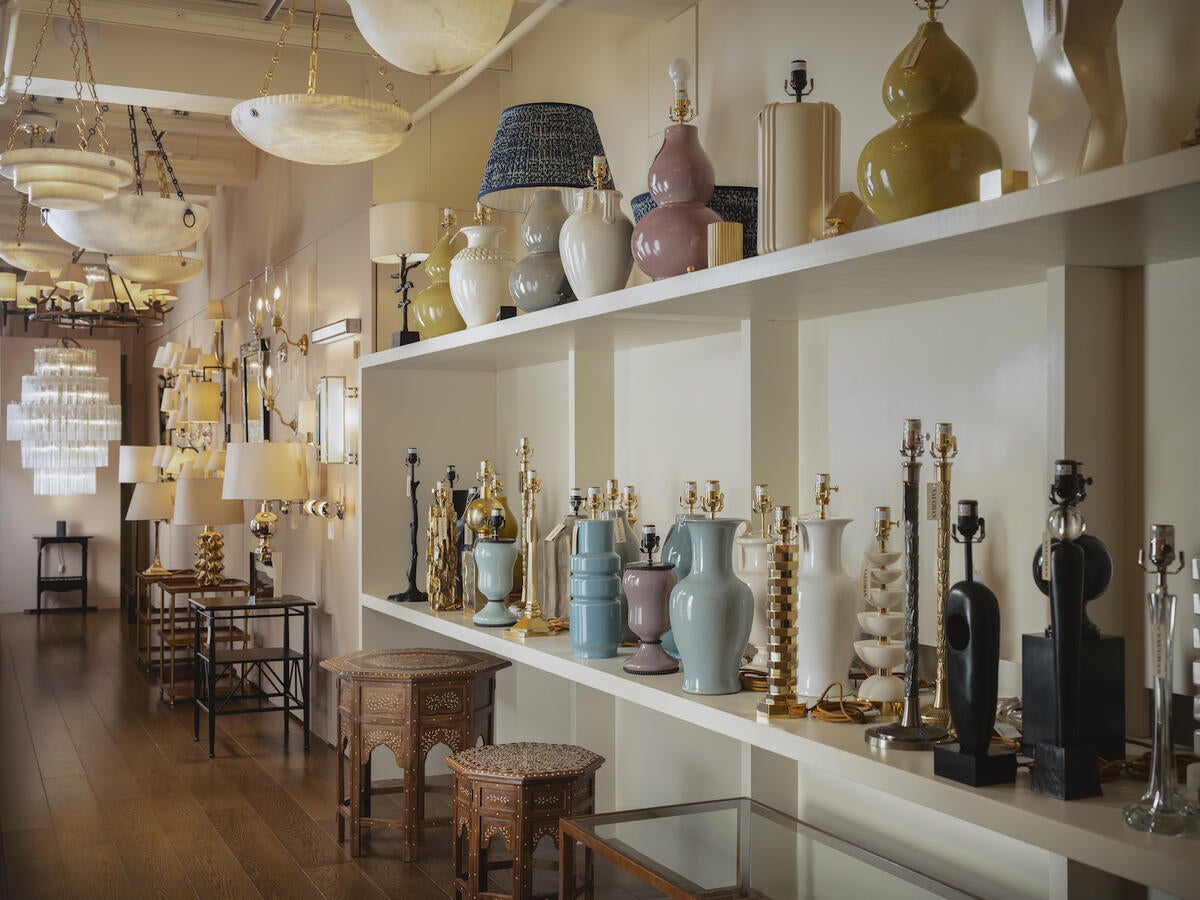 CALIFORNIA
Italian heritage door manufacturer Lualdi opened a physical space in Los Angeles. Designed by Italian architect Piero Lissoni, the brand's third U.S. showroom features the company's doors, sliding systems, partitions and fixed furniture shapes, and offers multimedia and sensory features, where ad hoc interiors give customers versatile backdrops for projects.
8784 Beverly Blvd., Los Angeles
Vintage decor brand Pop Up Home debuted a new flagship location in Los Angeles's Melrose Hill district. The three-level, 7,800-square-foot storefront was curated by Puerto Rican founder and creative director Tricia Benitez Beanum, and features the brand's decor and furniture, which range in styles from midcentury to postmodern and are gathered from around the world. Visitors can also browse Unrepd, a gallery co-founded by Beanum and curator Sarah Mantilla Griffin that showcases contemporary art by emerging artists.

642 N. Western Ave., Los Angeles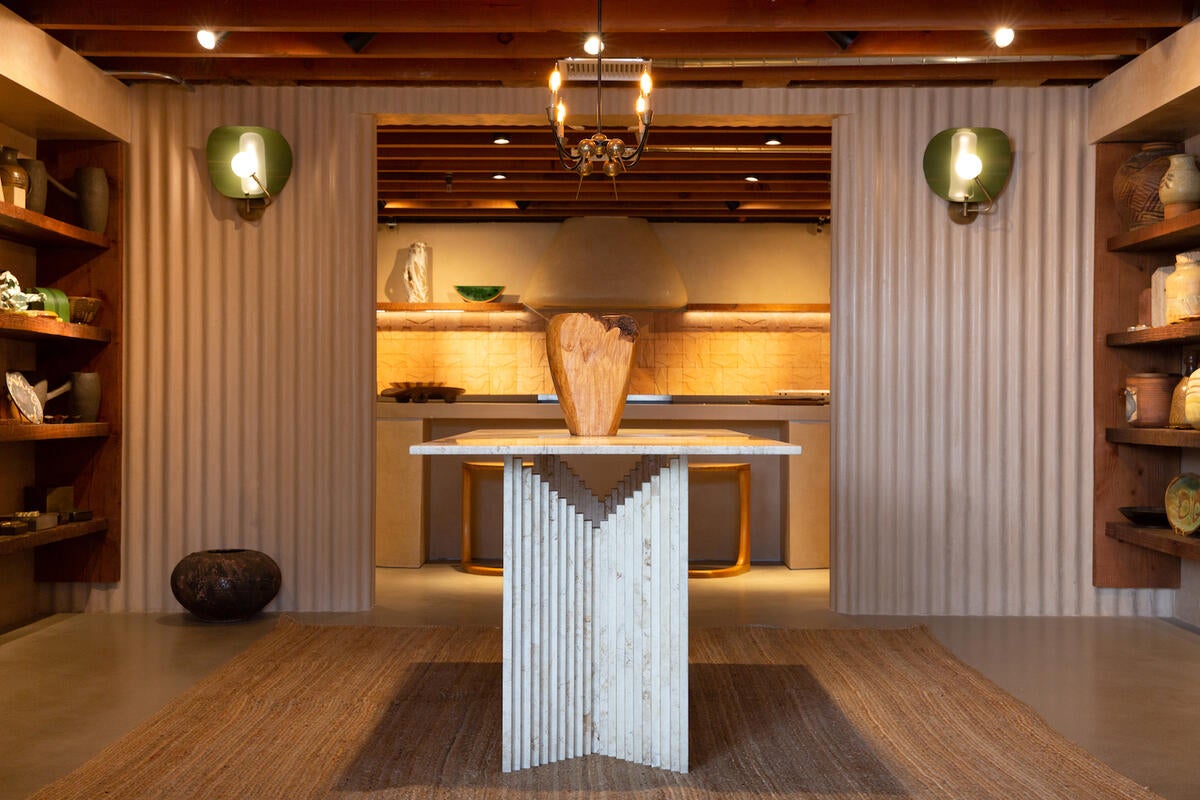 ILLINOIS
Ohio-based artisan-crafted furniture and home decor retailer Arhaus opened a new studio in Illinois. The 4,500-square-foot space is part of a new, smaller showroom footprint the brand is rolling out across the country that displays its newest collections, offering complimentary design services and customization options to customers through professional consultations, 3D room-planning software and touch screen monitors.
151 W. Van Buren Ave., Naperville
MICHIGAN
Contemporary showroom and interior design studio Italcasa Design opened up a space in the Michigan Design Center. The 4,715-square-foot showroom offers a selection of exclusive furniture and lighting lines from contemporary manufacturers like Diesel Living, Moroso, Bensen, Moooi, Driade and Talenti Outdoor Living.
1700 Stutz Dr., Suite 30, Troy
Interior design studio Verce Design relocated to a larger footprint in the MDC. The new 1,900-square-foot showroom offers a multiline designer trade program, featuring brands like Four Hands and Ambella Home, as well as a variety of lines and furniture that can be purchased off the floor.

1700 Stutz Dr., Suite 33, Troy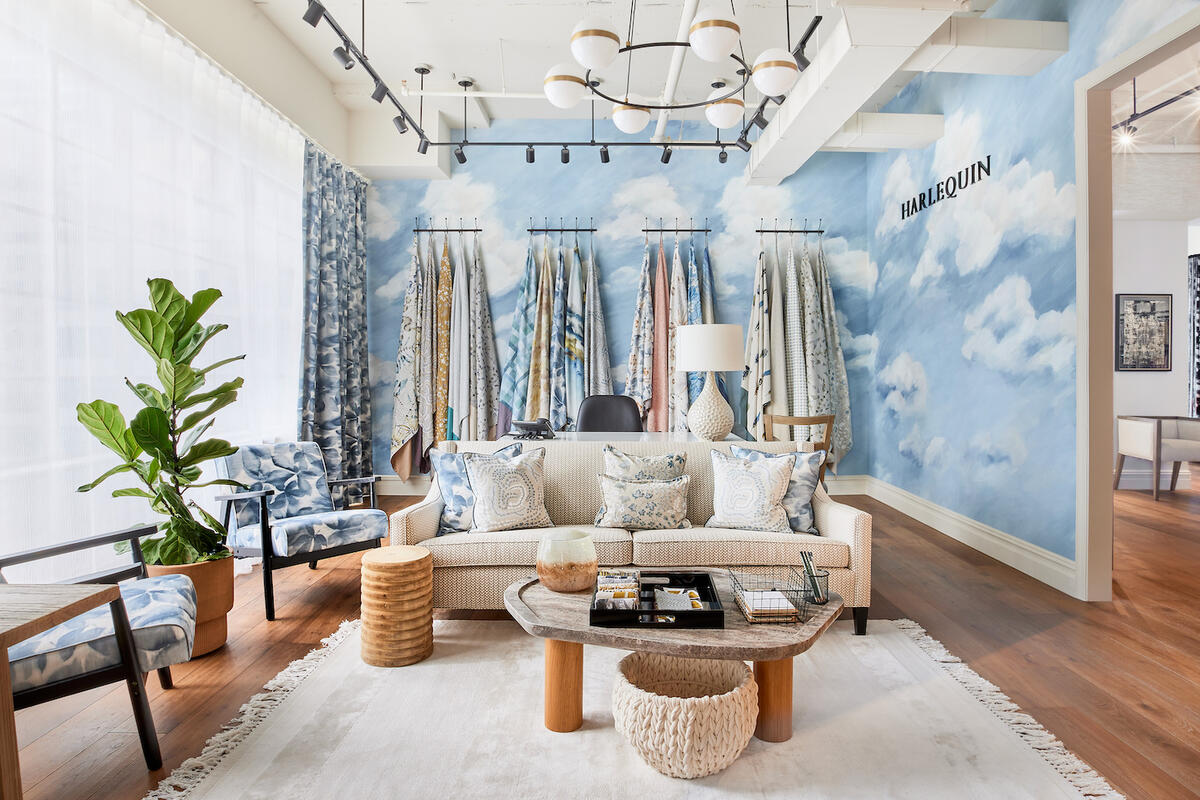 Courtesy of Sanderson Design Group
NEW YORK
British interior furnishing company Sanderson Design Group opened its re-imagined (and relocated) flagship showroom in the Decoration & Design Building. The 4,000-square-foot space is divided into brand "boutiques"—including Morris & Co., Harlequin, Sanderson and Zoffany—to highlight key designs within those new collections, including Morris & Co.'s first-ever outdoor performance collection.
979 Third Ave., Ninth Floor, New York
Creative director and founder of design brand The Crave Collective Cannon Schaub unveiled her first brick-and-mortar store. Created in collaboration with interior designer Brock Forsblom, the space showcases the collective's design brands—including wallcovering company MJ Atelier, French rug producer La Manufacture Cogolin and custom upholsterer David S. Gibson—in an experiential display with a focus on wellness, featuring Schaub's extensive crystal collection.
1123 Broadway, New York
Home and lifestyle brand Finch Hudson celebrated its 10th anniversary by opening a bi-level concept store. Designed by architecture firms Workstead and KDA, the 10,000-square-foot space's first floor houses furniture, tabletop items, art and men's apparel; the new second floor features furniture and new categories, including women's apparel, textiles and bedding.

427 Warren St., Hudson
Heirloom modern furnishings manufacturer Skram opened its first flagship showroom in the NYDC. The 2,500-square-foot space features the brand's finished products—including armchairs, stools and dining tables—alongside "deconstructed specimens" so customers can see the fabrication processes behind the pieces on display.

200 Lexington Ave., Suite 816, New York
Modern design showroom Suite NY partnered with Design Within Reach industry veterans Kedra Cornelske and Perrin Siegel to launch an independent, boutique furniture contract sales and distribution company: C Suite NY. Located in Suite NY's 8,000-square-foot space in the NoMad neighborhood, the brand will feature a curated selection of designs from vendors including Fritz Hansen, Gubi, Tradition and Stua.

419 Park Ave. S, 17th Floor, New York
NORTH CAROLINA
Contemporary furniture and home decor brand Phillips Collection debuted a new showroom in High Point. At 20,000 square feet, the space will be open year-round and features the company's furniture, accessories, wall decor and hand-crafted sculptures and lighting. The showroom will also have a dedicated design center where interior designers and dealers can work with the Phillips Collection's team to create custom pieces and plan projects.
135 S. Main St., High Point
PENNSYLVANIA
Scandinavian kitchen design brand Reform launched an outpost in Philadelphia's Fishtown neighborhood. Its fourth U.S. showroom features kitchen furniture by international designers and architects, including the Copenhagen-based Bjarke Ingels Group and Norm Architects; Belgium-based Muller Van Severen; and French architect Jean Nouvel.
1511 Frankford Ave., Philadelphia
SOUTH CAROLINA
Tabletop brand Juliska commemorated its 20th anniversary by opening a flagship store in Charleston. Created by interior design teams Douglas Little and Patti Wilbourne Design, the 4,000-square-foot space is located on King Street and features retail shopping on the first floor, a workshop studio for classes in flower arranging and jewelry-making on the second floor, and a garden cafe (with food and drinks served in Juliska ceramics and glassware, of course) in the courtyard.
268 King St., Charleston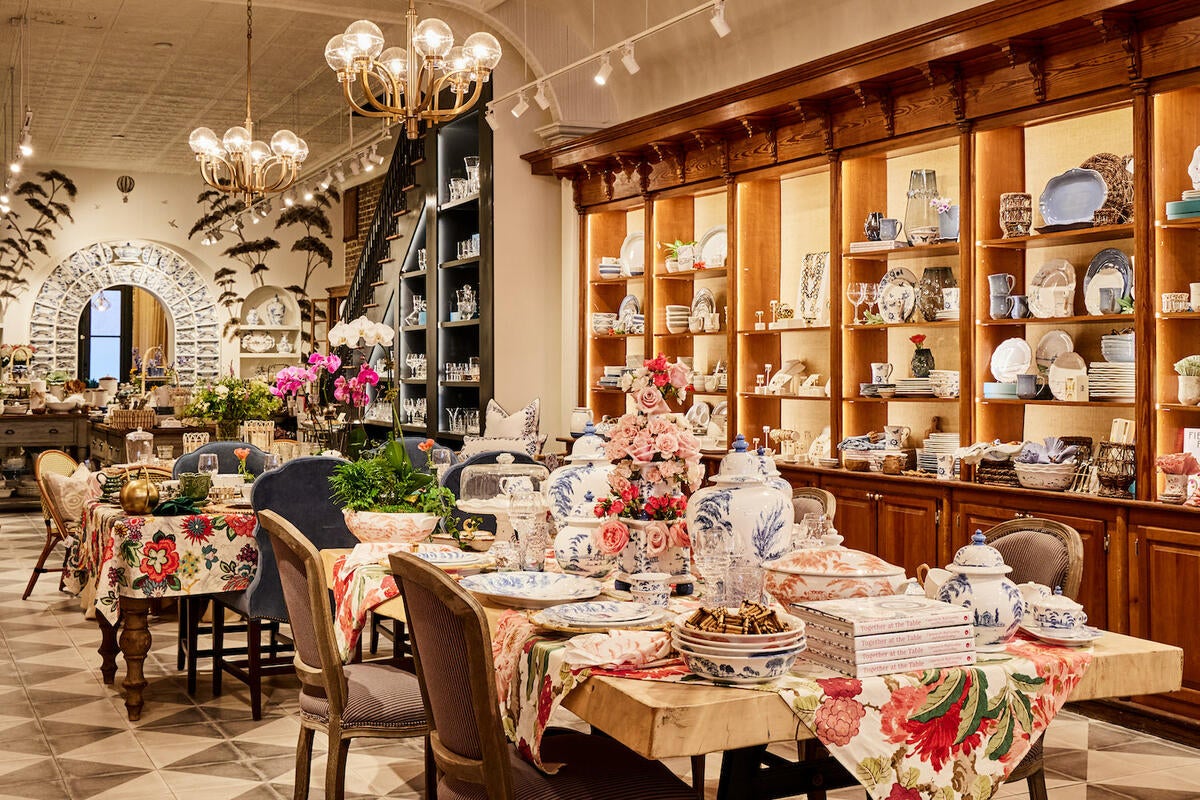 TEXAS
Swedish luxury bed-making company Hästens opened a store in the Knox-Henderson district in Dallas as part of a larger partnership with distributor MadaLuxe Group to open 20 stores across the United States. The space will showcase Hästens hand-crafted beds and mattresses.
4433 McKinney Ave., Dallas
Textile company Kufri debuted a redesigned showroom in Dallas. The 2,000-square-foot space showcases the brand's new product offerings—such as hand-woven throws and blankets that come in a variety of sizes—as well as customization options for special projects including hospitality.

1152 Mississippi Ave., Dallas
Courtesy of the Invisible Collection
INTERNATIONAL
Luxury design and contemporary furniture marketplace The Invisible Collection debuted a new gallery in Paris called Rive Gauche, named after the southern bank of the Seine. The 550-square-foot, three-story, mid-19th-century-style traditional home is curated by Lisbon-based multidisciplinary design studio Garcé & Dimofski, with the inaugural installation titled "Passages." This is the first time The Invisible Collection will mix both vintage and contemporary pieces, paying tribute to philosopher Walter Benjamin's writings on Paris that explored the intersection of history, architecture and culture. Creatives showcased within the installation include contemporary designer Pierre Augustin Rose, London-based interior designer Charlotte Taylor and Korean artist-designer Minjae Kim.
20 Rue Amélie, Paris
Homepage image: Vaughan's new location has big picture windows and walls covered in Farrow & Ball's moody Setting Plaster and London Clay | Courtesy of Vaughan