The best surprise an entrepreneur could ask for: finding out a wealthy country of 300 million wants what you're selling. So it was with The Invisible Collection, the London-based e-commerce platform dedicated to ultra-high-end, mostly European furniture and decor. "It came as a surprise at the beginning, that America was our best market," co-founder Anna Zaoui tells Business of Home. "But knowing [Americans] closely now, we're not surprised. They're early adopters."
Launched in 2016 by Zaoui and her partners, Isabelle Dubern-Mallevays and Lily Froehlicher, The Invisible Collection has quickly established itself as a presence in the trade (designers, the founders say, make up roughly 90 percent of its business in the states). Representing a murderer's row of contemporary French designers—many exclusively—the site is a go-to resource for pieces by the likes of Pierre Yovanovitch, Charles Zana and Aline Asmar d'Amman. Business growth has been quick: The Invisible Collection now employs 50 across three offices in Paris, London and New York.
With opportunity in the U.S. comes the pressing need for an IRL location here. Just this month, The Invisible Collection opened its first, a quiet two floors of a townhouse on Manhattan's Upper East Side.
For digital-first marketplaces, opening a brick-and-mortar location presents some unique challenges. In the rarified air The Invisible Collection occupies—armchairs can run into the tens of thousands of dollars—customers often like to see the merchandise in person before they click to buy. But with nearly 200 designers and 2,000 SKUs, displaying even half of it would take a warehouse.
Faced with a similar dilemma, 1stDibs opted for a "more is more" strategy in 2018, leasing a 44,000-square-foot space on the far west side of Manhattan with 50 vendors and thousands of objects (it shuttered less than a year later, citing issues around the development of the building). The Invisible Collection has taken the opposite route, opting for a small, almost minimally appointed space. One of the rooms, a small, street-facing alcove, has only two objects in it: a stool and a delicate mirror.
The hope is that, by beautifully showcasing a rotating selection, an aura of quality will carry over to the stock that won't fit in a 1,700-square-foot townhouse. "Designers want to see some of the pieces, which is quite fair," says Zaoui. "Obviously we won't be able to show them all, but with the selection we'll do in that space every month, we'll be able to convince [clients] that everything is at that level."
It's tough for any digital brand, but choosing a brick-and-mortar location was particularly challenging for a platform like The Invisible Collection, which resists easy categorization. With its focus on the trade, customization and a wide range of furnishings, the site feels in some ways like a multiline showroom—one that might be at home in a design center. But though the founders take pains to point out that the townhouse is only a 10-minute walk from the D&D Building, they're just as adamant that The Invisible Collection doesn't belong there, or in 200 Lex either.
"We couldn't imagine it," says Dubern-Mallevays. "I love design districts; they're super efficient, but it's not at all our mode. For our designers, it would be impossible to be in a design center—they need to express something in a real space." Perhaps unsurprisingly, she's not a fan of using the term "showroom" to describe her company's new location ("townhouse" or just "space" is preferred).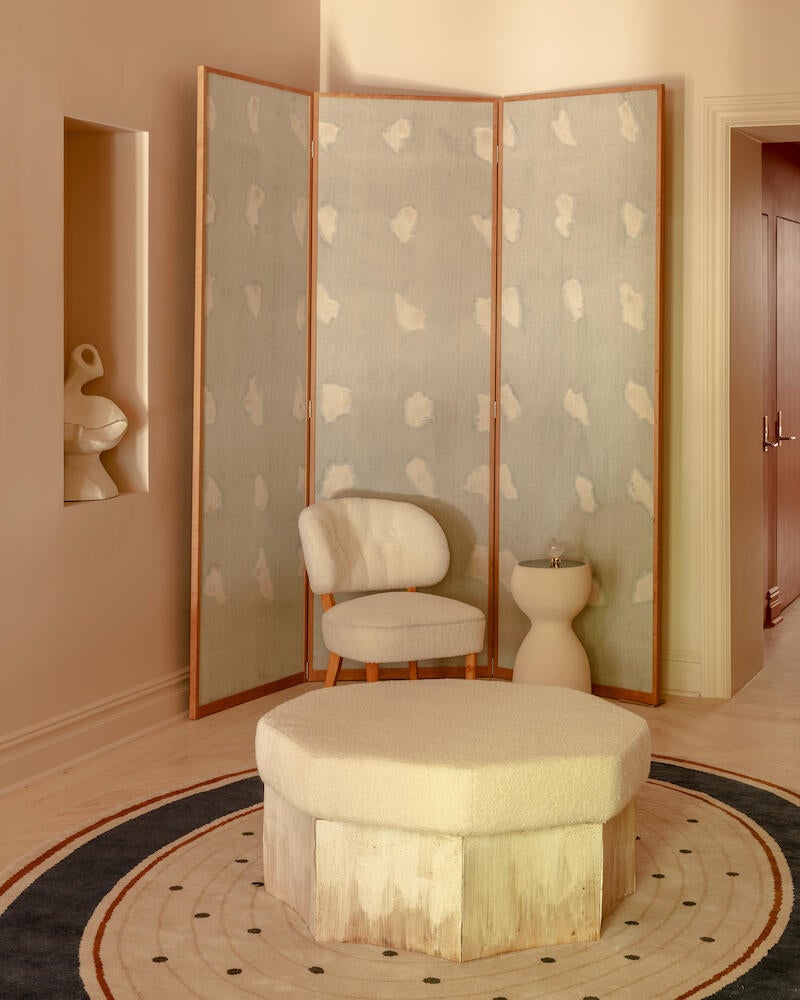 On the other side of the coin, with its rare objects, high prices and focus on design as art, The Invisible Collection could have gone to Chelsea and positioned itself as a gallery. That too wasn't a fit for the founders' vision. "Since the beginning we were looking for a place that was more of a home—not a gallery for sure," says Dubern-Mallevays. "It's about the lifestyle, the way guest clients arrive and feel at home and in a quiet environment," adds Zaoui. "Like being at a friend's place."
In truth, the showroom doesn't exactly feel like a spot where one would plop down a bag, cop the WiFi password and kick back on a sofa. It's an elevated space. But it's a welcoming one, and with a serene design by Lisbon-based duo Garcé & Dimofski, a more cohesive experience than many multi-brand showrooms.
It also represents a coup for Zaoui and Dubern-Mallevays in the form of a partnership with an even more rarified brand, Chanel. The French fashion house has partnered with The Invisible Collection to display a handful of decorative pieces made by members of its Métiers d'Art program.
The opening of the showroom comes at a pivotal moment for The Invisible Collection and the design world more broadly. In some ways, high-end furnishings is one of the last frontiers for e-commerce penetration—there is neither a clear large-scale winner (an Amazon or Wayfair, for example) nor a robust landscape of established tastemakers (like the roles SSENSE or Net-A-Porter play in fashion).
It's a gap that a growing number of brands are eager to fill. You see evidence of that rush in everything from 1stDibs's pursuit of its "new and custom" category to Perigold's recent hires to The Expert's plans to tackle e-commerce to the launch of editorial-driven sites like Afternoon Light. There's a quiet sense of urgency among the players in the space—a feeling that now is the time to cement a position online before it's too late.
The tricky part is that the normal rules of the high-end business don't apply. Pricing is more transparent. Establishing an elevated tone and the authority of luxury is challenging online. Acquiring customers is an expensive grind, and it's difficult, if not impossible, to get exclusivity agreements with vendors. Business "moats" are hard to come by.
Its founders say The Invisible Collection's strength has always been, and will always be, its curation and ownership of the tip-top of the food chain. "We're in this very specific niche—the top interior designers in the world. We have 50 percent of the names on the AD100 list," says Dubern-Mallevays. "For sure, we are alone in this niche." (Though some of the platform's vendors sell in other venues, she says that many have left sites like 1stDibs in favor of The Invisible Collection after finding the competition 'too crowded.')
In that light, a spare, elegantly appointed townhouse is just another piece of the puzzle: a highly curated showroom for a highly curated online marketplace. Though Zaoui declined to share the length of the lease the company signed on the Upper East Side, she made it clear this isn't a pop-up: "We're here to stay."
Homepage image: In The Invisible Collection's Upper East Side space, Pedro Batista paintings compliment the Garcé & Dimofski's Helios sofa, Osci bench and Turu coffee table by Ian Felton x Garcé & Dimofski | Sean Davidson