The 50 States Project is a yearlong series of candid conversations with interior designers, state by state, about how they've built their businesses. Today, we're chatting with Morgantown, West Virginia–based designer Stephen Shutts about building up the confidence to say no to a job, why networking with design professionals is so important, and how a welcome packet for prospective clients has transformed his practice.
You discovered the design industry because your aunt was an interior designer. What kind of impact did that have on you?
Seeing her work really educated my eye from a young age. She also traveled extensively, and I remember being so enthralled by all of the random artifacts she would bring back from her travels. She had this amazing library in her house in Charlotte, North Carolina, that was filled with all these incredible things from Europe, the Middle East and Asia. I didn't see that anywhere else.
After studying interior design in college, you founded your firm immediately. How did you decide to take that route?
I had a friend I'd grown up with whose parents were getting divorced, and I ended up working with both of them on their homes—basically redoing the dad's house and then working with the mother on a new build.
Wait, they both hired you?
Yes. I knew them really well—this is somebody that I had gone to high school with, so I had been around them for years. It was very easy and very casual in that sense.
When I redid the dad's house, it was over a long period of two or three years, doing one room at a time. I just chipped away a little bit here and there as he was ready to do it. With the new build, it was a completely different situation and we were selecting everything simultaneously, which was quite a contrast. It was great to have those two as my first projects. I think they both knew that I kind of knew what I was doing and they just let me do it.
And you've been in business ever since?
Yes—coming up on 12 years doing this.
How do clients find you these days?
The three biggest for me are word of mouth, my website and Houzz. I have sort of mixed feelings about Houzz—I really liked them in the beginning and I don't like them as much anymore, but people do still find me that way. In fact, I had someone that called me literally two hours ago who is moving up from Charleston, West Virginia, and he said, "I found you on Houzz." So it still works.
Do you pay for placement there—or anywhere?
I don't. I've never really felt the need to pay for advertising, because I don't have a lot of competition. If you're in this area and you're searching for a designer, you're probably going to find me.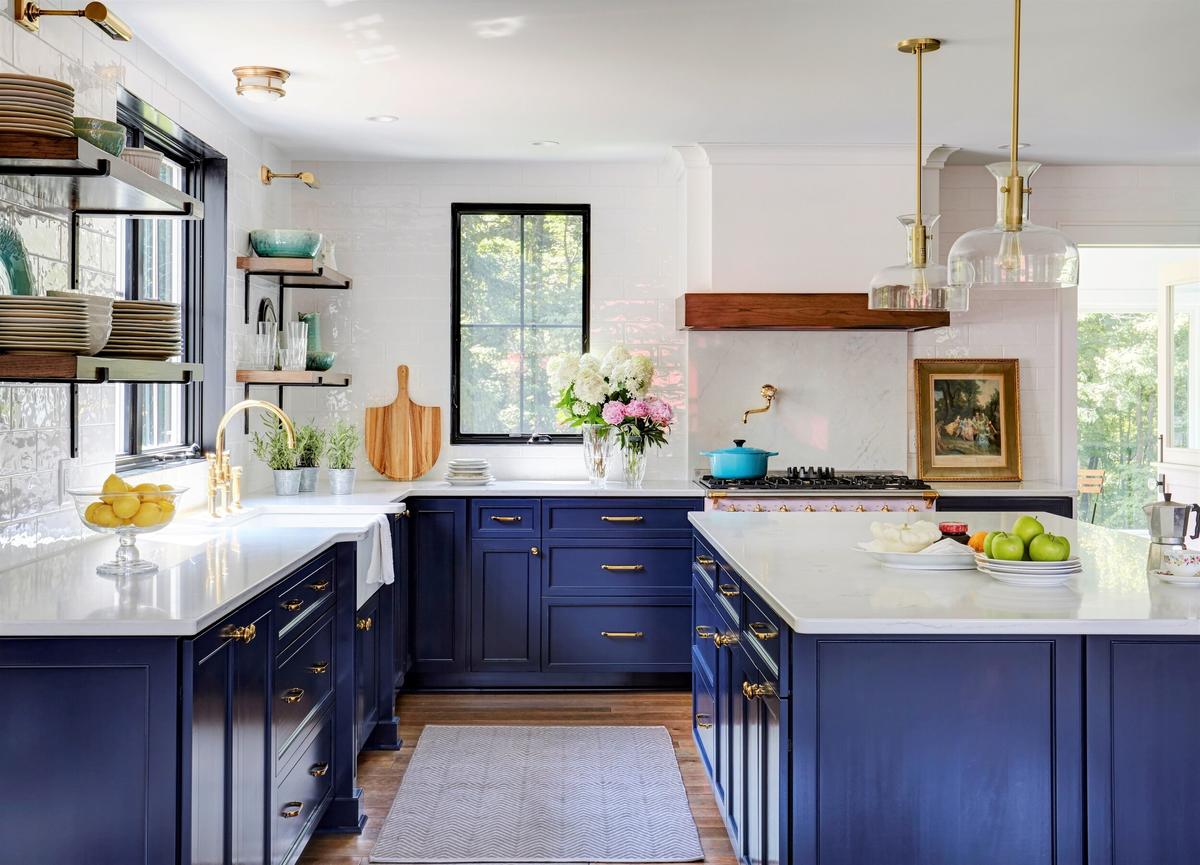 That's such a unique perspective to have. Are there other areas of your business where you've felt the impact of not having a huge design community?
Photography, for sure. That element has been really important for me. I work with Michael Kaskel—he's based in Chicago but he travels all over the country, and it's been amazing to have him because we don't have anybody here that specializes in interior photography.
How did that relationship develop?
He does a lot of the photography for kitchen and bath showrooms, and one of the showrooms that I work with here locally mentioned that they had hired him to do a few projects. I had a project that I needed photographed at the time, so I just reached out to him and was like, "I hear you're going to be in my area—any chance you have time to come out and shoot a project for me, too?" He did and I've been using him ever since.
Are you doing your own styling, then?
Yes, he and I work together on that. I usually style it the way I would, but of course he has the photographer's eye, so he'll come in sometimes and move things around and say, "We're going to capture this from this angle, so this needs to be over here." That kind of thing. That first project was the most fun—I had him come in for two days and we actually stayed there at the house together. On the second day, when the clients were there, I rented a horse for the photos.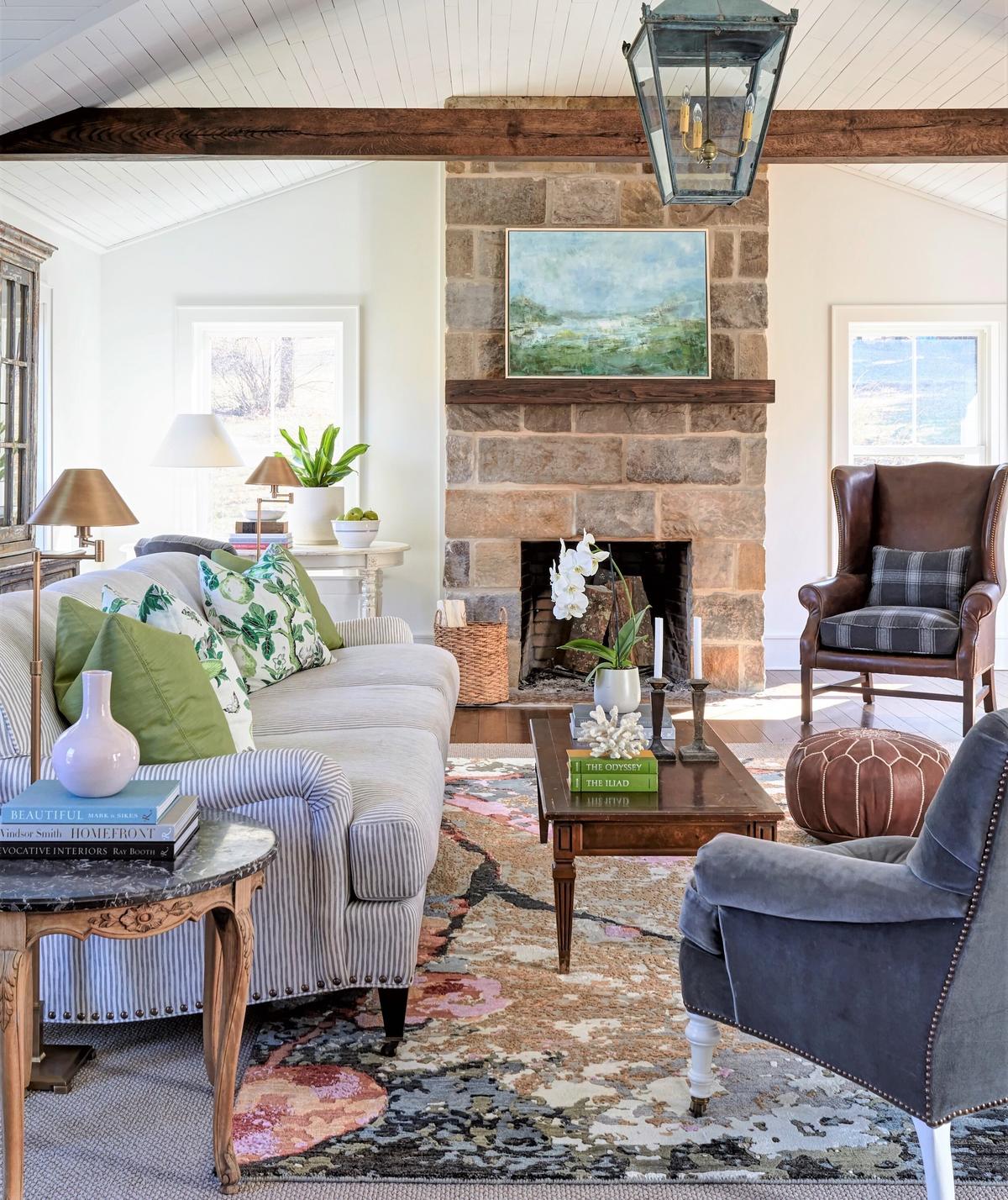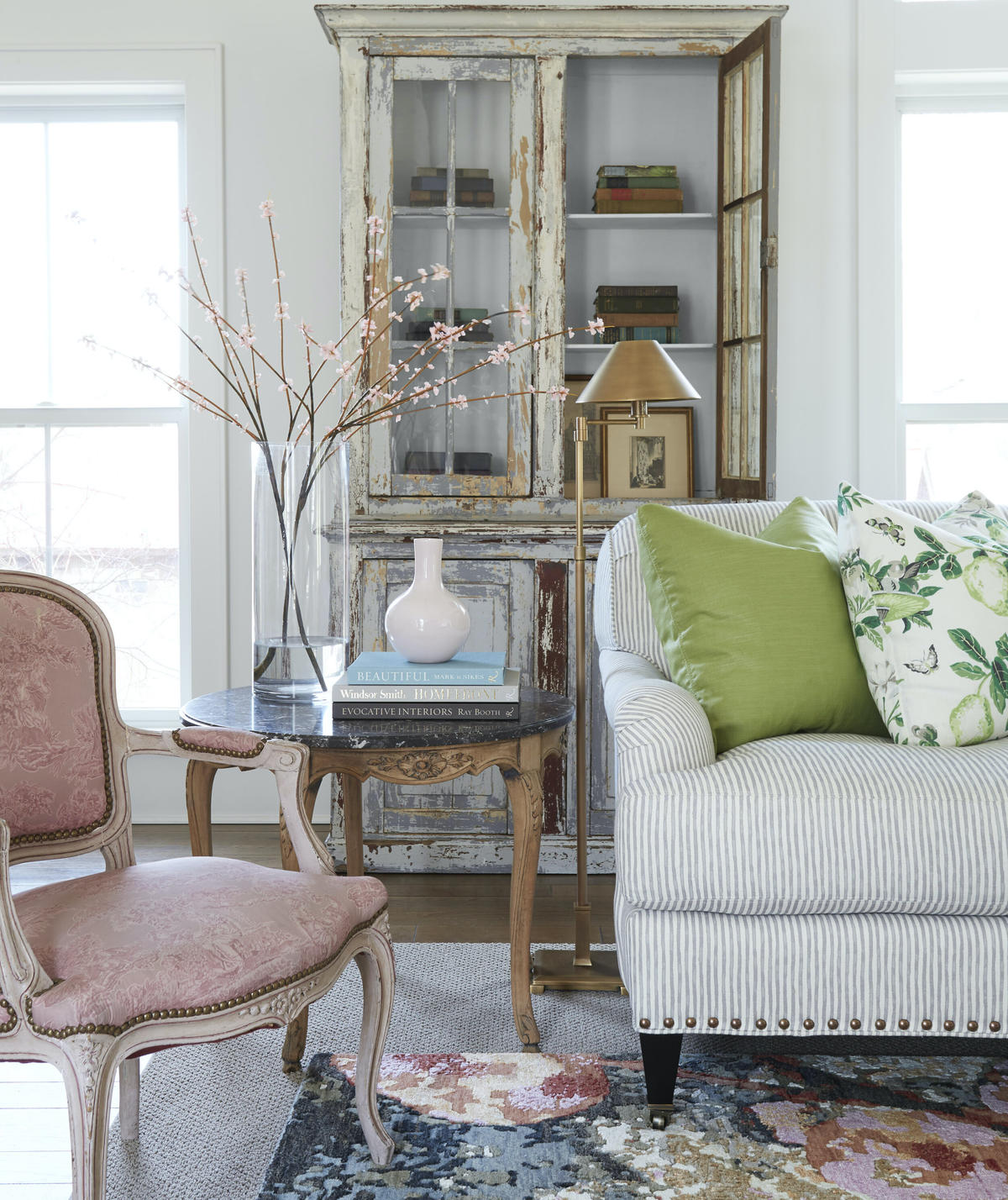 You're kidding. That's amazing. What inspired that?
That house had such an equestrian aesthetic, and even though it's almost 100 percent European pieces, it also has a bit of a West Coast vibe as well. I had a Madeline Stuart project that was in Veranda years ago in the back of my mind—it had a similar Mediterranean aesthetic and there was a horse in the photos, so I thought that it would be perfect to have it in front of the house. The house is close to several places where you can go to ride, so I called one up and said, "Is there any chance that I can borrow a horse for a photo shoot?"
The day of the shoot, they actually brought two horses, one darker and the one in the shot—we did it with both and the coloring of that one was perfect. I think it cost me $150, which was nothing really for half a day with the horses. It was awesome, and the homeowners loved it. The wife fell in love with the horse and I think she wanted to buy it.
Did it get published that way, as well?
Unfortunately, the horse didn't make it into the magazine, but that's OK—I have it, so that's what matters.
When I was doing my research for this piece, I was struck by how small the design community seems to be in West Virginia.
There isn't a big pool of designers here for sure. It means I have to travel for resources—I go to Washington, D.C., frequently because that's the closest design center. Pittsburgh has some, but not much. It's also nice to be in an environment like New York or Los Angeles where you have other people around you who get you, who understand what you do. That is one thing that I don't really have here that I do miss.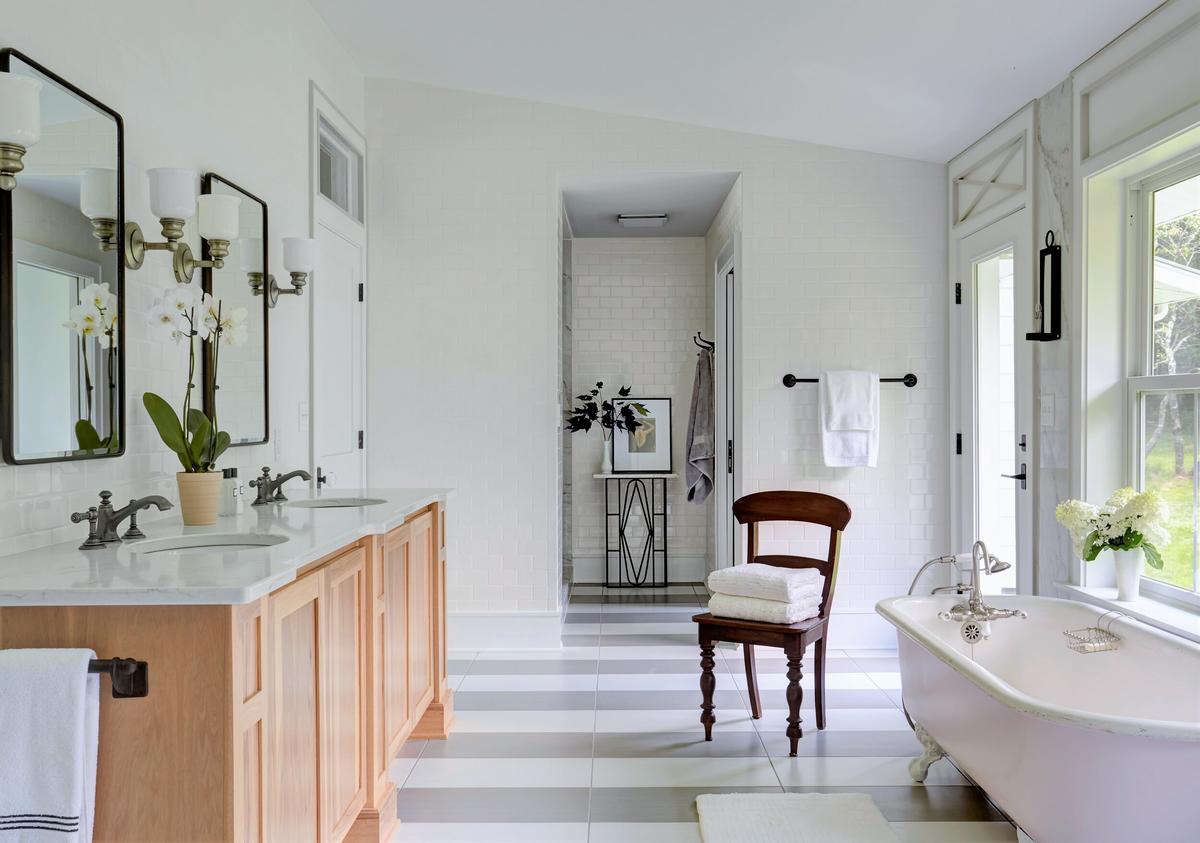 You mentioned going to D.C. Where do you shop most often and how do you source for projects?
Typically when I would travel pre-COVID, I was combining trips—I'd rarely go somewhere for one purpose alone. So let's say I'm in L.A. for Legends—I'll also take that opportunity to go to a specific showroom out there for a project I'm working on. Now, if it's a really large project and I'm on a time crunch, then I'll make it happen—I'll just go and do it. But typically I try to combine it with something else.
How many projects are you typically working on at the same time?
Usually between three and five.
How big are those? Are there things that you'll say no to because the scope is too small?
There are things that I say no to at this point, but it's not necessarily about the scope of the project—it's about whether or not I think that it's something where I can really help, for lack of a better word. Oftentimes I'll get people who send me photos or links to a new home they're thinking about renovating and I'll say, "OK, what all do you want to do here?" If they say they only want to do some furniture here and here—but I know that it's going to take way more than what they want to do to get it to where it would need to be—that's the kind of thing I'll decline.
How often does that happen, where what people think they want doesn't line up with what they actually need?
It's quite common, and actually I've been getting that a lot lately. Of course now that people are stuck at home more than ever, they want to change their home office or something like that. But at least in my area, people aren't looking to do a gut reno. And again, if it's something where I feel I can really help, I'll take it on, but I try to be cautious about taking on too many smaller projects, because it's just not as enjoyable for me.
What does your team look like?
It's always been just me.
Is that a choice, or by necessity?
I just haven't felt like I really needed someone else, full-time or part-time. There have, of course been times where I've thought, "I really need another set of hands." But to actually bring someone on with a salary, it's just not something I've ever felt that I really needed.
It seems like you have a real community of people in the industry all over the country that you can call up to talk about business. How did you build that?
I do feel like I'm a full-time networker sometimes. I didn't have a choice not to do it—again, because of where I am. I can't just walk down the street and be at a design center or go to a seminar. Especially when I first started my business and wanted to get published so badly—less for the clout of it and more because I had always thought on the horizon that I would eventually be looking for a job somewhere else, and I thought having [a published project] in my portfolio would be a huge thing—whenever I did go to events, I always made sure that I introduced myself to the editors and to other designers. I just wanted to make sure that people knew who I was. And for the most part, I've had really good experiences with that!
How do people see interior design as a profession in West Virginia?
We're living in a time where interior design is both more and less respected than ever before. There are so many TV shows, plus social media, so more people than ever know that it exists as an industry. But people also think they're their own interior designers more than ever. Maybe this is more common here than it is in cities, but I think a lot of people have this misconception that the process of working with an interior designer is much more casual than what it really is. Sometimes I think people are surprised when I send them a contract! It's like they think we're just going to go to Pottery Barn together and pick out a few things, and then we're going to go to brunch and call it a day.
They're looking for a friend.
That—or someone to reaffirm their opinions.
How do you avoid those jobs?
Usually I can find an amicable way of resolving whatever the problem may be, but there have been a few times where I've just had to say, "This isn't working, and it doesn't make sense for us to continue on this journey." In those moments, it's the best thing to do because you don't want to be working with people who drain your soul.
Did it take time to get the confidence to walk away from a job?
I had a really difficult situation about five years ago working on a renovation that was about an hour and 15 minutes away—not that far, but enough distance that I couldn't be there constantly. I wanted to bring in my people that I work with, but the husband had people that he wanted to work with. I didn't know anything about them, I had never worked with them before. It was a huge learning experience for me after issues arose with the execution of the design. It was a reminder that it's important to know the people that you're working with—not just the client, but all of the people who are working on the project, because of course you're only as good as the people working on it with you.
So when you come to a project now, you are saying, 'If you hire me, this is the team you'll hire to support me.'
Typically, yes. It's so important for people that I'm working with to understand my process, and for me to understand their process, and to make sure that if we need to have a really difficult conversation, we've been there before, we can do it, and it's easy. I think when you're working with someone that you've never worked with before, barriers come up and sometimes things that need to be said aren't said—to the detriment of the project.
Regardless of where you are—in the level of project you're working on, the scope, the budget, whatever—I think as designers we all deal with the same things. Not long ago, I had a client who reached out about a chair that was damaged—something had happened with the leg and she wanted me to help repair it. A few days later, you guys had a column asking designers if they have a clause in their contract about assisting a client with a product after the sale; I hadn't had anything like that in my contract before, and I thought, "OK, I need to add something about this."
How do you communicate those things in your contract with your clients?
I have a welcome packet—a PDF that outlines, I guess you could say in layman's terms, what a designer really does, how we do it, how we charge, how we make money, the fact that we charge for our time, and the fact that we are making money on product. That way, it's all out in the open and gets that out of the way. And then my client letter of agreement is in a way saying the same thing. It's just deeper, and of course it's in legal terminology.
That's brilliant. How much have you interacted with clients before they get that packet?
It depends. With most people I haven't really interacted much. Sometimes someone will call and I'll have just a very simple conversation over the phone; sometimes they'll reach out on Houzz or they'll send an email and I'll follow up to see what they're looking for. Either way, I'll pretty much immediately say either, "This sounds like something I can help you with," or "It doesn't." If it is something I can help them with, I'll send that PDF out at that point.
When did you start doing that?
Actually, this year. Before that, I had always just sent out my contract and left it at that. But I found that I was getting the same questions over and over again. A lot of people don't know the process—I think you find that everywhere, but maybe especially outside of cities and in smaller areas—and so I think it's up to us to educate people on how this works.
Have you seen a difference as a result of that letter or packet?
Yes, I have. There are less questions and I think it's just clearer. People understand what they're getting into right from the beginning, which makes everyone's lives better. I've also had people who will say, "Actually, I've changed my mind. This isn't something I want to do." That's not necessarily a good thing—it's not like I want to be sending business away—but also if they read that and realize it isn't something they want to get into, it's better to have it happen before the project starts.
What were some of the biggest things you wanted to demystify with that welcome document?
Definitely the fees. Designers work in a lot of different ways. I charge for a consultation and then bill hourly, but I collect a retainer upfront. Sometimes people don't understand—even though I have it all written out in my contract—that billable time is for anything that we're doing on behalf of the project. I have had clients that were under the assumption that once the design itself had been done, they were done paying me; they didn't understand that doing all of the other things that were required to get the job done—like meeting with the contractors, picking things up, delivering things—that's still all billable time.
And all of that execution can be so time-consuming.
Exactly. So I felt it necessary to reiterate that and make sure that's 100 percent clear. The other thing I wanted to emphasize was regarding product. That's something else that people never really understand: Are you making money off the product? And if you are, how much? And why? And again, everybody does that differently. I do not say specifically what my markup is, but I do make sure that people know that, yes, I am making money off of this product—and I should be.
I love that you added that 'and I should be.' What does that mean to you, and how do you describe the why to the client?
I have a really good friend and colleague, Tammy Randall Wood, who is a designer in Los Angeles. I was explaining my frustration with this one day and she said, "I just wrote an article about fees—you should check out this blog post." She had this analogy that I use all the time: Imagine that you are commissioning a piece of music. The design fee is what you pay to have that music written; the money that your designer makes off the product is like paying the conductor to show up and actually conduct the piece at the concert. And I love that, because I think that makes it so much easier for people to wrap their heads around.
How did you land on your billing methodology as the right one for your business?
When it came to figuring out fees, I remember I just did a lot of research when I very first started and asked a lot of designers how they did it. I've been in business for over 10 years, so I have of course increased my fees over the years from what I had when I started, but I do feel that for this area, there is a bit of a threshold. I know a lot of people who take a really large retainer upfront, or people who do a flat fee—that kind of thing. But it's really hard for me to do here, because it scares people away a bit.
They wouldn't want to write that big first check?
Exactly. Even though there are people with really large budgets here, it's still just not in the culture, to expect someone to give you $100,000 upfront.
As you look ahead at 2021, what is your biggest challenge right now?
I'm coming up on 12 years of having my own business here, and I'm actually at a point where I want to make a change. I want to stay in the design industry, but I am ready for a geographical change. In fact, I was hoping to do that in 2020. I would like to work with a firm that has architecture in-house. I want the experience working with other people—something that's more collaborative.
What kind of role would you want to carve out for yourself?
A senior designer at a small firm. I don't want to be in a massive firm—I still would like to be somewhere that's quite small and very specialized. So that's my challenge: I've been looking for something that feels right for quite a while. It's hard, because I'm doing it backwards. Most people go to work for someone else before they start their own business.
Does it make you nervous to think about going to work for someone else?
It does a little bit, for sure, but it's something I want to do. I don't really enjoy the business side so much, and I don't want to deal with that for a while.
You mentioned that you want to make a geographic switch, as well. Why is that?
If I wanted to stay here long-term and really expand, I think I could. But I want that high-end, very sophisticated client, and while we have some of that here, it's just not enough. Maybe this sounds kind of cliché, but I love work that is very poetic and romantic. Here, most people want their homes to look and feel good, but they just want the basics. They aren't concerned about the right proportion of a staircase, but that's the kind of thing that gets me going in the morning. Those are the details that I really love. I've had some projects where I've been able to do that, and that's been great, but it's too few and far between.
Most of my family is here, and I don't want to be a plane ride away, so I'm looking in the D.C. area, and then a little south, possibly [as far as] Charlotte, North Carolina. I love L.A., but it's just too far.
When did you start to think this might be a change you wanted to make?
It's always been in the back of my mind. It was never my intent to start my own business so soon, and I think I always just thought at some point I would be like, "OK, it's time to make the change." But every time I finished a project and would start to think it was a good time, I would get another great project. And it's hard, too, because you still need to be making money.
Are you coming up on that moment when you can exit from your firm again?
I think so, yes. I have a couple projects now that I'm going to be wrapping up by the end of the year, so I feel like that would be good—but then, like I said, I had an inquiry just today from someone. So then it's like, "OK, do I take this on?" The Catch-22 is that I can take on smaller projects that don't go years into the future [to tide me over], but the ones that go years into the future are the great ones.
For so many people, part of the appeal of having your own firm is your name on the door, or your name in the magazine. How have you rethought that part?
I would be lying if I said that I haven't thought about losing that after I've been working as long as I have, and been successful, and been published. But for me, it's about certain kinds of projects that really do get me going, and I think if I had even one or two of that kind of project a year, that would be so motivating and inspiring for me. At the end of the day, that's really what I'm looking for. Of course there's all the normal, boring things about making a living and having good insurance—those are important. ... But I just want to do the projects that really speak to me.
To learn more about Stephen Shutts, visit his website or find him on Instagram.