The 50 States Project is a yearlong series of candid conversations with interior designers we admire, state by state. Today, we're chatting with Minneapolis-based Ruth Johnson, who entered the design profession working for an architect before launching her own firm in 2012. She talks about a bold idea that jump-started her career, her incredible first solo project, and the role of design in healing a city and building a better world.
What first piqued your interest in design?
When I was a little girl, I was always rearranging shelves—and then, once I was big enough, furniture and my parents' art. If I was in a friend's home, I would excuse myself to go to the bathroom and I'd have to check it out—peek in the rooms and go on a self-guided tour. My dad was a commercial designer, my mother was a teacher and a seamstress, and I just always loved architecture and materials and textiles. It filled me up.
So did you know from an early age that's what you wanted to do professionally?
No, it was just something that I always had a passion for. I also loved to write, so I went to school to be a journalist and ended up doing English literature and women's studies. After graduation, I worked for KLM Royal Dutch Airlines as an administrative assistant, so I could travel a lot for fun. Again, I found that my interest was always architecture and interiors—I'd wonder: What do their houses look like in this country? While I was working at the airline, I went back to tech school and started taking interior design classes. Then I went to work in a modern furniture showroom.
What was your role there?
I ended up managing the showroom for two and a half years—doing the buying and the merchandising. We've had a big wave of modernism going on for the past several years, but not so much 20 years ago. I wanted to create more traffic in the showroom, so I contacted one of the only modern architects in the cities [of Minneapolis and St. Paul] at the time and his builder, and asked if I could furnish one of their modern homes to do a home tour. I didn't know them, I was just familiar with their work. They said yes. And so, without ever meeting "the architect" or "the builder" directly—it was all emails and assistants and floor plans—I did it. They pretty much gave me carte blanche. I followed the color schemes of the homeowner that was going to be moving in, but I picked colors and ordered furniture, picked out art and some light fixtures, and had my team install it. When the architect walked in, he said, "Who did this? I want to meet her." And I worked with him as his principal designer for 12 years.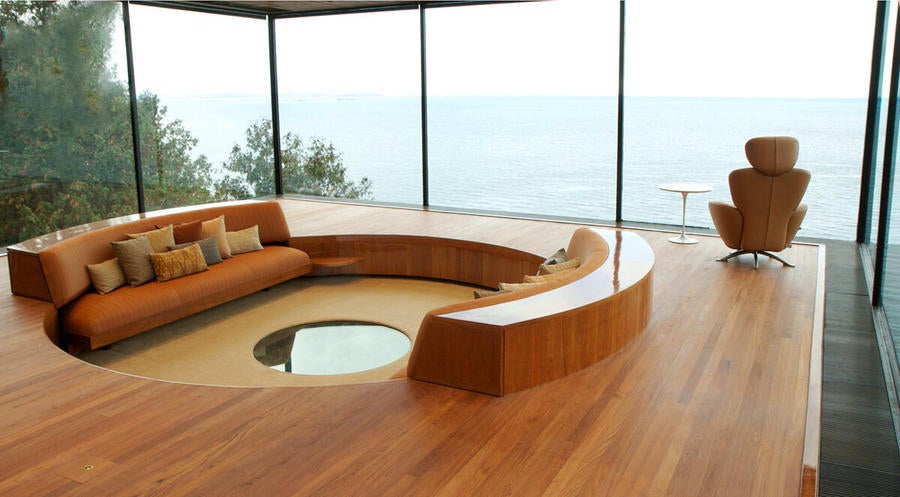 Going from a job in a furniture store to an architecture firm—what was that experience like?
It was the most amazing experience. I worked with really talented builders and architects. I was mentored, you know? Those projects would take two to three years from start to finish, sometimes longer, and we'd have a few going at a time. I learned the architectural, contracting and building parts of it.
When did you get called into a project, or were you at the table from the beginning?
What was nice about working with the architect was I was right there. Always. From the beginning. And that enhances the architecture, because we're honoring the architecture from the get-go. It was a great process to build the project with the architect, the builder and the client from start to finish. That's the ideal situation.
How has the city's relationship to modern design changed?
When I started, there were very few modern and contemporary furniture stores open to the public. Everything was pretty traditional unless you went high-end European. There are a lot of young architects out there now doing modern architecture too. I don't know what brought it about, but slowly there was an awareness. And then that whole midcentury modern craze—when I was in college, I was finding Russel Wright dishes and Eva Zeisel dishes for a buck here, or $30 for a piece of furniture. Now ...
It's a million dollars!
Yeah, you can't do it!
Does the popularity of the design style change your relationship to it at all?
Yes, it has. I still love it, but it is everywhere now.
I think the modern classics are just that: classics. They always will be, and I'll always have a love for them, for their design—things like the Saarinen table that are architectural in nature. It seemed so pure early on, right? Now, because it's popular, furniture manufacturers are putting their own twists and turns on it and it's become muddier. In some ways it's kind of good, because it's been introduced to a broader audience. In other ways—there's still an integrity to the more architectural, original modernist designs. Not that there isn't room for new. There is. But the originals are what I gravitate to and love.
Does it change what people are asking you for? If you get a client that's like, 'I want modern,' what does that mean today?
What's changed is a lot of my clients—not all, but a lot—can find really beautiful handmade or artisanal modern pieces that I'm not even aware of if they travel or are on the internet. They'll find them and say, "Ruth, are you familiar with this artisan?" or, "Are you familiar with this studio or workshop?" There's just more accessibility and more out there.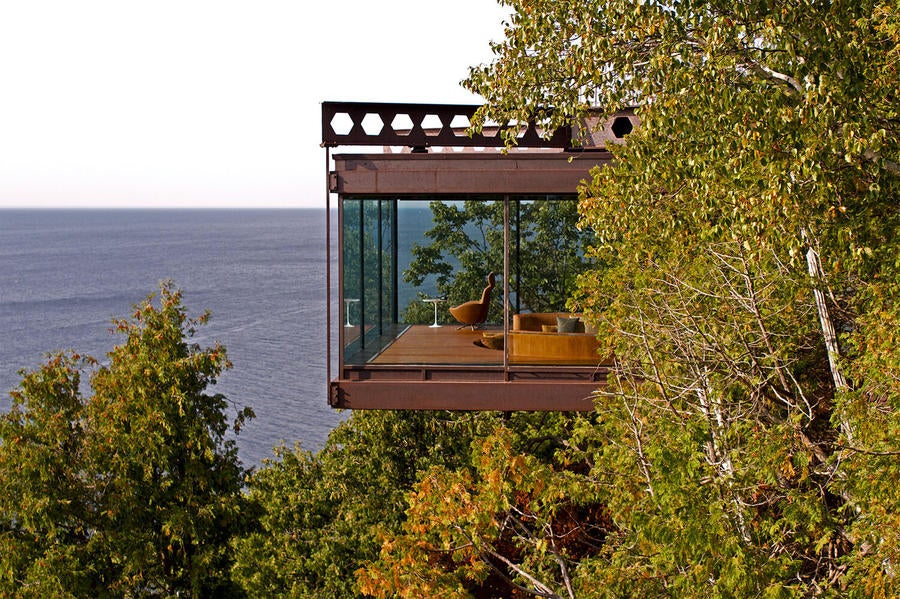 For so long, part of a designer's role was a bit of a gatekeeper—someone who helps you discover and curate. Now that clients can discover too, is that good or bad?
Clients are faced with an infinite amount of design options and possibilities, and this can be confusing and daunting when trying to make sense of the quality and value of good design. Hiring an interior designer streamlines the selection process. With my clients, I stay really open to their ideas. Sometimes what they find is more inspiration. They're like, "Ruth, I don't know why, but I'm gravitating toward this—what do you think?" And then they give it to me and I do something else with it.
When did you start your own firm, and how did you know it was time?
It was in 2012. Sometimes the universe just opens a door, kicks you in the butt, and says, "It's time to move on your own." I was very fortunate to start with an amazing project: a cliff house by the [prominent Chicago-area] architect Harry Weese, [whose style was influential during the 1960s and '70s].
Wait, that was your first solo project? What's the story there?
A former client had purchased the house. He grew up in Chicago and his family summered in Door County, Wisconsin, which is kind of like the Nantucket of the Midwest. He and his father sailed on Lake Michigan, and would sail by that cliff house when he was a kid. And then he finally had the opportunity to purchase it.
It was designed [in 1968] by Harry Weese—he also did that funky brutalist church in Chicago on Wacker [Drive], the Seventeenth Church of Christ, Scientist. He also did the Swissôtel nearby—he was pretty prolific. He was best friends with Ben Heineman, who was involved with the Chicago transit system and had a property in Door County. Ben asked Harry to build him a home office for the summers, but he didn't want to see it from his main house. He said, "I want it to be modern, and I want to feel like I'm on a yacht."
And this was the result?
That was the result. After it was completed—and it was his office, but it also had a bathroom with a shower, a cocktail bar and a kitchen—the interior was done by the famous yacht company Palmer Johnson.
So, there's a kind of funny story: Ben wrote it off as his home office on his taxes and the IRS said, "No, no, no. You can't do that." This was before people did the home office thing seriously. So he wrote it off, they said no, he took it to court, and he won—and that's why we can write off our home offices.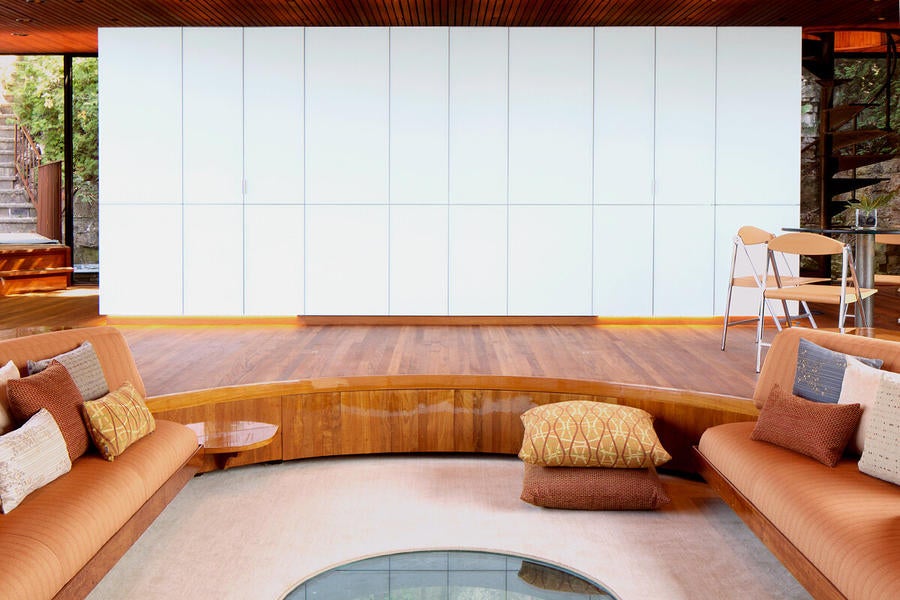 That's amazing.
That project was a labor of love for my client. You have to go over a little bridge to get to the door, because it's built right into a cliff, and when I walked up to it for the first time, he and his wife at the time stood aside and said, "You should experience this by yourself first." When you open the door, you look straight through the glass onto Lake Michigan. You're on the treeline.
What kind of work was involved?
Our goal was to update this space while keeping the integrity of the original design. For example, the built-in sofas were reupholstered. The custom glass-paneled box, which was originally plywood, houses a Murphy bed, the kitchen, storage and full bathroom.
How did your firm grow from there? How do people find you?
For the most part, my clients come from referrals and then they're repeat clients—their second homes, renovations or additions, that kind of thing. It's always hard when you're a small business owner and a designer, because you've got a lot of balls in the air. Now we have an amazing PR person, so I'm trying to grow my business with more marketing. A lot of it is reaching out and being part of the design community. Participating in the community is probably the most powerful way to get clients, and it's something that I'm working on personally.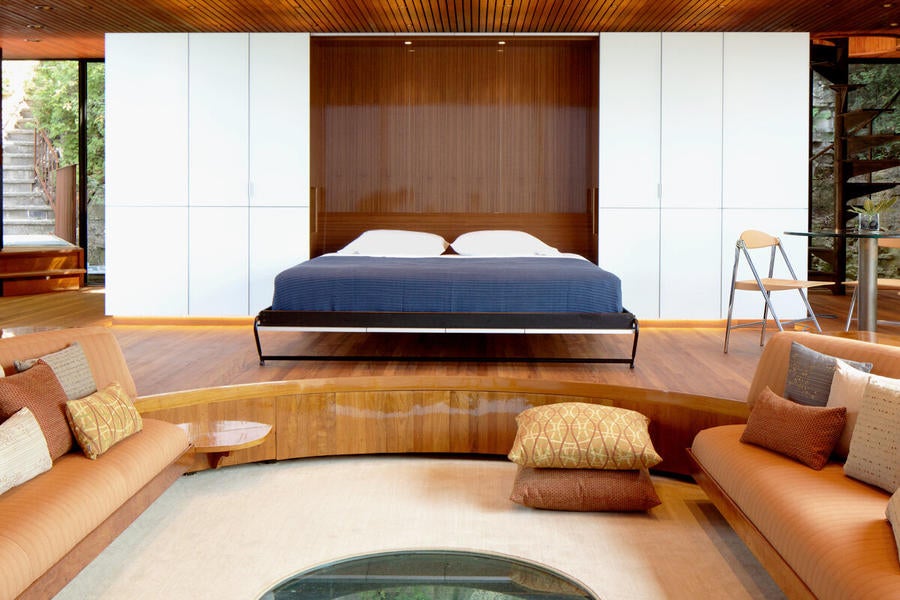 How have you approached billing as a designer? I would imagine it was different than what you learned from the architecture firm. That has to be a really interesting shift.
It was much different working for an architecture firm! That's a tough one, though. I'm constantly reading, asking other designers, and even thought about hiring a business coach to help me. Right now, I have an hourly fee. I spell it out in the contract so it's very clear: my hourly rate for design time, and then a lesser fee for travel time beyond 30 minutes. And then I charge a markup on the cost of goods, and I let my clients know that it's a certain percentage above my cost.
Is there pushback on that?
It's pretty well-accepted [with clients], but it's hard not to sometimes question yourself—or undercut yourself. You have to be very disciplined and remember that you're elevating a person's workspace or living space and that's an invaluable service. But I am constantly thinking about [it].
I did a small job for a nonprofit organization last month, and I changed my fees a little bit because they were nonprofit and they were hurting because of what was going on in the world. I was like, "I can still make this profitable and help them and feel good walking [away]."
Have you adapted that model as you have hired more people?
I haven't, no. It's good to have people around you to support you and say, "Hey, are you really charging enough here?" I've found that I am more profitable because of my team in terms of the ability to take on more projects and be more efficient with the work. I spend less time on paperwork and more time on design.
Tell me about the design scene in the Minneapolis area.
Minneapolis has a strong, talented design community. Since launching my own business, I have realized the importance of networking with other designers and design trade members. Networking and sharing our experiences strengthens, supports and informs us as individual businesses and as a design community.
Right, like a peer group.
By reaching out to my peer group, I've created a network of professionals and friends to talk about our businesses and share ideas—from how to be better designers to design fees to how to contribute and give back to our community. It's easy to become hyperfocused on projects and client relationships, but it is necessary for us to support each other too. I've learned that reaching out to the other designers and sharing our experiences makes me a more confident, successful business owner.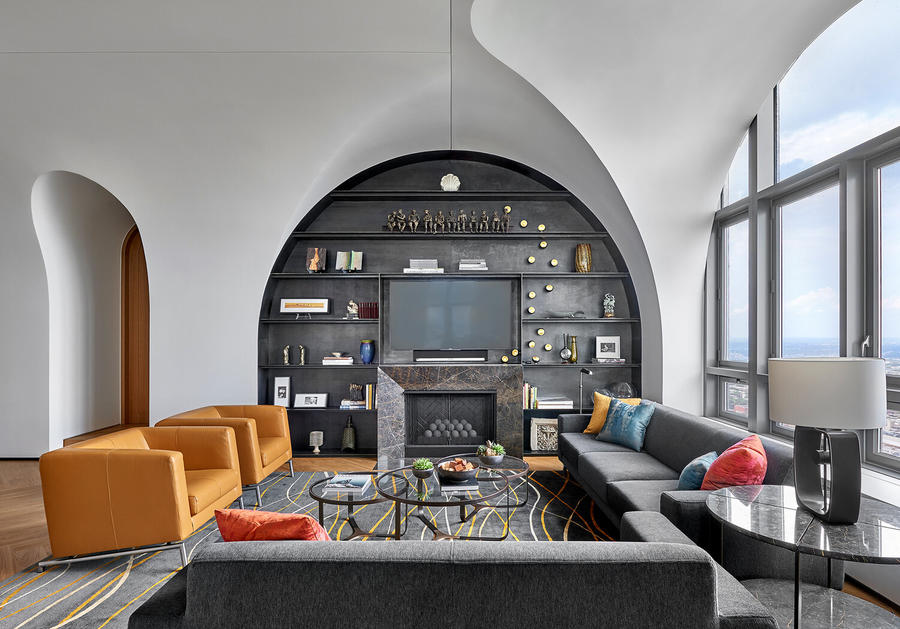 Is most of your work in the Minneapolis area, or are you still working all over?
Most of it is in Minneapolis now, though I did a Chicago project a couple years ago. That was another repeat client, who moved back to Chicago and found the architecture firm dSpace for this empty, unconstructed place that had never been lived in. Some of the curves in the windows were done, but not the ceilings—the rest of it was just raw space, so they created those beautiful arches and then I got to help with the finishes, fixtures and furnishings.
In Minneapolis, is there a hallmark of the design scene, or what resonates with clients there?
Minneapolis has a lot of beautiful architecture around the cities. Around the lakes and rivers, there are beautiful homes, traditional and modern. And I'm finding that the newer construction in Minneapolis and St. Paul seems to be leaning toward modernism.
Minneapolis and St. Paul are thriving and growing. And even the neighborhoods like mine, which is in Minneapolis proper but a few miles from downtown, the renovations—from fences and landscaping to full renovations—they'll honor the more traditional architecture but are definitely a little more modern.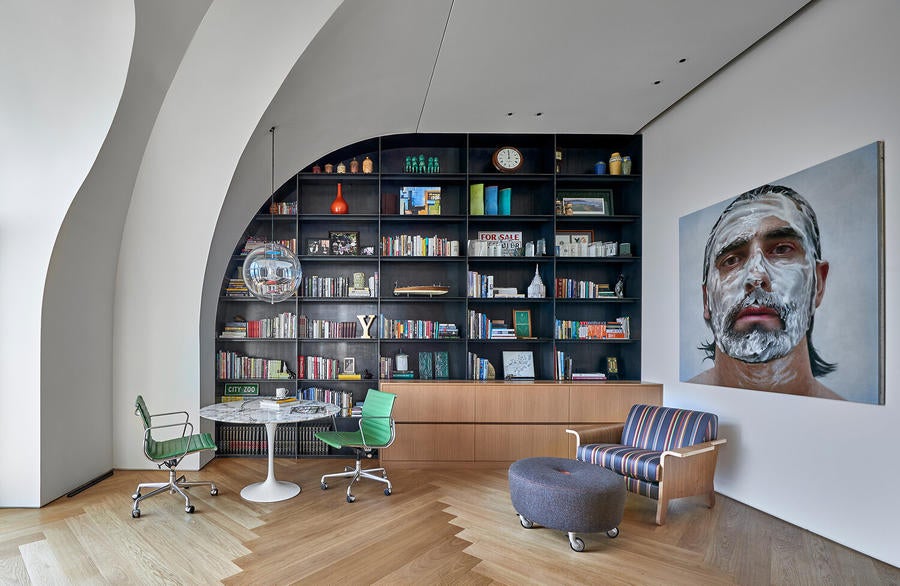 Where do you see opportunity to grow as you're looking at your business?
I've noticed that as the baby boomers—and I'm on the young end of the baby boomer [spectrum]—as they age, there's a whole market of downsizing. Maybe some of them still work part-time from home, so there's a home office component. Obviously, with the whole COVID thing, I've had people say, "I've always wanted to work from home and my boss said no, but now that they see how smoothly it works …" So home offices were already an important part of our lives, but I think they're becoming even more important. Some have second homes and lofts or condos on the river, or are looking for homes that are one level and maybe not quite as large but still offer a certain lifestyle.
Is there a living-in-place component of those projects?
I was just reading an article about that and I think yes, depending on where they live and how big their homes are. Empty nesters may not want the big spaces anymore. And then there's this whole other thing that I've been asked to do three times in the past year, which is assisted living spaces. Making that palatable, making the transition smooth, and making sure that people can take art or furnishings that reference their lives—it doesn't sound so glamorous, but it's a hard transition and it gives me great joy to help people make that difficult [step].
What is that process like—are you trying to re-create their old home in a smaller footprint?
Sometimes I'm doing new furnishings but making space for family heirlooms or art that is special. And then I'm accommodating the needs of an aging person—both physical needs and emotional. Your home and what you have in your home are references for your life, and so to be able to carry some of that with you is a great comfort to people.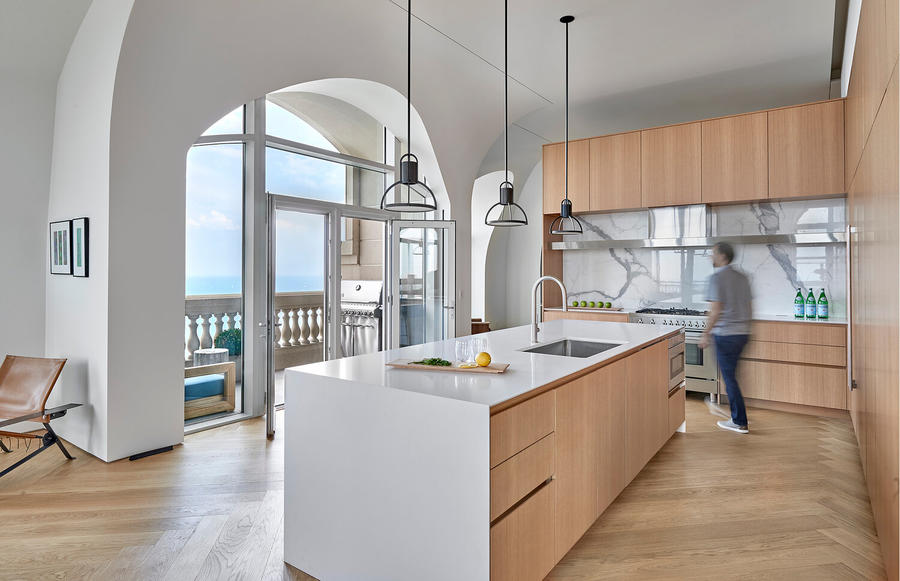 Are there certain things that you have to specify differently in that environment?
Bed height, depending on the height of a person and depending on their needs. If you're a really short person, you don't want a mattress that's 24 inches high, right? Or picking out a chair that an aging person can get in and out of easily—that really depends on the person. It's very individualized and it's about movement and ease.
Are those conversations that you're having with the client, or is that something that you're just doing because you know it will make their life better?
It's both. It depends on the client. Sometimes it's with their kids too. I put one client in a leather motion chair—a really nice chair, so it didn't look like a chair that did all the things that it did. He was very tall, elderly, and had been in pain for several months—and to watch him, to watch his whole being change and relax when he finally sat in a chair that fit his body and relieved the pressure points, I got teary-eyed. Good design really does matter on all kinds of levels. But then, aesthetically, his wife wanted something that looked good, right? Not the recliner of 15 years ago.
What is the biggest challenge for you right now? What are you looking to tackle next?
Just growing. And I don't know if it's actually growing, or [figuring out] how to connect with the right clients. There's always the balance of doing design, which is the easy part, with the marketing, accounting, bookkeeping and connecting. I would like to make more connections in my community, especially after the death of George Floyd. It's a global issue, but it happened five miles from my house. So, just to be able to give back to the community at a whole other level—how do I do that? How do I use my resources and my talents to create some significant change?
Have you felt that reverberating throughout the design community?
I have. In fact, I was invited to meet with some designers tomorrow night to explore ideas and areas in our community that might need [support to recover] after all of this.
You said it a couple of minutes ago—that design can really change your life, or make your life better.
It can elevate your life. So, how do we do that more universally and globally? Good design should be for everyone, but how can we as human beings contribute? The answer may not be clear quite yet, but what is clear is that something has to change and that we have to be part of it. How can we use our talents to do that?
That's really amazing. Where are you finding inspiration in this moment?
My daughter went to an arts high school, and I found tons of inspiration from those kids and what excites them. I follow certain designers, like Hella Jongerius. I love her fabrics, and that she's such a multitalented artist and designer. And I love following Designers Guild because of the colors—it just makes me happy every time I see another fabric or wallpaper or combination from them. And I know it sounds cliche, but I find inspiration in working in my garden and being in nature.
I get that—my tiny garden in Brooklyn brings so much joy.
My garden's tiny and humble too, but I'm learning texture, color, sheen, everything.
What is your approach to color, and how do you navigate that in your work?
I love color, but my approach to color [is determined by] my clients. I have clients who want things more neutral—which is still color, and in my mind, more difficult sometimes to do neutrals. But I always like to have a splash of something, and personally I gravitate to crazy color and pattern.
A lot of it has to do with listening to my clients, but also what their homes and the environment are like. If they live in a modern house in the woods and there's lots of glass, then you really don't want to detract from a body of water and all the trees—you want to extend that and celebrate the view. But if they live in a condo in the city and there's not a lot of light, that's a whole other thing.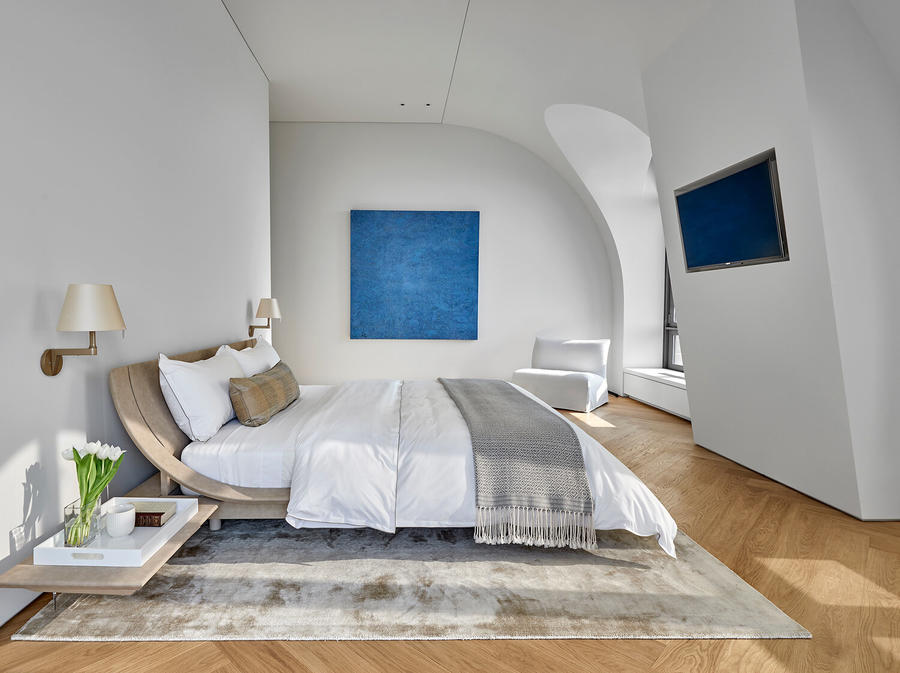 How has social media changed your business?
I think for clients, it opens up a whole other world—it has had an impact because it opens up doors for a lot of people who maybe wouldn't [otherwise] have access. It's good to keep abreast of what's happening on different levels in the design world—what the trends are. I don't think you always need to follow them, and I don't always like them or appreciate them, but it's good to know what they are.
What are you most excited about in the year to come?
Becoming known as the architect's interior designer. And trying to work with more architecture firms and working toward some changes in the art community that will affect us globally as we move toward a better way of understanding and learning about racism, and working together to heal Minneapolis and the world.
To learn more about Ruth Johnson, visit her website or find her on Instagram.