It often surprises people to find out that interior designers Timothy Corrigan and Vicente Wolf are best friends—and have been for more than 30 years. Beyond their obvious aesthetic differences (Corrigan's work is layered and traditional, while Wolf specializes in clean, modern spaces), they're also different on a personal level. "Even down to the way we approach people and including how we run our firms," says Corrigan. "But that has meant that we've been able to bounce things off of each other and get insight into alternative ways of doing business."
While chatting from across the country, with Corrigan at his home in Los Angeles and Wolf from his house on Long Island, at the beginning of the coronavirus shutdown, the pair had the idea to open up those Zoom conversations to other designers. Over three webinars, they tackled topics not often openly discussed in the industry: design process, fee structure and how to present to clients. Clearly, they were onto something—each conversation drew about 300 viewers.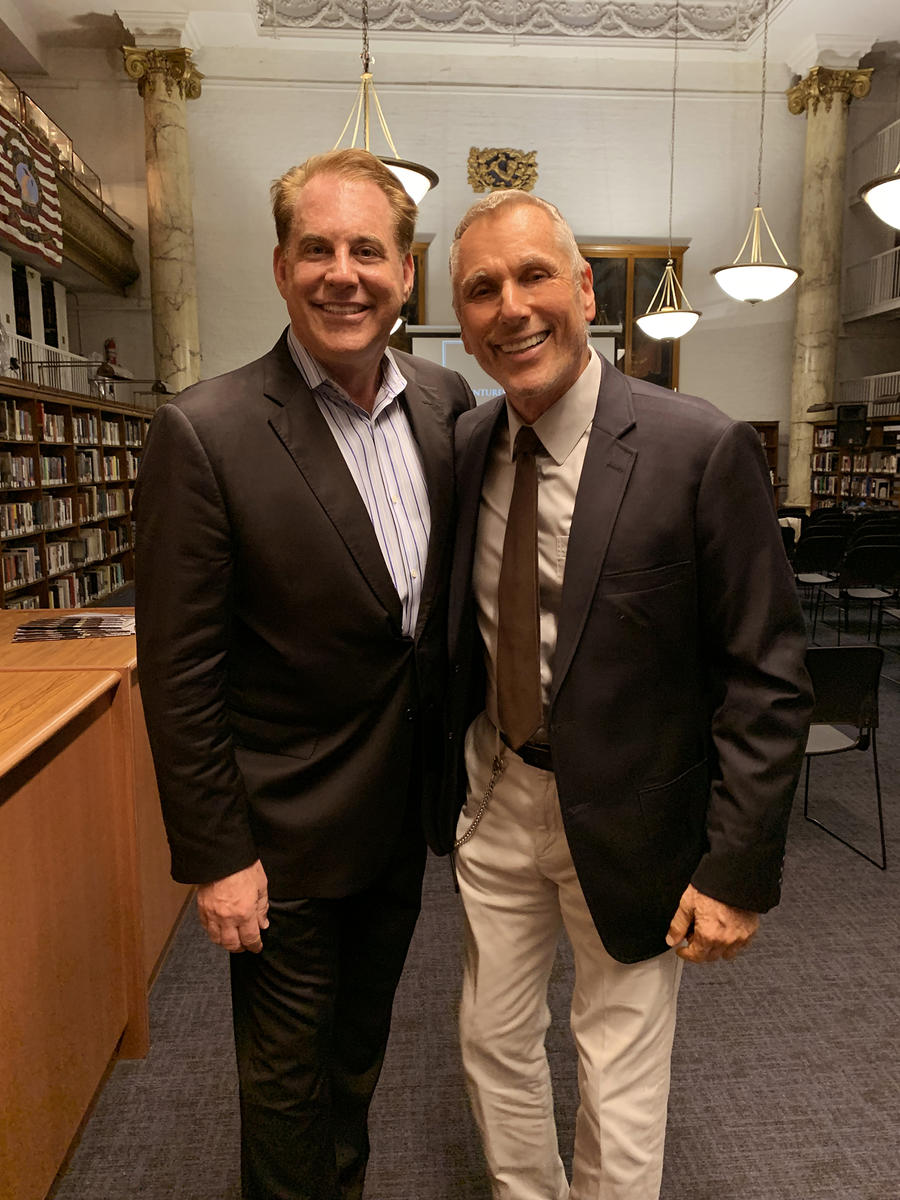 Courtesy of Timothy Corrigan
"There's not enough communication in this industry about how to run a business," says Corrigan. He recalls doing a tour of design centers across the country a few years ago and asking local designers in each city how often they collaborated with other designers. "Most of them said they never do that, because they inherently view other firms as competition," says Corrigan. "That shouldn't be how it is. We should be helping each other! Everyone has their own skills, and there are plenty of clients to go around."
During their first webinar, which dug into the nitty-gritty of rates, Wolf and Corrigan both shared specifics about how they charge, breaking down exact formulas for things like markup on auction pieces (they both charge a 35 percent commission fee on the hammer price, not including the auction house's own markup). The conversation actually served as a wake-up call for Wolf, who realized that he wasn't charging for things that Corrigan and other designers on the call all were. "I had never charged any fee at all for my travel to a location, even if it was international," says Wolf, a choice that Corrigan calls "crazy." After that session, he decided he would bill for travel in the future.
Wolf points to the isolating nature of running a firm as one reason that charging and design fees are so taboo in the industry. "You see other designers at events and see their work in magazines or online, but day to day, you're working in a silo," says Wolf. "For some reason, people think if they talk about how they charge, it's going to affect them [negatively] somehow. It's a silly thing. I mean, really, what does it matter if Timothy charges one way and I charge another way?"
The two attribute the convivial, relaxed nature of the Zoom conversations to the openness of the forum. "It was just two friends chatting about their businesses," says Wolf. "It wasn't a panel, it was a more informal conversation, which I think made people feel more comfortable asking us very specific questions." Two of the webinars included surveys for the viewers that asked specific questions, like how many options they give clients during presentations and the number of people in their firms. "Vicente and I are at opposite ends of the spectrum on most of our choices," says Corrigan. For example, Wolf doesn't offer any additional furniture options or floor plans to clients during a presentation, while Corrigan generally provides two room layouts and at least seven options for each piece. According to their poll on the matter, 53 percent of designers tuning in said they presented three or more options to clients. "We figured that most people fall somewhere between the two of us," says Corrigan. "And we saw that we were right."
Corrigan hopes that there can be more frank industry discussions moving forward, saying there aren't enough existing forums for such conversations. "Even the younger people at my firm who are fresh out of UCLA's master's program only have to take one course on business," says Corrigan. "That's crazy! Designers must have more information on how to run their firms."
Nearly 80 percent of the designers on one webinar reported being in the industry for more than 10 years, which highlights that it's not just young designers struggling with these issues. "I think what we did helped to demystify these topics for the people that watched," says Wolf. "If successful designers are willing to share, it gives validity to that sort of open communication. And I think it's the time to do that. I think the clearer we can be with one another, the better chance there is for our industry to survive."
Homepage photo: A project by Timothy Corrigan | Simon Upton