Rebecca Atwood was surrounded by her own name. On the advice of a consultant, the South Carolina–based textile designer had taped up printouts of her company's proposed new logo all around her home—on cabinets, mirrors, and bookshelves, everywhere. The goal? Find out if she was truly, earnestly on board with the design, through a kind of homespun exposure therapy.
It was a slightly surreal experience, and a little comical ("I would take all of them down when the nanny came over," Atwood recalls with a laugh), but such are the trials and tribulations of a process that can inspire delight and frustration in equal measures. Atwood was deep in the middle of a rebrand.
She isn't alone. Rebranding is hot in the home industry right now. Though hard data on the subject is tough to come by, several branding consultants told Business of Home they were having their busiest year ever, and recent months have seen a flurry of manufacturers and designers unveiling a fresh logo or revamped website. At the moment, a new look is a good look.
We may be in a fertile period for rebrands, but rebranding has never been harder. That's because the concept of a brand has never meant more. In the past, a "brand" was limited to the physical world, showing up as a logo on a business card or some stationery—maybe a sign here and there. As every aspect of business and culture has moved online, now there are simply a lot more places for a brand to be.
There's a cultural change, too. As our personal and professional lives become increasingly entangled and companies are judged as much by their values as their products, we've come to see the idea of "brand" as more than just a logo. We talk about falling in love with brands. We're all supposed to have personal brands. Brands have become holistic, emotional, complex beasts. As a result, changing them can be fraught. Atwood says that as part of the process, she wrote extensively about her goals for the business, along with where she had been and where she was going. It was as much an act of self-reflection as it was a marketing project.
Rebranding journeys can go deep, but they tend to start shallow. Most often, the jumping-off point is simply a sense of embarrassment about some outdated fonts on a website, or a feeling that your marketing hasn't quite caught up with the growth of your business. "There's a reactive element—they're trying to solve a problem and fix something—but it leads to a proactive place: Where does this brand need to take us in the next five years?" says Susannah Charbin, founder of creative agency The Beaux Arts, which has led rebranding projects for the likes of Nate Berkus and the New York Design Center.
Christina Juarez, a veteran publicist who works in the design and fashion industries, is in the middle of her own rebranding project. For her, the catalyst was a suspicion that her logo and website didn't reflect the caliber of her current clientele or the projects she was looking to attract. "When I first started, I wanted my brand to be in the background, so I didn't take it too seriously," she says. "[Now], someone will recommend me to a client, they'll google me, and my website doesn't reflect my tenure in the business or the sophistication of my clients. … Every now and then, an interesting project will come along, and if the client googles me, I want them to be impressed by what they see."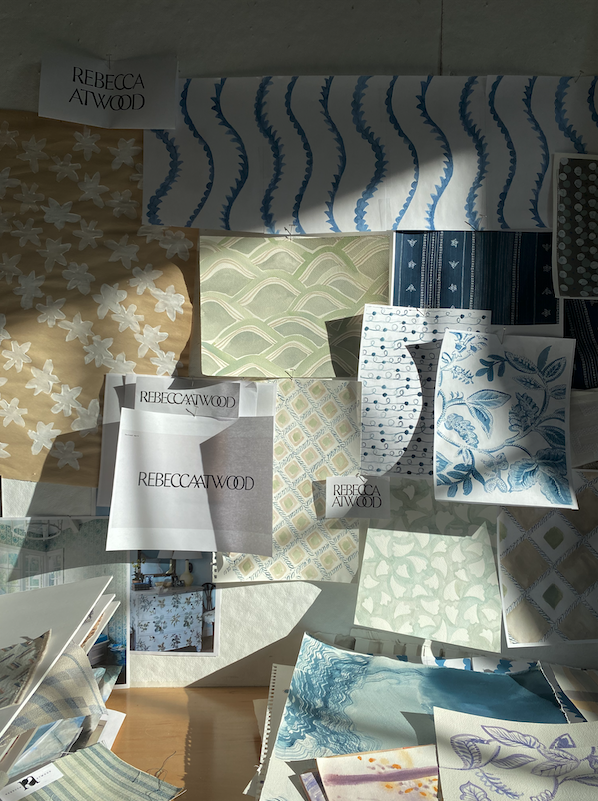 Courtesy of Rebecca Atwood
Likewise, Atwood had designed her company's original branding when she thought she'd be selling primarily to consumers; it had an accessible, playful feel to it. Over the years, her business has become almost entirely oriented around selling to designers, and her products had grown up a little. Her brand hadn't. "With our prior fonts, I felt like we could be selling anything," says Atwood. "It wasn't elevated enough for the trade customer. We still want things to be seen as approachable, but we needed something with a little bit more sharpness to it—we needed something more sophisticated."
Of course, brands are constantly outgrowing their image. Why is there a rush to reinvent now? It might be—surprise!—the pandemic. "During COVID, brands and interior designers were finding they couldn't get as much in-person time with clients to sell to them," says Charbin. "Once you take away that in-person experience, you're looking at other ways to communicate. The gaps were much more obvious and much more important. … I definitely noticed a shift towards brands thinking more holistically. Rather than just a logo, it's a logo, a website, social media, emails, packaging, lookbooks and showrooms. We're looking at every single aspect of the brand now." In a telling example, in a rebrand for high-end rug company Merida, Charbin's team was even looking at the color of the machines on the factory floor.
Interestingly, while the pandemic has spurred some businesses to rebrand, it has also slowed down the process. Supply chain issues, notorious for their effect on furniture lead times, are affecting paper products, too. In the digital age, it might be surprising to hear that contemporary branding involves a lot of paper, but it does. "It's stationery, business cards, letterheads, envelopes, stickers to put on envelopes or on the back of samples, collateral for the team to wear on the job site, budgets, tearsheets, invoices, mood boards—every document your client will come in contact with," says Charbin. "Paper supplies are low right now, and mills are understaffed. We're having the same shortages in the branding industry as they're having in furniture."
The surge of rebrands also probably has something to do with the fact that many businesses in the industry are flush with cash from the pandemic home boom; rebrands can be expensive, depending on how deep you want to go. A new logo and a new templated website can be fairly cheap, but an extensive overhaul involving multiple consultants, a new website, and new stationery, packaging and merch can run into the tens of thousands of dollars.
Rebrands can take time, too. Atwood's process took the better part of a year. Juarez is in the thick of hers, and is taking it slow. Rug company Patterson Flynn Martin, which is owned by F. Schumacher & Co., went through a rebranding late last year that involved modernizing the company's logo and shortening its name to Patterson Flynn. Schumacher creative director Dara Caponigro said the process was carefully considered: "We felt like the branding didn't suit the brand anymore. It had a generic logo that was missing the beautiful nuance of the rugs themselves—and 'Patterson Flynn Martin' was a mouthful," she says. "We worked on it for four to six months, every week."
Sometimes it's a journey that takes years. Houston designer Nina Magon originally started her firm in 2008 under the name Contour Interiors ("I was still going to school, and I thought it sounded a little French," she jokes). Over the course of the next decade, both Contour and Magon attracted attention, but having two names—her own and the firm's—ended up causing confusion in the market. For years, friends and advisers pestered her to eliminate Contour and simply rebrand as Nina Magon.
"I spoke to so many different people and they all told me: 'You have to change your name. There's too much confusion.' I've been hearing this suggestion for the last six or seven years," she says. "I just never wanted to do it, until last year. There was so much hesitation on my part for so many years, but it happened quickly. We did a full rebrand with the name change, and everyone was on the same page. I thought it would take years for everyone to accept it, but it was all in my head."
For all the time, money, and self-examination, what exactly do you get? For interior designers, a common hope is that rebranding will score you new—and ideally better—clients. It's not unheard-of in the industry for a designer to land a great client simply because the homeowner liked their website better than the competition's. A sharp brand probably has an even clearer impact for designers who are looking into licensing deals. Magon says that her rebrand has already led to opportunities, including a branded lounge at Houston's upscale Zadok jewelry store.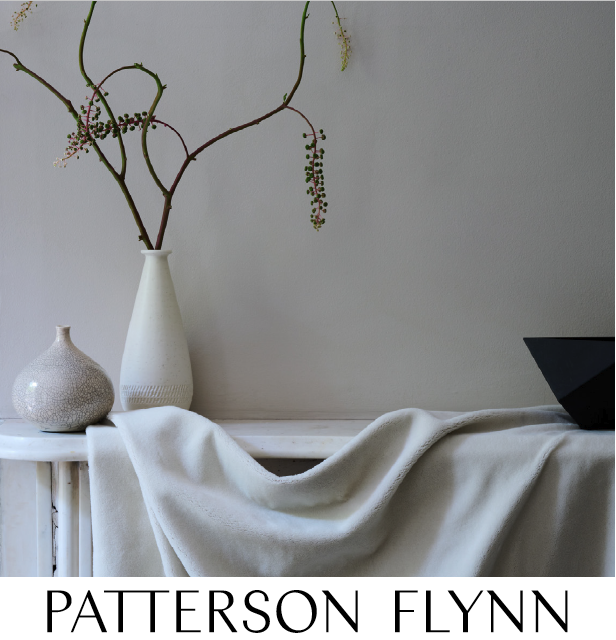 Courtesy of Patterson Flynn
Still, the experts say that often the most evident impact of a rebrand is not an immediate flood of new clients but a better ROI on the clients you already have. "You absolutely can get new clients with a new brand, but often it's about elevating the experience," says Roxanne Hanna, founder of creative agency Hanna Creative Co. "The clients who have a great experience then recommend you to the next one."
Charbin agrees. "The work might come through word-of-mouth, but the scope of work the client wants to do with you can definitely be influenced," she says. "Once you've got them in your world, how do you upsell them? If everything about your brand screams luxury service, it keeps people around."
Rebranding comes with a secondary benefit: While it is ostensibly about marketing, it often leads to insights that pay off in other areas of the business. In the hustle and bustle of the daily grind, it's rare that business owners get a chance to reflect so deeply on why they do what they do. For Atwood, the process was an invaluable opportunity to reflect on everything from the way her staff organizes product information to the relationships they wanted to have with designer clients.
There are pitfalls and challenges to a rebrand. In a world where everyone—designers, manufacturers, publicists and even editors—are encouraged to have some kind of brand, it's genuinely hard to stand out. The incredible speed of culture also ages a look quickly, and today's forward-looking brand can easily become tomorrow's cliche. Anastasia Casey, the founder of designer-oriented branding agency IDCO Studio, ticked off the overused tropes for me: "A scripted font of any kind, a logo with a house in it, a logo with a leaf in it, a tagline that includes the phrase 'beautiful living,' the list goes on … "
Sometimes the self-examination required by the process can be exhausting. (A universal tip from consultants: Only do this if you have the time and energy to take it seriously.) Juarez, who has advised hundreds of clients on their marketing messages, says that reframing her own is uniquely challenging. "It's the hardest thing I've had to do," she explains. "I can do a consult with a perfect stranger, they tell me about their business in 15 minutes and I can tell them exactly what they need to do. But doing it for myself has been a very difficult process."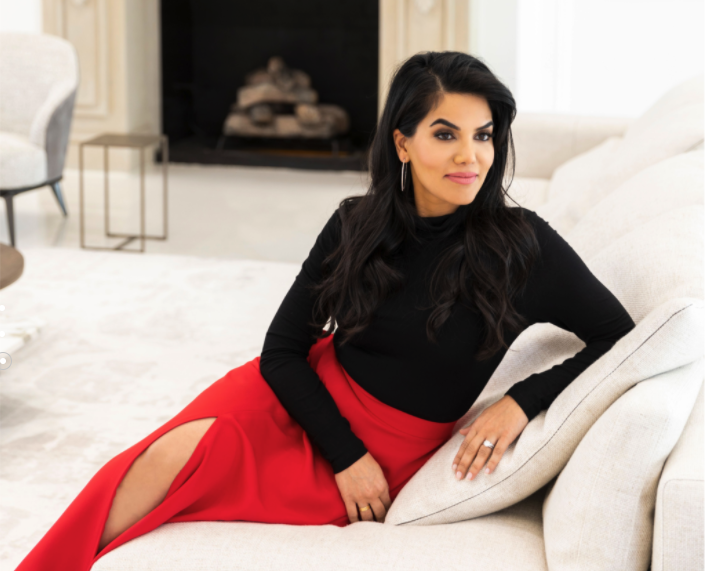 Courtesy of Nina Magon Studio
A rebranding journey can also lead to big steps. Magon's rebrand saw her not only changing the name of her business and revamping her company's online presence, but also tapping a former Bulgari sales manager to retrain her staff and overhauling her office's dress code to orient it toward a high-end audience. The new rules: No jeans until Friday, and hair and nails have to be done at all times. "All of this is strengthening them as a design firm, because now they're understanding what it is to work with luxury clients," says Magon. As for those employees who weren't on board with the changes? "Those people don't work here anymore—they left on their own or they were let go. People feel it. Either they can adapt or they can't."
Then there's the simple fact that, for all the time, energy and money that goes into a rebrand, it can take a while for anyone to notice or get used to the new you. As part of her rebranding, Atwood and her team rebuilt their website so that designers could see trade pricing and order samples through a more seamless process. But in the early stages of unveiling the new site, she got feedback that some designers had gotten used to the older, slightly clunkier way of working. Old habits die hard. (A case in point close to home: Business of Home began life as Editor at Large before a 2018 rebrand. Four years later, editors here still field occasional questions about what happened to Editor at Large.)
Still, even with the occasional growing pains, very few people come to regret a rebrand. From small design studios to big retailers, it's hard to think of any blunders along the lines of "New Coke" or late-night-joke fuel like Facebook's pivot to "Meta." For most, it's a welcome opportunity to freshen up a look, reintroduce themselves to the market, and have a little bit of fun with a creative endeavor that—for once—isn't for a client.
And if it takes some time to settle in? Well, good things often do. "I think it'll take about six months for everyone to get used to [it]," says Caponigro of Patterson Flynn's rebrand. "But it's like anything: Once you adjust, you forget the way it used to be."
Homepage photo: Textile designer Rebecca Atwood's new branding | Order