After nearly two decades at Merida, where she worked alongside CEO Catherine Connolly as creative and marketing director, Roxanne Hanna has opened the doors to her own firm. Hanna Creative Consulting, launched this July, spans brand strategy, business development, marketing and business coaching via a full-service consultancy. While she is in talks with potential designer clients, first on the list is Fuigo—the designer resource and co-working space that launched last year—where she will serve as membership director.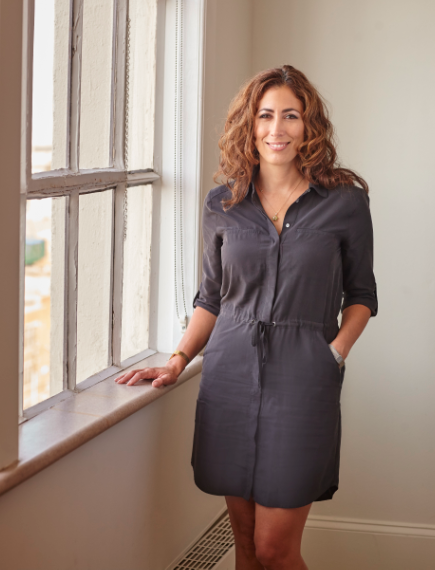 "Working with the craftsmen and weavers at Merida was one of the most fulfilling experiences of my career," reflects Hanna, who had launched the brand's most successful American-made collection, Tailormade. "To witness their passion for their craft on a daily basis and to be able to give them a voice by articulating the Merida brand was a privilege. In that role, she worked with designers like Celerie Kemble, Ashe + Leandro and Mark Sikes to "combine two design points of view to create collections that were beautiful and interesting."
Fuigo, on the other hand, is a shared workspace, offering a research library, as well as a business management software designed for interior design firms.
Why is it the right fit? "The founders, Maury and Mickey Riad, share the same passion and commitment as I do for the interior design industry," says Hanna. "I have so much respect for them because they lead Fuigo and Fortuny with so much integrity. Fuigo isn't just software or a shared workspace. It's a team of experts in design, materials, technology and business. Fuigo's purpose is to help interior designers navigate the changing landscape of technology while preserving the art of interior design."
Maury Riad, co-founder and CEO of Fuigo, said at the time Hanna signed on to the company: "Roxanne's longstanding relationships with both designers and brands will stand to add a great deal of value to current and future Fuigo members." She is now tapping into those relationships, tasked with leading the company's real estate and design network and with serving as both a resource and adviser for existing members.
"Roxanne is a creative partner who understands the impact of great design, says Sikes, her former Merida client. "She also knows the importance of marketing a brand, but her biggest strength is understanding strategy. You have to have a vision to make any beautifully designed products successful. I've loved working with Roxanne over the years. She is a delight and always gracious and thoughtful, just like her creative approach to design."
Hanna says of her new role at Fuigo, "It's an exciting time to be a part of the company and the community they have built over the last year."