In the series What I Love, we're asking designers to build us a mood board of what's inspiring them right now.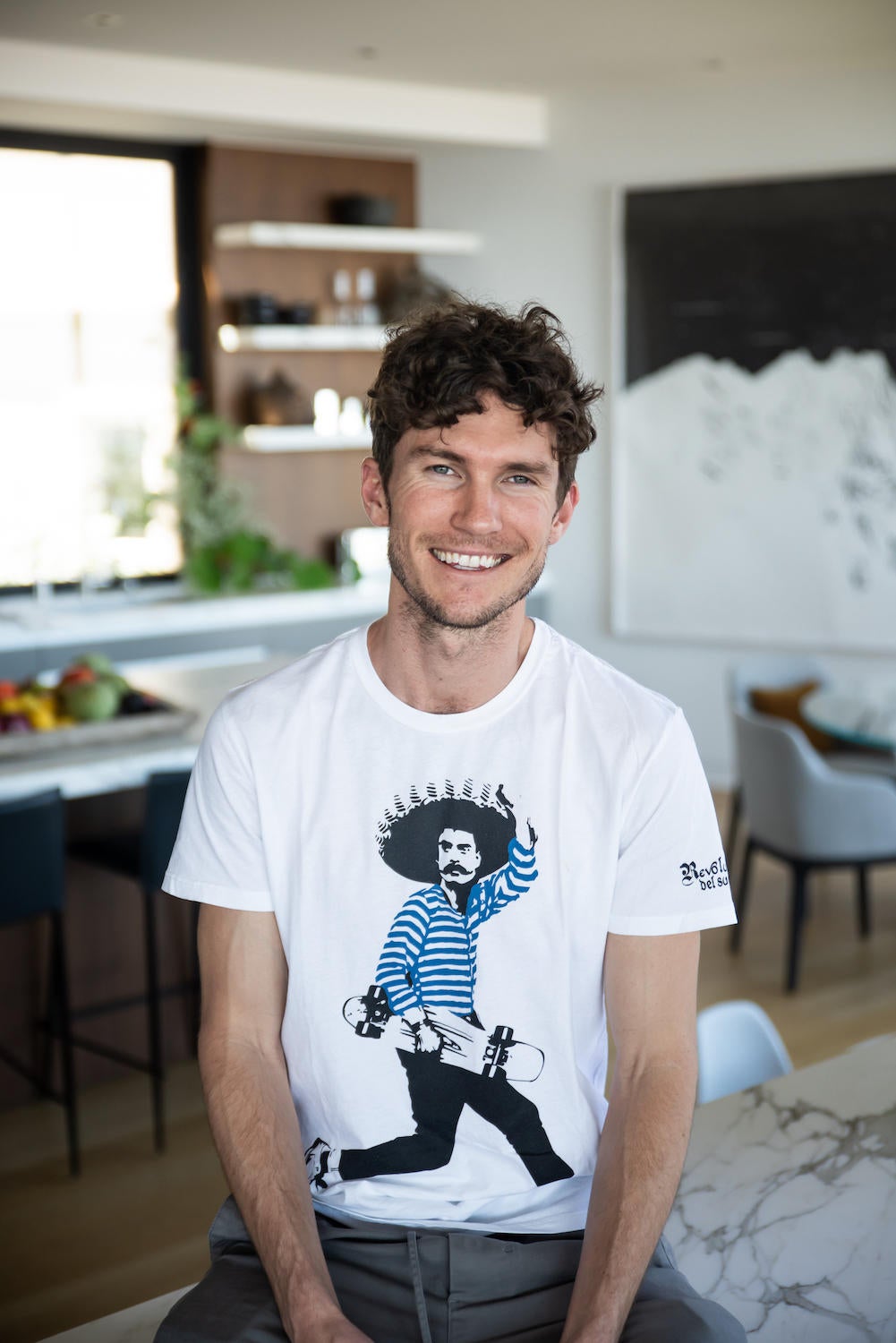 Sean Leffers believes the best rooms represent the essence of their inhabitants. Though he gravitates toward traditional textiles in his projects, the Los Angeles–based designer knows when to employ a bold hue or playful print to liven up a decorscape.
His current flat lay is a perfect example. Designed for an oceanside home in Santa Monica, Leffers energized the whitewashed adobe walls and terra cotta tile floors with a medley of timeless patterns, touchable textures and eclectic antiques. "The goal is to create rooms that feel elegant and cozy, with a well-traveled, chic sensibility that works well for family summers at the beach," he tells Business of Home.
The end result is equal parts breezy and comforting, punctuated by classic Americana fabrics, contrasting colors and the occasional zip of a spirited motif. "The mood is unimpeachable, good taste meets a well-traveled eye with nothing to prove," he says. "Bunny Mellon on the beach."
Here, Leffers breaks down the details, from matelassé coverlet samples to bandana-inspired swatches.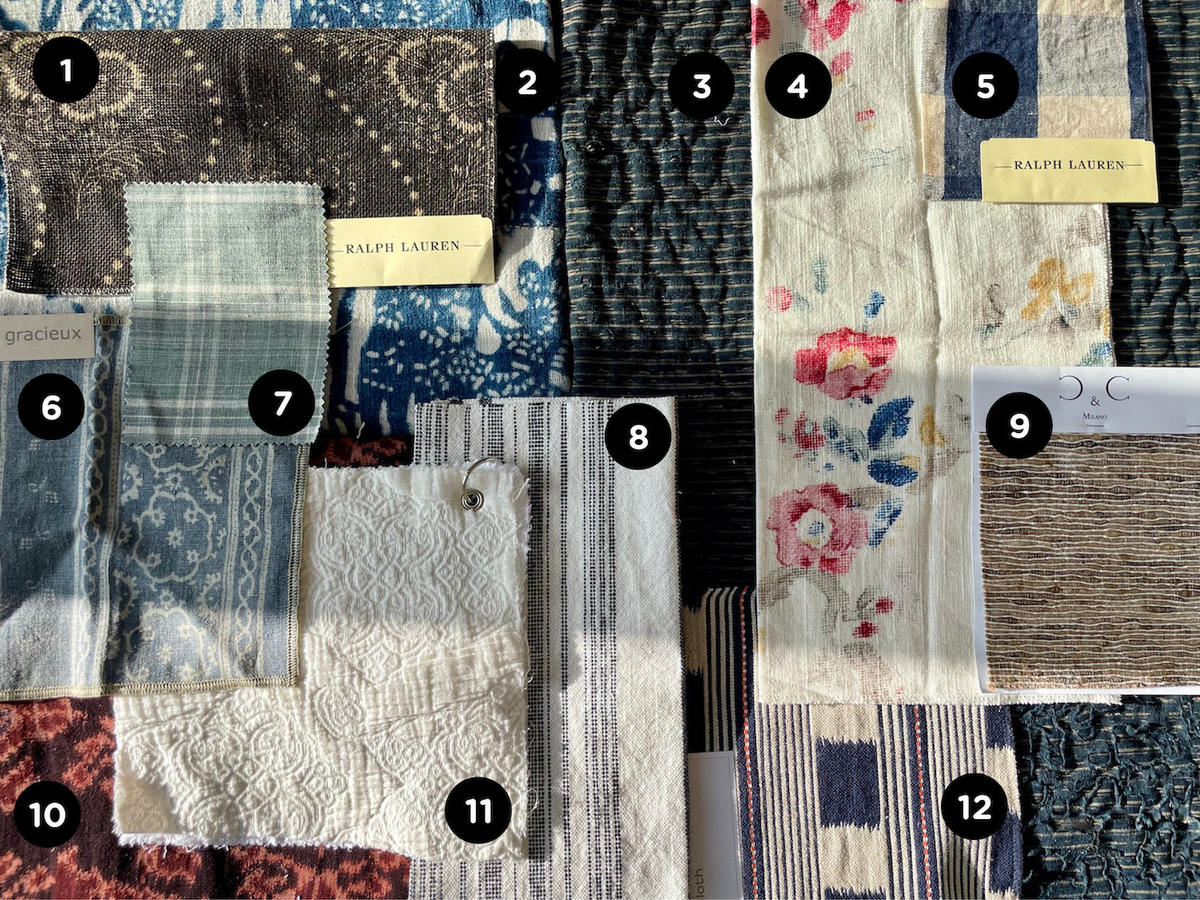 Courtesy of Sean Leffers Interiors
1. ETIENNE FLORAL STRIPE IN VINTAGE BLACK — RALPH LAUREN HOME
"I love the cheerful yet subdued vibe of this fabric. It's elegant and interesting but not screaming for attention, plus the uneven finish makes it look antique."
2. ANTIQUE MIAO CHINESE BATIK — MATERIAL CULTURE
"This antique cotton blanket is so charmingly soft, we're planning to make pillows with it."
3. ANTIQUE JAPANESE BORO CLOTH
"Boro cloth is one of my all-time favorite obsessions. It was homemade by people out of economic necessity—darning old scraps of cloth to make warmer textiles for Japanese winters. I love it for its earnestness."
4. JARDIN FLORAL IN SUMMER CANVAS — RALPH LAUREN HOME
"I fell head over heels in love with the subtle tonal sophistication of the flower petals in this fabric. I bought a ton knowing it would be perfect somewhere."
5. STONE HILL GINGHAM IN INDIGO — RALPH LAUREN HOME
"There are so many gingham fabrics out there, but I love this one because the hand-feel is so soft. I bought 100 yards to use over and over—I love it so much."
6. LE BORDE IN INDIGO — LE GRACIEUX
"I love the faded finish of this charming fabric. It also reminds me of bandana patterns to emphasize the Americana element of the scheme."
7. PEVERELL CHECK IN TARN — IAN SANDERSON
"The washed-out tarn color of this fabric increases the sophistication and complexity of the color scheme by offering an analogous complement to the indigos."
8. IVINS STRIPE IN SOAPSTONE — RALPH LAUREN HOME
"I like this contemporary variation on a French flour sack cloth. It gives a provincial element without being too artful."
9. PANGEA IN COCONUT — C&C MILANO
"This fabric has a nice balance of fresh organic simplicity and material elegance. It brings to mind bamboo shades but is made of raw silk."
10. ANTIQUE JAVANESE BATIK
"The contrast of oxbloods and pinks in this antique fabric are sophisticated and reminiscent of the ombré petals on the Ralph Lauren floral."
11. ANTIK MATELASSÉ COVERLET IN OFF WHITE — MATTEO
"Matteo is a wonderful custom bedding company based in downtown Los Angeles. I love this particular matelassé for its supersoft hand and classic, elegant look."
12. LOST AND FOUND IN INDIGO BY KIT KEMP — CHRISTOPHER FARR CLOTH
"I wanted a fabric that felt contemporary and fun but also fit into an Americana palette and had a global feeling to it. This one by Kit Kemp was perfect!"
Homepage photo: A flat lay by designer Sean Leffers | Courtesy of Sean Leffers Interiors