Le Coucou, Top of the Standard and Chicago Athletic Association are a handful of the projects by notable New York–based interior design firm Roman and Williams. Now, Robin Standefer and Stephen Alesch, the husband-and-wife team behind the firm, are applying the same whimsy (and genius) that goes into their clients' projects to their own downtown Manhattan shop: Roman and Williams Guild.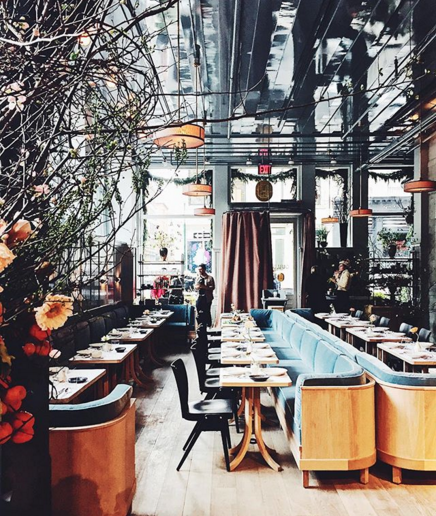 The 7,000-square-foot space exhibits a collection of artisanal and vintage pieces. Also on hand, and up for sale, are the design firm's own furniture and lighting lines, as well as their Waterworks kitchen and bath line. In the latest example of retail-meets-dining, also located inside the space is an Emily Thompson flower shop and a new French restaurant, La Mercerie. At the helm of the restaurant is French chef Marie-Aude Rose, formerly of Pierre Gagnaire and former proprietor (with her husband, Daniel Rose) of the now-shuttered restaurant Spring. The tableware in La Mercerie is also available for sale at the Guild. (Currently, the restaurant serves coffee, drinks and baked goods, and a full menu is planned to launch in mid-January.)
The shop's mission? To be "a guild of the eye that gathers the best of everything we make and everything we love and helps others to do the same for themselves." Among the Roman and Williams–designed pieces for sale are the Founding Collection's 50-plus original pieces, including the 400-pound Slab Bed, cut from a claro walnut tree; and the Petite Hoof low stool, used as a pedestal, end table or seating.
"We knew we wanted it to be a place where people could spend the day," Standefer recently told Vogue. "That's why we decided to have a café, a bookstore and flowers. All these things to activate your senses."
Roman and Williams Guild, 53 Howard Street, New York; 212-852-9099