Between Louis XIV furniture reproductions, fake masterworks and erotic-themed coasters, the estates of dictators and despots of recent years have proven that money can't buy taste, and Imelda Marcos's home is no exception. Whatever happens next, stay in the know with our weekly roundup of headlines, launches and events, recommended reading and more.
Business News
A federal jury awarded nearly $107 million to Wisconsin manufacturer Raffel Systems, concluding that Chinese furniture giant Man Wah Holdings had stolen its intellectual property, Home News Now reports. The IP in question? The design for a cupholder used in Raffel's motion home theater seating. Raffel first became aware of the issue when customers started calling the company to report defects and failures in products that bore Raffel's patent numbers but were produced by Man Wah. Along with awarding $9.2 million in actual damages for "false marking, patent and 'trade dress' infringements," the jury also awarded $97.5 million in punitive damages for malicious appropriation of Raffel's design. Man Wah told HNN that it plans to appeal the decision.
Buyers are retreating from the luxury home market after nearly two years of record-setting demand, The Wall Street Journal reports. The news comes after the number of residential properties in the top 5 percent of the market that sold from February 1 to April 30, 2022, dropped 18 percent compared to the same period last year, according to a new report from real estate brokerage Redfin. Though prices are holding, economists say it's unlikely they'll rise thanks to inflation, interest rate hikes and volatile stock market conditions. The biggest drops in luxury sales took place in Nassau County, New York, which saw a 43.5 percent decrease year over year, and Oakland, California, in which sales declined by 35.1 percent.
Scottsdale, Arizona–based startup HomeLight has announced that it has secured $60 million in capital and $55 million in debt financing in an extension of its Series D funding round from last year and acquired Denver-based lending startup Accept.inc, which allows people to submit all-cash offers on a home after qualifying for a mortgage. According to TechCrunch, HomeLight's financial services utilize AI to match real estate investors with agents, along with providing title and escrow services to agents and home sellers. With the new funding and acquisition, the company plans to strengthen its operations to become a more competitive player in the prop-tech space.
If you power your business on Google Workspace, take note: Google is placing new requirements on small businesses, The New York Times reports, by instituting a charge on its customized email service and other workplace apps like Docs and Calendar, which had previously been free features for those who signed up for its business software before the company ceased free membership of those services in December 2012. The tech giant began telling longtime users in January that they would have to start paying a monthly fee of around $6 for each business email address they operated, sparking frustration among existing account holders. Businesses who do not switch to the paid service by June 27 will be automatically transitioned—and if they don't pay their bill by August 1, their accounts face suspension.
Google for Startups has distributed $4 million in grant funding to 40 Black-owned businesses across Europe, TechCrunch reports. The initiative marks an effort to address the racial inequality in the European tech industry—prior to the fund's 2021 launch, less than 0.25 percent of venture capital funding went to Black-led startups in the U.K. The chosen startups will receive $100,000 in cash awards, up to $200,000 in cloud credits and ad support, and mentoring by industry executives—winners include GigBridge, a recruitment platform for construction companies; and Materials Nexus, which aims to accelerate the transition toward net-zero materials.
The establishment of the Metaverse Standards Forum was announced today, uniting a variety of founding companies—including Ikea and Wayfair from the home sector—with the goal of defining the standards needed to build the open metaverse. According to Furniture Today, the group is focused on driving interoperability in order to make it easier for developers to build across platforms, and will host programming like hackathons, implementation prototyping and open source tooling to further its goals.
After 24 years in business, online interior design sourcing platform Steelyard has closed, Designer's Today reports. CEO Shawn Hughes cited the pandemic-related shutdowns and supply chain challenges as deciding factors in closing up shop.
Lighting distributor Ferguson has signed an agreement to purchase the Corona, California–based Minka Group, which includes brands such as George Kovacs, Metropolitan Lighting Fixture Co., Ambience, minkaAire, Minka Lavery and The Great Outdoors. As Home Accents Today reports, Minka Group will continue regular operations following the acquisition, as its management team and associates are integrated into the larger Ferguson team.
Launches & Collaborations
Graham & Brown has partnered with the Tate Modern art museum in London for the launch of an exclusive collection of 32 customizable wall murals. The line features reproductions of artworks by such icons of impressionism as Claude Monet and Vincent Van Gogh, along with more figurative landscapes by British painters J.M.W. Turner and Ethel Walker, among others, all available to be sized for a floor-to-ceiling display in a variety of finishes.
Showhouses
The Brooklyn Heights Association has announced the location of this year's designer showhouse, selecting an 1839 Greek Revival town house at 145 Columbia Heights as the site a cohort of interior designers will reimagine this fall. Located near the Brooklyn Heights Promenade, the historic town house features preserved period details, a triple parlor, a full-floor primary bedroom suite, five outdoor spaces and a fifth-floor addition with floating stairs that lead to a rooftop deck.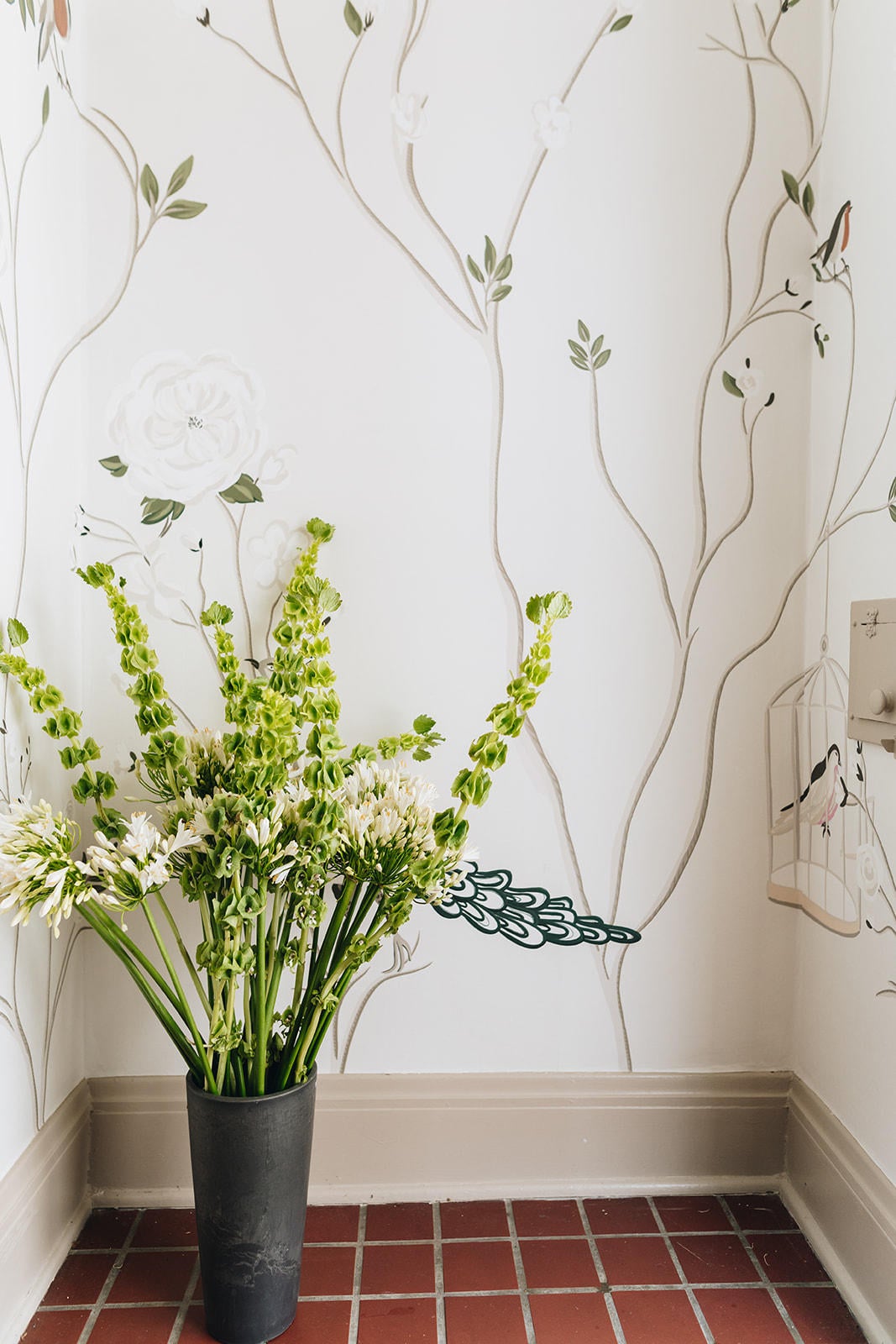 Showroom Representation
New York–based digital multiline showroom Somerselle will now be representing the She She brand nationally, carrying its custom hand-painted and printed wallpaper. Founded by Kate Worum and Jenny Hornig, the company specializes in colorful patterned illustrations—all created in the duo's multidisciplinary studio.
Recommended Reading
Turfgrass lawns, which enjoy vast popularity among homeowners in the U.S., were once referred to by ecologist Douglas W. Tallamy as "an ecologically dead status symbol." In the spirit of that sentiment, horticulturist Daniel Jaffe Wilder is now championing a burgeoning Kill Your Lawn movement, which includes campaigns like No Mow May, designed to promote biodiversity by allowing yards to grow wild. For The New York Times, Margaret Roach taps Wilder to explore the easiest ways in which homeowners can slowly start to foster eco-friendly lawn care alternatives.
As companies reach the next stage of bringing the post-pandemic office to fruition, industry leaders appear to be splintering off in several different design directions—all of which react in some way to the new priorities employees have adopted since working from home. For The Washington Post, Danielle Abril examines five of the leading models for the future office—which include coffee shop, living room and nature-inspired settings.
Cue the Applause
The Harvard Graduate School of Design has named Marina Otero, program head of Design Academy Eindhoven, as the winner of this year's Wheelwright Prize, Archinect reports. Otero will receive $100,000 in support of her research proposal titled "Future Storage: Architectures to Host the Metaverse," which will explore digital infrastructure as a means to combat societal challenges, particularly in reference to data storage facilities.
Homepage image: A mural depicting Francesco Sleter's A Representation of the Liberal Arts, part of Tate Modern's new collaboration with Graham & Brown | Courtesy of Graham & Brown