In the series What I Love, we're asking designers to build us a mood board of what's inspiring them right now.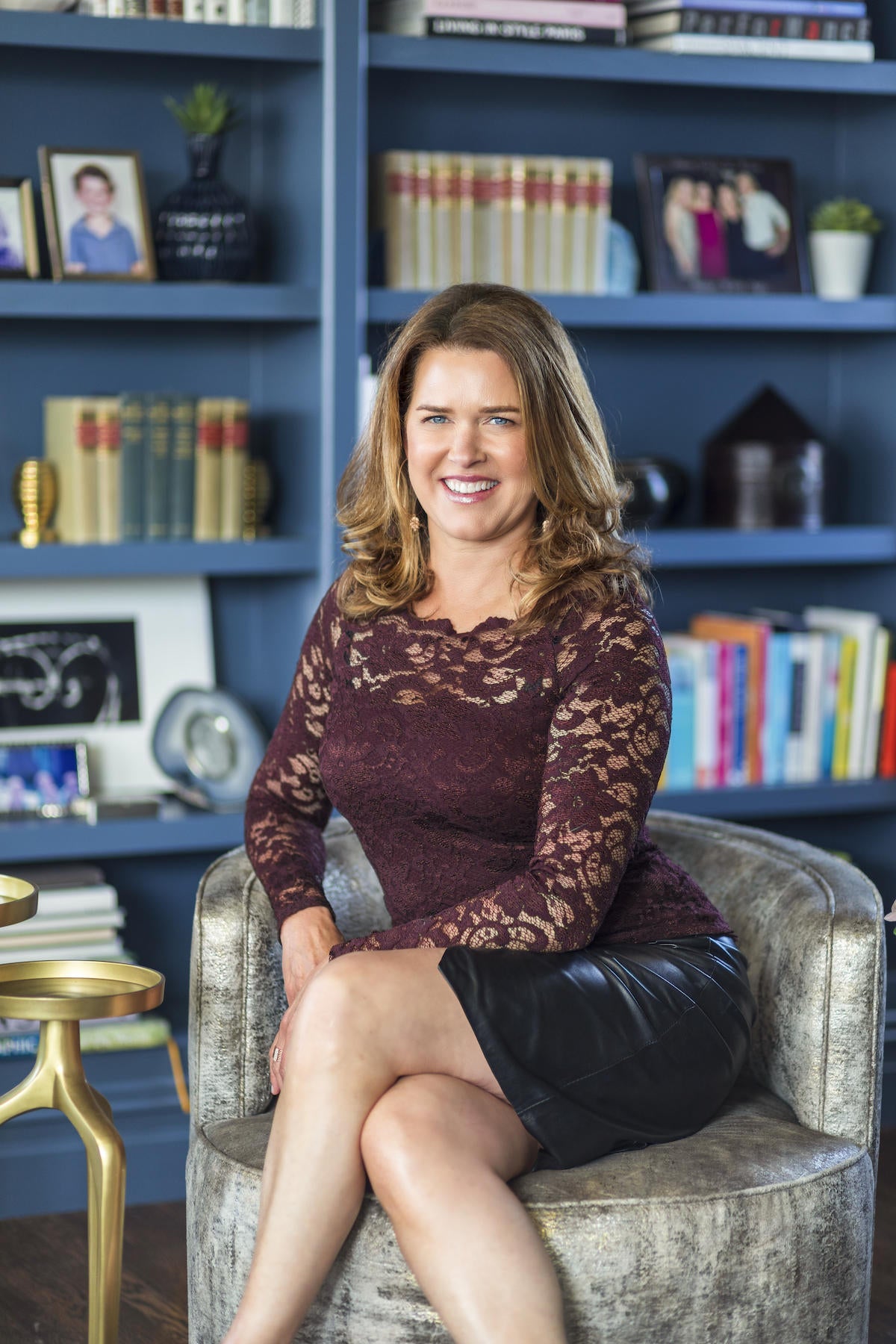 Courtesy of Kendall Wilkinson Design
Kendall Wilkinson strives to design spaces that bridge the gap between modern and traditional. Though she relies heavily on classic patterns and motifs in her projects, the San Francisco–based designer knows when to employ a bold color or playful print to make a statement. "It's inspiring when the personality and preferences of our clients can inform the materiality of a project," she tells Business of Home. "Of course, some have more flair and style than others."
Her current mood board is a perfect example. Drawing from a recent project for a well-traveled client with young children, the flat lay is filled with rich blue hues, plush performance fabrics and the occasional zip of an eye-catching pattern. "Our client's desire to create a space that is unconventional was a driving factor, but underneath the style, comfort and practicality were key," Wilkinson says.
A veritable range of tonal values and tactile materials ultimately draws the designer's mood board together. "We would describe this flat lay as 'seriously fun,'" she says. "Across the palette, there are finishes that draw you in with their richness, color or unexpected softness."
Here, Wilkinson breaks down the details—from nubby boucle swatches to dark walnut finish samples.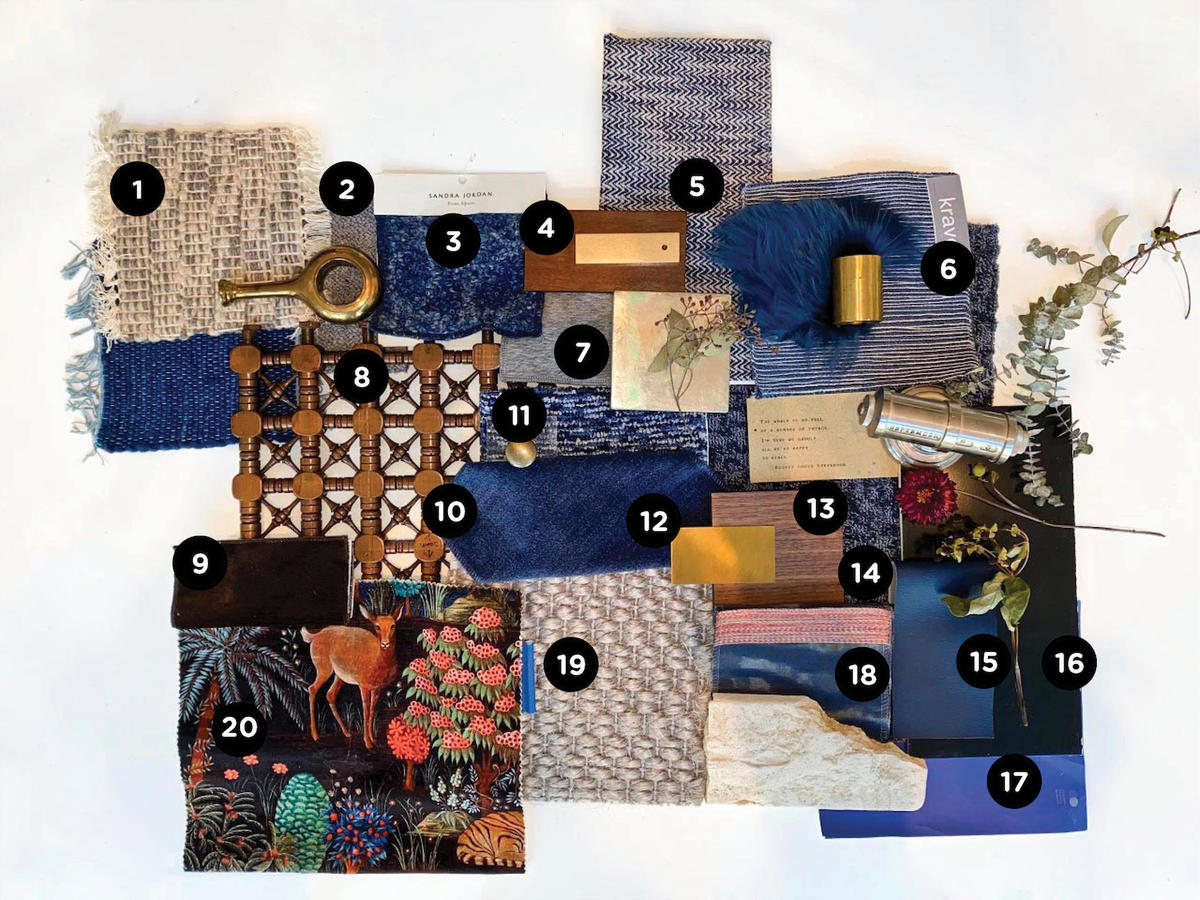 Courtesy of Kendall Wilkinson
1. CUSTOM RUG SAMPLE — MADDA STUDIO
"These rugs are high-quality, handwoven on pedal looms, and add great neutral tones and texture to the design."
2. CHIVASSO ASCENDENT IN CA1610/091 — JAB ANSTOETZ GROUP
"Function is just as important as style, and this performance fabric is easy to clean and designed for daily use. The simple gray texture is comfortable for a family room."
3. PRIMA ALPACA BOUCLE THROW IN MAREA — SANDRA JORDAN
"This is where comfort and invitation come into play. Deep blue is a timeless color that will live beyond the trends."
4. CUSTOM WOOD STAIN
"We love the richness in this warm, dark walnut stain."
5. MONSIEUR IN NAVY — KOHRO
"The textile colors bring together the blues and grays in the palette, and the subtle pattern is a perfect note to the idea of serious fun."
6. KRAVET DESIGN IN #35727-5 — KRAVET
"A simple yet fun textile for a decorative pillow. It brings in a new texture and pulls in both the blue and gray tones."
7. PRIMA ALPACA SURI FABRIC IN HEATHER LAVA — SANDRA JORDAN
"You have to touch it to believe it—this fabric is the epitome of softness for snuggling on the sofa!"
8. WOOD SCREEN — CUSTOM
"In line with the client's worldly personality, we designed this custom screen from Morocco to privatize a desk area."
9. SANSONE IN EBANO — DEDAR
"This textile is another performance fabric and the color blends very well with the background of the patterned Pierre Frey fabric."
10. CALLA T1111/09 IN OCEAN RAVINE — WEITZNER
"Soft and comfy, this bright blue chenille performance fabric is practical and cleanable."
11. COSSORA OCEAN INDOOR/OUTDOOR WEAVE — ZINC TEXTILE
"The muted colors and heightened texture of this boucle felt right for the palette."
12. CUSTOM BRASS SAMPLE
Brass accents add warmth to Wilkinson's flat lay while drawing from the hues of the jungle pattern.
13. ELLIS SIDE TABLE IN AMERICAN BLACK WALNUT SAMPLE — KGBL
"Taking cues from the general wood (walnut) and metal finish (brass) across the house, a modern table speaks to understated style, tying various pieces together."
14. MAHOE RUG IN INDACO — FLOOR DESIGN
"A grounding area rug that speaks to comfort and simplicity. Another soft and welcoming piece tying the various elements of the palette together."
15. TRITON IN MIDNIGHT — BRENTANO
"From whimsy to practical, we used this easy-to-clean soft blue vinyl for the seats on the game table chairs, so kids can be themselves while they eat at the table."
16. CUSTOM CABINET SAMPLE IN BLACK HC-190 SEMIGLOSS — BENJAMIN MOORE
"A rich, grounding color for the deck of a sunken banquette."
17. SOUTHERN BELLE 819 — BENJAMIN MOORE
"In line with a client's love for blues and her appetite for non-convention, we finished a custom game table from The Invisible Collection in Benjamin Moore's Southern Belle."
18. LENNOX STRIPE FABRIC IN INDIGO/SUNSTONE — ZOFFANY
Statement upholstery with a kaleidoscopic twist, this fabric features a soft-edged global motif and multicolored, space-dyed satin stripes.
19. PECOLA RUG IN SILVER — STARK CARPET
"The palette needed an understated, warm area rug that is not too busy. This sisal rug speaks to texture and carries a subtle pattern."
20. LE JARDIN DU PALAIS VELOURS F3470002 — PIERRE FREY
"This whimsical jungle pattern is the perfect antidote to the more comfortable textural solids."
Homepage photo: A flat lay by designer Kendall Wilkinson | Courtesy of Kendall Wilkinson Design