Karl Lagerfeld is trying his hand at a different kind of art in his first foray with sculpture, which debuts this week at Carpenters Workshop Gallery in Paris. The fashionisto's inspiration? Antiquity, which he refers to as "the origin of beauty, culture and modernity." Each sculpture is composed of marble, "the most noble material," says Lagerfeld.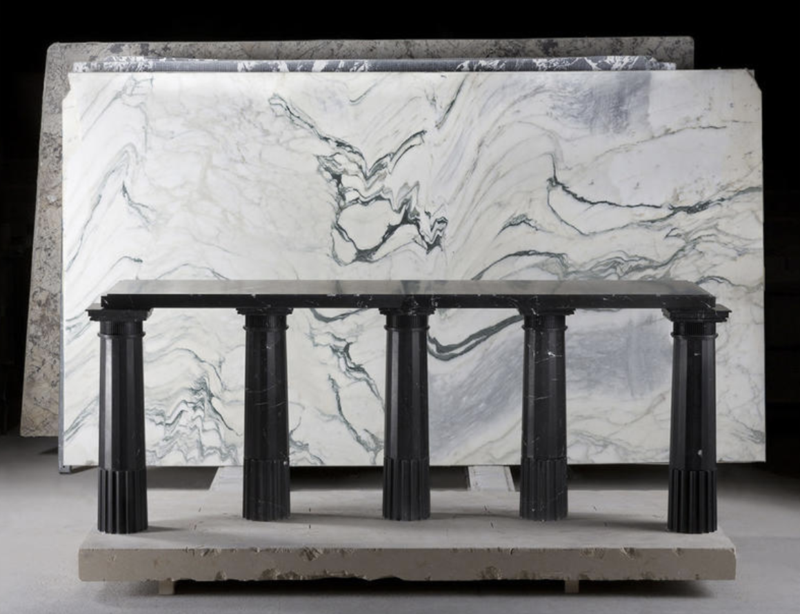 Courtesy of Carpenters Workshop Gallery
The limited-edition collection, called "Architectures," comprises eight pieces of functional sculptures, including tables, lamps, consoles, fountains and mirrors. Each piece, which was designed to marry design and function, was handmade in Italy and comes in two marbles—Arabescato Fantastico, with whorls of dark gray atop a vibrant white, or Nero Marquina, a black stone with milky-white veins—as well as four artist proofs.
The project was overseen by Aline Asmar d'Amman, an architect who also collaborated with Lagefeld on designing two suites in the Hôtel de Crillon in Paris in 2015 when it underwent a complete renovation. The works are "a series of functional sculptures, with Greek influence and such sleek modernity in the lines and proportions created by Karl Lagerfeld," says d'Amman, who found the marble for each piece in the collection.
D'Amman notes that working with the fashion icon a one-of-a-kind experience: "The learnings are too many to describe," she says. "On a professional level, it's all about excellence and the sharpness of his genius mind. On a human level, it's simply impossible to quantify the many life lessons from the great master, his insatiable curiosity, passion and generosity."
Lagerfeld's passion for craftsmanship—"timeless and contemporary at the same time," says d'Amman—is visible in each piece of the new line. In the lighting collection, he added personal elements of light and paint, which d'Amman says push the boundaries of craftsmanship and tradition. The lamps were created with with elements of natural light in mind by diffusing light that's reminiscent of a "specific daylight" that Lagerfeld predetermined. (As creative director of Chanel, Fendi and his own eponymous line, Lagerfeld is renowned for being particular.) The lamps are topped off with hand-painted shades, one of the more traditional aspects of the collection.
The Carpenters Workshop Gallery in Paris is known for housing art—from collectible designs to functional art like Lagerfeld's collection—of artists and designers who venture outside their traditional fields. "Architectures" will be on display at the Carpenters Workshop Gallery in Paris from October 19 to December 23.