Before Joe Lucas earnestly began his career as an interior designer, he was toying with the idea of playing one on TV. Like a lot of people, he came to Los Angeles to try his hand at acting, working a day job to pay the bills while he went on auditions—in this case, as an assistant in celebrity designer Michael S. Smith's office. For the first six months, Lucas was still trying out for parts, and half-jokingly kicking around the idea of turning Smith's office into the setting for a workplace sitcom.
"When I started looking around, I was like, Oh, my god, this is a full cast of characters," he tells host Dennis Scully on the latest episode of the Business of Home podcast. "That only lasted a couple of months before A) I realized I loved [working with Smith], and B) it was a full-time job."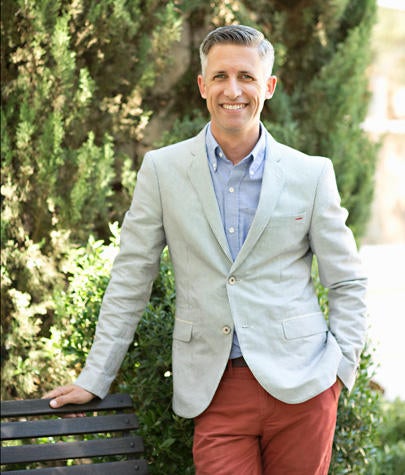 After fully committing to design, it didn't take Lucas long to strike out on his own. In 2005, he left Smith's office with a partner in tow, Parrish Chilcoat, and the two started their own practice. Soon after, a design business led to a multiline showroom, Harbinger, in a little cul-de-sac in L.A.'s then-fledgling design district.
Lucas and Chilcoat eventually parted ways amicably, but the business continued to grow, and Harbinger moved into bigger and bigger spaces before eventually expanding into a New York office. Now Lucas oversees a bustling design business, Lucas Studio, as well as a thriving multiline showroom, giving him a unique window into both sides of the equation.
On this episode of the podcast, Lucas shares the story of his business, as well as some insight into a variety of hot topics in the design industry, ranging from the problem of knockoffs to the tension between street-level shops and design centers for the future of multiline showrooms.
Listen to the episode and check out some takeaways below. If you like what you hear, subscribe to the podcast (free of charge!) here. This episode was sponsored by The Shade Store and Universal Furniture.
THE STREET VS. THE DESIGN CENTER
If you want to open a showroom in Los Angeles, you're immediately faced with a choice: a street-level showroom or the Pacific Design Center? Over time, the pendulum seems to swing back and forth between the two (Lucas's old boss, Michael S. Smith, just moved his showroom, Jasper, back into the PDC), driven by fluctuating rents and cultural momentum. However, whichever way the wind blows, Lucas is happy for Harbinger to be on the street, and he has no plans to move. "There are certain people who only shop in the design center and never go to the street, and the opposite, and then there's your mix of designers who do both. So you have to see where your business is and what type of crowd you A) want and B) [are] going to get," he says. "I like the quirkiness of being on the street."
MULTILINES ARE HERE TO STAY (HOPEFULLY)
Over the past year, a spate of small and medium-sized makers have left the showroom model entirely and are striking out with a direct-to-designer business model. Lucas sees the logic, but thinks showrooms will always play a role in the design business. "I hope not everybody starts to go just digital, just online, just Instagram. Sure, it's a great way to see a little bit every day and have that instant thing, but people really want to come in and see it and touch it," he says. "The things that are most popular [in Harbinger] are the things that I've chosen to go on a sofa or chair or wall because people are registering it."
COPYCATS ARE AN INDUSTRY INEVITABILITY
As one of the few stockists for CW Stockwell's iconic, oft-copied Martinique pattern, Lucas is all too familiar with the prevalence of counterfeits in the design business. He himself has been entangled in a few such situations (in particular, there was a Serena & Lily coffee table that bore a striking resemblance to one of his creations). Though it is an annoyance of the profession, Lucas tries to take it in stride. "There's nothing original anymore," he says with a laugh. "I fall in love with something that's so amazing, and a year later I see the original that I was stupid enough to have never known—oh—a famous designer had done that."
Homepage photo: Nick Olsen design's for the window of Harbinger | Courtesy of Harbinger