Nugget, a children's furniture line, was inspired by, of all things, a dumpster filled with abandoned college-dorm futons. Ryan Cocca, who debuted the four-part foam Nugget sofa two years ago with co-founder David Baron, says it was originally meant for all ages. It was piloted on the crowdfunding site Kickstarter, where it quickly became a Staff Pick and raised $84,000—more than four times the goal. Then they realized the couch was ideal for children, and the Nugget Furniture brand was born. Here, Cocca dishes on the company.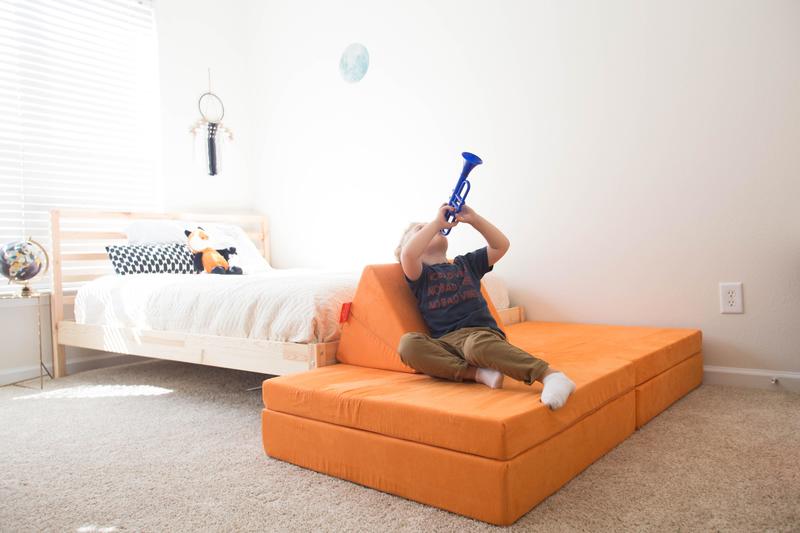 How did you get started?
The idea for Nugget was born while David and I were both in college, where it was first imagined as a dorm room solution. The early prototype wasn't nearly as light and easy as it is now (it included a bamboo board that supported the entire couch)—but with just 11 pieces, different possible configurations, tool-less assembly and storage space underneath, it solved many of the problems we saw with existing dorm furniture.
In preparation for Kickstarter (in late 2014), we made some big updates, changing the fabric, getting rid of the bamboo, and slimming down to just four pieces, to create the first true Nugget we'd put on the market. We expected a wide range of people to be interested, but when the project ultimately took off, it was in large part due to one segment of the buying population: parents of young kids. Specifically moms. Obviously, as two guys in our mid-20s, we had some work to do in reaching our audience.
Ever since the successful Kickstarter, and even before that, we had talked about Pixar as a guiding light for Nugget, as a company that had fostered a spirit of imagination and curiosity that engaged adults and kids equally. In the years since, we've worked to build a brand that incorporates the styles and trends of the moment in kids' style and home furnishings while also cultivating a voice and look that is all our own. This work has, of course, involved hours of Pixar movies watched, dozens of Tin Tin and Dr. Seuss books read, and hundreds of little cartoon monsters drawn.
I hope in the years to come that the brand evolution can continue to expand into arenas we've so far only scratched the surface of, like bonus materials with purchases, creative multimedia projects, and more. New products are on our horizon for 2019, which will be a huge next step in the maturation of our business as well.
What should designers know about using Kickstarter as a tool?
I'm a big evangelist for Kickstarter, if for no other reason than it allows creators the freedom to very publicly be in a beta stage and figure out their business while the stakes are still relatively low (with the exception of extreme cases, where campaigns raise millions of dollars). It also provides a culturally accepted excuse to promote your business on your personal channels almost nonstop for 30 to 60 days, in a way that would be completely inappropriate in any other circumstance.
The deadline, and the urgency to reach the goal in time, helps to justify why you are posting updates about new rewards and quotes from industry experts every morning, noon and night: It's not because you're vain or egotistical, it's because you've got a looming deadline that you need to hit! (The fact that said deadline is completely self-imposed is conveniently left unsaid.) So my first advice to anyone considering Kickstarter would be to do it.

A Kickstarter campaign goes better the more intention and planning you put into it.
[I would also] advise creators that as much as terms like "backers" and "projects" make the whole thing sound very loose and unstructured, there's no such thing as over-preparing. In our experience, at least, Kickstarter goes better the more intention and planning you put into it. Particularly focus on the middle period of the campaign, whether that's the middle 10 days of a 30-day campaign or the middle 20 to 30 days of a 60-day campaign.
It's easy to think a campaign will be one upward trajectory from beginning to end, but almost every project hits a slowdown somewhere in between the excitement of launch and the thrill of crossing the finish line. The more interesting bits of content you can have at the ready for those slow moments—i.e., video interviews with either yourselves or an expert endorsing your product, announcements of press coverage, having an event out in the real world—the better off you'll be when the final week approaches and the project catches its second wind.
What should designers know about your product?
To be honest, we still have to do a lot of work with interior designers, and I really hope to do more of it this year and next. It's been so awesome to see the way that pro and amateur designers have taken to the product and styled it along with their other decor and furniture—something that was only peripherally in mind when we designed the Nugget.
If we've learned anything that I'd want to share with interior designers, it's that few products out there provide as much fun for kids as the Nugget does, while also being able to live alongside living room furniture. Many customers and collaborators have reached out saying that because of how often the Nugget is used in their family or living rooms, they don't even move it out of there. They just fold it up or leave it out with the rest of the furniture, and (with the exception of some of our crazier colors) it fits in just fine.